Hi, CI! is our monthly series featuring the best team we know - the Capacity Interactive team! You will learn more about the people who help arts organizations market smarter. This month, we're featuring one of our Senior Analysts who is an avid runner, a dog lover (cute dog photos ahead), and inspires arts marketers to be fearless when creating memorable social content.

---
Adam Ball
Senior Analyst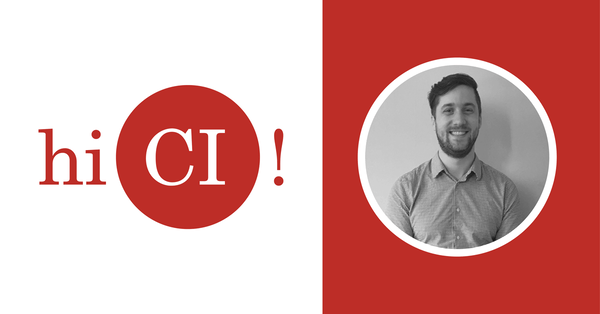 How long have you been at CI?
Two years this July!
Where are you from originally?
Rockford, Illinois - home of the sock monkey, the Rockford Peaches (i.e., A League of Their Own), and Michelle Williams of Destiny's Child.
Why did you want to work at Capacity Interactive?
During the final semester of my senior year of undergrad, I visited CI with a group of other students. I left that meeting knowing CI was the only place I wanted to work post-grad. The way the team we met with talked about CI's culture and the work the company does was mind-blowing. It was like finding the Holy Grail - an organization that is passionate about the arts has a focus and mission, AND cares about the growth and happiness of its team members?! It was love.
You recently wrote a blog post about becoming an Olympic-level content creator. How do you inspire arts organizations to take their social content to the next level?
I tell a lot of our clients to simply be a little fearless. One of the best parts of social content is that is can be edited after you publish it. Social content should feel different, fresh, and surprising every time. Content creators worry about being polished and perfect. Of course, that is important to some degree. However, the next time you sit down to create new social content think, "What haven't I done?" Experiment with a new post format, use a more conversational voice, add some emojis, create some post about the artist's pets, dream up a fantastic video and think of ways to make it possible, walk through your building with your phone video on and make a timelapse, Facebook live your costume shop - the only limit is your creativity. Be creative and don't be afraid to do something different.
Where do you find social content inspiration? Both inside and outside of the arts industry?
Dance organizations have some of the best social content due to the visual imagery that their art form provides. I love checking out what the industry leaders are posting (Jacob's Pillow, The Joyce Theater, Alvin Ailey) but it can be interesting to see what smaller companies are putting out there as well. For example, Dorrance Dance recently featured a series of striking imagery that they can use for several years in social posts. I mean, COME ON:

Dorrance Dance | Photo by Matthew Murphy
Outside the arts, large brands have mastered short copy and minimalistic imagery. Fast food companies (I think we have all seen how amazing Wendy's is on Twitter) nail simplicity and voice. If you haven't read about how Red Bull has turned into a media company via their social media platforms, do, it is incredible. Of course, these companies the benefit of strong brand identity - but I think there is a lot to be learned from the simplicity and consumer-focused voice of big brand social content.
What are some free social content resources arts marketers should know about right now?
Obviously CI's Interactive CTA Generator for Arts Marketers! 😉Other than that, all you really need is the Adobe suite (100% worth the investment), an iPhone, and willingness to get creative and learn. My graphic design skills are 100% self-taught through articles and YouTube videos. A little knowledge of these design platforms goes a long way! In our pockets, we have these amazing devices that can take high-quality photos and videos at any moment. Use them!
Outside of work, you're an active runner. What inspired you to participate in your first marathon? Why do you love long-distance running?
I was a runner in high school but fell off my routine when I moved away for school. I always knew it was something I wanted to get back into, but I NEVER thought I would ever actually run a marathon. Maybe a 5K here or there, but a marathon seemed terrifying. Last summer I recently completed my first half marathon and was inspired by some of my colleagues who were training for the New York Marathon. I thought, "If they can do it, why can't I?" I signed up for the Philadelphia Marathon on a whim. I had zero regrets and ran my second marathon last month.
I think I love long distance running because it's you vs. you. Only you are responsible for your success, and you have to find something deep inside you to challenge yourself. I like that challenge and the feeling of accomplishment that comes with it.
If you could describe what it feels like to cross a marathon finish line in one word, what would it be?
Relief. (After an hour or so of recovery, words like "pride" and "triumph" come into play, but during that moment when you are crossing the finish line you are just thanking the cosmos that you are finished).
Tell us about your dog, Einstein. We know he's been part of your life for thirteen years! Do you have some photos you can share?
Einstein is a little monster with a heart of gold. He gets into a lot of trouble, but is super smart and has a sweet side (which he mostly saves for me). My family adopted him as a puppy when I was 11, and he has been my best friend ever since. Every significant moment of my life he has been there. He joined me for my last semester of college and then moved with me to my apartment in Brooklyn. I like to believe his life adventures have kept him young. He might be 13 years old, but he has a ton of youthful energy. He can be a lot of responsibility for a young person living in NYC, but he is worth all the sacrifice. I love the little guy!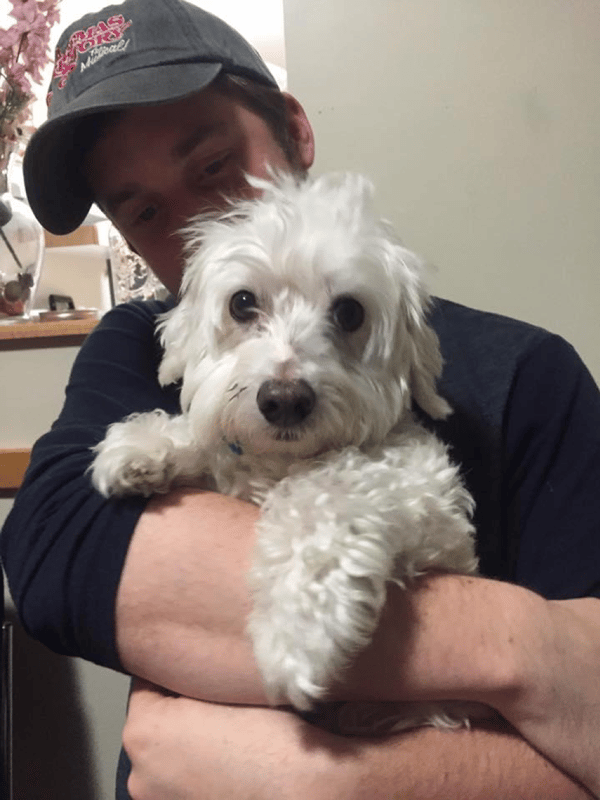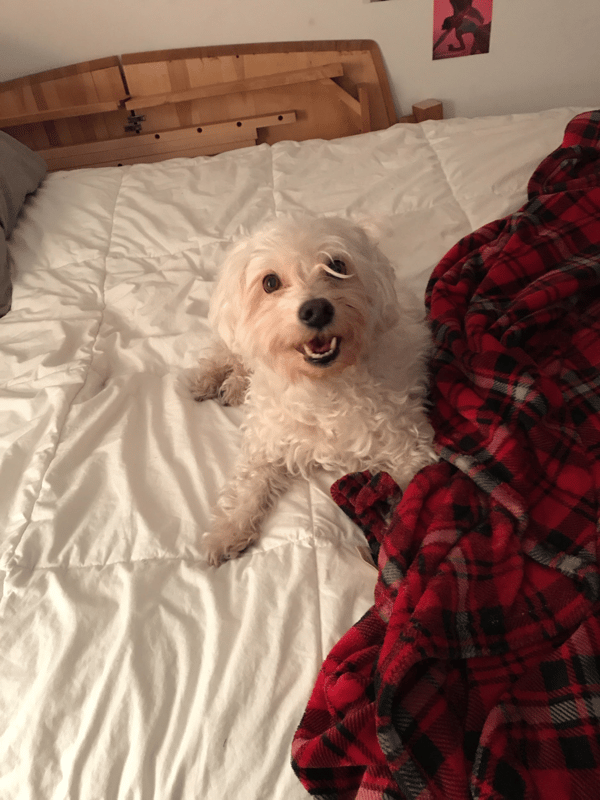 What's something that makes you excited to come to work every day?
My colleagues. The energy in our office is intoxicating. Everyone at CI is smart, passionate and driven. Not only do we all share a universal love for arts and for the organizations we work with, but we also share the drive to learn, grow, and challenge each other to become smarter arts marketers. They inspire me every day!
What's one tip you can give to help arts organizations market smarter?
Step back and think about your audience. We slip into these habits of marketing 'our' shows or 'our' exhibits. "Join us this weekend" "See us in action" "We are ready for you" etc. Half (if not more) of an artistic experience is the audience. They are a major part of what we are doing, and your copy and social content should always be about them. Go back and read some of the copy you've promoted. You may be surprised how often we fall into this trap "us" and "we" trap. It's simple, it's important, and we all have to work at it.