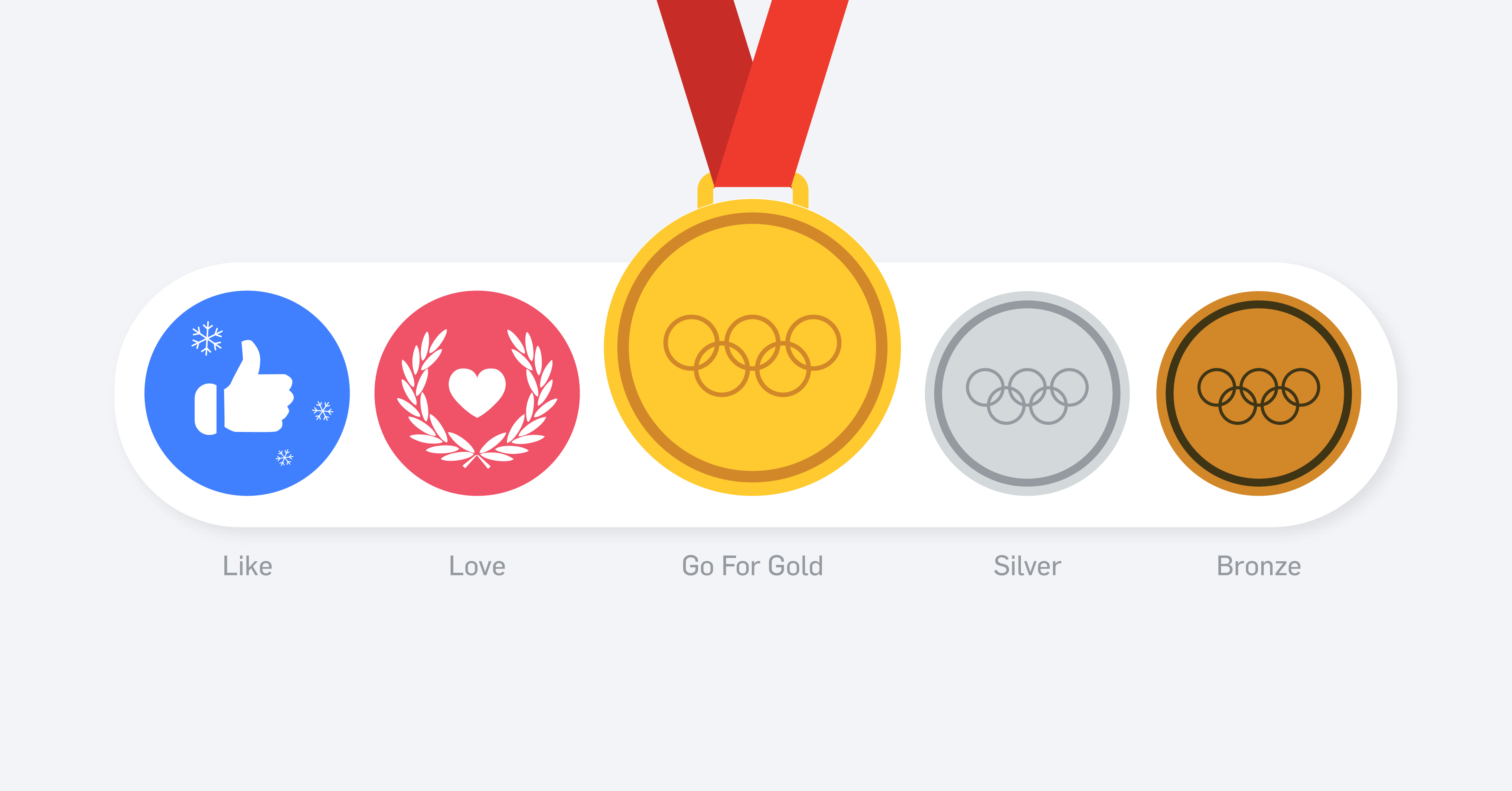 When the Olympics are in full swing, I become the Leslie Jones of the CI office. I'm giving daily reports on the previous evening's Olympic moments, sharing every tearful performance, and running around between desks yelling "USA! USA! USA!" I love the Olympics and because of this caring love (obsession), I try to consume as much Olympic content as I can in those precious weeks when NBC transforms into NBC Olympics, and it's socially acceptable to live-Tweet about curling. Recently, I was scrolling through NBC Olympics' social media feeds and thought - wow. This is spectacular content. What can art marketers learn from this?

Even though the Olympics is a world-renowned event, a majority of what NBC Olympics is doing on social media is Facebook content creation 101. They're following simple guidelines that we should all be following, but they're doing it so well, it stands out like an Olympic figure skater at a twinkle toddlers skate competition. They're at the Olympic level while we are merely trying to stay upright on the ice. I've compiled some examples of just how gold medal level this content is.

---
Voice
The Olympics are fun! Your art organizations are fun! Going to a play, a concert, or an exhibition is not like going to the dentist. We go to arts organizations to get inspired and, quite frankly, have fun. The tone and style of our social content should reflect this.
NBC Olympics' Facebook page has developed an incredibly playful voice. Whoever is on the other side of that computer is not afraid to be silly. This person is creating .GIFS, memes, and they sound like a friend – not a billion-dollar media conglomerate. Their message isn't 'stuffy news network' but rather your stoked, funny friend who loves the Olympics.
When we can form authentic connections with our audiences, that's how we win the gold. It's how we get them to return to our organizations after their first visit. It's how we turn them into evangelists for our organizations. It's how we get them to donate. Be their friend, not that mammoth of an opera house or the orchestra that feels too high-brow and out of reach.
The Medal Count: Your social voice should, of course, reflect your organization. However, you shouldn't be afraid to be more Adam Rippon and less "Unnamed NBC Sports Correspondent #17."
---
Be Inspirational
What's something that the Olympics and arts organizations have in common? They both inspire people! Watching a ballet dancer nail back to back pirouettes gives me as much wonder, joy, and astonishment as watching Shaun White nail a backside double McTwist 1260 (yes, that's the name of a snowboarding trick). NBC Olympics' social content evokes feelings. From their hashtag slogan #TheBestofUS to gold medal reaction .GIFS, these posts make us emotional. Take for instance this post:
Their social team connected the simple act of starting your day to a stunning Olympic moment from the games. We too can be Olympians!
As arts marketers, we're telling inspiring stories that happen on our stages and in our galleries every day. Grab on to those stories and share them with your audience. Inspire them and make them a part of the narrative.
The Medal Count: It's nice to be aware that Mikaela Shiffrin won the gold, but it also makes me feel like I'm on top of that podium. That's a whole other level of personal connection!
---
Keep It Simple, Stupid!
My elementary school art teacher, Mrs. Rasmussen, told my class to "K.I.S.S." or "Keep It Simple Stupid" when approaching our art projects. Mrs. Rasmussen, who I could have sworn was Reba McEntire herself (she was redheaded, southern, and loud – I was 8), knew that keeping people engaged meant you couldn't give them too much to chew on. She may have also wanted to save money on art supplies.
At Digital Marketing Boot Camp for the Arts 2017, Colleen Dilenschneider talked about how people have short attention spans. 8.5 seconds to be exact! That's shorter than a goldfish. Our patrons are not reading our lengthy posts as they scroll through their endless Facebook feed.

On NBC Olympics' Facebook page, not a single post is longer than two sentences. I can quickly read them as the imagery helps tell each story. For example, these posts are conveying complex, exciting stories with minimal text:
So simple! This is imperative to keep in mind as mobile usage surpasses desktop year over year. Currently, more than 70% of minutes on digital are spent on mobile in the U.S. (ComScore). If you write a paragraph post, the entire thing won't be visible on my iPhone, and I can assure you, I'm not reading it fully.
The Medal Count: K.I.S.S. Just like Nathan Chen cutting up the Olympic ice, cut your copy down and then cut it again. There's a reason they put the skating short program on primetime, while cross-country skiing is streaming only.
---
Use Your Stars: Athletes and Artists
Your dancers, actors, painters, and musicians are creating engaging content on a daily basis. So, why aren't you using it? Their content is often organic and charming, and our audiences love to be a part of their personal stories.
NBC Olympics knows how to use their athletes' social content in a smart way. After Shaun White won his 3rd gold medal, NBC posted a dozen or so posts about his win. These posts were all strong, but a video of Shaun White directly addressing his fans in an Instagram video is just more personable. Follow your artists, check their Instagram stories for content, check their Snapchats, check their fan pages. You never know when you will strike gold.
Additionally, NBC Olympics is looking to their fans for content, as well. Don't be afraid to reach out and share content from those who love you most: your audiences and visitors!
The Medal Count: If an Olympic hockey player sees the puck, they go for it with no hesitation. When your artists and audiences put the puck right in front of you, grab it as fast as you can and score that goal.
---
70/30 Rule
I harp on the 70/30 concept so often it is basically tattooed on my body. It's simple – 70% of your content should be giving users exciting, fun, and shareable content. Do that correctly, and you've earned the right to give users 30% sales content.
NBC Olympics is passing the 70/30 test with flying colors. The majority of posts on their page are just engaging content. Amazingly, very few posts ask followers to watch NBC, tune into primetime, or promote ads. By serving their fans quality content, their asks for viewership feel organic. It feels like my friend asking me to join her for a beer.
70%:
30%:
The Medal Count: Pushing me down the luge is terrifying. You achieved in getting me down the course, but I may hate you forever for it. Alternatively, when I'm trained, cared for, and feel like I'm part of the luger family – I'll jump on that toboggan myself.
---
Other NBC Olympics Gold Medal Moments
Every piece of content is sized for Facebook. Olympic speed skaters have custom suits to perform better; we have to customize our content to perform better. Nobody likes seeing a photo that fails to hit the mark - especially when it's sized incorrectly.
Relevance. NBC Olympics is taking advantage of moments in pop culture and holidays. From Cardi B to Valentine's Day, check these out:
Using text videos to promote their podcast. It's such a smart way to share a piece of content that is just audio.
Creating a strong digital marketing and content team. It's clear that NBC has an entire team working on their social efforts. It's time for to prioritize content creation at our organizations. Creating strong social content is a full-time job that takes time, creativity, and a sound strategy.
---
Take these social content tips to the rink year-round and you'll be on your way to becoming content creation Olympians.