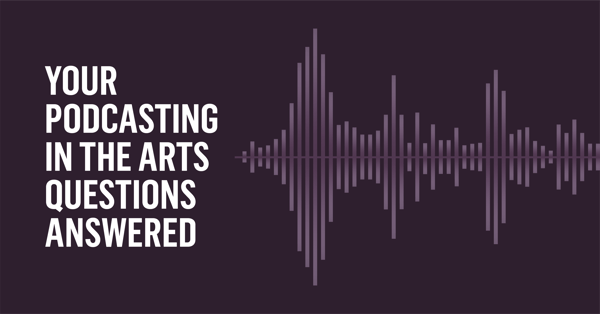 Podcasts are a powerful way to connect with your patrons and attract new ones. Like arts buyers, the podcast-listening audience is intellectually curious and active. With 90 million people listening podcasts monthly, the landscape is ripe for more arts institutions to offer podcasts. But is it right for your organization?
Arts administrators from Seattle Opera, The Joyce Theater, and The Rubin Museum of Art answer frequently asked questions about launching a podcast including branding and artwork inspiration, equipment recommendations, and how their podcast ideas came to fruition.
---
How did you decide to launch a podcast for your organization?
Jonathan Dean (Seattle Opera): Our podcast at Seattle Opera is really just roll-over from earlier technology. For decades we'd been producing a great deal of radio programming in addition to items such as the "Subscriber CD," which delivered talking & brief musical examples to our patrons ahead of time.
If anything, we delayed a bit before launching an honest-to-goodness podcast. For several years we distributed such content only on SoundCloud, a wonderful platform but not a true podcast distributor. When our radio station partner, Seattle's Classical KING FM 98.1, hired a podcast specialist, we retired a radio show that had run its course and got more serious about podcasting.
Laura Diffenderfer (The Joyce Theater): A colleague, Rennica Johnson, and I recorded a video with several artists seven or eight years ago, and the camera malfunctioned. We were only left with the audio. So, we put it out as a podcast. I don't remember it getting a lot of traction, because there weren't any accessible platforms for audio at the time. But I do remember being very excited. I just love experimentation, and I was also captivated by the idea of audio.
Several years after that initial accidental podcast, it became clear that this kind of content could engage listeners and also sell tickets. Podcasting seemed like a beautiful vehicle to provide value to a listener, while also inviting them into The Joyce Theater's community.
Additionally, I think that people want and need more information about the creative process. I think context is so often missing in live performance, among other areas. I love speaking with artists. In this fast-paced culture, where everything is a blip on a screen, I love that we can still relish the long-form. So, all of these things came together, and suddenly the question was not if we should do a podcast but, when and how can we make it happen?
Elke Dehner (The Rubin Museum of Art): The creation of The Rubin Museum of Art's podcast was a joint effort between Programs, Interpretation, and Marketing. The Rubin's mission to inspire connections to the art and ideas of the Himalayas was the driving force, and the goal is to reach more people. We wanted to create a low-barrier entry point for people to discover and decipher this art, which is more easily understood when approached not just through the intellect but also through the physical and emotional experience of contemplative practice.
Our podcast is essentially the audio recording of our weekly Mindfulness Meditation program. Dawn Eshelman, who also hosts the show, created the program in its ritualized format, which consists of three parts: First, Dawn presents a piece of art that is currently on view in the galleries, typically a piece from our collection. Next, one of our meditation teachers gives a talk. Last, the teacher leads a guided meditation.
---
What was the inspiration for the title and artwork for the podcast?
Laura Diffenderfer (The Joyce Theater): I wanted something airy and inspirational and not overtly advertorial. I didn't want the listenership to be limited to Joyce attendees, but open to dance lovers in general. I brought some ideas into a marketing meeting, and we had an epic brainstorm. We all wrote down ideas, and then we voted. Our marketing manager at the time, Kevin Lau, proposed the winner: Still Spinning.
I remember we had a lot of great ideas in that brainstorm, but I love the name we chose. It indicates movement but also that lingering feeling of something that stays with you for a while.
Jonathan Dean (Seattle Opera): Our organization has strong branding, so it was easy to take our logo and make cover art out of it. We chose to create standardized opens and closes for each episode. We always open with the sound of a famous soprano hitting a high note and a Seattle audience going nuts. The idea was to find a musical equivalent of our branding, which is big, bold, and strong. We always close with credits, spoken over a well-known bit of opera orchestral music that connotes motion and flow.
I also find it's handy to have a little musical 'sting' or buffer if you're moving between multiple components in a podcast; "OK, so much for talking with so-and-so, let's hear from such-and-such." A little music makes such transitions smooth. And since we're an opera company, there's no shortage of music!
---
What do you use in terms of microphones and editing software?
Laura Diffenderfer (The Joyce Theater): I did a lot of research when I proposed the idea of a podcast. Pat Flynn has excellent information available about how to record and edit your own podcast, and we received advice from others who had made podcasts themselves.
I had initially thought that a colleague could help me figure all of this out. But then—as so often happens in non-profits—we had several additional unexpected projects that emerged, and I couldn't drop more onto him.
I realized that if I didn't get help, it wasn't going to happen at all. I started looking into a recording studio. We've been using Threshold Recording Studios since that time. I stay after the interview to edit the episode with a sound engineer, and they usually send it to me that night.
Jonathan Dean (Seattle Opera): I use Adobe Audition because of my work at our partner radio station. With a PreSonus AudioBox iTwo (and, more recently, the MOTU UltraLite-mk3 Hybrid) I turn my laptop into a little recording studio (with a couple of standard microphones and cords).
Elke Dehner (The Rubin Museum of Art): We typically use lavalier mics, and for guests with a quieter voice, we use hand-held microphones. For editing, we use Adobe Audition because it's compatible with the other Adobe Suite programs we use in-house.
---
What was the podcast launch like? How did you get the word out to new and existing fans?
Jonathan Dean (Seattle Opera): We did a 'soft launch' when we announced one particular opera season. We created five introductory podcasts as part of all the season-announcement material we were creating. It took longer than we expected to get iTunes to accept our application, and we didn't want to make a big public announcement about our podcast until it was easy to grab it from iTunes.
In terms of getting the word out, one limitation we've encountered is that we have lots of older fans, who are vital to our organization but are also tech-shy. They are more comfortable with the "get a CD in the mail" approach. While we've slowly been helping them embrace new technology, we're aware that we won't encounter that particular obstacle with many newer and younger fans.
Laura Diffenderfer (The Joyce Theater): We didn't really do a big launch. I honestly wasn't certain if it would all work, so we kind of just quietly started doing it and started putting it out on our social channels and in emails. Since then, we've run a couple of short Facebook campaigns featuring the show.
If I did a second show, I would probably do a big launch. The initial surge seems to be important for the platform algorithms, in terms of getting visibility and reviews, etc. But, you learn as you go!
Elke Dehner (The Rubin Museum of Art): We announced the podcast organically on all of our owned channels, including social media. On our blog, we published several meditation-related posts on timely topics that were optimized for organic search.
We also have a partnership with the free meditation app Insight Timer, which increases our listenership by about 10%. Thanks to the transcription service we use, we can now easily incorporate quotes from the program into our social media posts and other content.
---
What advice would you give another arts administrator who is looking to launch a podcast at their organization?
Laura Diffenderfer (The Joyce Theater): Like all creative projects, it's a fair amount of work, so you should only do it if you want to. But, if you feel compelled to do something cool that also makes sense for an institution, put together the vision and a budget and then tell someone the idea. Something good usually happens after that.
Jonathan Dean (Seattle Opera): As a communication tool, it's helpful to think of it as you would a newsletter, a study guide, an in-house magazine, or a program. Then, remember that it's aural; whatever you're communicating, it has to be done through sound. Find people with interesting, contrasting voices. Mix it up; vary the tone, the subject matter, the level of discourse. Try to keep 'em guessing! This is the arts, after all.
Elke Dehner (The Rubin Museum of Art): Have a good story to tell. Make sure the sound is good. Publish regularly. Find a partner who can help with distribution. If you have a program or content in a format that lends itself to converting the recording into podcast episodes, it saves time and effort - a big plus!