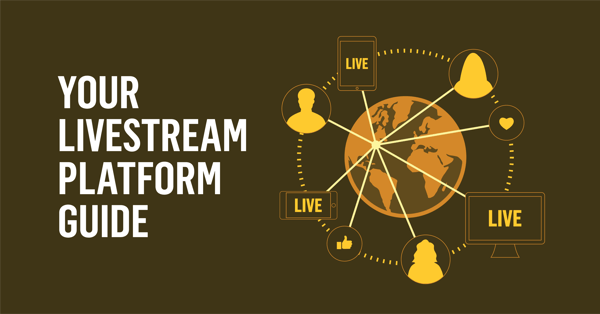 As we all continue to cope with the reality that it may take a while for audiences to safely return to our venues, the question arises of how to meet the cultural needs of our patrons in a digital space. Enter livestreaming. Arts organizations are urgently and suddenly becoming media companies, but while we're experts at producing live content in person, the prospect of live digital content is unfamiliar territory.
Choosing a livestream solution might feel a lot like choosing your ticketing platform. There is no one-size-fits-all solution and there's a con for every pro. Not to mention, livestreaming is just one potential avenue of digital programming. If you're looking to release or develop a catalog of digital video content, there are numerous video sharing and video on demand (VOD) solutions, including some multifunction solutions we'll mention below.
You'll want to decide on the experience you're trying to achieve for your audiences (food for thought here and here). If in-the-moment, interactive experiences are a goal, then livestreaming may be your answer. But how do you make sense of a crowded marketplace and too much tech jargon? We've gone down the livestream rabbit hole for you and started to answer some of these questions so you can better understand the options.
---
Get The Lay of the Livestream
When we think of a livestream, it's easy to picture a video shot in real time that goes straight to an audience via a web player or app, like Facebook Live does, but there's a whole lot that happens in between.
One significant step is encoding. (This is the most technical we'll get—promise!) Encoding is the process of converting raw video into a digital and web-ready format. Encoding software (or hardware) is paired with streaming platforms that serve video to audiences. A number of streaming platforms have built-in encoding, making the whole process user-friendly where you can easily shoot from your webcam or mobile phone. However, If you prefer having greater control, advanced functionality, and don't mind learning additional software, then most streaming platforms (even all-in-one solutions) give you the option to use a separate encoder.
Another key variable among livestreaming platforms is hosting versus broadcasting video. Some platforms host video players, like the social media sites we're so accustomed to. Other platforms are more like virtual studios—we use StreamYard, for example—offering production tools that allow the streamer to broadcast to other destinations, sometimes to your own website, often simultaneously. And some platforms can both host and multicast.
Here's a breakdown of some popular livestreaming platforms:
Hosting

Broadcasting

Both

Facebook Live

StreamYard

Vimeo Live*

YouTube Live

OBS Studio

Crowdcast

Instagram Live Stories

Streamlabs OBS

Zoom

Periscope

Restream

Dacast*

Twitch

Stage Ten

IBM Watson Media (IBM Cloud Video, Ustream)

*

LinkedIn Live*

Be.Live

Microsoft Stream*

Socialive

InPlayer*

OneStream Live

StreamShark*

BoxCast

*Require separate encoding software/hardware for livestreaming.
While it may be tempting to choose a solution that maximizes distribution of your content, you should only stream to destinations that make sense for your audience and that your team can actively monitor during broadcasts. For example, YouTube Live and Facebook Live could be no-brainers based on where you currently engage with audiences online, but simulcasting to Twitch (a gaming-centric platform) could seem out of context and unfamiliar to your patrons.
---
And Now, Our Feature Presentation
Livestream platforms and their product features are changing as frequently as your Netflix queue, so we encourage you to use this information as your road map and not your gospel.
Start with your organization's must-have features and narrow to a manageable list of platforms worth exploring on a deeper level. Services can cater to certain styles of streamed content from live events and interviews, to pre-recorded footage, or online courses and training. We've outlined some common arts-centric features below and identified platforms that advertise those features. Our list of platforms is far from exhaustive, but we've attempted to find the most user-friendly, turnkey solutions. Once you have your short list, it might not hurt to connect with sales representatives of any paid platforms and be sure to mention that your organization is non-profit, as they may offer special rates or complimentary features.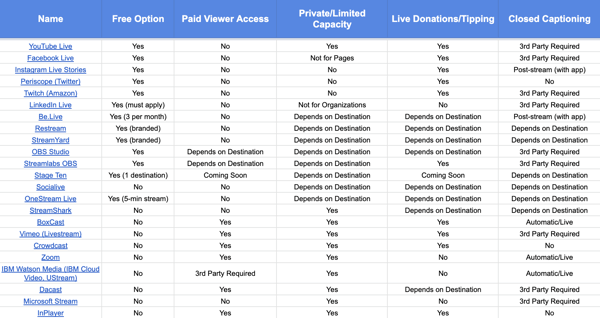 Get Your Platform Guide: Google Sheet Version >
Get Your Platform Guide: Excel Version >
What streaming solutions have you used? Let us know in the comments!