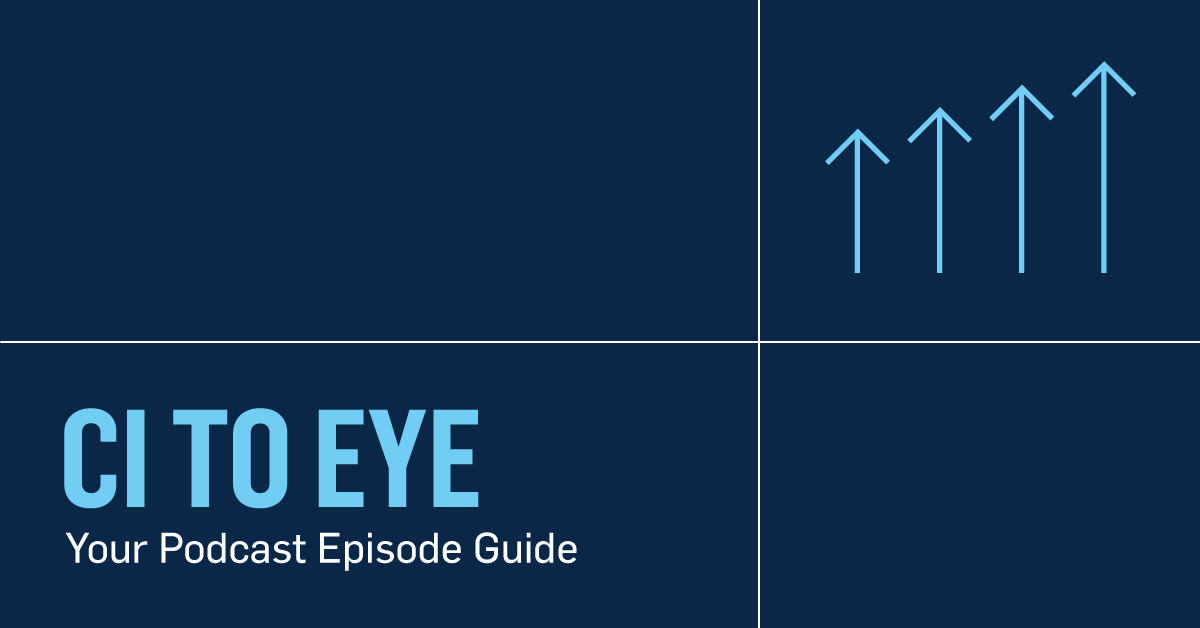 CI to Eye is a podcast for arts leaders who want to reach their full potential. Each episode is created to help you become better at your job so you can help the arts move forward.
We've produced over 100 episodes of CI to Eye to date which can be daunting to dive into. Fear not! Here's an easy guide to help you find the right episodes. We'll continue to update this as new episodes are released.
Last Updated: 8/29/23
---
I want inspiration and advice to help me navigate the COVID-19 pandemic.
Every Arts Organization Must Become a Media Company: Matías Tarnopolsky
Ideas that Unlock the Future for the Arts: Seth Godin
How Arts Organizations Can Survive a Pandemic: Brett Egan
How COVID-19 is Impacting Intentions to Visit Cultural Entities: Colleen Dilenschneider
Rock 'n' Roll Numbers—Classical Music Content during the Pandemic: Anastasia Boudanoque
The State of the Arts in 2020: Donna Walker-Kuhne, Tom O'Connor, and Jill Robinson
Tessitura's New CEO on Reopening, Leadership Transition, and the Art of Listening: Andrew Recinos
A Glimpse into the Future—What U.S. Organizations Can Learn from Australia's Reopening: Claire Spencer
What the Pandemic Changed: Live Conversation from Boot Camp 2021
---
I want to build a fundamental understanding of arts administration.
Chief Questioner of the Cultural Sector: Diane Ragsdale
Executive and Artistic Director of Carnegie Hall: Clive Gillinson
Turnaround King and President Emeritus of the Kennedy Center: Michael Kaiser
Words of Inspiration from 23 Cultural Leaders in 2018
Words of Inspiration from 20 Cultural Leaders in 2019
Words of Inspiration from 20 Cultural Leaders in 2020
---
I want to learn more about social/racial justice and/or equity, diversity, interdependence, and access.
Is Your Organization Anti-Racist?: Cardozie Jones
Broadway for Black Lives Matter: Britton Smith
Capitalism, Race, and the Evolution of American Theater: Robert Barry Fleming
Examining White Fragility: Robin DiAngelo
Classical Music's Diversity Crisis: Afa Dworkin
The Robots are Coming for Us: Adam Huttler
A Vulnerable Conversation about Inequality in the Arts: David Stewart
Dissecting Privilege, Diversity, and Inclusion in the Traditional Orchestra World: Jessica Schmidt
Beyond Inclusion - The Art of Accessible Content: Lisa Niedermeyer
Theatre That Shatters Stereotypes about Disability: Adam Roberts
Perspectives on Anti-Racism from Six Leaders
How Do I Really Diversify My Audience?: Live Conversation from Boot Camp 2021
A Balanced Approach to Iterative Change: Sue Ann Rodriquez
Shifting Towards Greater Inclusivity and Accountability: Live Conversation from Boot Camp 2022
Sustaining DEIBA Commitments: Tips to Move the Needle and Hold Ourselves Accountable
---
I'm interested in arts industry-specific research.
The Legendary Audience Churn Study: Jack McAuliffe
Culture Data Nerd: Colleen Dilenschneider
Critical Research for Arts Leaders: Zannie Voss
Understanding Media Habits of Ticket Buyers: Johnna Fellows Gluth
Live from Boot Camp with Tons of Data: Colleen Dilenschneider
Uncertainty is Keeping Your Audience Away: Peter Linett
A Massive Survey about the Arts in 2020 America: Arthur Cohen
What Arts Audiences Are Thinking About Now: Robin Cantrill-Fenwick
How Has the Pandemic Changed Arts Marketing?: Madeline Pollis
New Research: Arts Education Sparks Innovation, Optimism, & Resilience: Courtney J. Boddie and Russell Granet
Your Digital Marketing Priorities, According to 17,000 Ticket Buyers: Johnna Fellows Gluth & MP
---
I'm the leader of an arts organization and want inspiration and advice from my peers.
President of the National Civil Rights Museum: Terri Lee Freeman
Chairwoman and CEO of the Motown Museum: Robin Terry
Self Help for Arts Leaders: Betty Avila
Executive Director of Dance Theatre of Harlem: Anna Glass
Powerbroker of Contemporary Dance: Gina Gibney
Artistic Visionary: Joe Melillo
Leading an Organization with Empathy: Harold Wolpert
Leading Ballet Hispánico in America Today: Eduardo Vilaro
Getting Closer to Dance: Linda Shelton
Bucking Trends with Disciplined Communication: Aubrey Bergauer
Using Real Estate to Further Your Mission: John Schreiber
Celebrating Collaboration in the Dallas Arts District: Lily Weiss
Redefining a Cultural Center for the 21st Century: Deborah Cullinan
How Do We Compete with Netflix?: Emily Simoness
Executive Producer of the Apollo Theater: Kamilah Forbes
Leading through Chaotic Times: Live Panel from Boot Camp 2020
Leadership in Challenging Times: How to Motivate Your Team When The Going Gets Tough
---
I want to be a better fundraiser.
A Fundraising Masterclass: James Langley
Chairman of the National Endowment for the Arts: Jane Chu
This is What Arts Leadership Sounds Like: Sharon Gersten Luckman
Why Your Arts Organization Should Adopt an Anchor Mission: Karen Brooks Hopkins
The Future of Arts Funding: Melissa Cowley Wolf
---
I need help and advice about design, branding, websites, or digital marketing tactics.
Transformative Digital Experiences: Mohan Ramaswamy
Marketing on the Road: Laura Matalon
Cultural Identity Branding Legend: Paula Scher
Improving Arts Websites with Data and Curiosity: Jenny Kreizman
Selling Emotion (via Video): Mark Ciglar
A Change Will Do You Good: Allison Fippinger
What's Happening to Google Grants?: Kathleen McFarlane
Your 'Digital Marketing for the Arts' Questions Answered: Ashley Dunn Gatterdam
Should Your Arts Organization Produce a Podcast? Live Panel from Digital Marketing Boot Camp
Digital Marketing Is Evolving—How Can You Prepare?: CI Consultants
From Personal Brands to Brands with Personality: Jessica Watson
Navigating The New Privacy Landscape: User-Centric and Privacy-Focused Data Collection
Artificial Intelligence: The New Frontier or Unchecked Robots?
---
I'm curious about pricing, segmentation, or audience engagement.
Sensational Segmentation: Andrew McIntyre
Multicultural Marketing Maven: Donna Walker-Kuhne
How the Art Institute Uses Data to Predict the Future: Andrew Simnick
The Enormous Customer Experience Opportunity in the Arts: Robert Phillips
Dynamic Pricing - What the Arts Can Learn from Starbucks and the Airline Industry: Sean Kelly
An Untapped Income Opportunity for the Arts: Jennifer Rosenfeld
How to Re-engage Audiences in New Ways: Competing with the Couch
Zeroing in On What Matters: How and Why to Prioritize High-Impact Work
---
I want to build my interpersonal skills.
Fighting Saboteurs with Jennifer Zaslow
Uncovering Your Core Values: Ronnie Brooks
The Vulnerability of Leadership: Priya Iyer
---
My workplace culture needs help.
Master Ticket Slinger: Christopher Williams
Our People Crisis in the Arts: Jill Robinson
CI's Origins + Lessons in Growth, Leadership, and Marketing: Erik Gensler
Fostering Change in Your Organization: Live Panel from Digital Marketing Boot Camp
Inside Google's Employee Mindfulness Program: Nik Rama
The Great Boundary-Setting: Tom O'Connor
The Art of Healthy Work Cultures: Simple Adjustments to Energize and Empower Your Team

---
Entertain me.
In the Middle: Jeff Hiller and Jenn Harris
Legendary Theatrical Press Agent: Chris Boneau
Lessons in Audience Development from a Shameless Drag Queen: Jackie Beat
Jokes Land Better in Tight Spaces and Other Theater Design Trade Secrets: Joshua Dachs
---
I want inspiration and advice from arts marketing leaders.
The Most Networked Man in the Arts: Tom O'Connor
The Privilege of Leadership: Monica Holt
New York City Ballet's Media Evolution: Karen Girty
How the High Museum Defies Museum Diversity Trends: Kristie Swink Benson
Modern Marketing Challenges: Live Conversation from Boot Camp 2020
Are Subscriptions and Memberships Dead?: Adapting Your Offerings to Audiences' Evolving Needs
---
I need a perspective outside of the arts industry.
What the Arts Can Learn from Sports Marketing: Amber Cox
Superstar Marketer: Meghan Keaney Anderson
Fitness, Nutrition, and Content Marketing Guru: John Berardi
How To Get What You Want From Creative People: Bonnie Siegler
Financial Wellness for Arts Administrators: Darren Sussman
The Most Human Company Wins: Mark Schaefer
Social Media Strategy, Google Ads/Search Engine Marketing, Email Strategy, Leadership, Website Redesign Strategy, Website Analytics, Search Engine Optimization, Online Fundraising