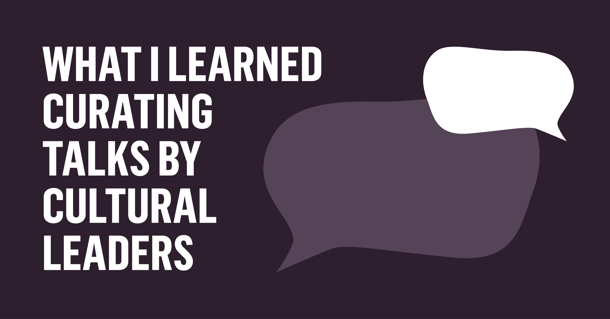 It's a simple concept, and anyone familiar with the Tessitura Software origin story will recognize "Know to whom you are speaking" as a key design goal back in 1999 when the product was first innovated as an enterprise-wide, unified-CRM solution for non-profit arts organizations. Back then, it was more about solving problems like making sure that subscribers, who were also major donors, did not receive a generic request for a $50 donation with their subscription renewals.
Today, as Producer of Tessitura's Innovator Series and the general sessions at our annual Tessitura Learning & Community Conference, I recognize that "know to whom you are speaking" remains a vital guidepost and mantra for innovation in all areas of our organizations, very much including the digital realm. As digital marketers, how can you increase the effectiveness of your marketing spend, decrease your costs and more authentically engage with individuals by taking advantage of the data you're collecting? Let's take a look at three ideas gleaned from Innovator Series and conference programming this past year.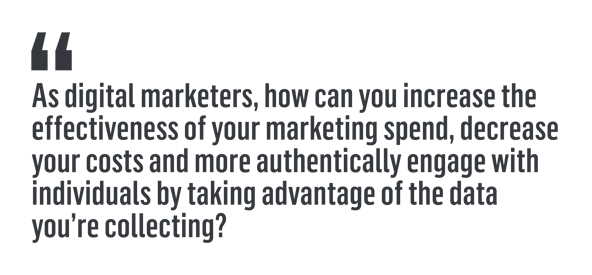 ---
1. Facebook is nuanced. Is your Facebook strategy?
Do you use Facebook to keep in touch with fans, but shy away from using it as an explicit tactic to drive ticket sales? In her Innovator Series talk, "No More Free Lunch: The New Realities of Facebook and Social Advertising," Gabriela Jirasek, Director of New Media for the Goodman Theatre, makes a compelling case for organizations of all sizes to leverage Facebook's Ad Manager and Power Editor as a proven method for delivering successful targeted advertising.
"Please, please, please do not use the boost button Facebook has so deviously placed at the bottom of all of your content."
- Gabriela Jirasek
Don't let Facebook algorithms decide who sees your ads. Instead, make use of the data you have in your CRM already by uploading inclusion and suppression data to Facebook's advertising platform. Target specific content to patrons whose previous buying history indicates an affinity with your latest offering. Stop pushing ads to patrons who have already purchased. And finally, take advantage of Facebook's extensive database by marketing to lookalikes matched to the same demographics and interests as the patrons on your lists. As Gabriela shared in her talk, The Goodman has had terrific results with Facebook lookalike segments.
View Gabriela's full Innovator Series talk.
---
2. What are your tutu moments?
Are you paying enough attention to what your audiences are telling you about your content strategy? In August, we were pleased to host representatives from four of the five principal ballet companies collaborating on World Ballet Day LIVE since 2014. This esteemed keynote panel shared with our conference attendees a wealth of information about the inception, logistics, learnings and continuing evolution of this wildly successful, annual, global digital collaboration.
How were decisions about content strategy made? Penny Rowland with The Australian Ballet shared that early on each company knew that a good amount of "tutu moments" would be part of their individual contribution to the 20+ hour live stream. Each recognized that social engagement with tutu content was always top of the engagement list. Do you know what your organization's "tutu moments" are? Those pieces of content that always garner high engagement from your audiences?
Of course, producing compelling content can be a time, resource and cost challenge to organizations of all sizes, which made an observation by Catherine Chang with The National Ballet of Canada really intriguing.
"Our audience had a real appetite for live content - authentic documentary-style footage, and this was evident in the drop off in numbers that we all saw when viewers were presented with pre-produced content."
Does your audience have an appetite for peeking behind the curtain, too? Might a live, unedited opportunity to share how your organization produces the work it does not only garner engagement and a deeper appreciation for the work you do, but also relieve a little of the pressure and cost of continuously churning out highly-produced pieces?
World Ballet Day LIVE is content marketing writ large, and we can all benefit from the many lessons shared about this groundbreaking digital collaboration to fine tune our own content marketing strategies.
View the World Ballet Day Live Tessitura Learning & Community Conference keynote.
---
3. Do fashion leaders prefer jeans and sweatshirts?
Are your personalization efforts ringing true for recipients? Or is a lack of distinguishing data causing you to make insincere attempts to connect? In a powerhouse Innovator Series talk, entitled "Michael Wong, have you eaten yet?: The Journey to Knowing Ourselves and Our Members," Nancy Yao Maasbach, President of NYC's Museum of Chinese in America (MOCA), drives home the importance of knowing to whom you're speaking in a talk that is both poignant and humorous at times. Relating both the abysmal lack of customer relationship data she found when she arrived at MOCA and the dire public relations problems this situation fostered for the organization, Nancy concludes her talk with an inspiring look at what MOCA has been able to accomplish since installing Tessitura and being intentional about getting to know their members.
"Without the ability to distinguish one Michael Wong from another, any good intentions were lost… Anything I could do, at best, was superficial." -Nancy Yao Maasbach

We've probably all experienced laughable and unforgettable personalized marketing fails. A favorite of mine came in 2014 in the form of an email from Coursera, a Massive Open Online Course (MOOC) platform, where I had recently taken a course to explore new ways to offer learning content online. The email was telling simple-living me, with a strong preference for jeans and sweatshirts, that they had a course recommendation just for me – Managing Fashion and Luxury Companies. #marketingfail
Avoid disingenuous attempts to connect. You may do more harm than good when you miss the mark. Instead, get to know your patrons so that you can authentically engage with them in ways meaningful to them and your organization, as Nancy did at MOCA.
View Nancy's full Innovator Series talk.
---
Kristen is the Director of Learning Resources and the Producer of Tessitura's Innovator Series at Tessitura Network. Tessitura is a proud sponsor of 2017 Digital Marketing Boot Camp for the Arts. A full library of Tessitura's Innovator Series talks, conference keynotes and success stories is available at www.tessituranetwork.com/discover.