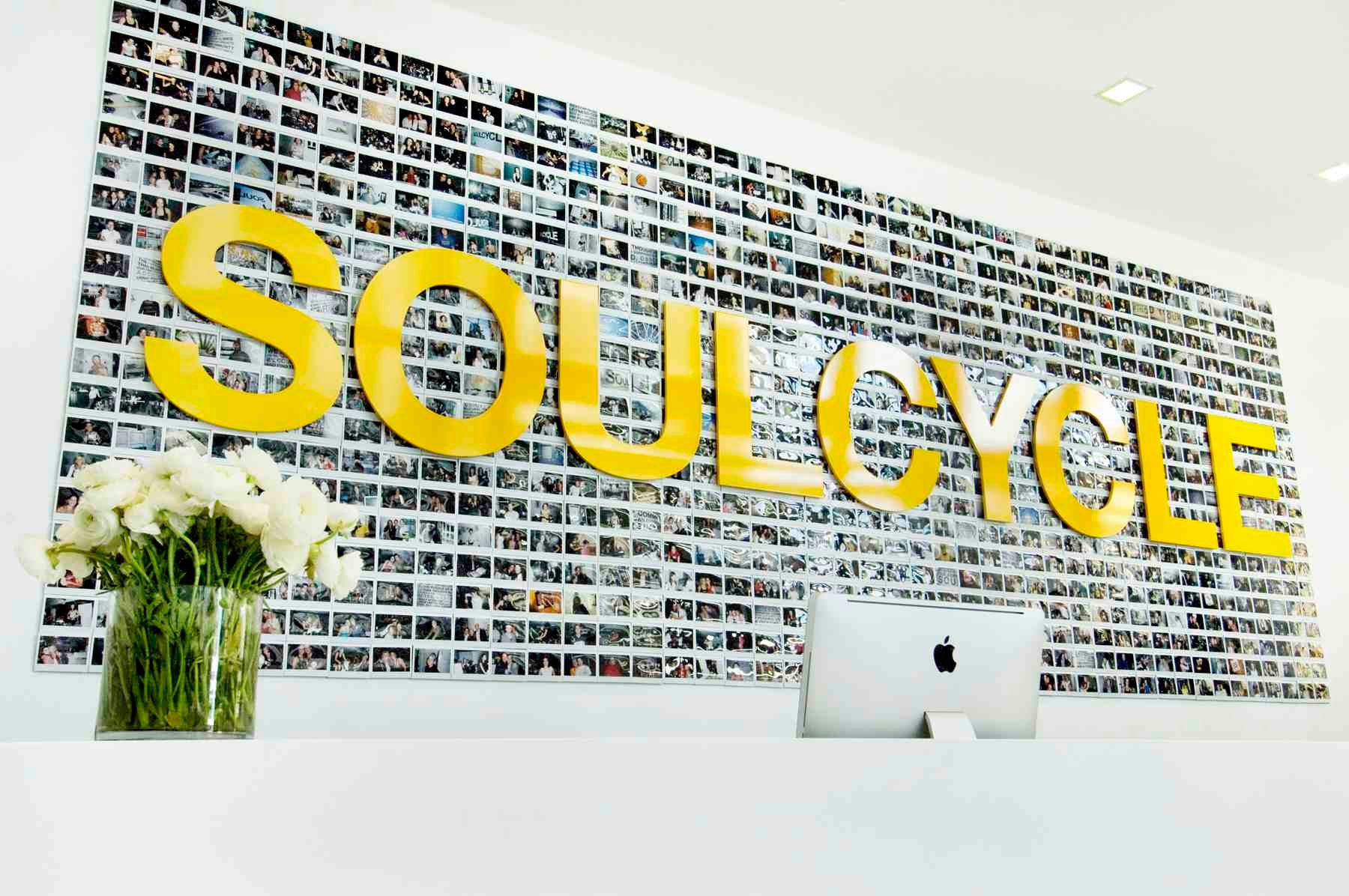 Last week I took my first SoulCycle class. I was curious (and late to the game) to discover what all the hype was about. For those who don't know, SoulCycle is a spinning/cycling studio that has a cult-like following for some urban dwellers. Classes cost $34 each and even at that steep price, the class I took was full (with at least 40 enthusiastic peddlers). It was clear that most of these people were regulars.
At Capacity Interactive we talk a lot about focusing resources on your existing fan base versus screaming at the masses to get new people in the door. It's the foundation of permission marketing and we know it works.

Remember the Orchestra Churn study? This study unearthed that 90% of first-time orchestra customers and 60% of occasional concert-goers don't purchase tickets again the following season. This leaves symphonies constantly chasing new prospects in a desperate effort to fight "the churn." Sound familiar? The study's primary conclusion was that organizations should make a "killer offer" enticing first-time attendees to come back a second time. Getting first-timers to return even one or two more times during the season increases their likelihood of returning the following season from 10% to 50%.

So it's all about getting a newbie back a second time—something SoulCycle is very good at. I think there is much arts marketers can learn from this strategy.

The day before class I created a new account and reserved my bike online. When I arrived at the check-in desk I saw that my bike was highlighted in bright yellow on the bike map which indicated I was a new customer (and was perfectly on-brand as yellow is their main brand color). I already felt special.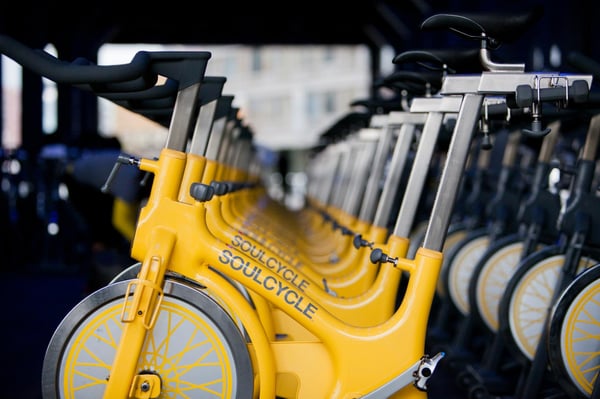 Very friendly Nicole (everyone who works there is really, authentically friendly) enthusiastically welcomed me to my first class announcing I was a first-timer to her colleagues at the desk. They all welcomed me and engaged in friendly banter while I filled out my waiver and reviewed a form with details of what I should expect. Then I went on a private tour of the facilities with Nicole so I could get the lay of the land.

Before class started, Nicole came over to my bike to make sure I was all set up. Once class started the instructor acknowledged that there was a newbie in the class. The class was an intense workout full of fun music and lots of energy and encouragement. Everyone was REALLY into it.

After class I headed out of the studio, covered in sweat, and was greeted again by Nicole asking how I liked it. She handed me a silver envelope that said "WELCOME." Inside the envelope was a card inviting me back for a free class. As a nerdy arts marketer all I could think was, "They must have read that churn study" and "Damn, they are GOOD."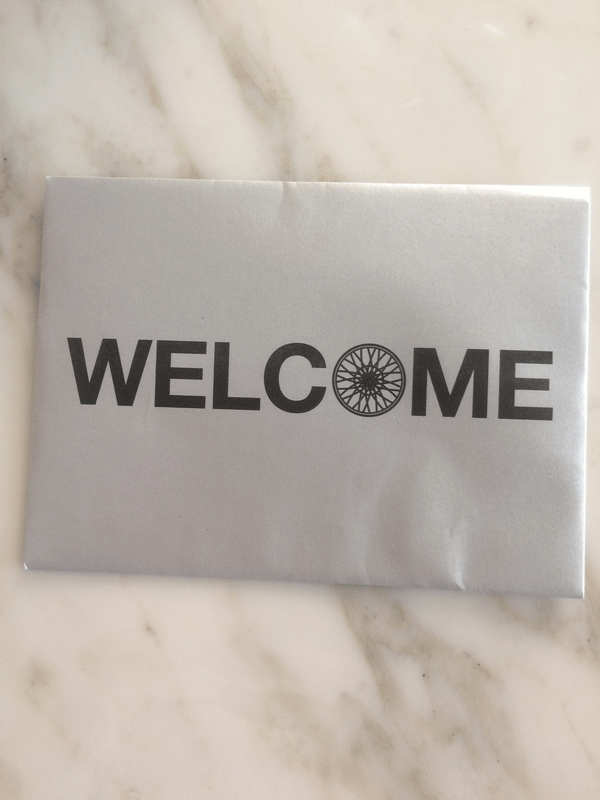 If that wasn't enough, an hour after class ended I received a personal email from Nicole checking in again and inviting me back to the studio.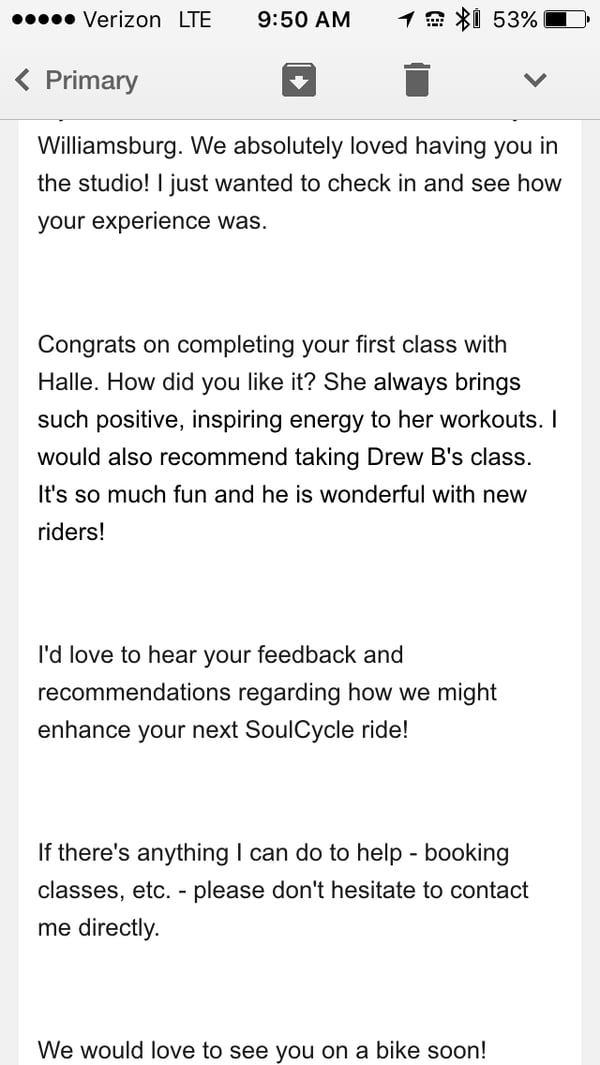 Count it up. Seven personal touch points around a one hour class. Now contrast this with how newbies are treated at most cultural institutions. Do they get a tour? A card? Any acknowledgement of being a first-timer? A personal email afterwards?
I'm sure you are thinking, "We couldn't do that for all the new people that come to our theater every night" or "We don't have the staff, money, resources, time…" I am not saying do this exactly but I think you can take some ideas:

● You can include a special offer or welcome card in their ticket envelope.
● You can have your box office staff acknowledge that it's their first time and welcome them.
● You know the seats where newbies are seated. Can you have one or two staff people in the theater each night whose job it is to ensure newbies have a great experience? Who come to their seats to welcome them to the theater or check-in with them at intermission? Who offer to show them around or just talk to them about what they are going to see?
● You can send a personalized thank you email giving each newbie a killer offer to come back.

It's easy to say, "This would cost too much money" or "We don't have the staff for that." But the truth is you probably do have the money. You're probably just spending it on interruption marketing trying to reach new people—continuing "the churn" instead of engaging people who are already in your universe.

We need to stop thinking of marketing as buying ads—it should be focused on building a solid infrastructure. My guess is you spend 70% of your budget trying to interrupt new people and 30% of your budget on talking to people who are already in your universe. Imagine if you swapped that.

SoulCycle does a phenomenal job of turning newbies into loyal customers. And I have to say—it worked on me. I went back for my second (free) SoulCycle class. When I presented my card, another super friendly team member seemed genuinely excited I was back. The management of SoulCycle really understands the lifetime value of each customer. I am really impressed and am already planning my third class (at full price!).