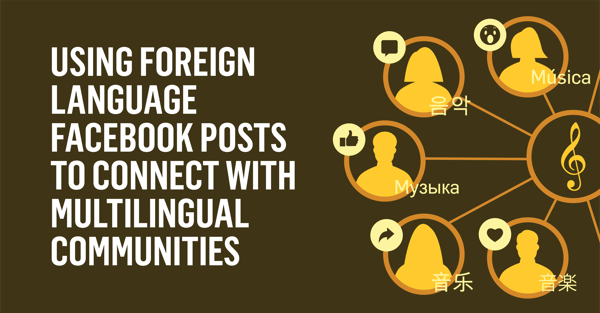 Central to the value of Facebook users and advertisers alike is its purpose of connecting people all over the world. Facebook has over two billion active users, and half speak a language that isn't English. Additionally, a majority of Facebook Pages promote to multilingual audiences.
Carnegie Hall saw a crucial opportunity to reach multilingual audiences in New York City with their world-renowned programming. We worked with them to promote foreign language posts throughout various campaigns, which helped them bring new patrons into their universe, connect with communities in their languages, and as a bonus, drive strong return on investments (ROIs)!
---
Uchida and Tsujii - Japanese Language Posts
Mitsuko Uchida and Nobuyuki Tsujii are two internationally acclaimed Japanese classical pianists that had performances at Carnegie Hall. Since New York City has a large Japanese-speaking community, our aim was to reach them through a targeted acquisition campaign.
The campaigns featured Japanese language posts for Mitsuko Uchida and Nobuyuki Tsujii performances. Nobuyuki Tsujii also included an English language event response campaign. Our goal was to reach Japanese speakers outside of Carnegie Hall's universe and with each audience, we put in a Japanese language layer to ensure the posts were relevant.
Across both campaign phases, we reached over 53,000 unique users and saw a 519% ROI. These campaigns also drove a strong KPV rate of 1.3% and an efficient cost per KPV of $1.23. We also saw over 80 post shares, which suggests that people wanted to share the posts within their own communities.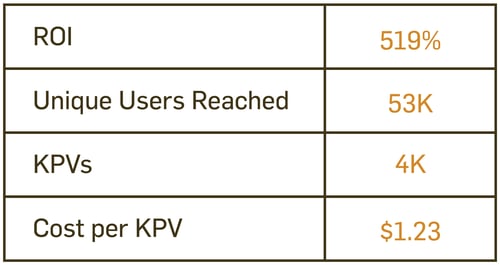 ---
NYO In Translation - Five languages
Carnegie Hall was ready to take their foreign language posts to the next level with a dedicated In Translation campaign for three National Youth Orchestra concerts. This campaign featured the same post in five different languages: Korean, Russian, Spanish, Japanese, Chinese.
Part of the strategy behind doing a robust foreign language campaign in the summer was the likelihood of reaching tourists visiting New York City. With this in mind, one of our main key performance indicators (KPIs) was to reach as many people who speak the language of the post as possible. Overall, the Spanish language post reached the most Spanish speakers with the most cost efficient cost per 1,000 reached.
The In Translation campaign drove 1.42% KPV rate versus the 0.75 KPV rate in the English language campaign. Looking next at engagement, the In Translation campaign drove a 0.6% engagement rate and over 750 post shares— a very strong outcome which is in line with the engagement we saw on the English language campaign.

---
Connect with Your Community
Ready to make your own foreign language posts? Here are some how-to tips to help you get started.
As you're creating ad sets for a campaign in Facebook Ads Manager, click on the Languages section, and select the speakers of the language you'd like to reach.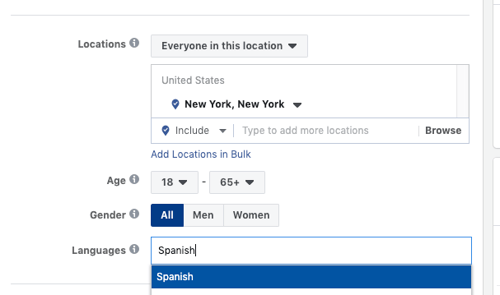 Be sure to use translated copy when you're creating the ad. Carnegie Hall used human translation to utilize idiomatic language - it signals to the reader that the post was made for that language.
If you don't have the time or budget for this, you do have the option of using Facebook's machine translator. It uses an algorithm that determines which language a multilingual user is most comfortable with, and shows them ads in those languages.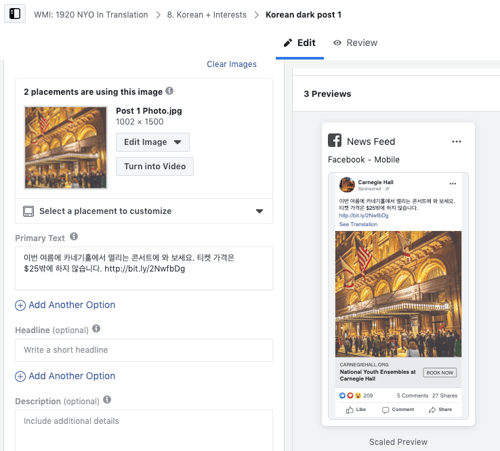 Example of filling in translated text when creating an ad
In lieu of creating separate ads, you can create one post translated into one or more languages. You can use Facebook's Add Languages feature when creating an ad - you'll be able to enter your own translations or Facebook's machine translations. Heads-up that this means you'll be using the same base ad copy and targeting across languages.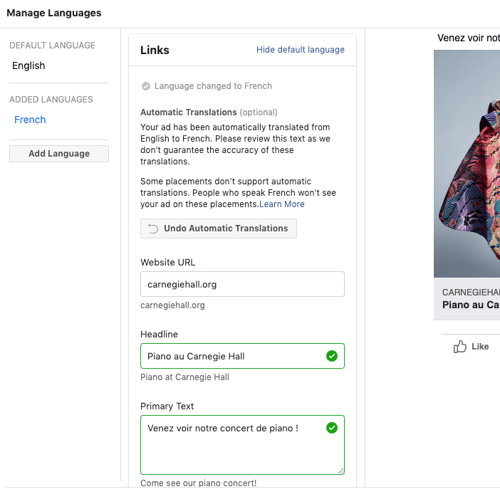 ---
As you create content for upcoming concerts, exhibitions, or performances, consider foreign language posts for performers or artists with fans who speak a different language, or for any performances or exhibitions using the language of a large community of people near you.
Foreign language posts are a new and simple way to connect with your community. And, bonus points, they drive strong engagement and conversion rates, as well as being very efficient.