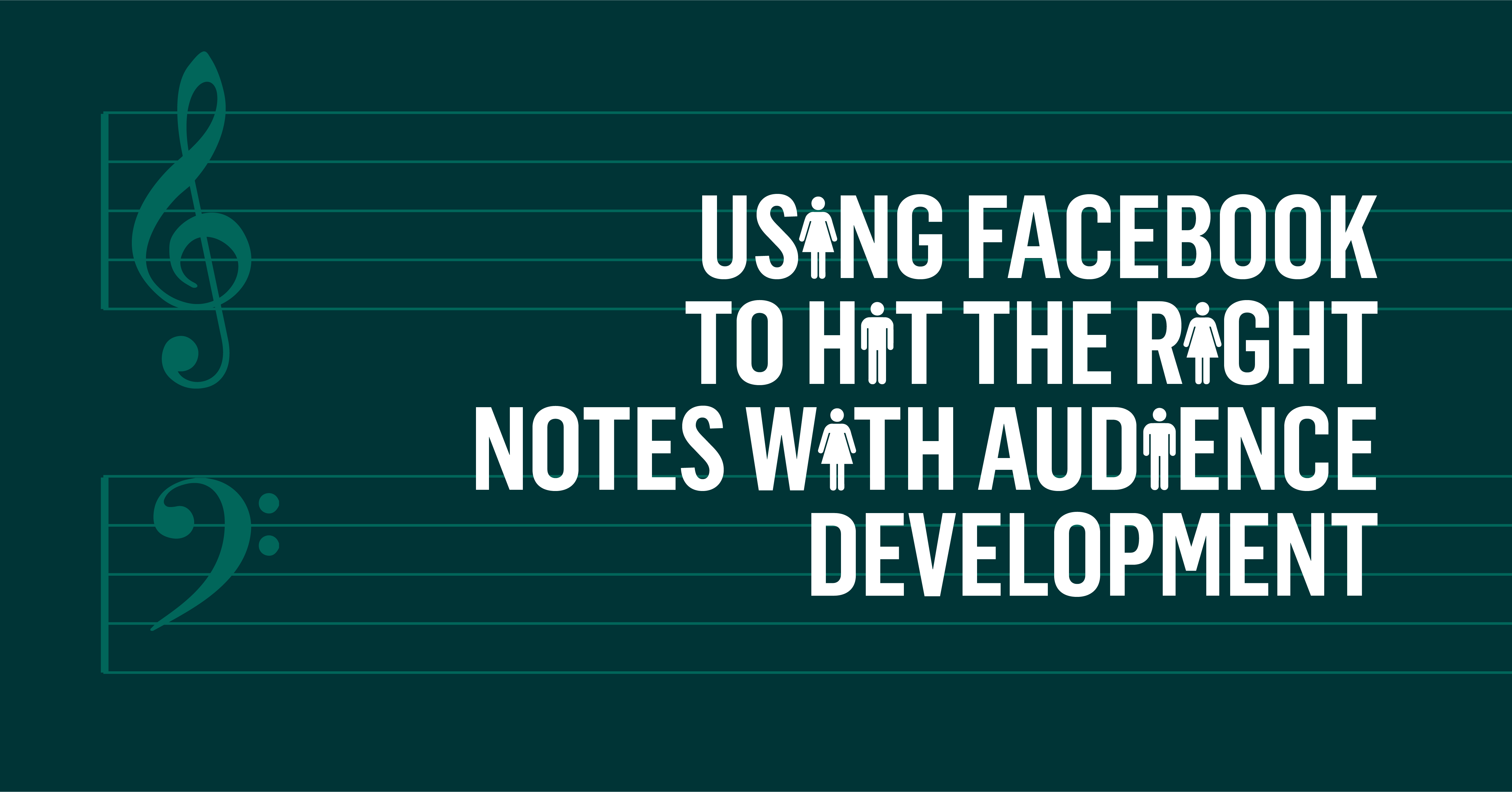 Symphony organizations have been given a bad rap over the years for having an aging audience and an inability to attract younger patrons. Perhaps this challenge stems from us "talking at" vs. "with" younger audiences or creating programming that doesn't appeal to them. If we can successfully create programming and feature benefits that align with what younger audiences want, the doors will stay open.
Don't believe me? The data exists: millennials are actually the largest segment of visitors to cultural organizations. They are socially conscious consumers who care about our missions. When your communication is authentic and meaningful, it can inspire action.
If you're wondering how your organization can do this, look no further than the Minnesota Orchestra. In 2014, the organization conducted young audience focus groups to gather more information for their audience development programming. With this feedback in mind, the $20under40 program was created. The concept originated from the Boston Symphony Orchestra, but the Minnesota Orchestra customized the program for their audience through monthly #MNOrchMonday emails.

Guests under the age of 40 have access to special offers for select concerts throughout the season. All they have to do is join the #MNOrchMonday email list! Some of the offers include free chamber music concerts at local breweries as well as other exclusive events. I don't know about you, but that sounds like a great happy hour experience - sign me up for a pint with the brass quintet!
---
Build Your Audience
Facebook is a near perfect platform for arts marketing, with an array of campaign objectives, custom audiences, and sophisticated targeting options. We used a Lead Generation campaign to collect email leads for the $20under40 program in the most cost-efficient way possible and nurture them into returning patrons.
Lead Generation campaigns offer the ability for a user to enter their email address without leaving Facebook. Once a user clicks the post, the form within the post auto-populates with a user's basic information based on their Facebook login information.

For Minnesota Orchestra's Lead Generation campaign, we retargeted audiences who visited their offers landing pages and users who were interested in a variety of works and composers featured on those offers landing pages.
The key to both of these audience segments was benefits-driven content. If a user saw a $20under40 post, they could easily digest what they would get out of the program and be excited to join! In the example below, we even included how long it would take to sign up, so it didn't feel like a chore. Benefits-driven copy paired with fun group photos allowed users to see themselves in that night out at the Orchestra Hall with friends.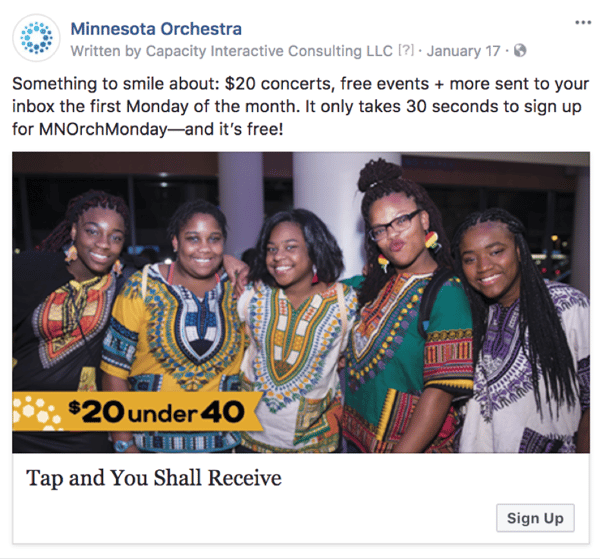 ---
Get to Know Them
Lead Generation forms also allow you to ask questions and gain additional information from users. Asking questions identifies gaps in our knowledge, but asking too many questions within a fast-paced platform could cause users to back off.
For this campaign, we wanted to turn what would be a small list of names and email addresses into a more robust list that provided a deeper level of insight. We were particularly interested in asking "Have you attended a Minnesota Orchestra concert before?" Why? It would allow us to segment those who responded "No," giving Minnesota Orchestra the ability to send more anticipated, relevant, and personal email content in the future.
---
Turning Strangers Into Friends, Friends Into Customers
We started this campaign a few days after the new year and ran it through March, just after Minnesota Orchestra's 17-18 season announcement. As the concert offering continued to change over time, it was important to continue the conversation around this program.
After three months, we have influenced over 400 new lead responses. 34% of these patrons responded as never having been to a Minnesota Orchestra concert before. This is an amazing insight! The ability to segment patrons by their level of organizational loyalty is a major win. 66% of respondents had previously been to a concert and clearly enjoyed their experience enough to respond, demonstrating their increased loyalty to the Minnesota Orchestra.
Since we're always looking to turn strangers into friends, friends into customers, we ran a campaign with a Conversion objective alongside the Lead Generation campaign. We took full advantage of targeting new and existing audiences to help grow the remarketing pool of site visitors over time, which we could then target later. During this same three month window, we influenced 168 purchase orders for over $13,000 in revenue and a CPA of $6.33.
---
What Are We Measuring?
Facebook provides a cost-efficient way for us to support an audience development initiative through Lead Generation campaigns. We're excited about the number of leads influenced but some of the most important work requires us to focus on the retention and loyalty of those new leads. Yes, this list grew, but leveraging the question of whether or not they have attended a performance at the Minnesota Orchestra allows us to nurture those leads and transform them into returning patrons.

The Minnesota Orchestra has already begun nurturing those leads through an automated welcome email (not a direct ask!) that is customized for users that have signed up for the #MNOrchMonday email list.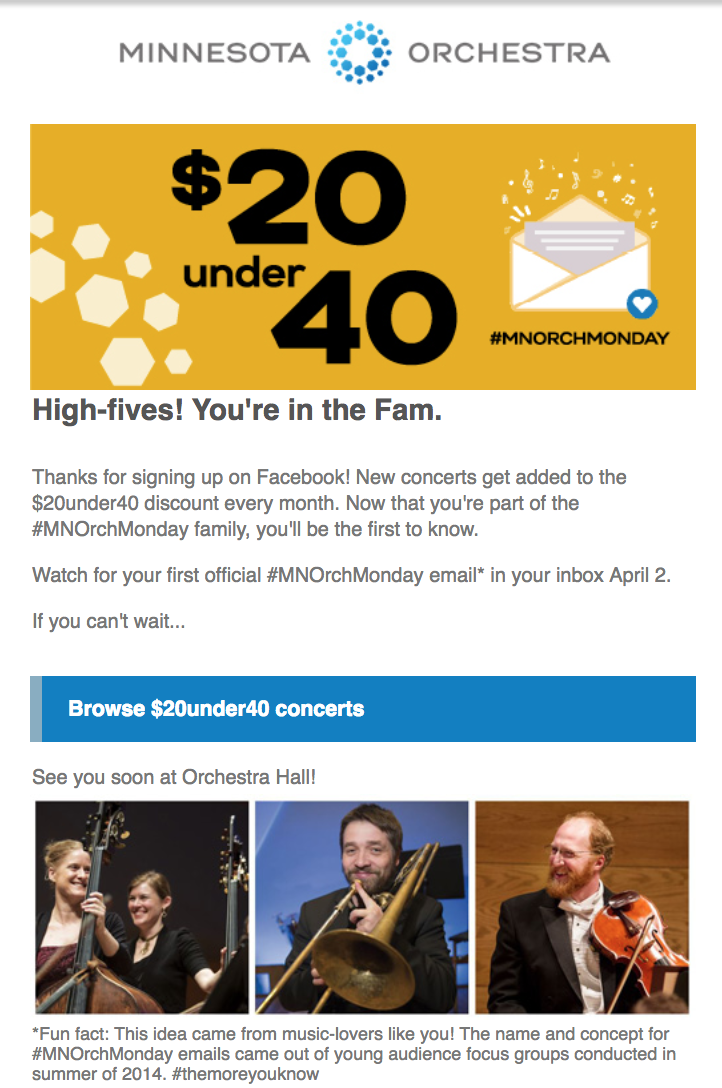 The email checks all of the boxes. It's anticipated (patrons were already expecting to receive emails after signing up), it's personal (it uses second-person, casual language to welcome them), and it's relevant (provides at a glance information on what they will get out of the $20under40 program).
---
Looking to collect even more leads? Capacity Interactive has a software plug-in called Leadacity. It obtains email and Facebook "Likes" on your website. The tool has collected leads from as many as 4% of site visitors on some websites. Sign up for a free, 7-day trial today.