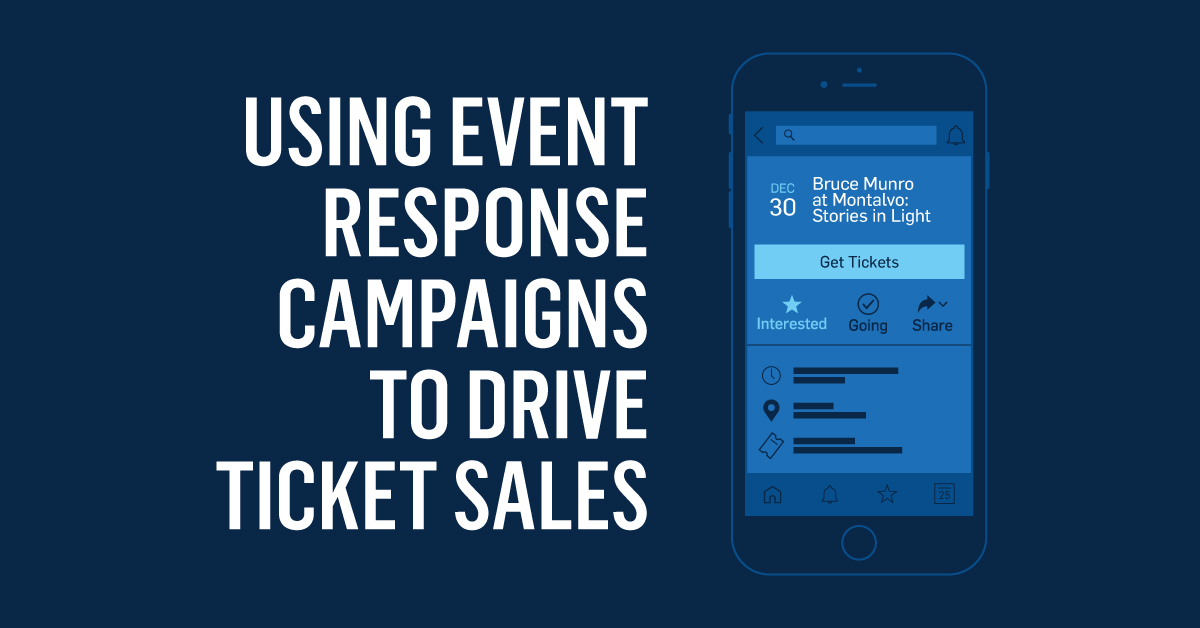 Facebook has transformed in-person events into a digital experience. In fact, 490 million people use Facebook Page events every month, and 38 million events are created by Facebook Pages. Once a user joins an event, it's automatically added to their Facebook calendar. They can also see if their friends are interested in or going to events near them.
This is a great word-of-mouth tool for arts organizations. Instead of making RSVP'ing a private experience, users are able to find events, indicate if they're interested or going, and share with their friends in a matter of seconds. As arts marketers, we know what people say about our organizations is 12.8 times more important than what we say about it.
Montalvo Arts Center capitalized on Facebook event response campaigns not only to accelerate word-of-mouth momentum but to also drive ticket sales to a west coast debut event.
---
Throwing the Event of a Lifetime
Montalvo Arts Center is a multidisciplinary arts organization located in Silicon Valley's Saratoga Hills. The Montalvo grounds include a 1912 Mediterranean-style Villa, its formal gardens, and 175 acres of trails through redwood trees.
We started working with Montalvo Arts Center in 2014 to manage their Google Grant. Last year, we expanded our partnership to include Facebook and Instagram management, as well as supplemental paid search in preparation for a large-scale event.
Montalvo was hosting a new exhibition by Bruce Munro called "Stories in Light." Featuring ten light-based works ranging in scale from immersive to intimate, the exhibition utilized multi-hued waves, clusters, cascades, flocks, and seas of illumination, transforming Montalvo's historic Villa and its extensive public areas into a breathtaking spectacle of light.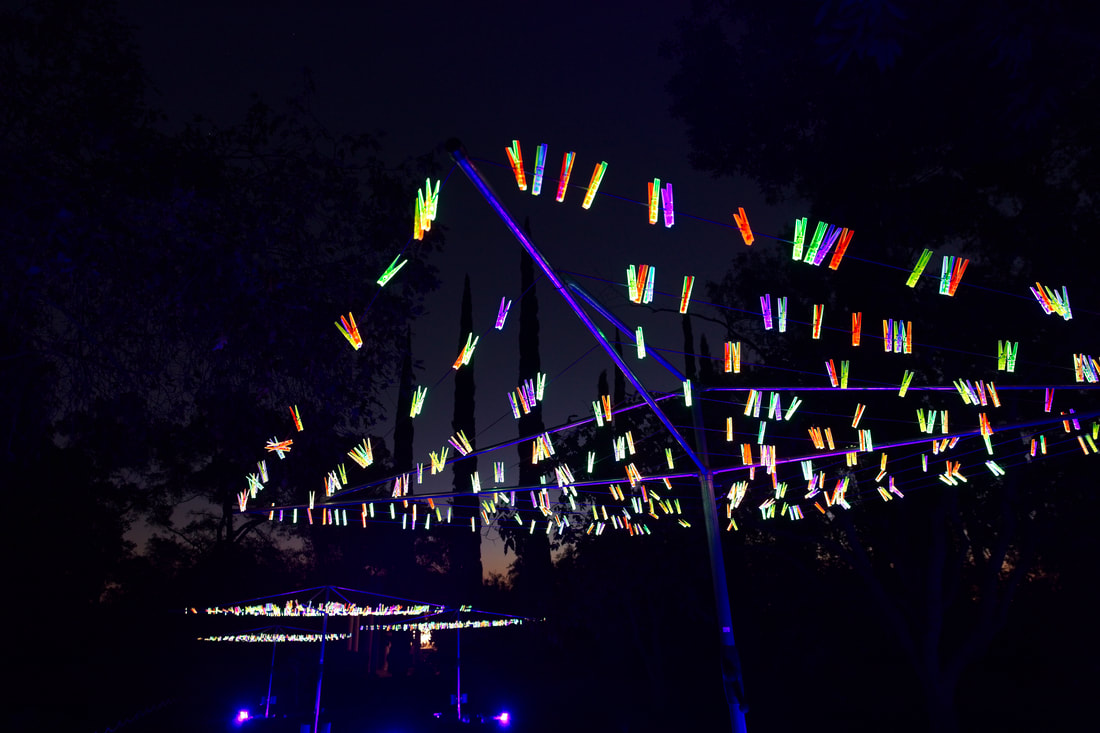 Photo credit: Mark Pickthall, 2018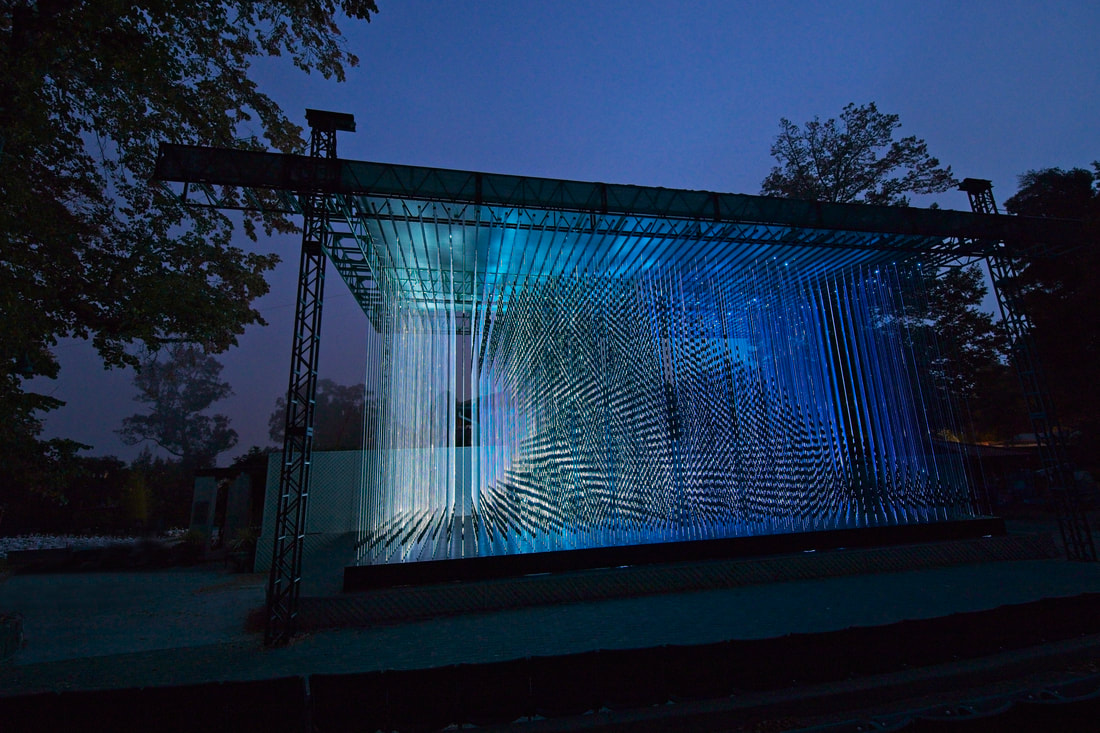 Photo credit: Mark Pickthall, 2018
"Even I never dreamed of magic like this!" That's right, Narnia fans. Munro's works on view are inspired by his experiences reading C.S. Lewis's Chronicles of Narnia as a child. They also reflect on personal recollections and society's collective memories.
It was the first time Munro's work had been publicly on display on the west coast, and it represented the largest number of his works ever on view at a single venue. It was time for Montalvo Arts Center to create the ultimate invite to a must-see and incredibly Instagrammable event.
---
Preparing the Guest List
Our primary goals were to drive ticket sales and reach new audiences, specifically younger, millennial audiences. Lucky for us, the exhibition was ripe for Instagram feeds so engaging younger audiences wasn't out of the realm of possibilities. If you want to reach new, younger audiences, it's important to consider the programming - will it attract, engage, and delight?
For the first part of this campaign, we broke our strategy out into two primary campaign objectives: event response and conversions. Equate this to any type of event planning - you create a list of people you'd like to attend, create and send an engaging invitation, and patiently (or impatiently) await responses. If you don't hear back, you likely send a reminder.
The event response campaign targeted people already in Montalvo's universe (people on their email lists, website remarketing, and Facebook fans) and outside of it (a Lookalikes audience based off of a list of people who had already bought Munro tickets in advance of the exhibition's opening). We aimed to cast a wider yet targeted net to build awareness and excitement.

The event post hits on everything thumb-stopping. It features a gorgeous photo of the exhibition that stands out in a Timeline sea. Not only is it alluring, but it also meets the specs checklist (who wants to see a blurry event photo or one that's cut off?). The post also boasts copy that creates a sense of urgency for users to avoid FOMO. On this same note, a user can see how many people have responded to this event, which ups its "in the know" factor.
Once the event response campaign ended, we launched two conversion campaigns with the intent to turn those event responders into ticket buyers. The first conversion campaign folded in Instagram and a custom audience on Facebook focusing on video viewers. The second conversion campaign experimented with past visitors, a family groups interest segment, and a Lookalikes audience based off of past millennial buyers (ages 21-35).
Initially, we hypothesized that the event response campaign would build awareness and engagement. The conversion campaigns would seal the ticket buying deal.
While the event response campaign did do its job in terms of engagement, we were pleasantly surprised to learn just how valuable it was in driving ticket sales.
---
Turning RSVPs into Ticket Sales
The event response and conversion campaigns together, which ran for the first 2.5 months of the exhibition as "Part One" of a broader campaign strategy, drove over 300 total purchases, with a cost per acquisition (CPA) that was around $10.
While the conversion campaigns did their jobs in driving ticket sales, the event response campaign also held its own in this arena. Not only did the event response campaign influence over 3,000 event responses, but it also drove 78 purchases, and boasted the most impressions (122,797), and second most key page views (KPVs).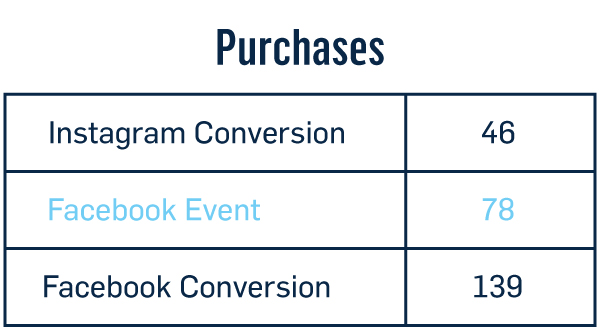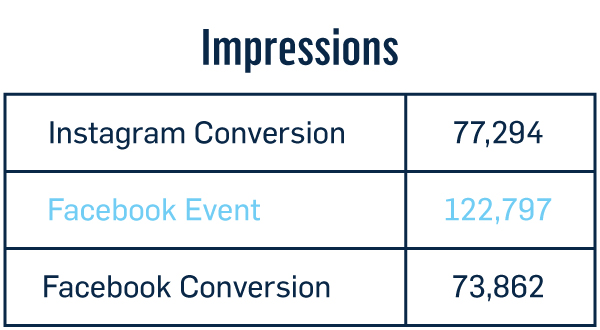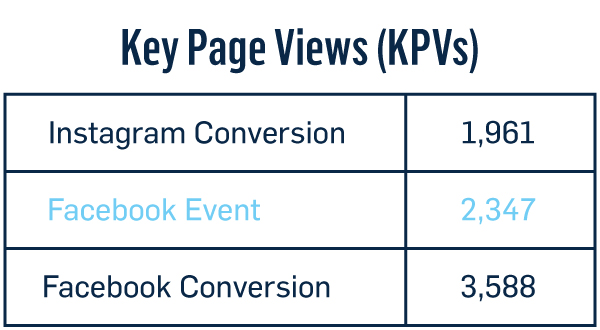 Additionally, the Lookalikes audience used in the event response campaign made up 58% of the event response media spend and drove 74% of the event responses.
---
Facebook events are a great way to stay connected with your audience and also reach new ones. As we saw with Montalvo Arts Center, event response campaigns work exceptionally well for programming that is sharable on social media.