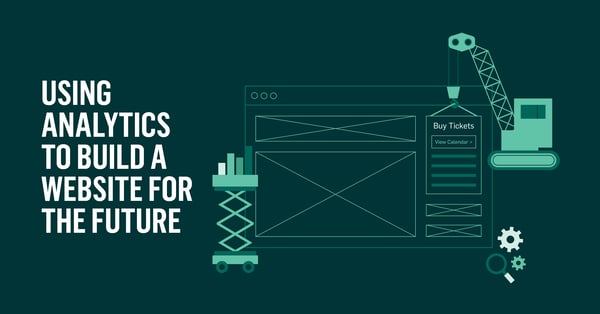 The Goodman Theatre has a long history of innovation on-stage. It's the recipient of the Special Tony Award for Outstanding Regional Theatre and is known at home and abroad as a theater as much for artists as it is for the community. The team at The Goodman puts their patrons at the heart of everything they do, including their digital initiatives, proving that they are innovators off-stage as well.
This was most evident in The Goodman's recent website redesign, where, with funding from the Wallace Foundation, they were able to turn to user data at key moments in the process to inform the direction and prioritization of new templates on their site.
---
Creating a Patron-Serving Website
Many organizations launch into website redesign projects head first. They know the site is old, and that they need something new and refreshing. They let stakeholder opinions and institutional priorities control the process, and end up with an institution-serving website as a result. The Goodman wanted a patron-serving website, so they used one of the most reliable data sources, user data about their current website, to inform this three-year process.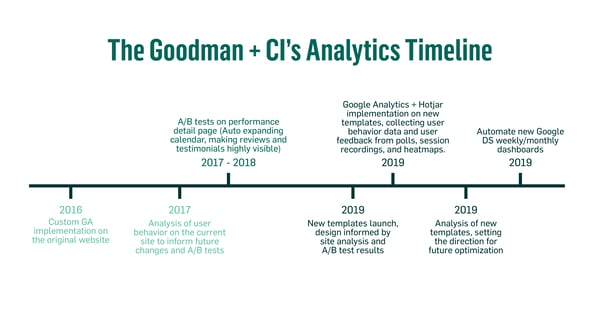 To kick off the first phase, we partnered with The Goodman's marketing team to ensure they could collect accurate, reliable, and granular site data in Google Analytics (GA). Not only did this lay a strong foundation for future analysis, but Goodman team members could also rely on their custom GA implementation for day-to-day site monitoring and reporting.
After a data collection period, we conducted a deep-dive analysis, presenting The Goodman with a deck of results and recommendations. This deep site analysis paved the way for future optimizations and an eventual template redesign.
There were some major themes that stood out in the analysis:
1. Event/Play detail pages were the most important template to focus on. It was where most of their site traffic was concentrated, it was directly tied to revenue generation (a key site objective), and there was plenty of room to improve performance, particularly around the contextual content on the page and the calendar module that users clicked on to buy tickets.
2. The homepage needed to prioritize upcoming events and ticketing. Users were ignoring the promotional carousel and navigating straight to upcoming events or ticketing using the Global Nav or smaller upcoming events module.
3. Improve mobile experience. Mobile users were becoming a critical audience, but the site at the time wasn't providing a strong enough experience for them.
---
Iterative Optimization
Based on these findings and our recommendations, the team at The Goodman was able to make some immediate site adjustments that didn't require a full redesign. We also helped them run several A/B tests that explored hypotheses from the site analysis.
One of these tests confirmed that more visible press reviews had a positive impact on revenue and conversion rate across the site. The Goodman was able to adjust the template for immediate returns (still all before a major redesign).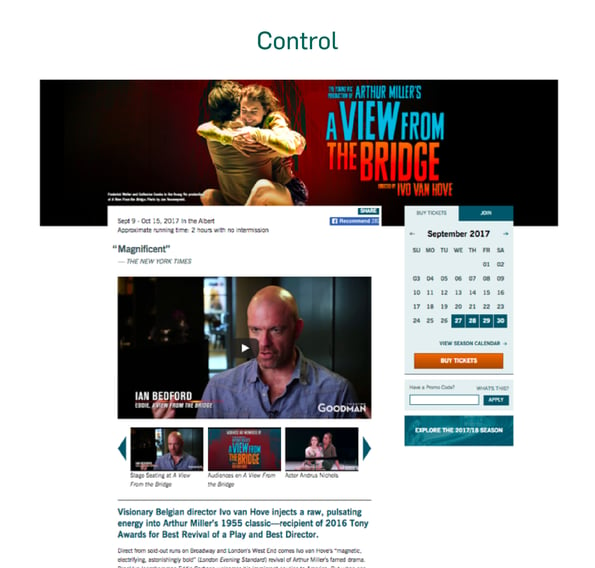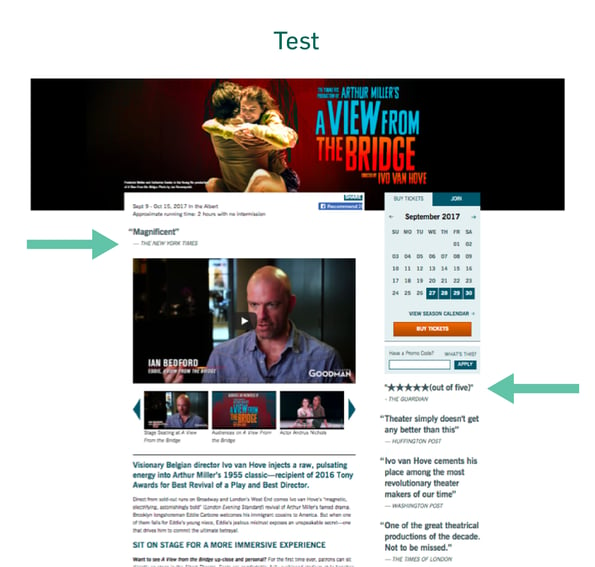 ---
Taking Website Redesign Action
In 2018, The Goodman was ready to embark on a larger template redesign, focusing on the most critical areas of the site as identified in our site analysis (play detail pages, the homepage, and the SYOS experience).
The Goodman, along with design partner, Orbit Media Studios, and development partner, Adage, incorporated analytics findings at every step of the redesign:
1. They removed the rotating carousel on the homepage, opting for a banner design that promotes upcoming events, or (when there were fewer events on sale), subscriber initiatives.
2. They designed an auto-exposed, list-view of the calendar on performance detail pages, with visible information about pricing, availability, and accessible performances, so that users had plenty of contextual information before clicking through to buy.
3. They invested in new SYOS functionality to improve the purchase flow and user experience with ticket buying.
During the redesign process, we partnered again with The Goodman to ensure new templates could be tracked and analyzed in GA. We also introduced Hotjar as a tool to collect user feedback about the new site. Hotjar heatmaps, session recordings, and feedback polls allowed us to dig into the "why" of user behavior, supplementing the customized GA set up and helping us better understand user satisfaction with the new templates.
This combination of qualitative and quantitative analysis gave The Goodman a holistic picture of how the site was performing compared to the old version, as well as how users engaged with the new templates and where there was an opportunity for future tweaks. Below are some key findings from this analysis.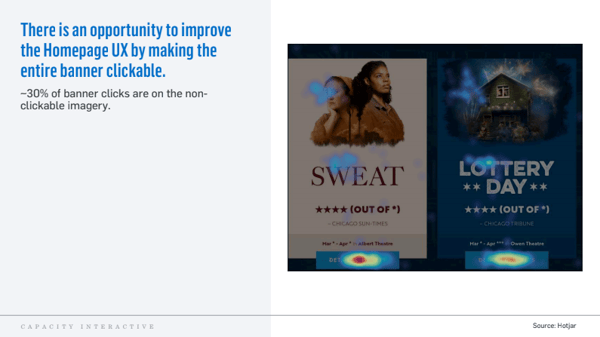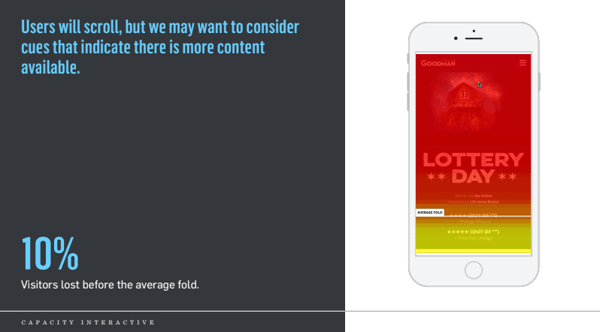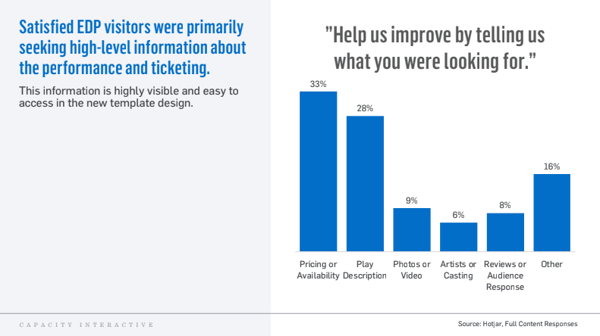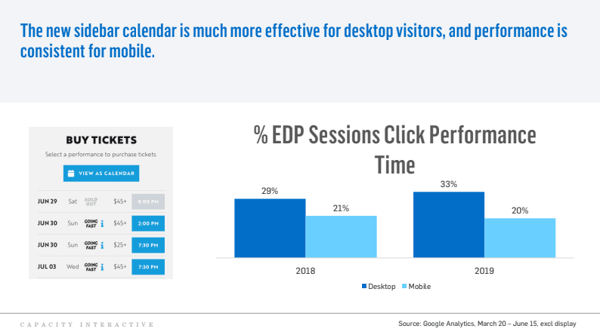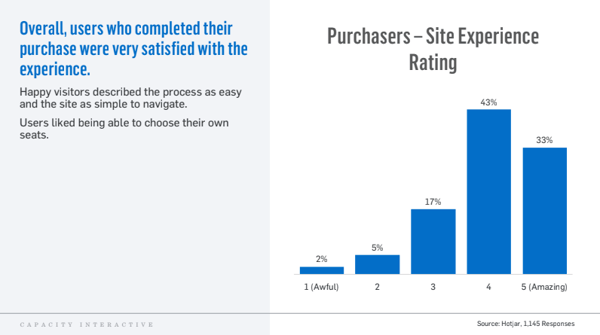 We also set the team at The Goodman up with automated weekly and monthly site reporting in Google Data Studio, so they could continue to monitor site performance outside of a deep-dive analysis.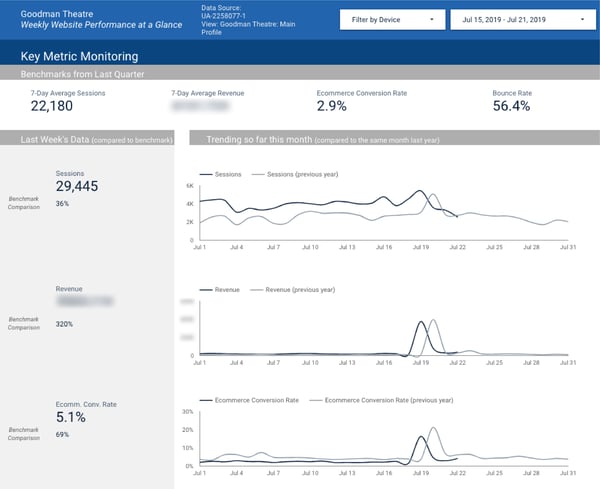 At the end of this process, The Goodman achieved its patron-serving website goal by utilizing user data to inform their website redesign. This process is unique to each organization - it's not a one-size-fits-all scenario.

It's also important to note that this process wasn't just a few weeks - website redesign projects are an enormous lift, and the preparation they put into the project reaped its rewards with a user-friendly website.
---
Planning your own website redesign? It's more important than ever that user data informs the process. Get a free, 30-minute assessment with our Analytics team to learn more.