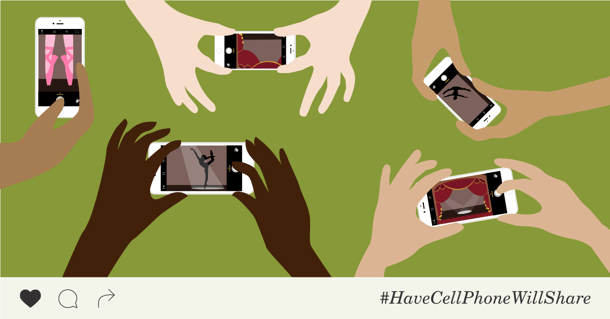 I love autumn in New York; the weather feels crisp, Central Park turns brilliant shades of bright orange, gold and red, and I can pull my favorite blazers out of mothballs. One of the things I love most of all is the fall dance season in the city. There is so much dance to see in October and November that I have to come to terms with the fact that I just won't have the time and energy (I'm intensely introverted!) to attend everything that I want.
Special amongst all of the autumnal dance offerings is New York City Center's Fall for Dance festival. In full disclosure, I confess to serving as Director of Marketing at City Center, where I worked on eight Fall for Dance festivals during my tenure. It was a labor of love and very much molded the rabid dance fan that I am today.
The festival offers five distinct and eclectic programs over the course of ten days, and each program includes one piece from four different dance companies. Every ticket in the cavernous, and beautifully-renovated, neo-moorish house is just $15.
Fall for Dance attracts a young and vibrant audience, many of whom are new to dance altogether. Building a new audience for dance in New York City is one of the primary objectives of the festival, one it has successfully achieved over and over during its thirteen seasons.
The 2016 Fall for Dance festival concluded recently, and I'm still riding the high from all of the varied and wonderful performances I attended. The audiences were incredibly energetic and easily gave away their praise in the form of constant thunderous applause, hoots and hollers, and random standing ovations. Occasionally this audience feedback was provided at somewhat less traditional moments during performances, resulting in eyebrow raises from the more seasoned dance goers seated nearby. Still, I find this lack of dance propriety refreshing and contagious, and look forward to it every season.
Propriety itself provided the motivation for writing this piece. As audience members at most live performances - dance, theater, symphony, opera - we are accustomed to conforming to conventionally accepted standards of behavior. The specific behavior to which I refer is quite common and usually occurs in a hurry as the house lights go down; powering down or silencing our mobile devices.
I arrived at City Center for the first of five Fall for Dance programs this year. In the spirit of helping the festival achieve its new audience objective, I brought a colleague of mine, who is showing signs of becoming a serious dancegoer.
As the front-of-house staff opened up the house for seating, I immediately heard some pretty cool walk-in music and wondered what I would see upon entering the auditorium. As we rounded the corner, we took sight of the company from STREB Extreme Action warming up on stage.
In typical STREB style, they were costumed in full body lycra, this time in bright red. Behind them was a two-story, spinning, metal ladder contraption, on which I knew they would either ride, climb or hurl themselves to the stage floor (in the end, all three!).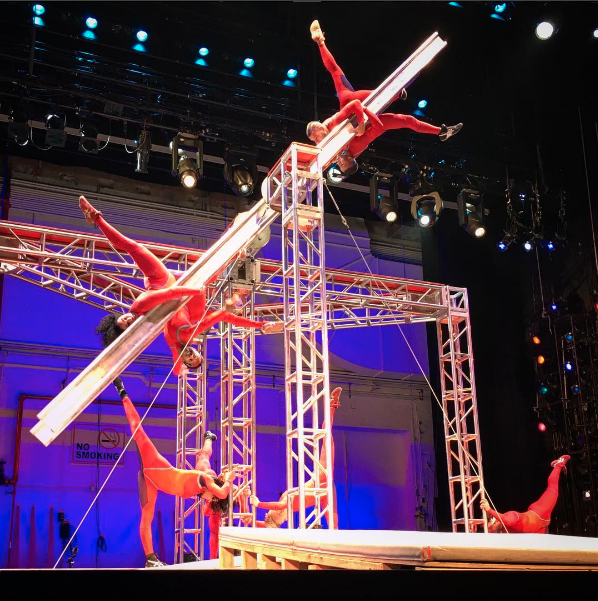 As 8pm came and went, the house lights went down, without the usual admonishing announcement reminding us to turn off or silence our pesky phones and recording devices. Interesting. An energetic DJ, decked out head to toe in black, galloped across the stage and began to warm us up. He clearly identified himself as being part of STREB and then said the most thrilling and unexpected thing.
He encouraged the entire sold out audience of 2,500 people to seize our mobile devices, turn them on, and take as many photos and videos of the STREB performance as we wanted. Was this America? How was this possible!? He wasn't done. Before turning the stage over to his pop action colleagues, he encouraged all of us to share our STREB content - right then and there in the moment - across all of our social media channels. The audience went wild and did just what he instructed.

I expected to be distracted by the glowing screens of the people around me, jockeying for the right angles and a clear view over the audience members in front them. I was not. Some folks were using Instagram, some just took photos or videos, the younger audience members were all using Snapchat, and I even saw a gentleman across from me using Facebook Live.
It was amazing. The arts marketer in me couldn't wait for intermission to see how all of this sharing would aggregate in hashtags and my news feeds. When intermission finally came, my Instagram and Facebook feeds were clogged with STREB content direct from the stage. It was intoxicating!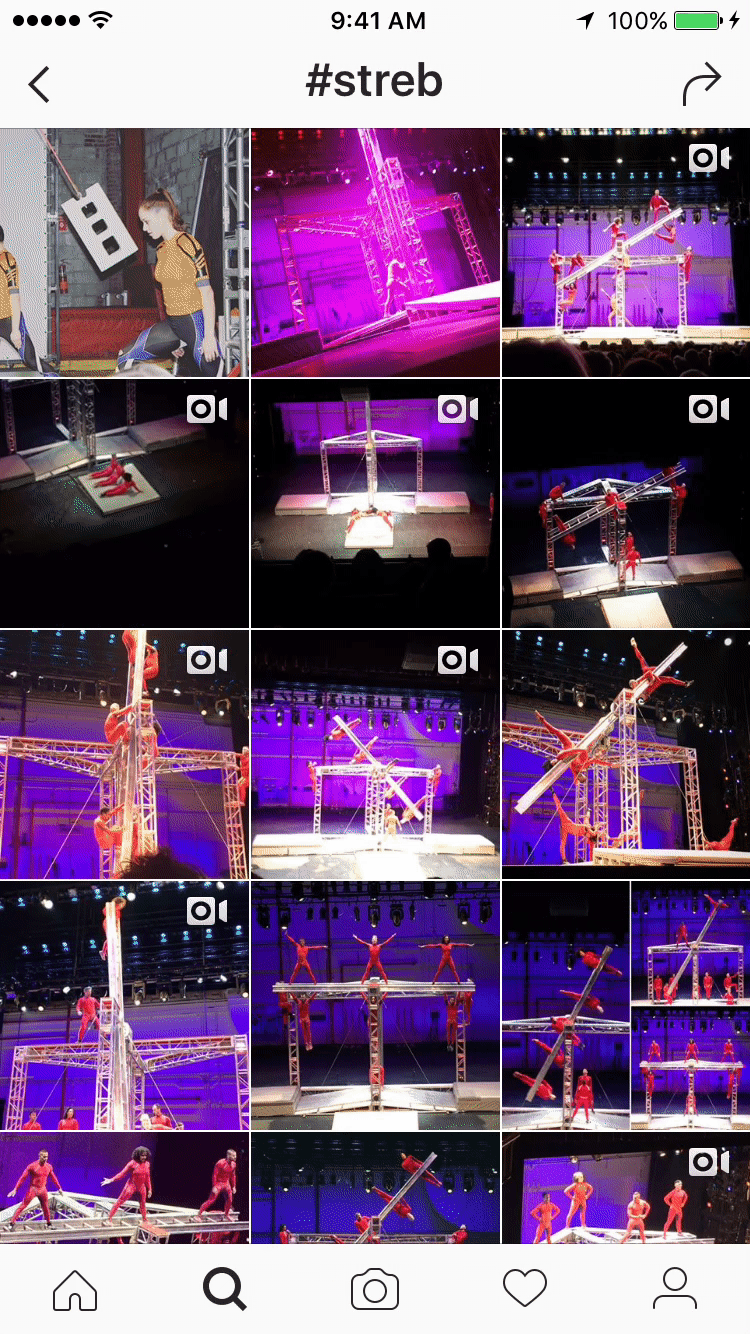 Elizabeth Streb, the company's founder, was seated directly behind me. What was her motivation for allowing the audience to so freely share her work and put propriety at naught? I know that STREB encourages this kind of relationship with audiences at their own home in Brooklyn, but this was Fall for Dance.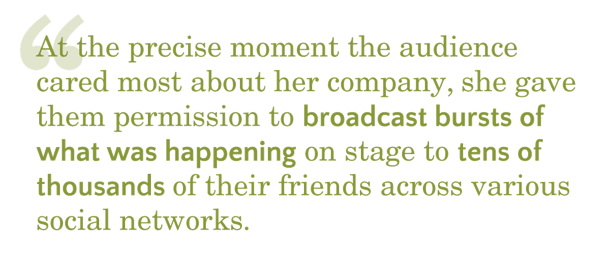 In my view, it's an absolute no-brainer on her part. Over the course of two nights, she's got 5,000 enthusiastic audience members held captive and captivated by her company. At the precise moment the audience cared most about her company, she gave them permission to broadcast bursts of what was happening on stage to tens of thousands of their friends across various social networks.
In the old pre-mobile days, we could only share experiences with friends by recounting what we saw with words (word-of-mouth). Word-of-mouth is only as effective as the individual's storytelling ability. Today, in our incredibly mobile world, we share experiences in the form of social endorsements; they are incredibly powerful, relevant, often beautiful, and compel us to feel deeply. Unlike spoken word-of-mouth counterparts, the photo and video content in a social endorsement can effectively speak for itself. Most importantly, these social endorsements of great efficacy are free.
Certainly there are many moments onstage when our organizations are restricted by good taste, union agreements and copyright protections. Imagine though, what can happen for arts organizations when we're not restricted. Those moments when we choose to turn over a new leaf in order to harness powerful moments on our stages.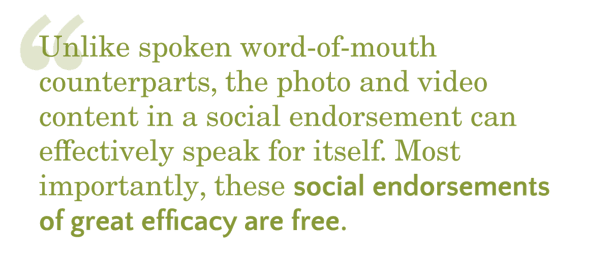 I'm sometimes called a buccaneer because I like to the challenge the establishment. This time, I was simply an audience member along for the ride when two organizations chose to ignore conventional propriety. It was pretty damn cool and everyone survived.
Dance on and share widely, my friends.