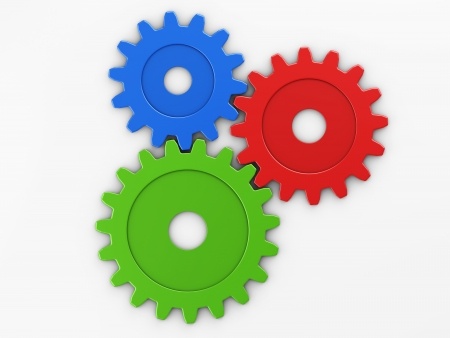 Google AdWords just keeps getting better. AdWords is adding features that are super useful for arts organizations that sell tickets online. Here are three you should be using -- and all three can be used on a Google Grant account:
Review Extensions
In October, Google launched Review Extensions which let you add reviews, awards, or other third-party rankings in additional lines of text beneath your keyword ads.
Reviews can be exact quotes or paraphrased and there is no charge for clicks on links to the third-party reviews.
This is a great way to add positive reviews to your ad copy. Plus it gives you more real estate on the page so your ad is larger than your competitors.
Here is an example from one of our clients:

Call Extensions
Call Extensions allow you to add a phone number to your ad. On mobile devices, ads show a clickable "Call" button: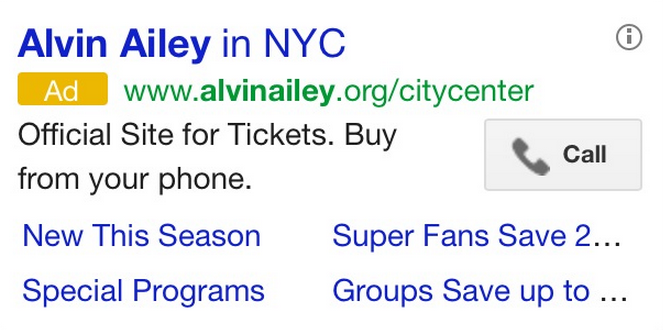 On desktops and tablets ads appear with a phone number:

When a user calls you are charged the same as for a click on the ad. For desktops and laptops you can select to have a Google-assigned and trackable vanity number appear so that you can track the action.
The advantage of having the vanity number is that you can track conversions when users call. You can determine how many seconds counts as a conversion. Say a user is on the line for more than 4 minutes, they are most likely going to buy a ticket so you can count that as a sale in your reporting.

We see hundreds of additional conversions each month for our clients using call conversions. These were conversions previously not directly attributable to your advertising.
Cross-Device Conversion Tracking
It's a multi-device world which makes tracking the success of your online advertising much more challenging. In fact, according to Google, results for (the broadly defined) "Entertainment Industry" are under-reported by 12% due to multi-device tracking challenges.
Say a user searches "theater tickets" from their work computer, and then clicks on a Google keyword ad for your production. They browse your site and email their friend to pick a date to attend. That night, on their iPad they purchase a pair of tickets by typing the URL to your site in their browser. Previously you would have no way to attribute that sale to your search ad. Now you do.
In October Google released "Estimated Cross-Device Conversions" for search ads on Google.com. This helps attribute sales from customers who searched on one device and then made a purchase from another device to the right ad. You can see in the example below there are 18 additional conversions in this campaign that otherwise would go unreported. At an average transaction value of $200 that is $3,600 in revenue that can be attributed to the ads in that campaign.

Want us to review your AdWords account to see how it can be improved to sell more tickets? Send us a note.