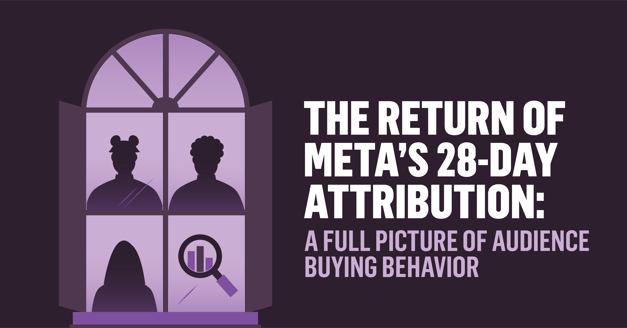 Get your confetti ready. 28-day attribution windows in Meta are back. But before we start popping bottles, let's take a quick trip down memory lane. (Yes, we're going to revisit iOS 14, but there's a light at the end of the tunnel!)
In the spring of 2021, Apple released the iOS 14.5 update, which came with new consumer privacy protections—and had seismic effects on the digital marketing industry. In response, Meta reduced their 28-day attribution window to 7-day post-click and 1-day post-view (also called post-impression) as part of their response to the iOS 14 changes. Although we celebrated data privacy as consumers, we mourned the loss of massive amounts of crucial data as digital marketers.
Alas, we put on a brave face and moved ahead. If we couldn't measure buying behavior like we used to, it was important to focus on the behavioral data we had left on Meta. Why? Facebook and Instagram remain the most-used social media platforms in the US and the most common among arts ticket buyers.
And then, just like that, the 28-day attribution window rose from the dead. And trust us—this is a welcome visit from a ghost of digital marketing past!
---
28-Day Attribution: Why It's Important Now
Let's start with a disclaimer: Meta's data still has significant limitations compared to the pre-iOS-14 days. We're still dealing with users' ability to opt out of tracking and limited conversion actions measured for opted-out users.

However, there's still a lot to celebrate! A 28-day post-view and post-click attribution window is a massive improvement over a 7-day post-click and 1-day post-view window. Consider consumer behavior—it likely takes your audience longer than one day to purchase after seeing an ad. When iOS 14 first rolled out, you couldn't track these longer purchase consideration periods. Now we can!
If you're excited but finding it hard to keep track of all the numbers and definitions, check out our handy charts below before you dive into the data in the next section.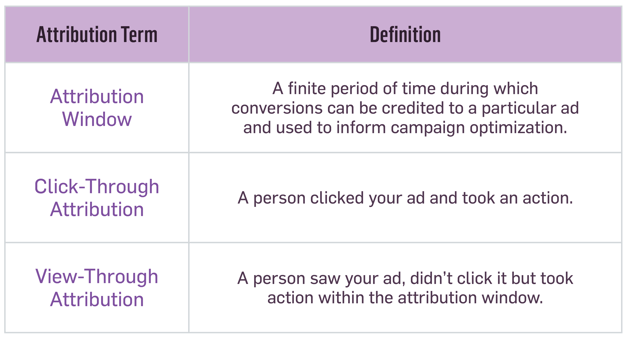 ---
What's Available in Meta Now
Keep in mind this is available for users except those who opted out due to iOS 14.
✓Default: 7-day post-click and 1-day post-view
✓New: 28-day post-click + post-view 🎉
---
28-Day Attribution in Action
Since we now have access to data in both attribution windows, we decided to take a look back at some recent campaigns and see how the results compare.
Timeline: All campaigns ran in the fall/winter of '22 and '23.
Campaign Goals: Drive single ticket or admission sales, and because of iOS-14 limitations, we used an all-purchases metric.
Programming Note: We only analyzed results from typical programming—no blockbuster titles or artists.
Genre Note: We looked at representative organizations for each genre, with budgets roughly average for their specific fields.
The Results
After observing numerous campaigns for each genre, a clear pattern emerged: when you compare a 7-day post-click and 1-day post-view (7/1) attribution window to a 28-day post-click and post-view attribution window (28/28), the return on investment (ROI) significantly increases and often doubles.
Please note that these results are anonymous for benchmarking purposes.
Representative Theater Results
Campaign featured a one-woman show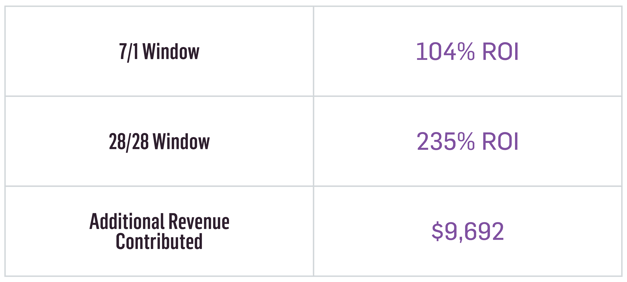 Representative Opera Results
Campaign featured a popular choral piece performance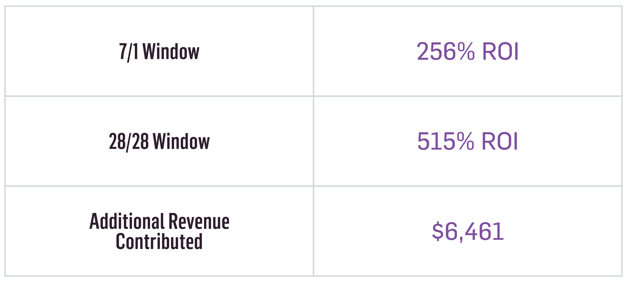 The average media budget needed to drive a purchase conversion, or cost per acquisition (CPA), has a massive drop, as well—in the case of the opera, from $20 to a mere $12. While the post-iOS-14 Meta landscape seemingly necessitated more extensive media spends to account for higher CPAs, that doesn't always seem to be the case when looking at the complete picture, since CPA data didn't change as much as it might have seemed.
Next, let's dive into some individual case studies to break down this exciting development even further. Please note that while purchases, revenue, and CPA improved across the board, only the most hard-hitting metric for each organization type is included below to illustrate impact at a glance.
Museum Case Study
Campaign featured a ticketed fall/winter exhibition

Performing Arts Center Case Study
Campaign featured a one-night performance by an illusionist


Symphony Case Study
Campaign featured classical programming

Ballet Case Study
Campaign featured a mixed-rep program

Let's break down the ballet case study even further:
Looking at revenue across both windows, there's a difference of $142k—so more money came from purchases outside the 7/1 window than within it.
In the 28-day window, post-click sales account for 20% of revenue, or $57K of the $282K total amount. There was $111K in revenue attributed to 1-day post-view sales, which is 40% of the total. That means post-view sales from days 2 through 28 represent $114K in revenue, or 40%.
Post-view conversion activity far outweighs post-click activity—80% compared to 20%, in this case—but what's even more striking is how much of that activity takes place after the first day, which is all that Meta provides in its 7/1 attribution window. In other words, post-view activity matters a lot, especially after the first day.
---
See the Full Picture with 28-Day Windows
Across every organization, across every genre, across all types of programming, the different attribution windows paint the same picture: while the ability to measure results diminished, consumer behavior has primarily remained the same. People are still spending meaningful time on Meta and transacting within the 28-day window we measured for years before the iOS 14 change.
If you were dismayed by post-iOS-14 Meta performance the past few years, wondering where your audience had gone, wonder no more. With the ability to view data from a 28-day window newly restored, we can conclusively see that they were right there all along.
The 28-day attribution window doesn't ultimately change campaign results but rather alters our perception of them. We can now paint a fuller picture and see audience behavior for those who fell outside of the default 7/1 window (which, as we now know, represents a lot of people).