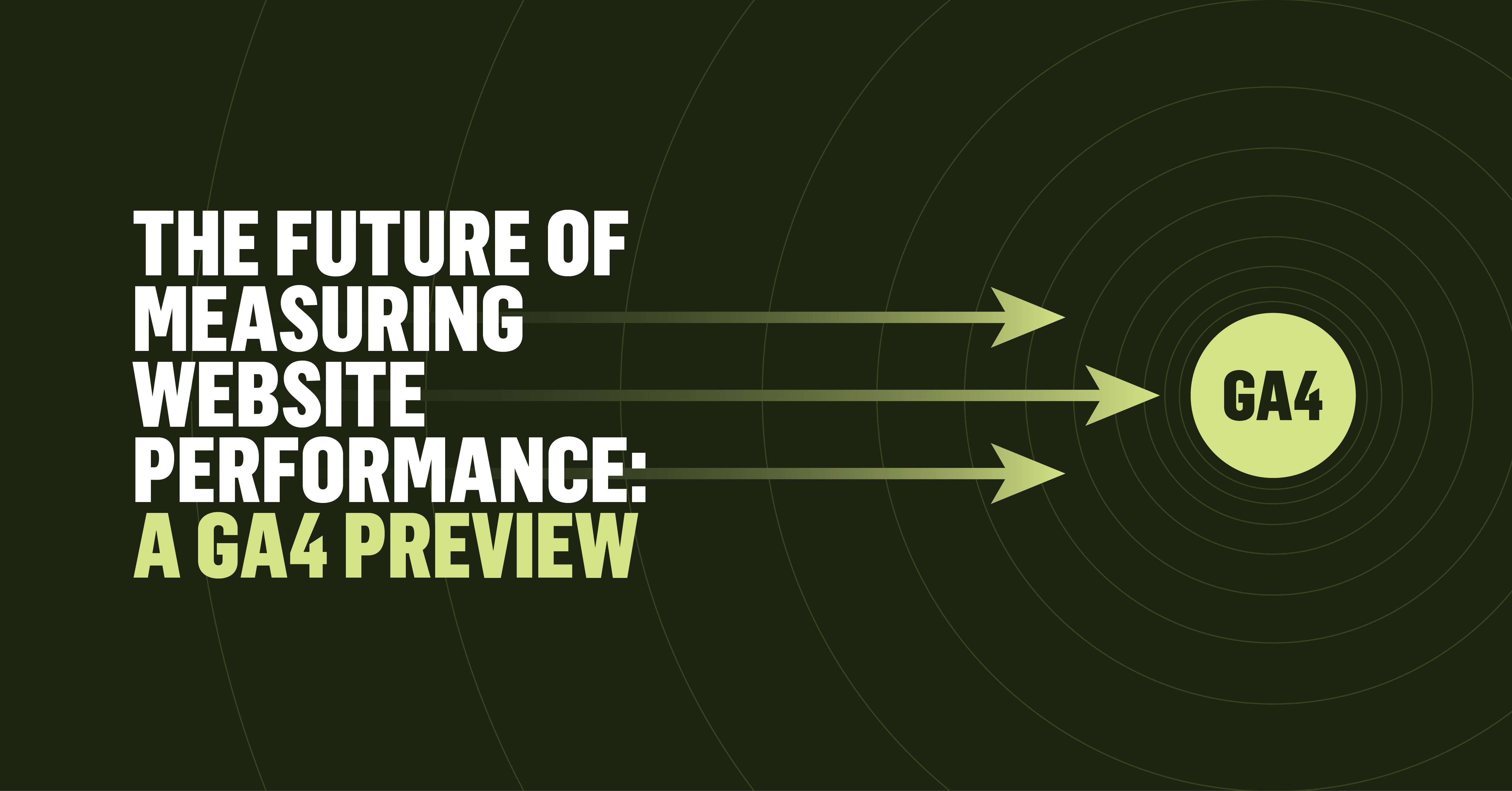 Google Analytics (GA), one of the most powerful free tools to monitor your website. We've talked about it in many blog posts and have a bite-size video series dedicated to demystifying this vital tool! GA helps you answer questions like, what types of content are users seeing? How does user behavior differ on mobile vs. desktop? How can we improve that experience?
Recently, GA rolled out a new version called Google Analytics 4 (GA4)—you've likely received several emails about it. Now, let's see a show of virtual hands. How many of you marked the email as "unread" and said you'd get back to it later? No shame here!
You are a busy arts marketer—that's why I'm going to walk you through some key updates and features to help you understand the future of measuring your website's performance.
---
What is GA4?
In mid-2019, Google launched a new, beta version of Google Analytics called Google App + Web. Google rebranded the offering as GA4 and officially launched it in October 2020. GA4 is the future of analytics, and while the current version will sunset in July 2023, all new features and innovations will be available solely to GA4 properties.
"Because the technology landscape continues to evolve, the new Analytics is designed to adapt to a future with or without cookies or identifiers. It uses a flexible approach to measurement, and in the future, will include modeling to fill in the gaps where the data may be incomplete." - Vidhya Srinivasan, Vice President, Engineering, Google Ads, Google
---
GA4 Tracking Capabilities
GA4 attempts to create a more complete picture of the user journey through event-based tracking, which allows websites, apps, or single-page applications to be tracked in the same Analytics property, unifying data across platforms. Rather than being tied to a page loading, events are tracked for any user action. These actions can include a pageview, file download, scroll, an embedded YouTube video view, etc.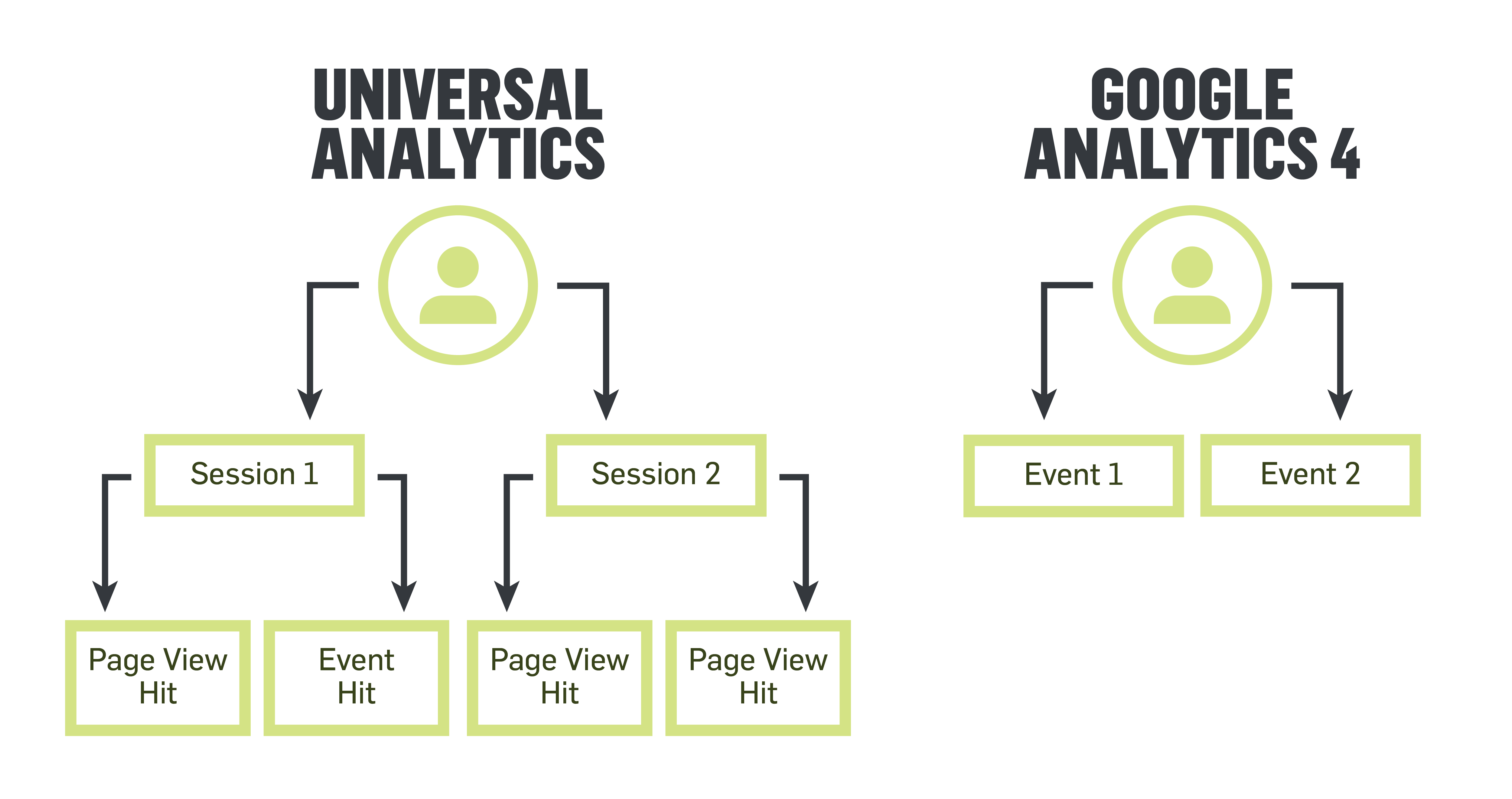 This data model means different metrics are available, and old favorites, like bounce rate, are going away. Instead of bounce rate, GA4 has a metric called "Engagement Rate," which is the percentage of sessions lasting longer than 10 seconds, or a conversion event, or multiple page/screen views. It's a more glass-half-full view of user behavior.
---
GA4 Integration with Google Signals
GA4 integrates with Google signals to solve one of the significant challenges with Universal Analytics: measuring users' behavior across devices and platforms. Google signals are session data from sites and apps that Google associates with users who have signed in to their Google accounts and turned on Ads Personalization.
If someone visited your website on their mobile device and then returned on their desktop, Universal Analytics would not be able to connect those two sessions to the same user.
GA4 uses Google signals for those who have enabled ad personalization with their Google account to connect the dots between those visits (there is a minimum number of monthly average viewers per day to access this functionality).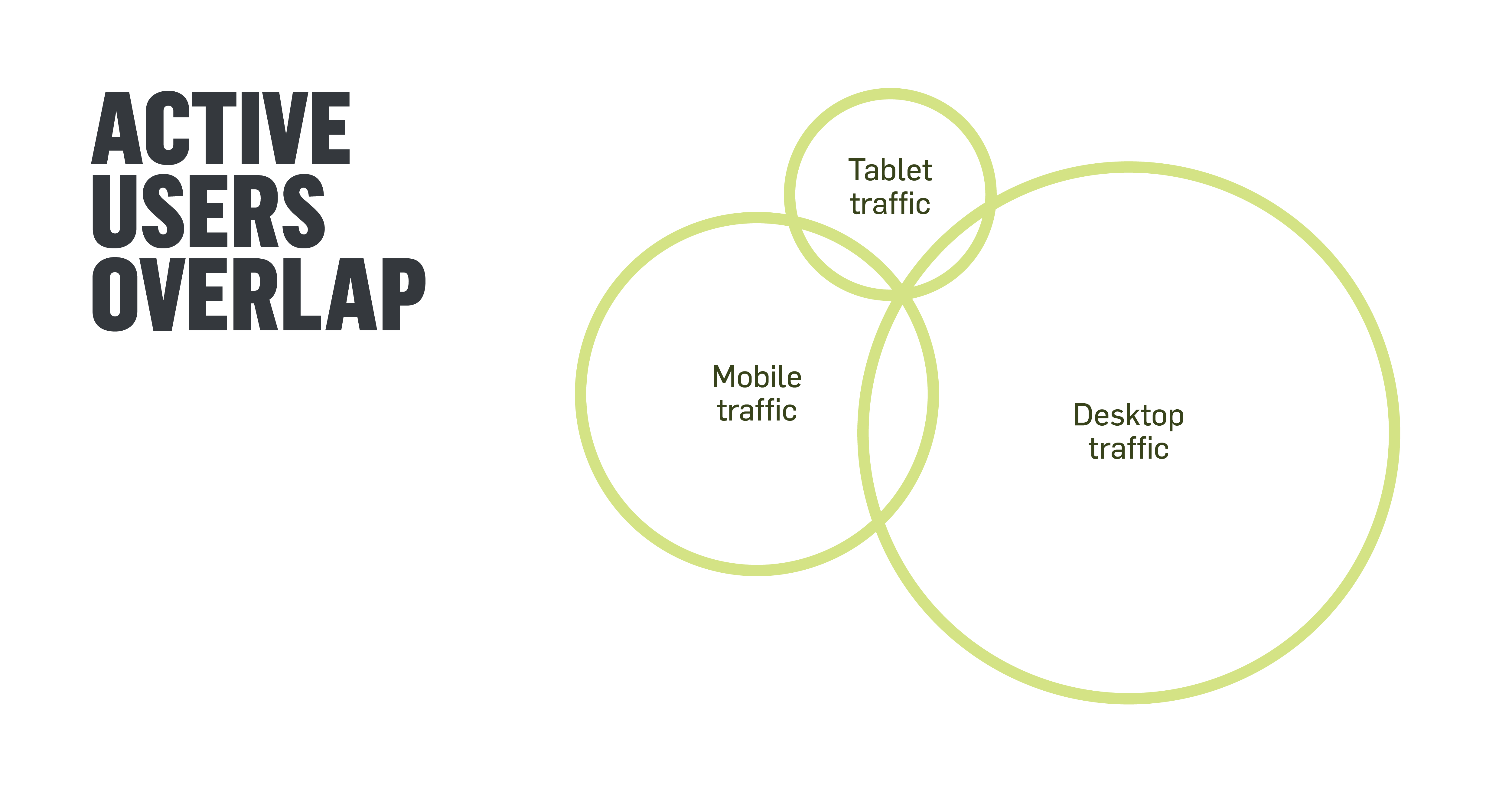 ---
GA4: Customizable but with Limitations
From implementation to reporting, GA4 is highly customizable. Not only can you determine which events you would like to track for your site, but you can also create custom reporting.
The flip side is that there are fewer reports available out of the box. GA Universal came with around 90 reports available "out of the box"—GA4 has about 12. Instead, there are three ways to analyze the data: GA4's Analysis Hub, Google Data Studio, and Google BigQuery.
GA4 Analysis Hub provides more customizable reporting within the Analytics interface, including several templates for path analysis, funnel analysis, or segment overlap, among others. You can create up to 200 custom analyses directly within GA4.
Google BigQuery: BigQuery is a data warehouse that enables super-fast SQL queries for advanced analyses and modeling. SQL is a programming language used for managing and analyzing data sets. It's a powerful tool but also one that requires more technical expertise.
Google Data Studio: The connection with Google Data Studio is not new, but it's still a valuable tool to create interactive dashboards. Data Studio can also connect directly to GA4 or your data in BigQuery.
---
GA4's Bugs Post-Rollout
Although GA4 is out of beta, some bugs make it challenging to rely entirely on for analysis and reporting. Most significantly, if your eCommerce platform has a data layer implementation, tracking was fairly straightforward with the Universal Analytics transaction tag in Google Tag Manager. GA4 requires additional steps, now that all interactions are events and you have to tell Google which data ("parameters" like product names, product values, total order value, etc.) to send along with a transaction. This requires understanding your eCommerce platform's data layer and configuring your event parameters accordingly.
Many platforms with automatic Google Analytics integrations have not yet updated those for GA4 (Shopify, Squarespace, Weebly, Vimeo OTT, etc.). GA4 also doesn't currently support the concept of views and recommends using segments instead. In other words, if you now use specific views in Universal Analytics to isolate data from a particular subdomain or create filtered versions of data that can be shared separately with specific users, these functionalities won't be available.
Additionally, there are a number of customizable settings that were previously available in the Admin Settings of Universal that now must be implemented via Google Tag Manager, including advanced filters, content groupings, and default channel groupings.
---
Your Next Steps with GA4
Although there are still bugs to be worked out, it's essential to set up GA4 in addition to your existing Universal Analytics tags as soon as possible to house historical data. If you need help setting it up, we can help you with that!
Why should I set up GA4 now? Universal Analytics will sunset in July 2023. That means Univeral will stop collecting new data and, eventually, any data not migrated to GA4 or exported and archived can be lost. The sooner you set up GA4, the more historical data you will have.
Will the GA4 bugs get worked out? Yes, but as Google continues to fix bugs and roll out additional features, it's important to take this time to get organized and develop your plan for transitioning fully to GA4.
---
Your Future with GA4
At CI, we like to say your website is like your building. Over the last year, with the shift to digital programming, that has never been more true! For some users, it's the only way in which they will ever interact with your organization. Understanding user behavior and measuring the performance of your site has never been more critical.
If you're interested in setting up GA4 but need some assistance, we're here to help! Sign up for a free 30-minute assessment today.
Stay tuned for more resources from CI about how you can get the most out of GA4 and move your website analytics into the future.