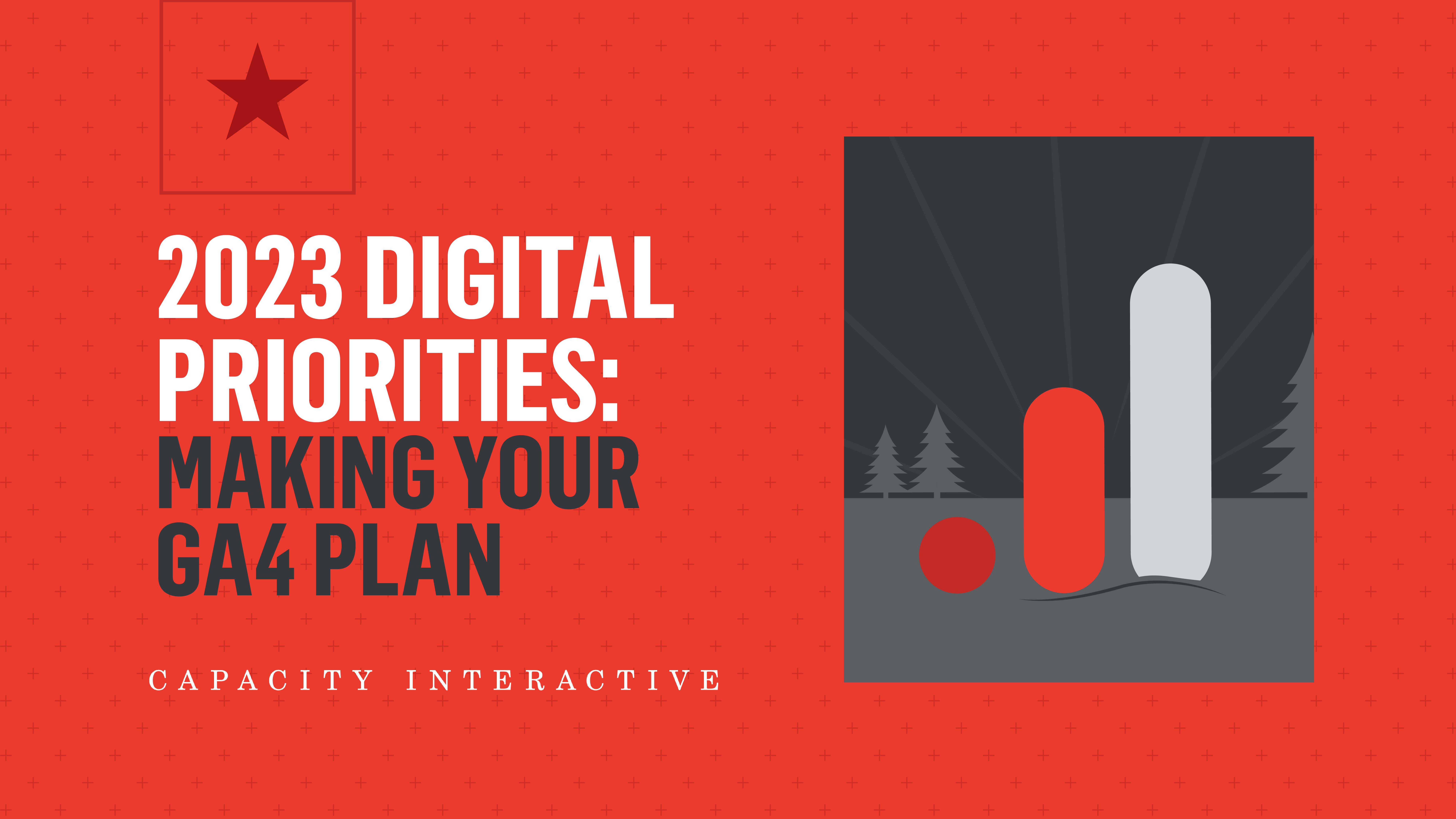 2023 is bringing another major change in the digital marketing landscape—this time, it impacts website analytics.
Google announced that Universal Analytics (UA) would be sunsetting faster than previously forecast, and Google Analytics 4 (GA4) would become the website analytics solution starting June 30, 2023.
This means big changes for your organization. Google Analytics is the go-to web analytics platform for arts organizations (in my 8+ years at Capacity Interactive, I've seen just one organization use a different platform). So chances are, you use it—and to keep using it, you have to migrate to the newest version, which is GA4.
But while GA4 is powerful, it's difficult to use. It will take time to learn the platform, but it's not too late to set yourself up for success. You're a savvy arts marketer, and with the five steps I've outlined below, you'll be well on your way to preserving your current website data and switching to GA4.
---
Why should I migrate to GA4?
The short answer is: you have to. Migrating was previously optional, but Google's now made it mandatory.
The more helpful answer is: Your website is vital to both your digital strategy and organizational success, which means it's critical to measure its performance properly. How else would you know how your site is performing and where to make improvements? Furthermore, you've heard by now that a cookieless future is coming and privacy-focused measurement should be a priority. By using machine learning to fill in gaps in observed data, GA4 is designed to help websites succeed even when tracking is limited.
Even if you're not ready to start using GA4 right now, we highly recommend implementing GA4 as soon as possible—you can run it in parallel alongside UA until July 2023, and the earlier you launch GA4, the sooner you start building your new historical dataset and feeding information to the platform's machine learning algorithms.
This may sound intimidating, I know, but don't worry—CI is keeping up with the latest on GA4 so we can help you successfully migrate over from UA. Dive into our free content or sign up to talk with our analytics experts.
---
Step 1: GA4 Technical Implementation
GA4 requires a new implementation. As in UA, this requires you to:
Nail the proper setup. You need to deploy new tags on your site, configure your ticketing platform to capture purchases, and ensure you are not collecting personally identifiable information (PII).
Beyond that, we highly recommend configuring GA4 to:
Track additional data that will both enrich your data and improve its usability. This will help you track engagement with your embedded video player, understand how your site's global navigation is utilized, and measure content performance by website sections (instead of just pages).
Apply appropriate administrative settings. This will ensure that your data in GA4 is processed properly by linking GA4 to your other Google platforms, and more.
Implementing GA4 is technical and complex, and is most likely a project you want to hand off to an external expert so that you have confidence in the data you will be using (and yes, we can help with that!).
---
Step 2: Build Reports & Dashboards
So, you've completed the implementation: great job! Now that you have data flowing into GA4, you will need to rebuild reports and dashboards to make it easy to access the data you care about.
This can be a great opportunity to rethink your site's key performance indicators (KPIs) and how you report on them. This is especially opportunistic since GA4 has new metrics and data definitions, such as "Engagement Rate." This replaces bounce rate—a metric we've relied on for years—and measures the percentage of sessions lasting longer than 10 seconds.
Pro Tip: GA4's reporting interface is not very robust—it's quite bare, in fact—so try creating your reports in Looker Studio (previously called Google Data Studio). It's a much more powerful reporting platform that will point to your GA4 data.
---
Step 3: Train Your Team on GA4

We've been saying for years that the purpose of collecting data is using it to inform and empower decision-making, however, to feel comfortable within the platform and in making those decisions, you will need time and some support along the way. GA4 has a fairly steep learning curve, so bake a padded amount of time into your timeline.
Pro Tip: Think about when you must be using GA4 (July 2023) and plan backwards. For example, if you think will need three months for training, you must be live with GA4 no later than April 2023.
As I previewed before, we at CI are in the process of creating content to support this training, some of which will be free and available to all (blog posts, webinars, etc.) and some will come in the form of a paid hands-on "GA4 Curriculum." Stay tuned.
---
Step 4: Export Historical UA Data

Not only is Google forcing a migration to GA4, but they are also only guaranteeing access to the historical data that lives in UA until the end of 2023, which means creating a plan to export all critical data before January 2024 is paramount. Don't let that date sneak up on you and risk losing years of data that you will not be able to retrieve!
Pro Tip: Since UA doesn't have an "export all data" button, think about the kind of trends and reports you'll want to be able to create, then make sure you have data that goes back far enough and is granular enough for your needs. Questions you can ask: Do I only want high-level site data by month? Do I want channel performance by month? Does site performance across devices matter to me?
---
Step 5: Sunset Universal Analytics

You can (and should) keep running UA on your site until the end of June 2023, but you'll then want to remove all UA code from your site (or Google Tag Manager). Make a note in your calendar to delete all your UA tags in July 2023.
---
With Change Comes Opportunity
I'll say what many are thinking: this kind of…sucks. No one asked for all this extra work and it isn't going to be a light lift.
And while you don't have an option about using the platform, you do have an option about how you approach the work. GA4 can present an opportunity to rethink how your organization utilizes web analytics. So beyond the steps I listed above, I highly recommend approaching this work strategically by:
✓ Exploring your processes
✓ Detecting where additional website data would be helpful
✓ Identifying your weak spots with analytics
✓ Determining how much you can realistically take on internally.
Create a plan that works for you and your needs—there isn't a singular approach and timeline that will work for everyone—and hold yourself and your team accountable to that timeline.
There's a lot of work ahead with GA4 and yes, it will be challenging. But, there's also a great opportunity to take our organizations to higher levels in how we use GA, how we gauge website performance, and how we learn about our patrons and how they interact with the digital experiences we build for them. I have seen arts administrators like you time and again rise to the challenge and I am confident—and excited—to see you all do it again.
---
And by the way: if you need help with GA4—implementation, training, defining KPIs and building reports, etc.—we would love to talk to you about our offerings and how we might be the right partner to get you going with the platform and its data. Get in touch here!