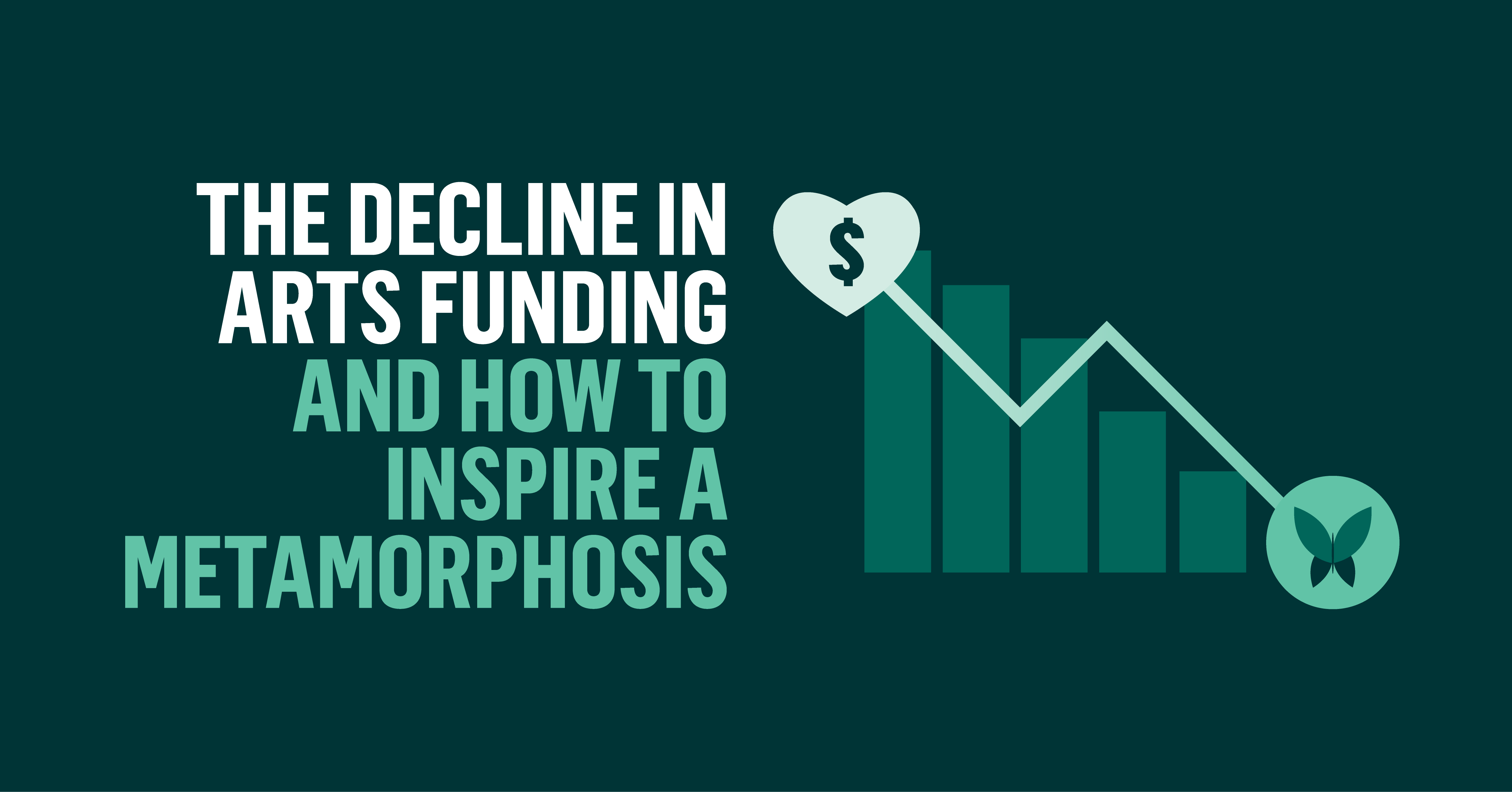 The Giving USA: The Annual Report on Philanthropy is "the longest-running, most comprehensive report on philanthropy in the United States." The report on the unprecedented year that was 2020 dropped this past June, marking the halfway point of a year that many hoped would represent a full recovery. The report illustrates how the stunning events of last year impacted overall giving, and most pertinent to us, the pandemic's influence on giving to the arts & culture sector.
---
So, what happened?
2020 charitable giving in the United States broke records — gifts from individuals, corporations, bequests, and foundations totaled $471.44 billion, an increase of 5.1% (in current dollars) from 2019. As the report notes, this equates to more than $1.29 billion donated per day.
Giving by individuals, foundations, and bequests all increased from 2019, with individual giving reaching its largest total dollar amount to date (but noteworthily making up less than 70% of total charitable gifts for the second time in the history of the report), and giving by foundations hitting its largest dollar amount ever.
But within those record numbers is a serious gut punch: while seven of the nine charitable sectors saw growth, giving to the arts, culture, and humanities sector is estimated to have declined 7.5% to $19.47 billion. When adjusted for inflation, the decline is 8.6%.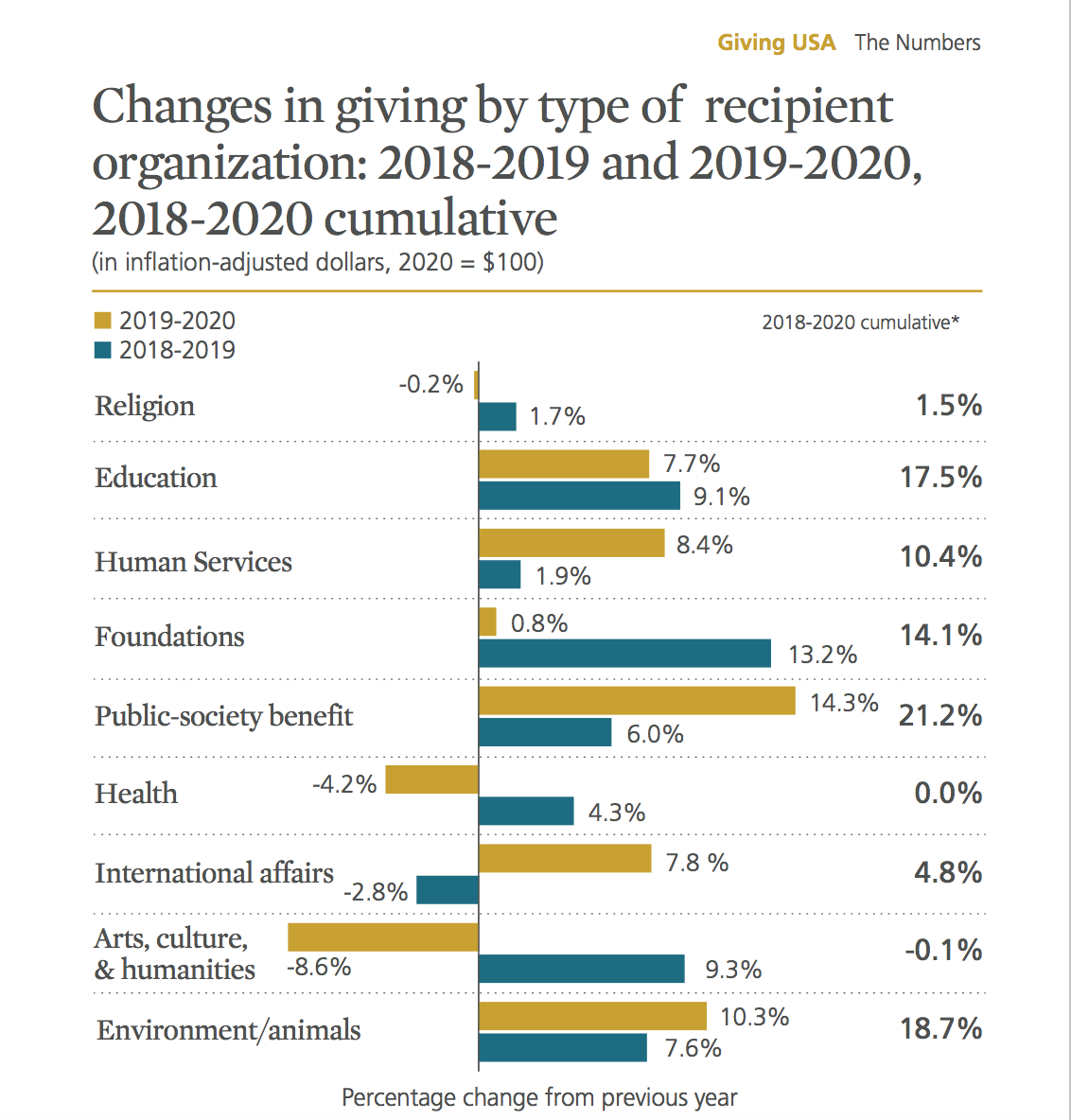 $19.47 billion may sound like a lot. But for yet another year, giving to the arts — an $800+ billion industry that represents over 4% of America's GDP and employed over 5 million workers pre-Covid — remains stagnant at 4% of total American giving. This is more staggering when you consider that arts and culture represent a greater portion of the economy than transportation, tourism, and agriculture.
---
Why the decrease?
The Arts Funders Forum (AFF) research program offers some insights. Our data indicates that rising generations — those who represent the future of cultural funding and are increasingly making decisions for their family philanthropies—do not see the link between giving to the arts and creating social impact:
Transformational impact: We know that rising generation donors want to make a transformational impact through their giving; they see the climate, racial, and social justice sectors as the best vehicle to achieve this societal impact, not the arts.
No transparency on destination of donations: We have seen a decline in relevance of the institutional system; rising gen donors say there is little to no transparency about the destination of their philanthropic gifts to arts organizations.
Our research program combines quantitative and qualitative data to develop and drive new narratives on how the arts impact our society and why the arts are an essential force. You can read more here.
---
Why does this matter? ​​
We are in the midst of a rapidly changing landscape relating to generational wealth and the arts ecosystem. We are also experiencing significant paradigm shifts due to the COVID pandemic, widening income inequality, and the growing social, racial, and climate justice movements. Specifically, we are witnessing:
The largest intergenerational transfer of wealth in U.S. history: as mentioned above, the generation inheriting the wealth has entirely different views on philanthropy and does not consider the arts essential.
Institutional arts funders are increasingly aligning their focus areas with our greatest global challenges: social, racial, environmental justice; equity; poverty; criminal justice; immigration; hunger; and more.
Research showing cultural organizations struggle to connect to new donors and audiences: this in part due to misaligned narratives about the role of the arts in solving the greatest global challenges of our time and a lack of clarity needed to best leverage next-generation tools, behaviors, and preferences.
Even as people across the globe turned to art, music, and creativity to stay sane and safe in 2020, there is obviously a disconnect between the importance of art in our lives, the call to support artists and the arts infrastructure, and the knowledge of how to best do so.
---
The Giving USA report articulates again that those who can give do so in times of crisis — when need and relevance are clearly communicated. But AFF research shows us that both art funders and cultural leaders tell us that the arts do a subpar job of expressing the sector's value to society — art and culture is considered a "nice to have" not a "must have." Therefore, we must continue to clarify the role of the artist, arts funder, and arts organization — essential to global progress and our humanity. Together, I believe there are steps we can take to reverse these trends and inspire a metamorphosis. So let's get to work:
Organizations must tell new narratives about the impact of the arts on our most urgent global challenges: It is vital to position the institution as a conduit to the cause. The next generation of arts funders and investors is passionate about supporting institutions, collaborators, incubators, and creative entrepreneurs who serve as drivers, catalysts, and resources to solve our most urgent global challenges. Arts organizations are called upon to define their role in democratically advancing our society. Organizations can best do this by listening to what communities want and hearing about the change they wish to see. Then, they can dive into that work with transparency and honesty. They can tell the stories of how the organization - in partnership with the community - promotes and advances those causes. It is possible for organizations to tell stories about how they achieve social and educational impact AND are dedicated to top-notch performance, exhibition, collection, and care. These are not mutually exclusive.
Funders and investors can develop alternative funding models that better align with their investment preferences and values: for-profit models, social enterprise, impact investing (to name a few) are vehicles that appeal to the rising generation. These models also align with how artists work — as creative entrepreneurs — and can help funders better achieve impact, legacy, and transformational giving in the cultural economy.
Create more — and more effective and groundbreaking — partnerships and collaborations across industries: this will leverage philanthropic possibilities and democratize the traditional base of supporters.
---
Melissa Cowley Wolf is the founder of MCW Projects LLC, an advising firm dedicated to expanding the next generation of cultural philanthropists, advocates, and audiences. Melissa led a panel, Fundraising Now and For the Future: How to Combat the Trend of Declining Giving to the Arts Sector, at Boot Camp 2021.