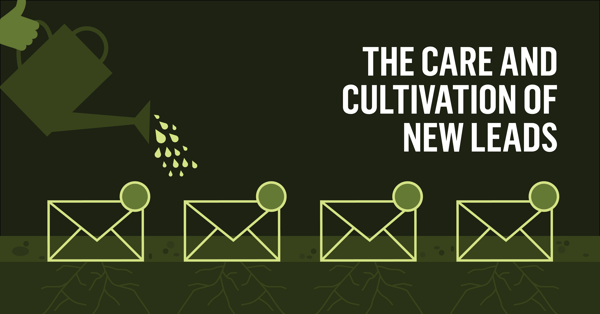 Spring might be over a month away, but it's the perfect time to start planning for a bountiful season of new, engaged patrons. We hope we reignited your passion for gathering new leads in our blog post about the success Emerson Colonial Theatre has had with their lead generation campaigns on Facebook.
In this follow-up post, we're here to round out your repertoire of ways to gain permission to talk to patrons via email and then dive into how to make sure you set up great communication with those patrons from the get-go...and avoid losing their permission via the dreaded unsubscribe.
---
Planting Seeds
Having a nice mix of channels for new email signups ensures you're reaching as many new audiences as possible. There are a couple general rules that apply to all of them. First, while many form fields are available, keep friction to a minimum and don't ask for too much information initially (just first name, last name, email). Second, give people a reason to sign up, and keep it relevant to their interests. This could be access to niche content or the chance to win tickets. After all, the price of anything "free" can be an email.
Here are three main avenues for generating new email leads:
Website Sign up Form
Gone are the days of people entering your website solely by typing in your url and browsing (they're also Googling, clicking links on social media, and display ads, among other channels). So, finding a tool to reach new visitors wherever they are on your site is more important than ever. But, keeping in line with the "anticipated" tenant, you want to do it in a way that is not annoying. Leadacity is a tool developed here at CI that incorporates a quick survey leading to a simple email signup form that seamlessly fits into the user's experience of your website.
Even if you're not ready to take the plunge into popups, having a place in your main navigation bar for email signups is an easy way to keep it top of mind for visitors who want to learn more or are eager to get on your mailing list for offers and events.
Facebook and Instagram Lead Generation Campaigns
Including campaigns dedicated to lead generation on Facebook and Instagram is an effective strategy and you can get a taste of a couple different approaches we've spotlighted with our clients Opera Philadelphia and Emerson Colonial Theatre.
These campaigns are a great way to extend beyond your website and into the wider world. While there is a cost to these campaigns, the targeting capabilities of Facebook and Instagram make it possible to hone in on the most qualified leads based on interests, lookalike profiles, or past behavior (such as engaging with your content or visiting particular landing pages). And, with the data these platforms have on users, the "first name," "last name", and "email" fields will automatically populate for the user, making it even easier to submit and to trust that the email is a valid one--less friction for all!
On-site Lead Collection
Yep, here we mean good-old-fashioned lead collection at your venue or in the community. When someone is physically in your space or at your event, they're clearly interested in your venue or program. Using these in-person opportunities to start an ongoing "relationship" with new audiences is perhaps the most human way to grow your list.
If you're concerned about handwriting being an issue, you can always incorporate laptops or tablets to make it easier to fill out the forms and validate email addresses on the spot. Not everyone is on social media or going to your website, so getting people while they are in person is important, and can even be valuable to grow more targeted lists of people who want to hear about a similar type of program.
---
Clear the Weeds to Get More Leads
In lead generation, there is one method that should be avoided at all costs: purchasing or trading email addresses. While many arts organizations trade mailing lists, trading or buying email addresses not only makes for a confusing experience for the recipients, it's also illegal in many cases. Individuals who have not signed up for your emails are much more likely to unsubscribe or mark your message as spam. Instead, encourage your business partners to send out an email on your behalf with a link to a signup form that makes it clear what the user's email address will be used for. It's a much more transparent user experience and will help maintain the health of your email list and brand!
---
Your Leads are Sprouting- Now What?
You ran a Facebook Lead Generation campaign or you got website visitors to sign up for your email list. Now what? For most of us, the easiest thing is to add them to your biggest email list and they'll get the next email that goes out. But the easiest thing for us isn't always the best thing for the user. They gave us access to their precious and private inbox, so we should respect the privilege and not spam the heck out of them until they unsubscribe in frustration. Seth Godin's golden rule for Permission Marketing--that communication must be anticipated, personal and relevant--is something of a north star for all of us at CI, and it's central to a smart email strategy.
When a new user signs up for your email list, at bare minimum you should tell them:
1. What they can expect from your emails (special offers, behind-the-scenes content, reminders about tickets going on sale, etc.)
2. When they can expect to hear from you (once a week or a few times a month, etc.).
Here are a few ways you can upgrade your "hello" to new leads depending on the time and technology available to you:
Easy: send An Email to Leads On A Regular Schedule
If you don't have the ability to create triggered emails to send when a new user joins, don't use that as an excuse to skip this step! Pick an interval that makes sense for your workflow and before you add them to your general list, send a welcome email to all new users who joined since the last batch was sent and entice them to see a production or visit.
Medium: let users tell you what they want to hear- automatically!
Are you worried you're sending too many emails to people who don't want them? Ask them!
Many CRMs offer the ability for users to fill out preferences for what kind of information they want to hear about--and often you can customize those options for your organization. When a new user signs up, you can set up a triggered email to let your new contact know what to expect and include a link for them to customize their preferences.
There is a very important caveat here: you must respect the boundaries they are setting and actually segment based on these preferences. They will be happier because they are getting what they asked for and you won't be left wondering where you stand.
Pro: Two or Three Emails are better than One
Just as we use multiple Facebook posts to tell a story over the course of a campaign, you can do the same with a "welcome cascade," all set up to send automatically. The first email can give the user an overview of what to expect from your organization over email as we've outlined above. At a set interval, utilize some great evergreen content you have created in your next email in the cascade. Sure, you and your nearest and dearest have seen it many times, but these people almost certainly have not (marketer bonus: using evergreen content means you don't have to worry about updating it quite as often!).
A cascade like this allows a user to be introduced to your organization more slowly and deliberately rather than throwing them off the deep end into your world of concert schedules, donation asks and educational offerings the second they hit "Submit" on your lead form.
Extra Credit: If this is an option in your CRM, encourage users to fill out their birthday by offering a Birthday surprise. You can then set up a triggered email to go out each day or (manually send each month) a birthday offer or fun birthday gif that's in keeping with your organization's voice. You can't get more Anticipated, Relevant, and Personal than a birthday greeting!
---
Enjoying the Growth
As we found in our 2017 Arts Industry Digital Marketing Benchmark Study, the effort you put in will pay off- emails that are highly segmented yield the highest open rates. For example, triggered emails based on patron behavior (such as the welcome cascades mentioned above) had an average open rate of 45%. Compare that to the 27% open rate for general newsletters. Stay tuned for more tips on how to keep your ongoing email communications anticipated, relevant, and personal- as with a healthy garden, this includes regularly pruning your list.