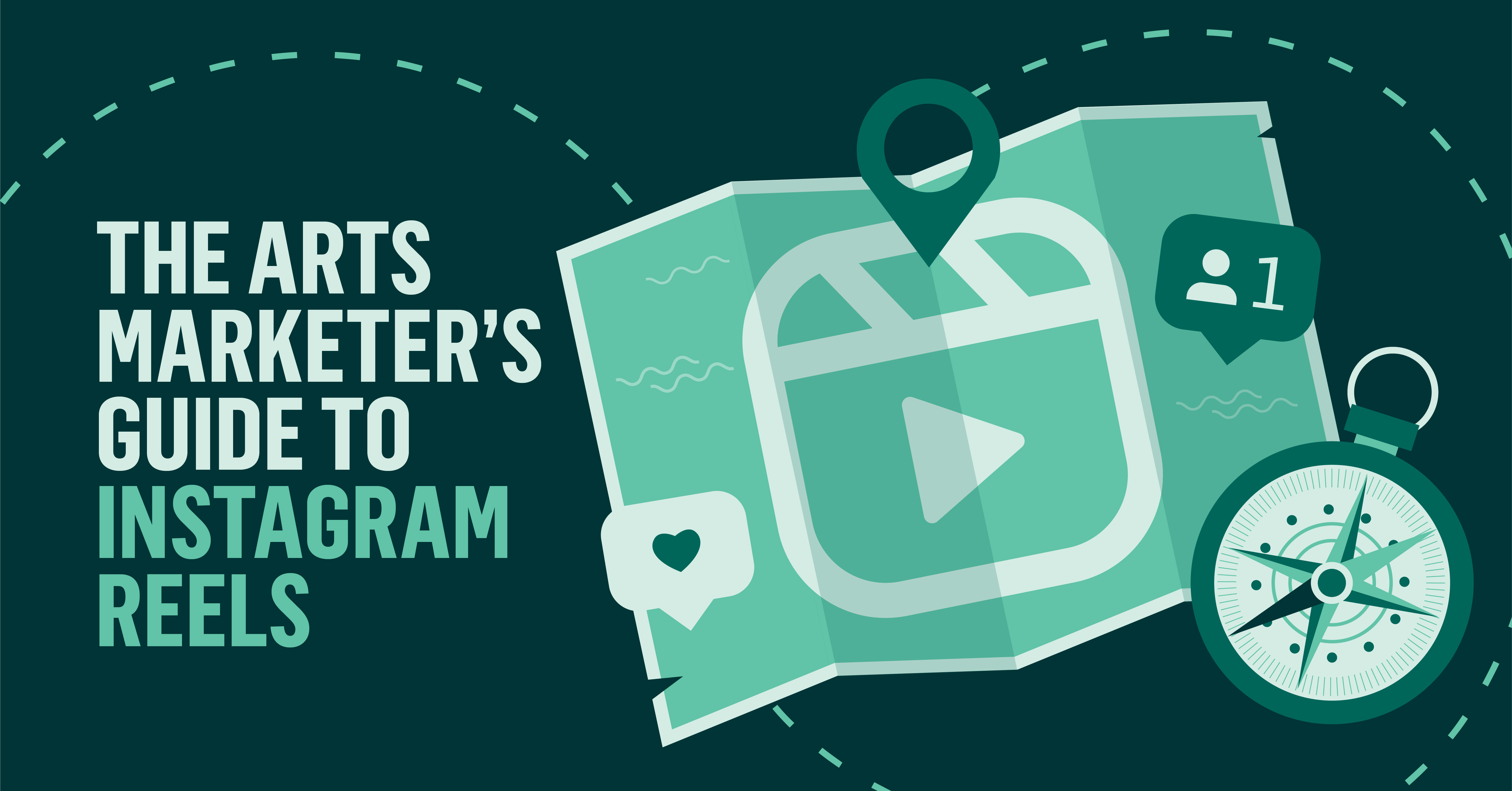 As soon as Instagram launched Reels in August 2020, two things came to mind: 1) my "healthy" level of screen time was out the window, and 2) this is a game-changer for arts organizations on social media. For the sake of your time (and interest), I won't detail the first point—but the second is worth a bit more conversation.
So, should your organization take the plunge into Reels? First, let's talk about best practices, tips, and advice to help you decide if Reels are right for your organization's social content strategy.
---
What are Reels?
Instagram Reels is Meta's response to the success of TikTok. Reels are short, 15-60 second videos that utilize a 9:16 ratio, which vertically fills a full phone screen.
Pro Resource: Looking for more social specs info? Check out CI's Social Media Ad Dimensions resource!
Content and Discovery
The Meta algorithm suggests Reels to users based on their interests and engagement history, rather than who they follow, making it easy to discover new accounts. For this reason, Reels can be a helpful tool for arts organizations looking to reach new people—but they can engage your current followers, too. Some of the most successful videos are tutorials, behind-the-scenes footage, and similar content that feels approachable and relevant. Remember, your ordinary is your audience's extraordinary!
Audio on Reels
Reels include audio, which are referred to as "sounds." Sounds is an umbrella term for audio on the platform—trending and popular music, voiceover clips created by users, lines from TV shows, or original audio. Typically, the video's visual content or narrative plays off sounds or gives existing sounds new meaning.
Reels have an audio library of songs, so you don't have to worry about copyright issues for popular music. Remember, you can also upload your own sounds and songs (looking at you, musicians!) or use a combination of the two. Sounds are linked on the app like a hashtag, letting users discover new videos through sounds they enjoy.
---
Are Reels a good fit for your organization?
Let me be clear: Reels could be hugely beneficial for any arts organization. However, they do require more time and effort to create than static content. If you are trying to decide if Reels are worth the extra effort for your organization, I would ask the following questions:
Do you create stellar, diverse content? Reels will amp up a social strategy that is already consistent and creative, meaning you post a variety of content regularly—with video (even motion graphics or GIFs!) in the mix.
Pro Resource: Looking for content inspiration and tools? Download CI's Social Content Calendar for Arts Marketers.
Remember, at the heart of Reels is video production. While they don't have to be as polished as a show trailer or fundraising video, they require enough technical knowledge to shoot and edit videos together in a clean way. If you're struggling to create engaging content across Facebook and Instagram, I'd recommend nailing that first before diving into video through Reels.

Do you have social media-savvy team members? While Reels can venture into the territory of weekly (or even daily) trends, your organization doesn't need to hop on every bandwagon. For example, can you create a year-round artist interview or performance clips series? You can also experiment with editing and length of videos. Empower your content creators to keep up with trends, but don't feel pressure to be chasing them. Your Reels strategy should be a mix of solid planning and room to be nimble so you can capitalize on timely trends that align with your brand.

Are the stakeholders of your organization comfortable with casual content? Reels come with an added expectation from viewers to reveal an even more authentic look into your organization through exclusive, unpolished content. This might be an artist filming their morning routine from their phone or a whole theater crew participating in a viral dance challenge. Consider how you can adapt your brand voice and tone for Reels, and share with stakeholders how this adaptation serves your audience—and honors the content—in a Reels context.

Still with me? Great! Let's move on to content inspiration with standout examples of Reels from arts organizations.
---
Examples of Stellar Arts Reels
The Kennedy Center has a variety of programming (theatre! dance! music!) and does a great job incorporating Reels across genres. They use trending sounds and baby animals (ok, that was just this once—but who doesn't love puppies?), collaborations with influencers relevant to the performing arts, and posts featuring their staff.
Why We Love This: The Kennedy Center thoughtfully repurposes existing content in addition to creating original content. They ask performers for repost permission and recycle old performance videos in timely ways to ride the momentum of different trends.
See the Kennedy Center in Action:
Jazz at Lincoln Center (JALC) has Reels that primarily feature one person as the creator and star of its videos but employs a variety of simple videos to keep users engaged. From ways to practice scales to jazz-related memes, JALC has it all!
Why We Love This: JALC uses simple video techniques (outlined in this Reel!) paired with exciting content and intentional text overlays. Their Reels are primarily made to resonate with their existing audience—an approach that can deepen the connection with followers, resulting in more ticket sales and attendance down the road.
See JALC in Action:
The Museum of Fine Arts, Houston (MFAH) shows off their stunning collection with simple videos using trending sounds, like this exhibition preview, views from the venue, and a close-up look of artworks.
Why We Love This: MFAH is an organization with primarily visual content—and they make the most of it! By pairing artworks and venue highlights with existing Reels sounds, they engage viewers through trending music and striking visuals that inspire IRL visits.
See MFAH in Action:
The Metropolitan Museum of Art (The Met) has a variety of Reels to check out, but my favorite is the series with the Greedy Peasant, a character who gained popularity on TikTok and became an influencer figure. The Greedy Peasant modernizes medieval art and culture by connecting contemporary pop culture, such as RuPaul's Drag Race and horoscopes.
Why We Love This: The Met opted for a fun, thoughtful partnership to show users how older pieces in their collection still feel relevant today. Even if influencers are not an option for your organization, it might be worth creating a character in-house to bring humor and relevancy to your organization's online presence.
See the Met in Action:
Dance Theater of Harlem (DTH) showcases their best assets—the dancers!—in their Reels, like this viral dance challenge. They also leverage the popularity of their dancers to share behind-the-scenes footage from rehearsals and exciting information about the dancers.
Why We Love This: Patrons always want a peek "behind the curtain," and DTH uses Reels to share those special moments with their audience. Embrace those personal, human-centered moments to build authentic connections with your audience through Reels.
See DTH in Action:
---
Getting Started with Reels
As with any social content, it will take a little trial and error to see what works best for your organization. Check out production tips from Instagram, and consider the following best practices:
Vertical videos are the name of the game. While you can technically create Reels with square or horizontal content, it is not the ideal experience for the user. Sticking with vertical video helps keep the algorithm's content engaging and performing effectively.
Use high-quality video footage. Like all social media video content, the video needs to have a clear picture with a high resolution. Luckily, this is achievable with your smartphone!
Create an authentic feel. It shows patrons that your organization is relatable. This is the perfect opportunity to "meet your audience where they are" by showing off artists' personalities, quirky content, or behind-the-scenes footage.
Audio is key. Whether you opt for trending sounds or original audio, use clean, clear audio with intention. Select sounds that fit your content that will resonate with your audience and best serve your overall brand and strategy.
Experiment with different angles. As you're brainstorming Reels, consider various angles, including videos that educate your audience, showcase team members, videos that purely entertain, and more!
Be on the lookout for vertical video content. Any time you are filming or photographing, bring a phone and capture a few vertical videos as well—the more you have, the better! From there, just start exploring. If you are having fun creating the content, chances are audiences members will enjoy consuming it.
Has your organization created stellar Reels? Share links to your content in the comments!