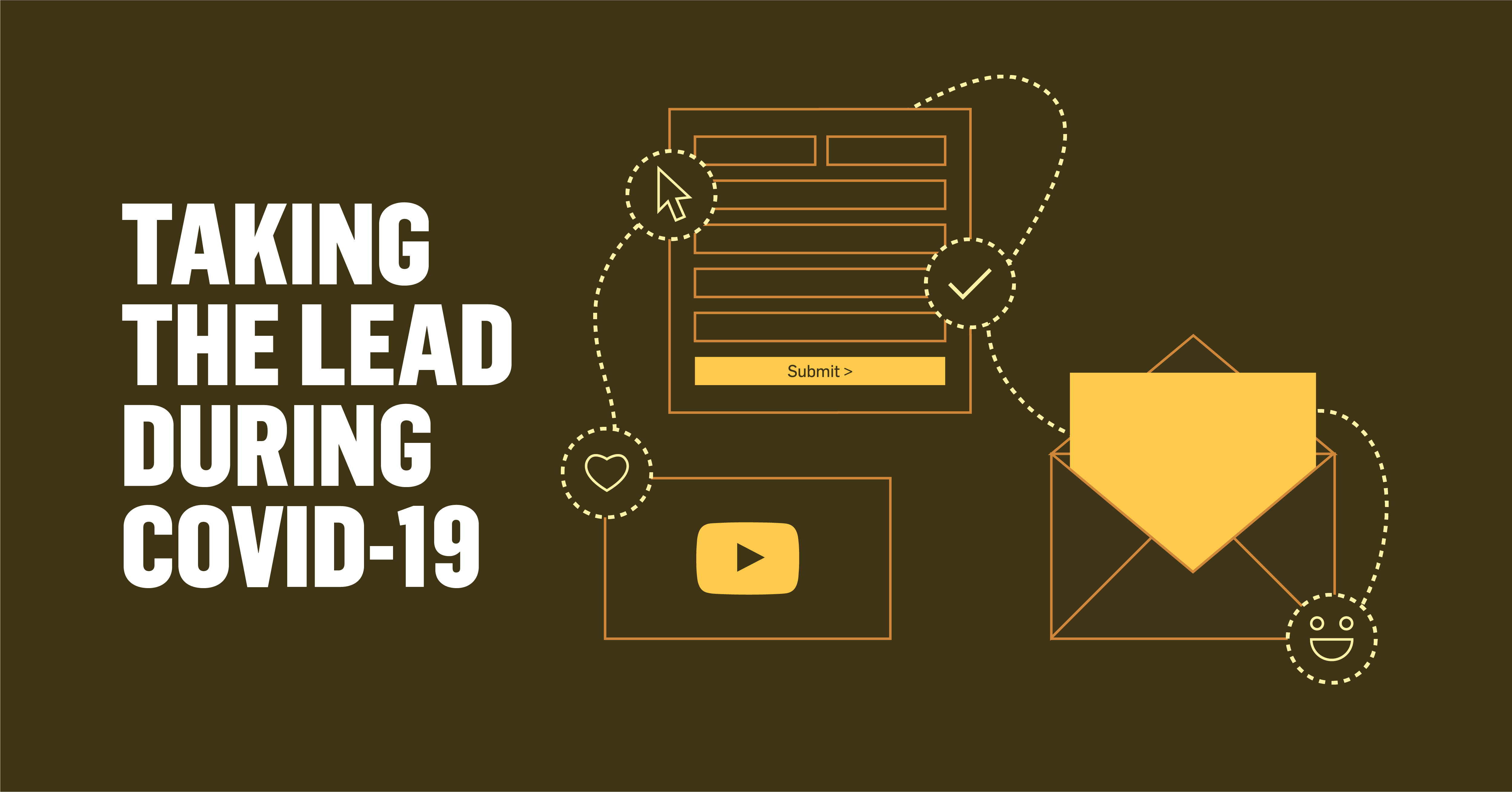 In a matter of days, the arts industry has pivoted from in-person programming to livestreaming and other digital content. Our venues are empty, and our doors are shut temporarily, but we have an incredible opportunity to reach more people than ever and begin new relationships.
Take the Seattle Symphony. In the midst of a shuttered city due to the COVID-19 outbreak, the organization and its musicians made a promise to "continue sharing performances that provide strength, comfort, and joy." A contributing writer for The New York Times Magazine described what it was like to experience her first concert virtually. Although she lives less than two miles from Benaroya Hall, she had never been to a performance. The idea of experiencing music in a time of darkness gave her hope, and she wasn't the only one.
The livestream of an archival performance drew nearly 90,000 viewers in Seattle and around the world, compared to the 4,835 people who purchased tickets to the original three-day run last September. While the original run brought revenue through the door (which will always be crucial), this single broadcast brought thousands of new viewers into Seattle Symphony's universe. When we reach these new audiences, how can we keep them engaged?
Lead generation. It's something we've talked about at length here, here, and here. But COVID-19 is forcing us into a much longer engagement cycle. Will all of those 90,000 livestream viewers become ticket buyers when the crisis is over? Of course not. But we have the opportunity to deepen our relationship with a small percentage of them. Let's say just 1% buy tickets in the future—900 people at an average order value (AOV) of $100—that's $90,000 in revenue worth pursuing.
---
Timely Content
The Minnesota Orchestra used their Minnesota Orchestra at Home Series as the centerpiece for a lead generation campaign. Their series offers a front row seat to mini-concerts from home and educational activities.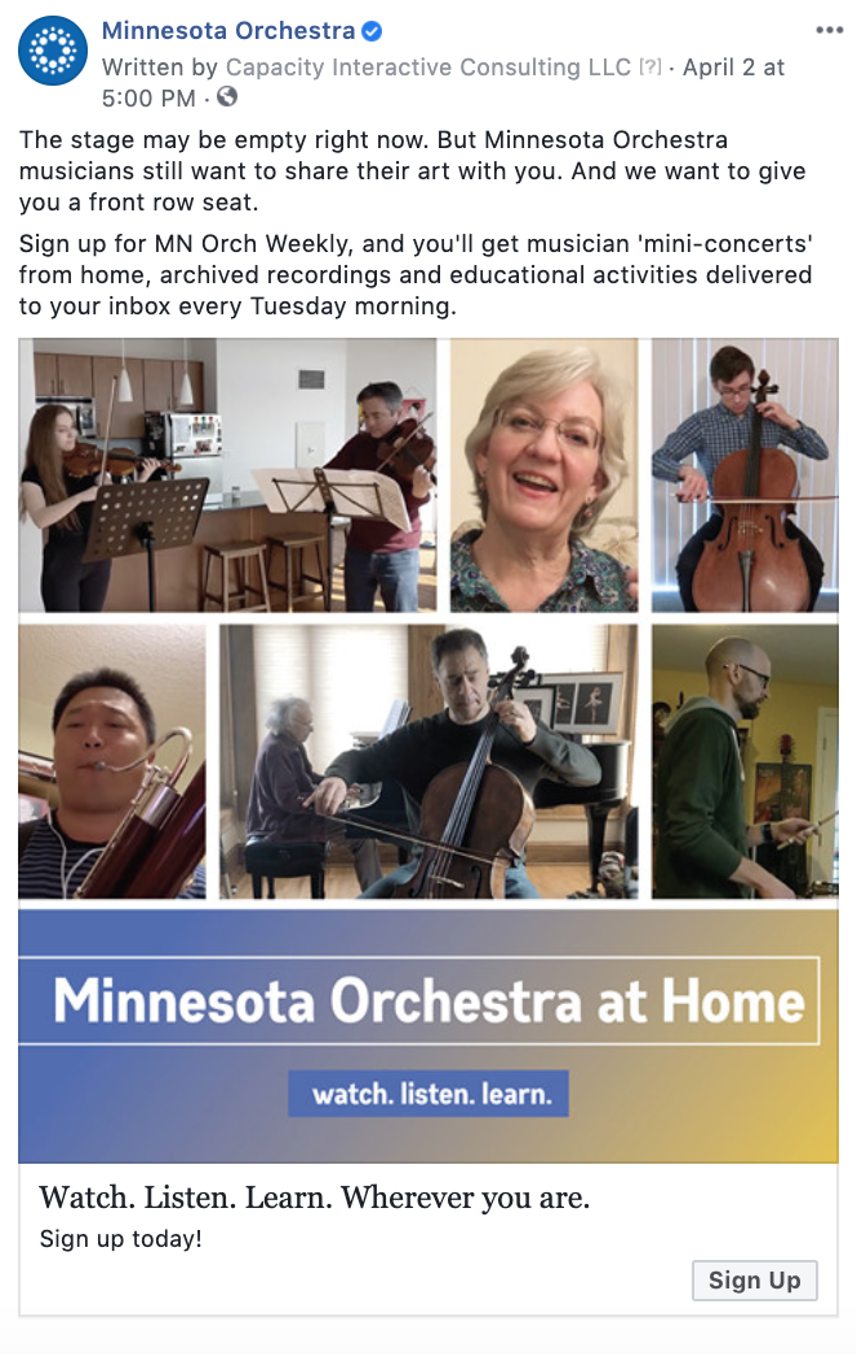 The Facebook lead ad aims to keep new and existing patrons engaged while their physical venue was closed. It highlights a branded collage of photos that encapsulates some of the digital content offered in the series. The copy offers to deliver this content right to users' inboxes by providing an email address. You don't have to go searching for it - it comes to YOU.
In just six days, the Minnesota Orchestra collected 416 leads at $0.30 per lead. We targeted people already in their universe (Facebook Engagers, Fans, and Remarketing) as well as those outside of it (Lookalike and Interest audiences). Close to 50% of the leads collected to date are Facebook Engagers, which means they were in the orchestra's social universe, but not yet on their email list.
Please note: this is an ongoing campaign, and we'll update the final results as they come in.
---
Test Different Angles
Instead of choosing just one angle for a lead generation campaign, we're working with Stanford Live on a split test on Facebook. This means users wouldn't see both versions of the ad and each segment is randomly separated into one of two distinct pools.
Option A - 2020-21 Season Announcement
Like many other organizations, Stanford Live is in a holding pattern with their upcoming season announcement. They saw this as an opportunity to invite audiences to join their email list to be the first to know about the upcoming season. The angle? Nostalgia.
It's easy to feel nostalgic during a time of social distancing. "Remember when we used to go to restaurants?" "I miss our happy hours IRL." In fact, researchers have found that nostalgia actually plays an important role in psychological resilience.
With nostalgia and hope on our minds, we created the first option for their split test. The photo evokes the incredible feeling of seeing live performances - it just can't be beat. We also created the tagline 'This feeling never fades' to bring it all together. The payoff for users? Sign up and be the first to know when you can experience this feeling again.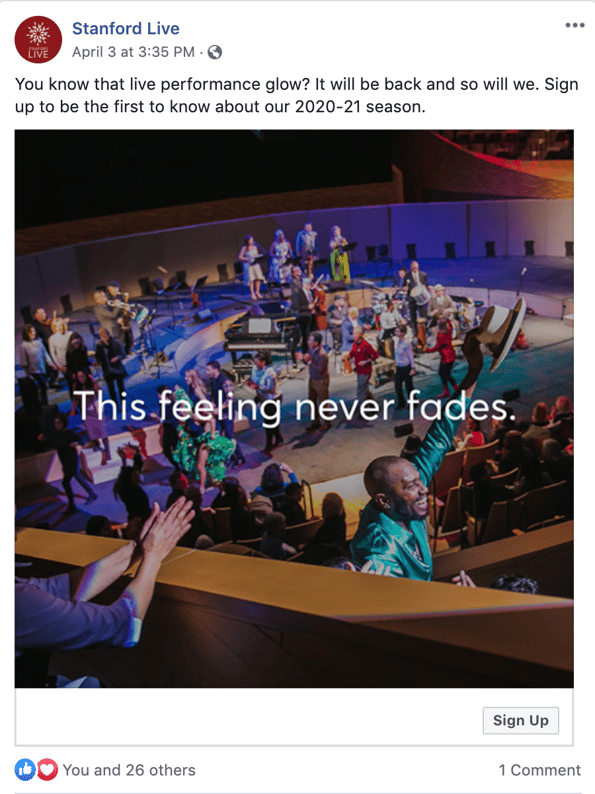 Pro Tip: In a timeline full of uncertainty, consider photos that showcases hope for the future or a feeling of nostalgia. Perhaps this is a full house, an outdoor concert with smiling patrons, or people in front of a piece of art.
Option B - The Show Must Go Online
Stanford Live announced their 2020 Digital Season in lieu of cancelled performances. The season features many of the artists who were scheduled to perform in a digital format. The Stanford Live marketing team came up with the clever tagline, 'The Show Must Go Online' and paired it with a photo from their Bing Studio season. For this post, we used the same photo and tagline, but added dynamic animation elements.
These dynamic elements build a sense of anticipation and storytelling elements. The strong tagline overlays on a black background, which signifies the lights being out on stage. We then took the photo and broke it up into several pieces, and put it back together to illustrate that the lights aren't completely off for Stanford Live, it's just different for now.
Please note: this is an ongoing campaign and we'll provide final results as they come in.
Pro Tip: Get the most out of your post creative. Consider spicing up an existing asset with dynamic elements, like light animation, so you don't have to reinvent the wheel.
---
Freshen Up Website Forms
If you don't already have lead generation forms on your website, get them in place ASAP (Leadacity can help). If you're already on the lead gen train, consider making the messaging more timely. Instead of signing up for general updates, sign up to be the first to know about season announcements, or new livestream content.
Seattle Symphony has a lead generation form right on their live broadcasts landing page. It invites users to sign up to receive email reminders about upcoming broadcasts.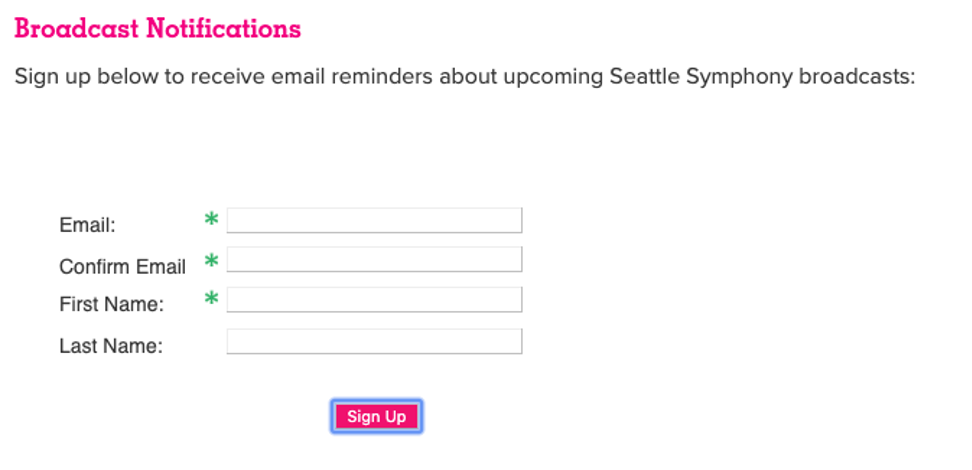 Pro Tip: Do a quick sweep of your lead generation forms on your website. Are they too generic? Consider making them more timely and beneficial for users during this uncertain time.
---
Stay in Touch
Once you get someone's email address, it's important to use it wisely! Don't ghost on these new leads, but don't overwhelm them, either.
Welcome Email. Send new leads a welcome email and let them know what to expect from your email list. Be sure it's written from a COVID-19 perspective—it's not business as usual.
Easy, Customizable Subscriptions. Your programming schedule has changed since the COVID-19 crisis - shouldn't your subscription options? Let people choose when/how they hear from you.
It's All About the Long-Game. Don't just dump all of these leads into your regular sales cycle. Be thoughtful about your invitation to buy tickets once this is all over.
Remember that some of your new audiences are not in it for the long haul. Resist the urge to try everything you can to try and convert them into ticket buyers. They might just be interested in your digital content, and that's OK!