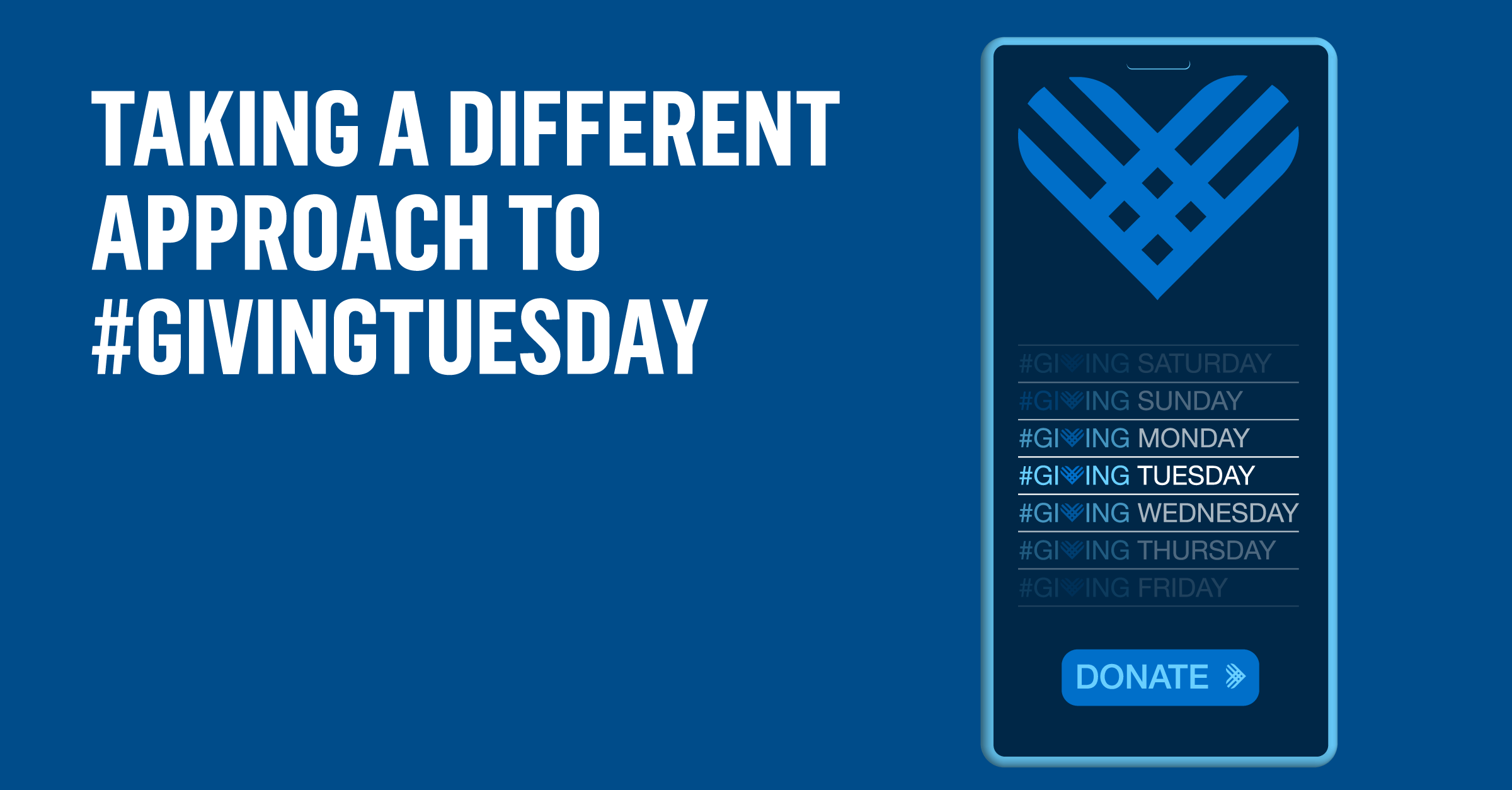 Let's hop into our digital marketing time machines. The year is 2012, and the 92nd Street Y, in partnership with the United Nations Foundation, established #GivingTuesday. The power of social media was used to launch a movement of philanthropy in communities worldwide.

The first #GivingTuesday raised approximately $10 million and expanded to an estimated $274 million raised in 2017, $45 million of which was donated directly in Facebook through 47,000 non-profit organizations. Of the 473,000 donations made in the platform, approximately 1,800 were matched with $2 million from the Bill and Melinda Gates Foundation.
$2 million might seem like a lot but that's an average of $1,111 per organization. In fact, there were so many organizations vying for attention that the available funds for matching ran out in 15 minutes.
Here at Capacity Interactive (CI), we've heard many #GivingTuesday success stories and we're always hopeful that our clients will find similar success. However, after years of running client campaigns, the results have been consistently disappointing. Last year, the #GivingTuesday campaigns our clients ran averaged a negative return on investment (ROI) - not even hitting 0% predominantly.
It's time to rethink #GivingTuesday efforts.
Stop participating in the mad lunge for candy after the smashing of a piñata. You're only going to end up with a black eye and a couple of measly Tootsie Rolls.
Don't get us wrong - #GivingTuesday is still a successful movement. However, on that day in particular, arts organizations are competing with other nonprofits and charities that do an excellent job year-round creating compelling content about how they serve people in need. As a result, they build a passionate community of supporters, who are at the ready when it's time to take action, whether that's signing a petition, volunteering, or donating. Couple that with the fact that these organizations do a phenomenal job letting donors know how their gifts will be used, and you've got a fundraising recipe that leaves most arts organizations in the dust.

Instead of lagging behind, let's take the spirit of #GivingTuesday and personalize it for your organization.
---
Try Another Time of Year
We know, we know - everyone does #GivingTuesday. But that's part of the issue - it's an oversaturated holiday. You're not only competing with other non-profit organizations, but with retail companies competing for holiday sales. This means the Facebook newsfeeds of potential donors are flooded with promoted posts asking for money (organic reach of these posts is a thing of the past), making it hard to break through the noise that day, and incredibly expensive to try.
Try choosing a different day. You can make your #GivingTuesday media dollars go further if you choose a different day or season when it's less competitive.

If you're a Shakespeare theater, make Shakespeare's birthday your organization's giving day or collaborate with local arts organizations to make a new day, like a "Cincinnati Arts Day."


The Kennedy Center centered a giving campaign around the 100th anniversary of President John F. Kennedy's birthday.


Jacob's Pillow used National Dance Day as an opportunity to ask dancer-lovers to cultivate the next generation of dance artists with a donation.

---
Gamify Giving
Once you've picked a new day, consider gamifying giving efforts to motivate participation. A great example of this is Jazz at Lincoln Center's March Jazzness. Tapping into the energy and engagement around March Madness, the organization created their own bracket and solicited donations to move initiatives forward within the bracket.
There aren't a ton of arts organizations soliciting donations in March, so your media dollars will likely go further. Another element we love about this is that it "gamifies" giving - making it fun, a tone that works well on social media.
---
Get Specific
We don't hide how much a ticket costs - we can be just as specific when asking for a donation. Asking for a specific amount makes it easy for donors, and it can increase donations.
Consider asking for a non-rounded number - one that relates to your organization or community. For example, New York Gubernatorial candidate Cynthia Nixon stated her position on legalizing marijuana and then added a button to her website asking for donations of $4.20.
Was your organization founded in 1967? Then ask for $19.67. Does your zip code garner hometown pride? Ask for that zip code in a dollar amount. One thing to consider - if you provide a specific amount, people are not likely to give more than this, even if they can.
---
Personal > Creepy
Facebook allows you to slice and dice audience segments, which can help your dollars go further. But if you're not creating content that's specific to each audience, what's the use?
Think about how you want to talk to all of your donors and prospects. Current donors can receive content that asks them to upgrade their giving level. Lapsed donors should receive content about how much you miss them or what they've missed out on.

You can see this strategy in action with Carnegie Hall's End of Year campaign. Instead of using one global post for each audience segment, they tailored the copy so each post was anticipated, personal, and relevant.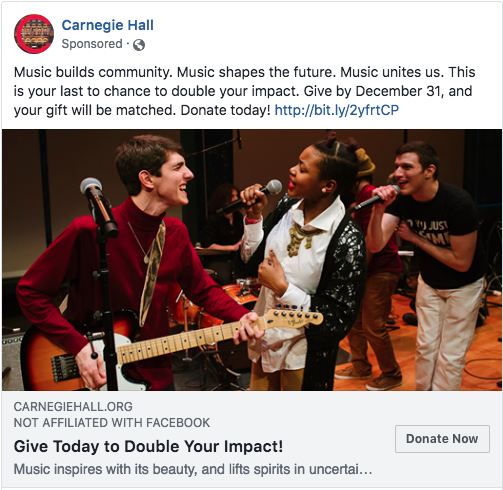 Carnegie Hall Facebook post for ticket buyers segment.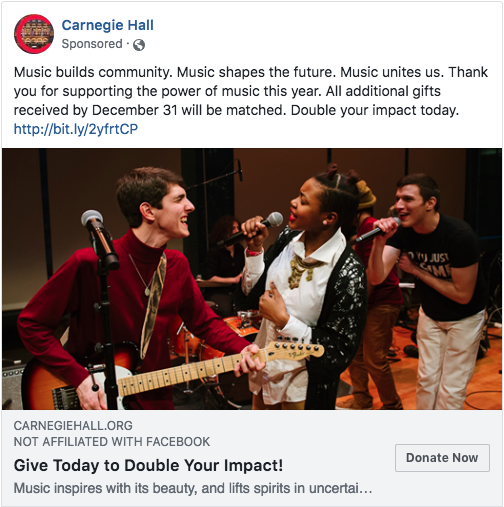 Carnegie Hall Facebook post for current donors segment.

In addition to tailoring your messaging, make the end goal something tangible. People want to know what their money is going towards. Let them know that their $25 donation will give a child the opportunity to see The Nutcracker this year or that their $15 donation went towards a new pair of pointe shoes for a dancer.
---
Timing is Everything
Consider meeting donors in the moments that matter most - like directly after seeing a show or an exhibition. Now, we don't recommend asking people who have only had one interaction with your organization to give. It can feel like a real cash grab. However, if you ask in the right moments, it can work wonders.



Directly following a performance or a visit to your museum, consider sending an email that asks, "Did you love that show/exhibition? Share the love and help a student see it." You can ask them to donate half the price of their ticket or something specific to catch their attention.

---
It's A Cliche: Cultivating Donors is like Dating
When is the last time you spoke to your donors and prospects and didn't ask for something?
If you're asking them to invest in your organization, you must show them how important they are on a regular basis. If you're only getting in touch when you want a donation, it's the fundraising equivalent of a booty call.

Think holistically about your donor and prospect communication throughout the year. We talk a lot about the 70/30 rule at CI. 70% of your content should be giving users interesting, fun, and shareable content. Do that correctly and you've earned the right to give users 30% sales content. 70% content includes sharing photos of kids enjoying a performance and thanking donors for making it possible. Or sending donors a behind the scenes video you think they'll enjoy, without asking for a donation. Need some more inspiration? Check out our Social Content Calendar for Arts Marketers.
You're building the relationship and you'll earn the permission to ask them to do something you really want: to do the dishes, uh, give a donation when it's important to your organization.
Let's take this tortured dating metaphor one step further: #GivingTuesday is like a wedding. It's a big day where a lot of people are focused on planning, money, and emotions. We want you to focus on the relationship that's in the center of the wedding (okay, we're done, we promise).
If you do participate in #GivingTuesday this year, take the pressure off. Think of it as part of your entire End of Year giving strategy. It's just another day to build relationships with your donors and prospects.
---
Are you ready to rethink #GivingTuesday? Let us know how you're going to do this in the comments below!