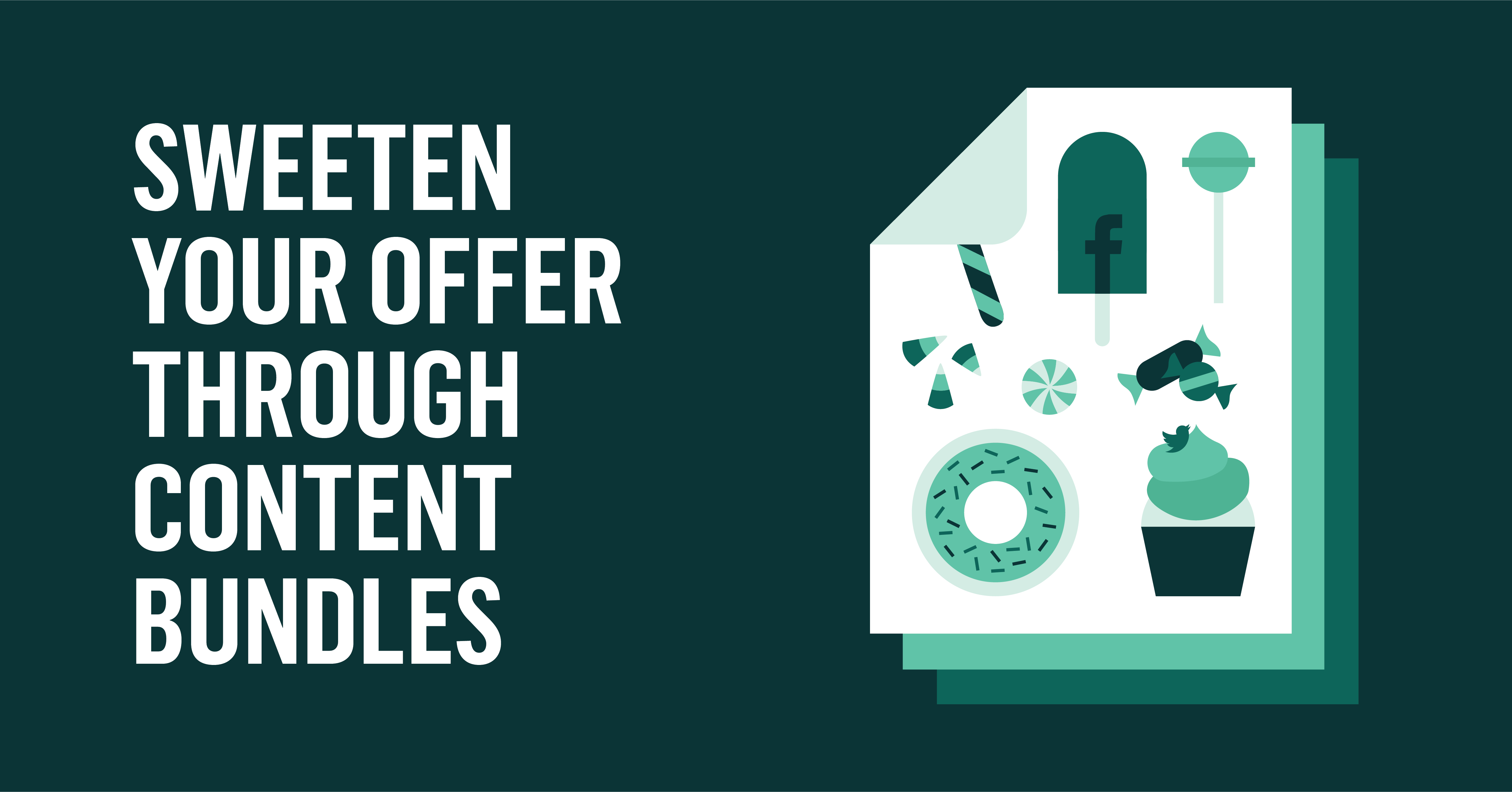 You know what gets us even more excited than going to an exhibition at a museum? Extra programming! That's right, we're like kids in a candy shop choosing from those specially curated tours, lectures, and special events that museums program around exhibitions.
But we know first hand that it can be hard to make sure audiences know all that's on offer. The Rubin Museum of Art's thematically programmed offerings serve as a great example of how it can be done through Facebook's variety of ad creative formats.
In case you haven't visited, the Rubin's permanent collection focuses primarily on art from the Himalayan region but their exhibitions and programs showcase diverse art and culture from across all of Asia. Special exhibitions range from ancient to contemporary, including photography and multimedia.
Each year the Rubin presents their programming through the lens of a broad, yet cohesive, theme to unify their offerings. For example, 2017 was centered around sound and 2018 focuses on the future. Even without a flavor of the year, you can wrap your arms around diverse programs and share new avenues for engagement with your audience through an approach we call "content bundling."
---
What's Your Perfect Flavor Combo?
When approaching a "content bundle" campaign, it's helpful to inventory the tools at your disposal. On Facebook alone, carousel ads, videos, slideshows, as well as traditional link posts give loads of flexibility to play with how best to get across the breadth of your offerings.

Videos don't have to be big-budget productions to give a multidimensional view of your programs!
---

Vivid imagery stops thumbs every time, and seeing the different types of programs on offer can quickly dispel assumptions about what's available.
---

In house resources are a great way to get more bang for your buck. More on that below (so read on!)
When strategizing with the Rubin about how to drive broader and deeper engagement with their offerings, we determined the goal of building awareness across all audience life stages, from acquisition to re-engagement of past visitors. After all, visiting the Rubin in the past doesn't guarantee awareness of all the films, lectures, and special events on the calendar. Next, we took a closer look at how to achieve awareness in audiences at each point in the life cycle.
---
A Bag to Hold Your Treats
We worked with the Rubin to create a central landing page around the year's theme in order to frame offerings in a comprehensive way and shed light on the breadth of their mission. This tactic lends flexibility when targeting audiences at different points in their path:
1. It creates a central "shop" where you can direct new audiences over the course of your campaign where they discover what best suits their interests and plans.
2. You can direct those who have previously visited a specific exhibition page and get them back in the door for deeper engagement across related programs.
Here's the icing on the cake- with a good tracking set up, you can create specialized targeting pools for continued follow up via retargeting based on how audiences engage with the landing page.
While the Rubin is unique in their central theme, as long as you offer programs related to an exhibition, the exhibition landing page can work in a similar manner. Make sure you design the page for ease of content discoverability upon landing.
And, as you move audiences down the funnel from discovery to investigation of your offerings, you can then shift where you direct them in subsequent campaign targeting. For example, the Rubin directs those they're retargeting from the central landing page to the "Plan Your Visit" page to help them take that next step towards their door.
The takeaway? These campaigns are dynamic and as audiences learn more, your job is to help them easily take the next step in their journey. Watching campaign data is key to adapting targeting and landing page strategy as audience profiles change over the course of the ongoing exhibitions and events.
---
Low-hanging Fruit is the Sweetest
One of the reasons we love this approach to "content bundles" is that it harnesses work you're already doing to create great content for your social channels. Events, lectures, special installations or lobby activities all hold great ingredients for fresh and engaging content.

Illustrate the breadth of what audiences can expect at different events through a carousel post.
---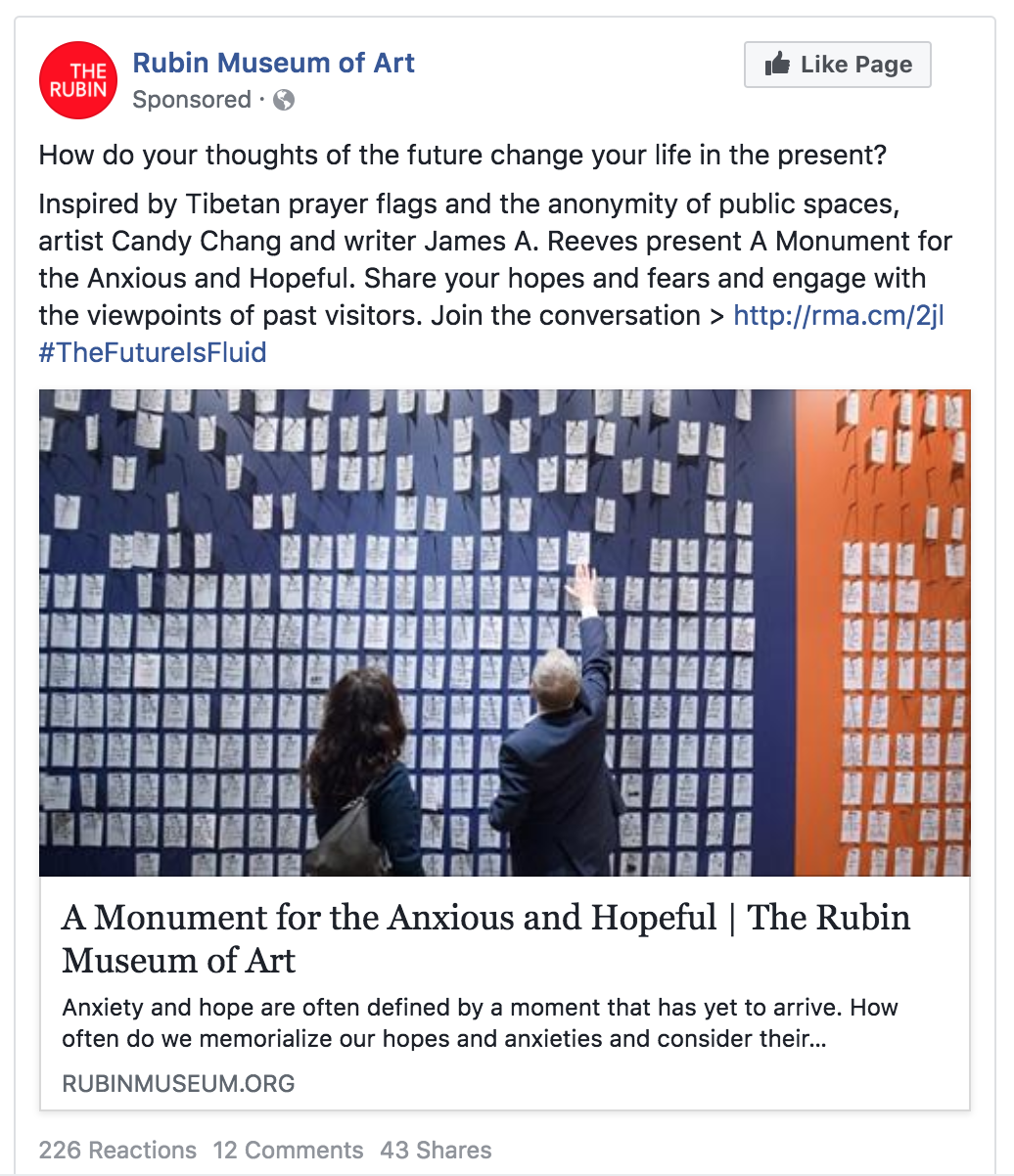 Show people engaging with your exhibitions and programs to capture what words can't.

---

Tap visiting artists, experts, and other guests to give a sneak peak of programs and events.
Once you have your tools in place--those tailored landing pages and content-rich Facebook campaigns--remember to think across all cohorts (like families and young pros) to get even more ideas for customized bundles. When combined with targeting through Facebook, you can make sure you're delivering the most anticipated and relevant programs to these segments.
The Rubin saw strong awareness conversion rates (key page views) by running these content bundle campaigns on Facebook, even exceeding those of their exhibition campaigns. Remember, even if they don't click on your Facebook posts, many people visit your website after seeing your posts. Our strong result was driven by visits to the tailored landing page (described above) by those more top-of-funnel or newly engaged audiences, as well as additional visits to more specific pages as appropriate to the particular level of awareness for mid- and bottom-of-funnel audiences.
Whatever your goals, get creative and have some fun curating these bundles for your audiences and soon they'll be tasting all the treats on offer!