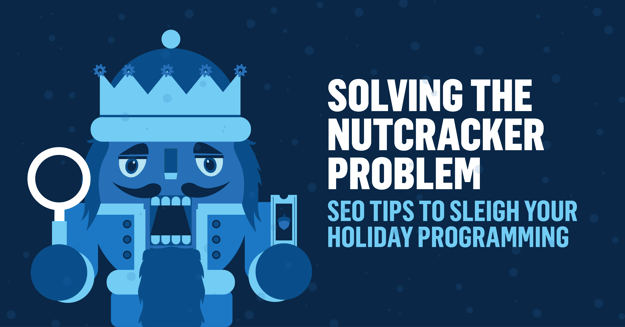 It's the most wonderful time of the year…annual holiday programming! Whether it's The Nutcracker or A Christmas Carol, nearly every arts organization has a yearly tradition that their audience anticipates year after year. And while traditional events are a great way to engage your patrons, you know that using the same digital marketing tactics each year should not be a tradition—iteration is everything!
This is especially true with search engine optimization (SEO)—an integral part of your holiday programming strategy—for your website's event detail pages. These can easily become an SEO nightmare without the proper setup, creating what we at CI call "The Nutcracker Problem." Let's put on our SEO glasses to ensure your event drives high-quality, organic traffic to your website and increases your organization's discoverability on the search engine results page (SERP.) Talk about a gift that keeps on giving!
---
What is the Nutcracker Problem?
"The Nutcracker Problem" is a CI-coined term that refers to a common SEO problem that can result from recurring events. Let's take The Nutcracker, for example. Oftentimes, marketing teams will build a year-specific event detail page on their website. Two scenarios typically follow the performances:
Scenario 1
Imagine: it's January 1, 2022. The Nutcracker performances have just concluded for 2021, and your team is cheering to another successful campaign. Brava! However—now that the event is over, your marketing team leaves the 2021 event detail page live. This year, when The Nutcracker is presented again, a new 2022 event detail page is built. By 2035, there will be 15 event detail pages, all optimized for similar keywords, such as "ballet nutcracker" or "nutcracker tickets." What's the big deal, you ask?
Consider this: Most queries on Google result in thousands of pages, ranking those with the most relevant, accurate, and reliable answers at the top. Multiple pages about The Nutcracker divide your website's search authority, or the weight Google gives to a page. This pits your pages against each other since they're all competing for the same Nutcracker-related keywords. This also means that a 2018 Nutcracker page can appear on the SERP when users search for tickets today since it's older and has more search authority. This is far from a holly, jolly experience.
Scenario 2
Here's another common course of action. After the production has ended, the 2021 Nutcracker page is deleted, and a new 2022 Nutcracker page is built the following year. While there aren't multiple pages over time, the overall website SEO continues to suffer.
Remember that search authority I mentioned before? It plays a role here, too. The more a page is visited, the more it can be "trusted." If you delete your event detail page, you'll also lose search traffic because Google no longer recognizes that page as being a trustworthy subject authority for your keywords. Building new pages each year requires marketing departments to rebuild their search authority for those highly-searched terms like "nutcracker"—and who has time for that?
Do you hear what I hear? I hear an SEO challenge. Recurring events are common, even outside of the holiday season, but most organizations still need the proper workflow to maximize SEO for these pages. But fear not—there is a way to solve The Nutcracker Problem! Join me on a sleigh ride filled with solutions so you can have a merry holiday season.
---
The Solution: Holly Jolly Optimization
I outlined two scenarios above, but the ideal solution is Scenario 3: one page for a recurring event. You'll be able to update it year-over-year, which allows the search authority to grow. It also gives Google only one URL to keep track of. One URL = increased chance for a higher SERP ranking + increased search traffic. This may require a more significant lift upfront and a shift in your workflow, but the long-term benefits are enormous—like a simplified purchase path and better user experience!
Note that this solution means the content on the page for your event will shift depending on the time of year. The page can include traditional information such as performance dates and times, casting information, etc. After the event ends, the page can be updated to include links related to content on your website, such as blogs, a plot summary, and images/videos. This upfront effort will help keep your audiences engaged and your page jingle bell rocking all year long.
---
But what about this year?
Is your organization guilty of Scenario 1? I got you (and no judgment!). While implementing more extensive changes to your landing pages may be challenging right now, here are two quick-fix options you can choose to implement now until you can overhaul your SEO approach next year (and don't forget to bookmark this blog post!):
Option 1: Update the Title Tags and Meta Descriptions on all the yearly pages for your recurring event. By ensuring the date is displayed on each one, Google can identify this year's page as the most relevant to show on the SERP.
Pro Tip: Add a link to your 2022/2023 event on past event pages. This will ensure that users who land on former pages can easily navigate to the correct page with the most up-to-date details.
Option 2: Set up 301 redirects from all your past event pages to the most current one.
How to Redirect:
Event Page 2019 → Event Page 2022
Event Page 2020 → Event Page 2022
Event Page 2021 → Event Page 2022
Redirecting each page directly to your most current page will keep your SEO sharp. This requires some internal strategizing with your team to ensure that everyone is on the same page but will pay off in the long run with a seamless user experience.
How NOT to Redirect:
Event Page 2019 → Event Page 2020 → Event Page 2021 → Event Page 2022.
Redirecting each page to the next creates a "301 redirect chain", which can negatively affect your site's SEO.
Important to Note: Remember that if you decide to set up 301 redirects, users will be redirected to the new page only and you won't be able to update the title tags and meta descriptions of your past event pages.
Instead of dreading the holiday season, make it the most wonderful time of the year by streamlining your SEO around recurring holiday events. Merry optimizing, and Happy New Year!
---
Still have questions or need help getting started with SEO for your website? We're here to help! Schedule a free 30-minute consultation with our team today, and we'll take a look under the hood of your site to chat about SEO recommendations.