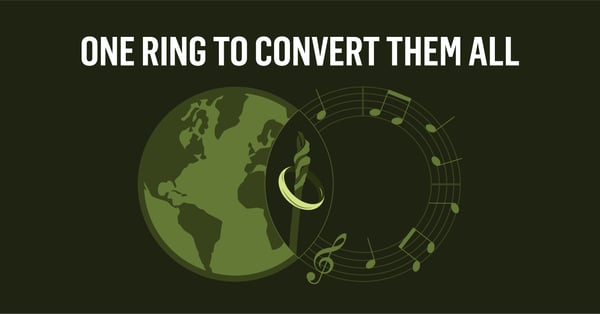 Here at CI, we're always talking about getting the right message to the right people at the right time. But what does that actually look like in practice?
Let's start with the basics - when you're thinking about social content, think about the 70/30 rule of engagement. 70% of your content should be giving users interesting, fun, and shareable content. Do that correctly and you've earned the right to give users 30% sales content.
One way to create good 70% content is to tap into what's going on in the world outside of your organization. This is called a social "sweet spot."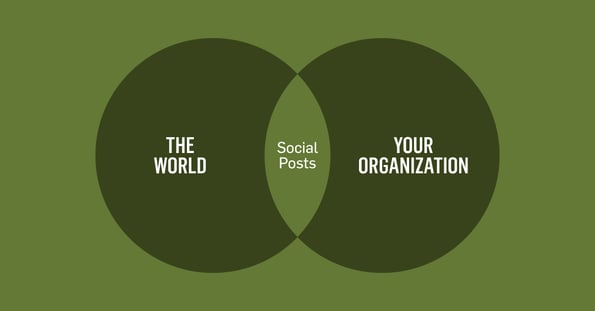 This "sweet spot" doesn't always need to include huge, momentous events. National Wine Day and National Dog Day, anyone?
Giving audiences relevant 70% content is extremely important to keep current audiences engaged and to attract new audiences into your digital universe. Being topical increases relevance. But let's take this a step further - how can you harness topical events and translate them directly into ticket sales?
Picture it - a world where arts organizations could sync its artistic calendars to perfectly match the world around them. This is a bit of a pipe dream, but fortunately for the Seattle Symphony, this happened naturally.
---
The Ring Has Awoken
Seattle Symphony (SSO) presented the music from Lord of the Rings (LOTR) in July 2016. Based on the success of similar programming, the SSO team knew this would be a popular event and wanted to utilize it as a unique opportunity for audience development.
As if a golden ring was handed to us on a silver platter, the Emerald City Comicon was scheduled for April 2016. SSO's marketing department had the brilliant idea of leveraging this city-wide sci-fi/fantasy fest to reach people who are interested in LOTR but might not be aware of the upcoming performance with the Symphony.
---
The Adventure to Middle-Earth
The task at hand: to convert brand new prospects who love LOTR into single ticket buyers. Would this quest be successful? We're not Mr. Frodo - but we did use a long-running, multi-channel, highly targeted campaign to do just that.
Our initial campaigns launched when 88,000 sci-fi/fantasy lovers gathered at the Washington State Convention Center. What happens when this many people gather in one place? Lots of standing in line and scrolling on Facebook. With this in mind, we utilized Facebook's Instant Experience (previously known as Canvas Ads) - it was the perfect 'top-of-funnel' platform for engaging these new prospects. We saw this as an opportunity to say, "You shall not pass us by."
Since Instant Experience is a fully immersive, mobile experience, we could bring the Emerald City Comicon attendees into the world of Lord of the Rings with SSO.
We targeted top-of-funnel audiences that were within 1 mile of the convention center. Our goal was to inspire these Facebook users to further their LOTR interests by visiting the SSO site to learn more (or, better yet, purchase a ticket).
We spent $615 targeting these audiences over 3 days (the length of the Comicon) aiming to drive them to SSO's site so we could remarket to them later if they didn't buy a ticket. Separately, we were running Facebook and display ads on 7-day remarketing pools to stay top of mind with these new site visitors. So once someone showed interest, we could increase frequency.
---
Middle-Earth
By the time the Comicon ended, the Instant Experience ad drove 42 purchases for Lord of the Rings with SSO - a 1,550% ROI solely from the top funnel audiences. 42 purchases from people who weren't already in the SSO universe!

The Instant Experience ad also received tremendous engagement with 181 shares and 459 post reactions. The average percentage of the Instant Experience viewed was 75%.
Fast forward to July 2016 to the actual LOTR concert. With our initial acquisition work in April, we were in an excellent position to spend more money on our bottom-of-funnel audiences. We were also able to repurpose content from the Instant Experience ad to shepherd the interested parties down the purchasing funnel.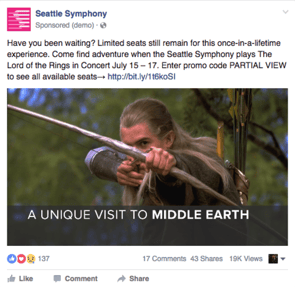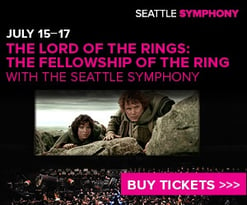 ---
The Heroic End!
In the end, our Facebook campaigns drove 311 LOTR purchases for a 2,164% ROI. We reached 157,506 unique Facebook users, resulting in a Facebook pixel pool of 12,700 users. The display campaigns drove 104 LOTR purchases for a 1,134% ROI and 23,000 pixeled users.
With the Emerald City Comicon, we had an incredible opportunity to do topical audience development for Seattle Symphony. We were able to reach people who might not have a strong interest in the symphony, but certainly had an affinity for Lord of the Rings.

Not only did this campaign drive ticket sales for the concert, but we also expanded their pixel pools by adding brand new users that we could tap back into for relevant and related concerts at SSO.
Every arts organization won't necessarily have a fortuitous situation where an event in your city matches up perfectly with your artistic programming. But when it does, it's invaluable for audience development.