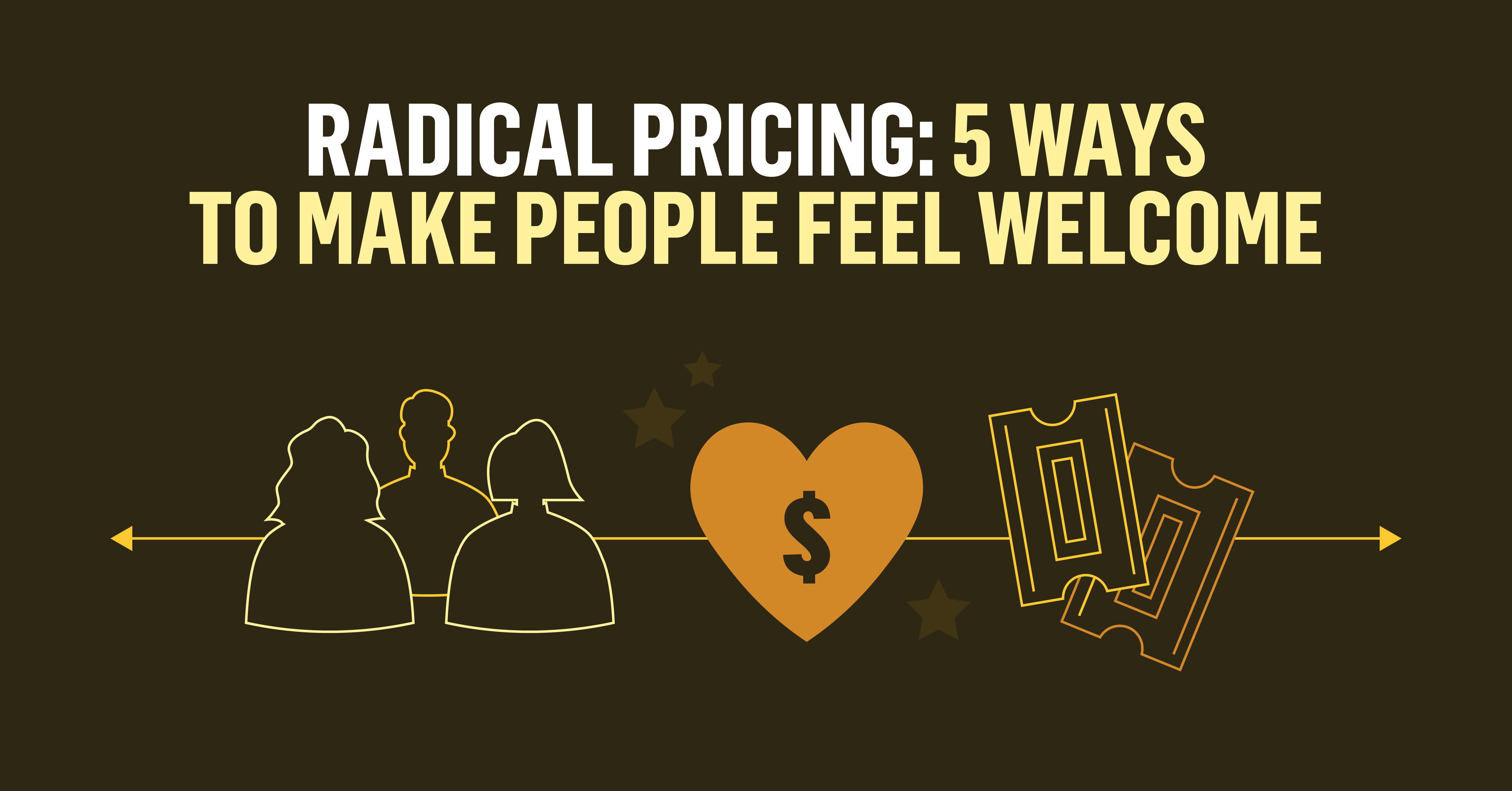 A critical aspect of our work and lives that we've desperately missed since March 2020 is the ability to gather, physically together, around our art. As we reimagine what it means to gather following this period of isolation, we have the important opportunity to be more intentional and deliberate than we were before. What wasn't working in the "before times" in our gatherings that we can now change? How can we be intentional about the meaning behind our gatherings and the space we want to create?
Priya Parker, in her book The Art of Gathering, talks about how an event is a moment in time that's reflective of everything leading up to it. She says "A gathering begins at the moment of invitation. It doesn't begin when people walk in the room." This is why, in our case, the path to the theatre, or the experience, is so important. And a vital part of that path—a piece that communicates so much about the event—is pricing.
At nonprofit arts & cultural organizations, we are always in a dance with pricing. We think of ourselves as community builders, and with this reopening, many of us have an objective to be as inclusive as possible. We want people to come back into our space to commune with us, and we want that experience to be welcoming of all walks of life in our community. There's a need for our prices to reflect that.
On the other hand, we have fiscal responsibilities. We need to make revenue from ticket sales. We need to make ends meet. It is because of this push-pull factor that we've introduced the term Radical Pricing at JCA Arts Marketing.
---
What is Radical Pricing?
Radical Pricing places extraordinary emphasis on making people feel welcome through pricing. It does not mean handing out free tickets or completely avoiding high prices. Rather, it allows people to access an experience at a price that is appropriate to them, within their personal value structure and financial means. And, it helps to avoid sidelining marginalized communities in theatres and other cultural experiences.
In our recent article, we go into depth about what Radical Pricing is and isn't, and how to use pricing to reach your inclusivity goals. We implore you to read it. In the meantime, we wanted to provide five easy, low-hanging tactics that will allow you to create a more welcoming environment through pricing, without significantly sacrificing revenue.
---
#1: Offer Pay What You Will (PWYW) Tickets
Allowing people to pick the price we want to pay is something that theatres and museums have long considered. With digital performances throughout the pandemic (which often lacked value fences or differentiated experiences), we were able to do objective tests on the success of pay what you will programs. The results were fascinating—in most cases, the average ticket yield price ended up about the same, or higher, than it would have been had one price been offered.
Woolly Mammoth Theatre Company in D.C. is doing an exciting test this season with PWYW pricing, where the first two preview performances are PWYW, and there are also PWYW tickets available in every show. We're excited to see results.
One thing to consider if you want to test PWYW pricing: consider offering either a "typical price," or a range of price options for people to choose from. With this nudge, you can guide people to make price decisions that benefit your organization, while fulfilling the needs of the patron.
---
#2: Remove the Age Limit on your Discount Tickets
Many organizations have discounted tickets or memberships for young adults—under 30 clubs, young professional groups, etc. Some organizations also have discounted tickets for senior citizens. The problem with these discounts is they can be ageist, and not reflective of true financial needs. There are plenty of people under 30, and senior citizens, who have the financial means to buy full-priced tickets. Similarly, there are plenty of people between those age groups who cannot afford those tickets.
Consider removing the age barrier on your discounted tickets or memberships. Instead, offer a lower price for people to select if they need it. You'd be surprised at how many people choose to pay for the option that most reflects their financial means, instead of just getting the cheapest option.
Woolly Mammoth Theatre Company is also doing an exciting test on this idea with its Golden Ticket membership.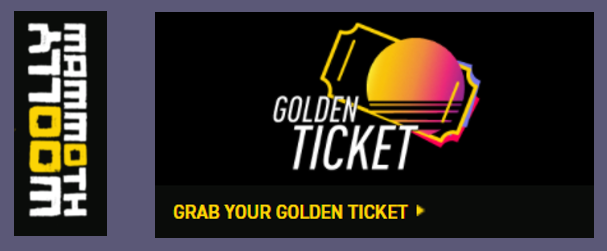 Two prices are offered for the membership—a full-price and an access price. The memberships are identical—the access price is simply for those who love theatre but don't have the means to pay full price.
---
#3: Offer a "Pay it Forward" Price
Just like you might offer a lower price (as in the example of Woolly Mammoth's Golden Ticket), also consider offering a high price for those who can afford it. You can consider this a "goodwill" price, where people who can pay more do so, to allow others with less financial means to pay the lower prices you offer.
A good example of this is from Bristol Old Vic in the UK, which offers three prices for each ticket: a Standard price, a Pay It Forward price, and an Open Concession price.

The Pay It Forward price is a higher price aimed at those who can pay it, and the Open Concession price is for those short on cash. The theatre reports that the uptake from both the Open Concession price and the Pay It Forward price has been strong.
---
#4: Sprinkle Discount Tickets throughout the Auditorium
If you offer student, rush, military, lottery tickets, free tickets to indigenous peoples, or any other type of social discount program, consider sprinkling those tickets throughout the auditorium, including in the most popular sections. This will not only allow you to fill areas of the auditorium that might have gaps, but it will also help in your objective of not "sidelining" new audiences who have fewer means. Sidelining refers to when central, prime sections of theatres are filled with a particular demographic and new, often more diverse audiences are on the sides/back of the theatre. This practice of spreading out discounted seats will help break up the impression of a theatre being divided by class and socio-economic status.
---
#5: Hold Some of the Best Seats for Later Sale
Often, this sideling of new audiences in theatres is because the so-called "best seats" are taken by subscribers and people who have lifestyles that allow them to make plans far in advance. Consider holding some of your best seats off sale until later in the sales cycle, to allow others a chance to access them. They don't necessarily need to be discounted, but having good tickets available closer to the performance allows an opportunity for people with different lifestyles to get great seats.
This practice can also help you reach your revenue goals, as you may be able to use dynamic pricing to sell those tickets at a higher price if they go on sale closer to the run and the tickets are in demand.
Here's to being deliberate about our gatherings, in this time of change, and creating a welcoming experience for all.
---
Jamie Alexander is Director of JCA Arts Marketing. JCA Arts Marketing's data-driven and nuanced approach to pricing will help you reach your audience goals while being fiscally responsible. JCA Arts Marketing is a proud sponsor of Boot Camp 2021.