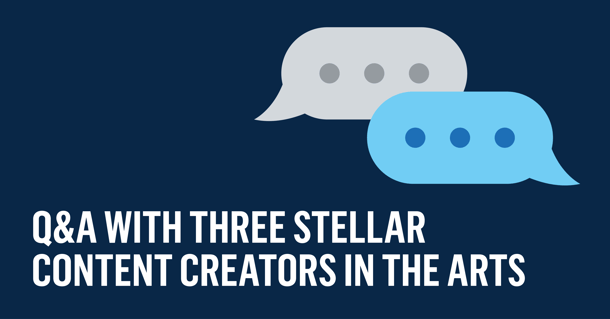 We asked Lauren Fitzgerald (Director of Marketing and Communications at the New 42nd Street), Amanda Fowler (Marketing Manager at Charlotte Ballet), and Aly Michaud (Digital Marketing Manager at Cincinnati Playhouse in the Park) questions about content creation and social storytelling. Everything from where they find creative inspiration to how they make content creation a priority at their organizations.
---
How long have you been a content creator?
Lauren Fitzgerald (New 42nd Street): In my first job 20 years ago, I did press and public relations work for the Contemporary American Theatre Festival. Since the "World Wide Web" was in its infancy, most of the content delivery I worked on was in-person, in the form of essays and interviews with playwrights in festival program books and exhibits in the theater lobby. As an incubator of new American theater, CATF was and is really committed to dialogue with patrons about the work. It was a wonderfully influential place for me to start my career, as I learned that theatergoers' appetites for knowledge about what they're seeing on stage can be very, very large.
Amanda Fowler (Charlotte Ballet): I started my career as a print journalist so I've always been a storyteller, but I've been in marketing for 10 years now. I think marketers have always been content creators though we didn't call it that 10 years ago.
Aly Michaud (Cincinnati Playhouse in the Park): My introduction to professional content creation came from attending Digital Marketing Boot Camp for the Arts in October 2015. I was only marginally involved in the social media functions at Cincinnati Playhouse in the Park at that point, but I began to apply and experiment with concepts I learned to promote the aerial silks and dance show I created for the Cincinnati Fringe Festival that season. I made videos, dabbled with my first promoted posts and learned to be more precise and intentional about copy and tone.
---
What's your creative process?
Lauren Fitzgerald (New 42nd Street): I am lucky to work with a team of super thoughtful, creative content makers at The New 42nd Street and The New Victory Theater. In addition to collaborating with communications team members and colleagues in our Artistic Programming and Education departments, I often work directly with the artists we present to dig deep into the art forms and mine for content ideas. Once we have a great big, deep brainstorm, we dive in and decide what content our audiences will respond to best, what aligns with our engagement goals and what is doable based on resources. All of our production content, including advertising, is done in-house.
Aly Michaud (Cincinnati Playhouse in the Park): Prior to each production, I take a look at the content assets that already exist. What content can I use without making anything from scratch? If promotional or production photos exist already, how can I use them creatively? I often feel that the most resourceful way to create content is to be aware of what's in your toolbox. You can build a much bigger sand castle at the beach with a bucket and a shovel than you can if you were just trying to mold the sand with your hands. Same sand, better tools.
---
What are your go-to sources for content inspiration?
Lauren Fitzgerald (New 42nd Street): Kids. The best content we produce is almost always because they are in it, or they inspire it. In New Victory advertising, we represent kids' voices as much as possible. It always winds up feeling more fresh and authentic than anything we adults make up.
Aly Michaud (Cincinnati Playhouse in the Park): A lot of great inspiration comes from the art itself – reading the script, doing research or seeing a rehearsal, a dress rehearsal or a performance will give you so many ideas. I also find a lot of inspiration from the rich history of our organization. There's often a great idea that is just waiting to be reduced, reused and recycled. I think it's easy to fall into the trap of trying to reinvent the wheel, and you honestly don't have to.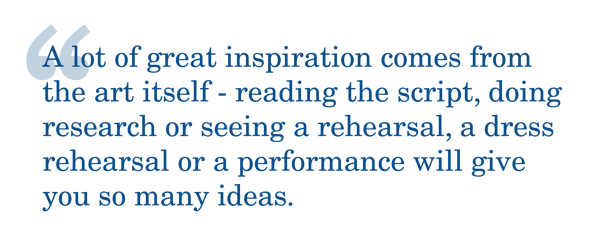 ---
What's a piece of content you've created that you're proud of? How did this idea come to fruition?
Lauren Fitzgerald (New 42nd Street):I'm really proud of the video that we produced in 2013 for the TDF Theatre Dictionary. It represented a shift in the tone of the New Vic at the time. I think that people who work in theater for young audiences (myself included) tend to take ourselves in the work overly-seriously because it feels like we have something to prove - being that TYA is just as important as theater for adults, if not more so. When we were asked to do the video, we started out by over-seriously brainstorming - but then had a moment when we paused and asked ourselves if we would be more successful if we were silly instead. In doing so, we found a lightness and joy that has run through our content since. The real star of the video, Ian (who was seven at the time), has become our advertising spirit animal, appearing in many subsequent campaigns in print and video.
Aly Michaud (Cincinnati Playhouse in the Park): I'm proud of the pilot campaign we did for our development department this summer. It taught me a lot about the ways in which fundraising content differs from traditional sales campaigns. It helped me understand the development/fundraising equivalent of the "don't ask someone to marry you on the first date" rule.
---
What's one of your biggest constraints for creating content and how do you solve this?
Aly Michaud (Cincinnati Playhouse in the Park): One of our biggest constraints is access and timing. Our plays often don't have any assets until tech rehearsal which is when we receive production photos. Some of the best ways to tackle this challenge include:
Getting headshots from the artists.
Obtaining a digital copy of the set drawings and/or a photo of the set model.
Obtaining costume design renderings and/or photos from the scene shop.
Requesting an interview with the director.
Getting a photo or photos from rehearsal (if you are allowed).
Snap a photo or shoot a time-lapse video of the set being built.
Create an image with a generic background fitting the tone of the show and overlay a quote from the script on it (under 20% of the image can have text and still be promoted by Facebook – but for a succinct punch, 20% is all you need).
One of my favorite go-tos with a show that's based on a book or that's well-known is to do a Google search for one of those "which character are you?" quizzes.
---
You're in the planning stages for your next season...how do you think about creating content when you're this far out?
Lauren Fitzgerald (New 42nd Street): We start content planning at the same time we do season planning. For several years now, we've asked the companies we present to create short videos for our website and social media. We give them some guidelines and examples of videos we really like, and then they come back with content that, with a bit of editing, we're able to use as advertising for a show - like this lovely video from Lizt Alfonso Dance Cuba, and this ridiculous and awesome video from Tall Stories. It really works for us to request the content to coincide with our on-sale date, as the companies are focused on us at the time and we get double usage out of it as they can use their videos on their own sites to promote their New Victory engagement.
Amanda Fowler (Charlotte Ballet): The first thing I do is begin thinking about the assets I already have. Which ballets do I already have photography and videography for? What kind of pull quotes from existing reviews are there? What blogs can I repurpose? By getting this base of content down in advance, it gives our team mental space to think creatively and gives us more time to act on new ideas closer to the performance. If I already have half of my content planned, I can spend more creative energy and resources on the great things that happen when our artists are in the thick of the creative process or when choreography and costumes are more complete.
---
When you have a content idea and are faced with a "no." How do you solve this?
Amanda Fowler (Charlotte Ballet): Relationship building in the best way to get buy-in from all parties. Still, "no" doesn't have to be a bad thing. Sometimes it's more about resources and the conversation needs to shift to problem-solving or become a long-term goal. "No" can also lead to a larger conversation. I feel like if I don't hear "no" every now and again I'm not being ambitious enough. I'm constantly pushing the boundaries and working to break us out of our comfort zones and in doing that I inevitably hear "no."
Aly Michaud (Cincinnati Playhouse in the Park): This is where content creation becomes a truly creative pursuit. If you are faced with a "no," it's not because the idea isn't good. It's usually because there isn't enough resources or time to do it well. If time and resources are major factors, try considering a new perspective. Have you already used the production photos as a slideshow and a photo album? Try selecting one and placing a quote over it. You've already done that too? Use pull quotes from the script or from reviews.
---
How do you make the case for making content creation a priority at an arts organization?
Lauren Fitzgerald (New 42nd Street): Determine how content figures into your mission. Most arts organizations know that their purpose is twofold: to produce or present art, and to guide and shape how patrons engage with it. Explore the question, "how does our organization consider content to fit into our arts engagement efforts and agenda?" You may find that content creation fulfills core goals of the organization, but may not be positioned as such. When we did a mission review of The New 42nd Street (the parent organization of The New Victory Theater) a few years ago, we added language that all the projects of The New 42nd Street exist to "make extraordinary performing arts and cultural engagement part of everyone's life." This choice opened a great conversation about how the marketing department participates in programmatic activities of the theater. Whereas marketing is traditionally seen as a support function, the choice to position engagement as a mission activity initiated both a change in the way the marketing team approached their strategy and an organizational shift. When we produce content now, there's much of it we consider to be programmatic, with the sometimes equal or sometimes secondary purpose of sales.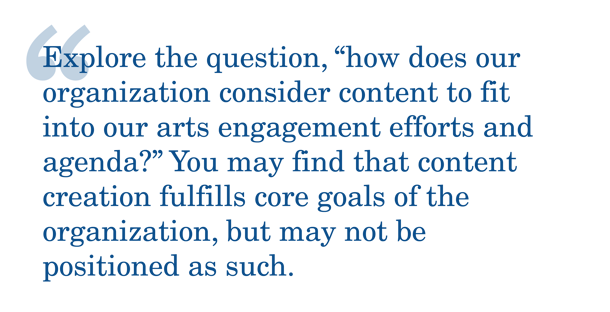 Amanda Fowler (Charlotte Ballet): The ROI we see on digital marketing campaigns makes the case. When I'm choosing how to spend our advertising dollars, digital marketing is truly the only place where you can tie each invested dollar to a specific outcome. Creating diverse, quality pieces of content gives us the best success in those digital campaigns. Content also gives us the opportunity to better connect with influencers, stand out from a general branding perspective, and attract talent to our organization. We also see the need for internal content creation to supplement waning press opportunities. Arts-specific outlets in our community have folded. Our daily newspaper laid off their arts reporter. It has become imperative to tell our own story rather than relying on the press to communicate for us. Even when we do see press opportunities arise, with the limited staff and resources outlets have, they often lean on us to provide the photography, videography and interviews. By positioning ourselves as a company who offers those assets we know journalists will continue to turn to us. And by having outlets use content we've produced, we have the rare opportunity to control the message.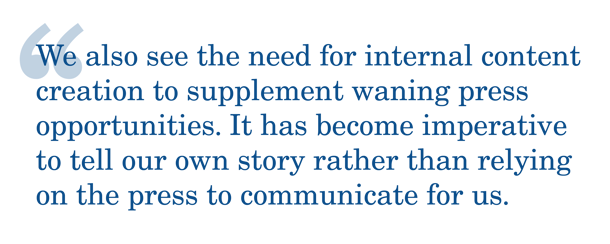 ---
What's one piece of advice you can give to a fellow arts marketer to help them consistently create thumb-stopping content?
Amanda Fowler (Charlotte Ballet): Stop comparing yourself to other arts organizations and start comparing yourself to the most successful content generators. One of my favorite pieces of content I've created was inspired by BuzzFeed. Arts organizations may not be resource rich but we are content rich. We can't give ourselves an out for creative, innovative, risk-taking thinking because we lean on the crutch of being non-profits. Other companies may have budgets and staff we could never dream of, but we have the kind of stories and visuals they would kill for.
Aly Michaud (Cincinnati Playhouse in the Park): Make calls-to-action less literal. I no longer say, "Click below to read the full article, then subscribe to enjoy theatre all season long." Instead, I am now under the assumption that people have figured out that the images below a post are often links too, and I only address the ticket link in my CTA: "Subscribe today and enjoy theatre all season long."

---
Want to hear more from Lauren, Amanda, and Aly? They will be the three presenters for Telling Your Story in a Digital World, at Digital Marketing Boot Camp for the Arts in October.