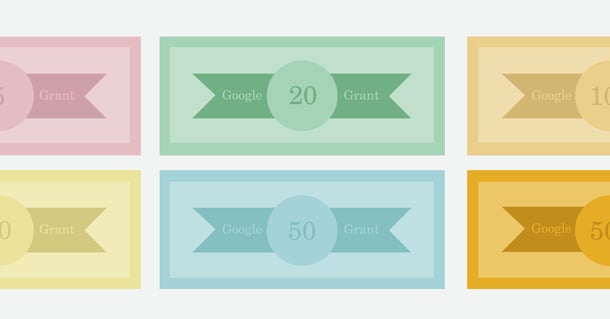 All of us working at or with nonprofits love the "Monopoly money" Google gives us every month via our Google Grant accounts. That $10,000 in free, monthly search advertising money calls to mind the stereotypical Hollywood representation of the New York Stock Exchange trading floor: numbers flashing, people shouting things about bids and buys and sells at each other and into phones.
Luckily, this isn't the case. Google Grant accounts are enormously effective (and not nearly as stressful as the NYSE) when they are well built and optimized regularly.
They do, however, have their limitations. The maximum cost per click (CPC) bid is $2, which will exclude you from certain auctions depending on how much your competitors are bidding on the same desired keywords and phrases. For this reason, supplementing a limited amount of actual paid search (you know, real money) around big events with a lot of tickets to sell can generate enormous returns.
Case in point: Alvin Ailey American Dance Theater's yearly performances at New York City Center. It's a cornerstone of their season and is widely anticipated each year. It's also a long engagement in a large venue so the push to sell tickets begins at the end of the summer.

Alvin Ailey American Dance Theater in Robert Battle's Awakening. Photo by Paul Kolnik.
In 2014, the Grant account's $2 maximum CPC bid limited Ailey's share of voice around City Center terms on search to about 10% of relevant search auctions. This year Ailey devoted approximately 17% of their paid digital media budget to paid search to supplement the Grant and bolster their search coverage.

The goal was to grow conversions significantly by bidding just slightly above the $2 CPC on their most valuable keywords and phrases in order to show up in more auctions and get a larger share of voice. The bulk of Ailey's sales are driven by branded keywords, so we built a paid search campaign that emphasized the brand and City Center highlights. We also strategically included holiday messaging in the ad copy.
This strategy paid off. Overall, Ailey saw a 167% overall increase in City Center search conversions year over year. Of all City Center conversions driven by search in 2015, 65% came from the paid campaign. The return on investment was nearly 1200%, and the average CPC was just over $1 (the proportion of keywords bidding over $2 was small, but these were important keywords with high conversion rates).
So…what can we learn from this?
In certain cases, it's worth running paid search campaigns in tandem with your Grant account. Consider it for larger shows or events to bid above the $2 CPC limit and get a larger share of voice.


Paid search campaigns are most worthwhile for longer-running engagements with larger media budgets. Especially if they are also occurring at a time of year or in a marketplace with a lot of competition.


Put your media spend where your results already are. Use paid search to drive more conversions on keywords and phrases that are proven successful by your Grant account performance.


The more you can invest, the better

. After all, it's a bidding war. If you're very constrained by budget, you'll have a harder time justifying the over-$2 CPC bid – which is the main reason to move it out of the grant account and into the paid account in the first place.
Keep one thing in mind: you may see a lower number of conversions attributed to your other Google campaigns, as Google will credit a user's last action before purchasing with a conversion. People who saw or clicked an Ailey banner ad and then did a Google search "ailey tickets" a day later were attributed to the paid search campaign in 2015.
As a result, Ailey saw a year over year decrease in the number of conversions on some other Google efforts (display banners and YouTube, for example). However, the overall number of Google conversions in the non-Grant account – including paid search – increased 39%. We'd say it's worth it!

Want to know if this strategy will work for your organization? Ask Rachel in our comments section.