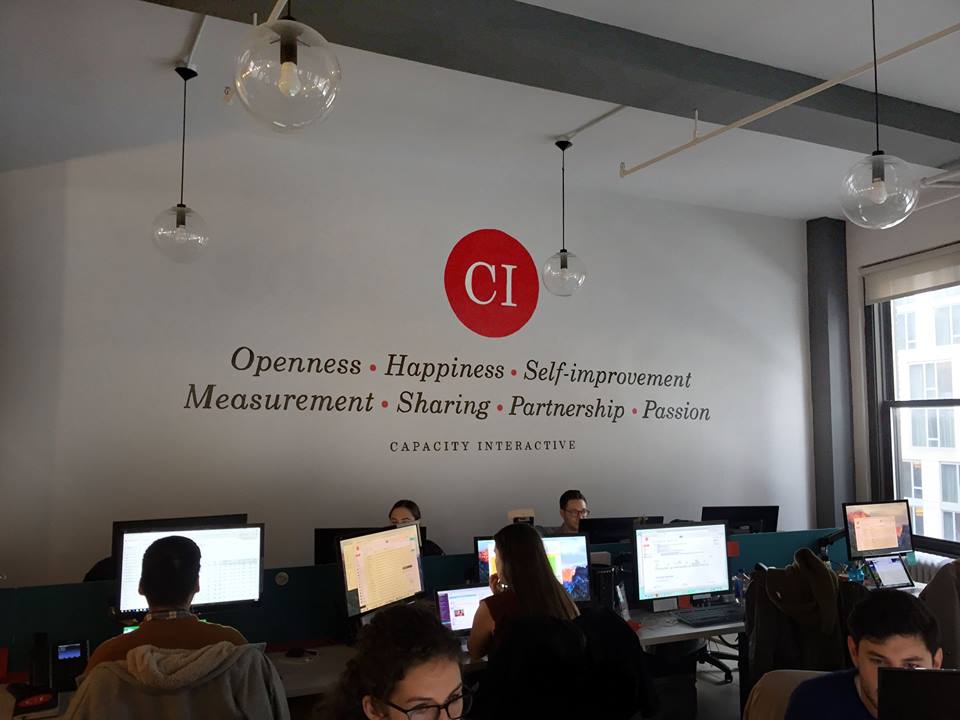 Openness. Happiness. Self-improvement. Sharing. Measurement. Partnership. Passion.
These values guide everything we do at CI, from how we hire to how we work with our clients. Our values are so important to us, they are painted on the wall of our office as a daily reminder to our team.
Values are important because the work will always change, but our values will remain as guideposts to keep us focused and working from a place of unity and mission.
We believe in these fundamental values:
Openness
We value an open workplace and are committed to team member accessibility, with no physical or hierarchical barriers to any employee. Everyone has a voice and an invitation is never required to use it. We believe in transparency. We foster an environment that supports vulnerability and curiosity; our open space will always be safe for questions and ideas of any kind.
Happiness
We want to create a fun and supportive environment where people look forward to coming to work. We want an organization free from office politics, personal agendas, and negativity. We leave our baggage at the door. We want to get to the heart of our work with no distractions.
Self-improvement
We strive to improve ourselves and sharpen our skills. We are always learning, innovating, and improving our craft, even if that means making occasional mistakes.
Sharing
We believe in sharing our wins and losses with our team and the field. We believe that the more that we share, the more we learn, which helps us to grow. We strive to be thought-leaders in our field.
Measurement
We believe in using data to inform decisions. If it's digital, measure something. Let data help decide, but don't let it take over.
Partnership
We believe in being true partners to our clients and in building meaningful relationships with them. We are consultants, not account managers, and as such we are an extension of our clients' teams. We work to find solutions to make our clients' investments go further.
Our successes are our clients' successes and vice versa. We should be trusted advisors in areas even beyond the scope of our work. We are flexible and understand all clients work differently and that we can't prescribe our advice in a rigid way. We understand our clients are pulled in many directions and we are here to make their jobs easier and better. It should be fun to work with us.
Passion
We are passionate about the arts and live events and we bring that passion to our work. We believe in striving to help evolve the sector in which we work. We demonstrate passion and enthusiasm about our work and its value to our clients and colleagues.