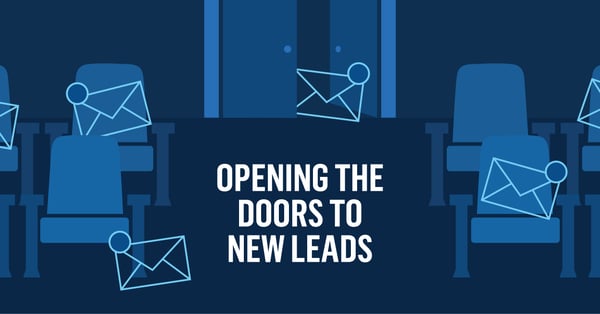 It's a fresh, new year and with it comes the opportunity to think about new leads. When it comes to permission marketing, gaining an email address from a patron is the ultimate invitation—they've given you permission to have a regular conversation with them about the things they care about. It's vital to nurture those patron relationships through tailored, vibrant communications. And it's also important to continue to infuse your database with new leads to grow your patron base and weather the ebb and flow of database churn.
This is the first of a two-part blog series that will first look at a sustainable strategy to acquire new, relevant leads for your organization and then, in part two, explore what to do with those leads to keep the relationship thriving. Lead generation strategies abound, and we've covered some on our blog (including some important how-to's to get you started).
There's no time like the present, so let's dive in! First up: a look at an organization we work with that has an uphill battle when it comes to leads, but has persevered and hit on a winning, ongoing strategy for lead generation.
---
Building a New Foundation
The storied Colonial Theatre in Boston reopened its doors as Emerson Colonial Theatre in July of 2018, beautifully refurbished and bursting with artistic energy...but missing one key tool for a thriving theatre: a database full of patron email addresses.

It had so many other assets at its disposal: top notch performances, strong brand recognition, and loyal supporters in Boston and farther afield. But with no email addresses to start with, Emerson Colonial was limited in their ability to speak in a targeted, relevant way to patrons. This poses a particular challenge as they announce programming (varied performing arts content as well as pre-Broadway runs) on a rolling basis—and sometimes these are premiering productions with titles that can't be announced until closer to their debuts.
Against the backdrop of their digital marketing mix, CI and the Emerson Colonial team harnessed the strength of Facebook's lead generation campaigns in a long-term strategy to build their database. We landed on a strategy that has been iterated upon 18 times now, generating well over 3,800 new, highly qualified leads in the form of email addresses (not to mention the gains in social media followers and remarketing pixel pools).
---
Preparing for Visitors
The strategy harnesses some of the obstacles mentioned above and turns them into advantages. For example, generating leads for a production that you can't name could be seen as, err, challenging. But what better way to incentivize the sharing of an email address than giving early access to something of value to patrons?

Here's how it works: in advance of the ticket on-sale, Emerson Colonial runs a teaser campaign utilizing the lead generation functionality in Facebook. This initial two- to three-day period collects leads and offers exclusive access to announcements and a ticket pre-sale period. The ticket pre-sale period follows, and then they roll into the main ticket sales campaigns.

---
Inviting the Right Audience
Given the need to populate their database, we targeted a range of audiences that included lookalikes, interest-based groups, and remarketing of landing page visitors. Sometimes, these are "blind" sign-ups; we hint at an exclusive opportunity to gain early access to a new pre-Broadway run (but don't share the name of the production!).

These campaigns have succeeded, demonstrating the reputation the theatre has, as well as the accuracy of our targeting of highly interested patrons. For example, David Byrne's American Utopia (which is on Broadway now) premiered at Emerson Colonial. We used a "blind" lead generation teaser campaign before the show's run at the Colonial was announced, and for a low cost per lead of $1.12, we generated 623 new email address leads.
What's more? Once tickets went on sale, we saw conversions attributed to the initial lead generation campaign posts. That means patrons saw or interacted with the posts and then purchased tickets without needing to see any of the subsequent Facebook campaign content, resulting in an ROI of over 490% for the lead generation campaign. That's right: a low cost per lead, a robust number of leads, AND content effective enough to turn prospects into ticket buyers right away. Now that's a win! (...And the kind of data that reminds you why it's so important to have the right conversion tracking set up for your campaigns. Just saying!)
This example of lead generation campaign performance is consistent across iterations for Emerson Colonial. The average cost per lead across all campaigns is $1.50 and the average ROI on this early focus on leads is 950% (keeping in mind many factors influence this, such as ticket prices).

But the benefits aren't limited to the production you're selling. By gathering leads and having data on who converted, you have the beginnings of powerful segmentation for future sales campaigns.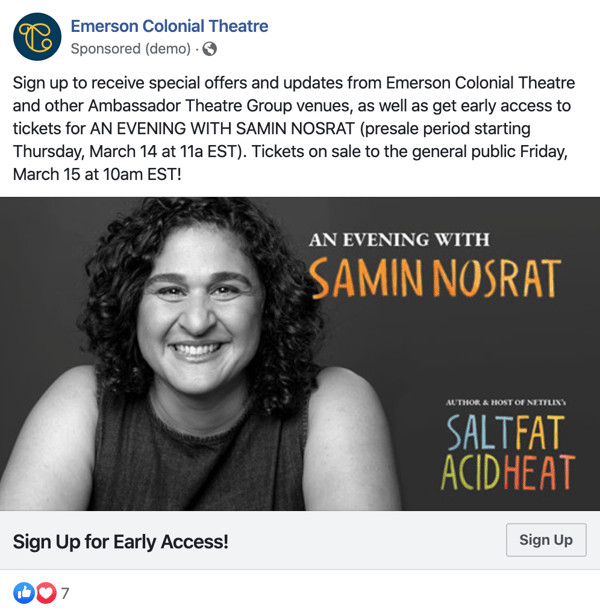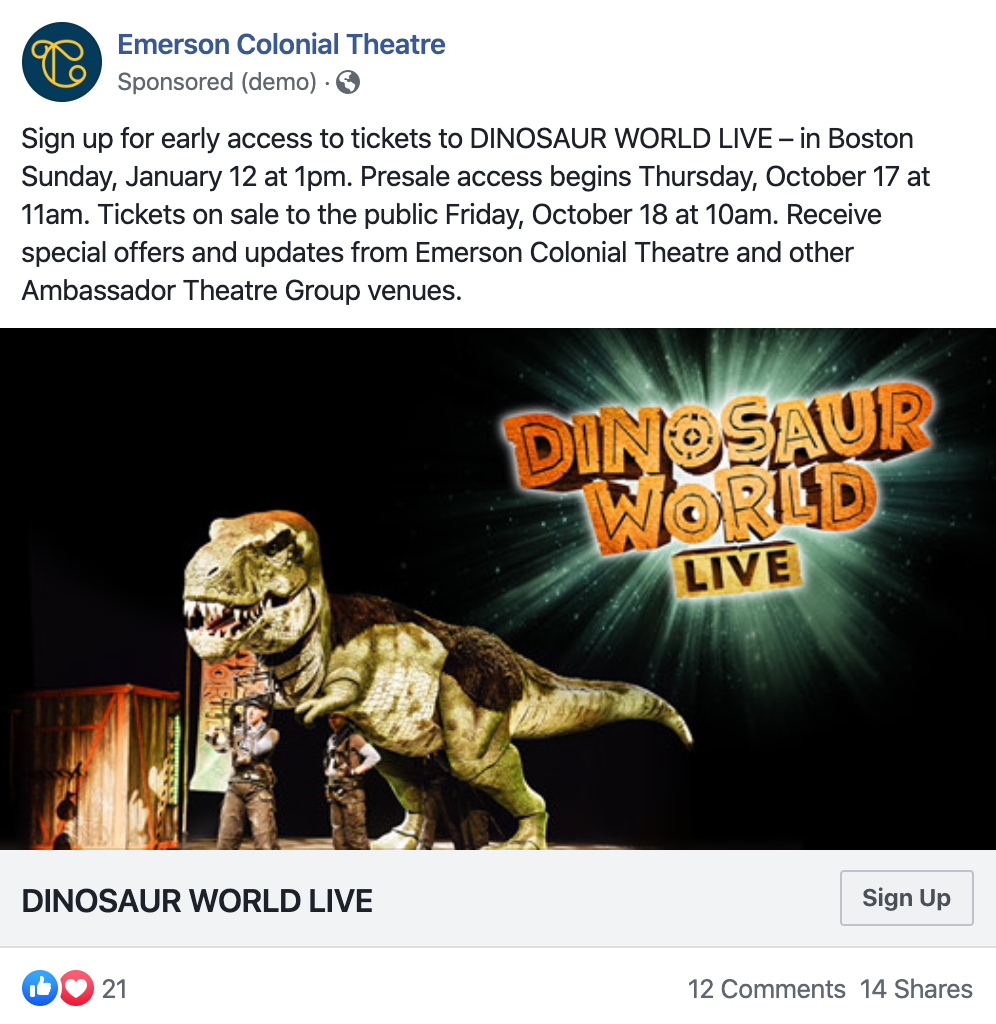 ---
Planning for Your New Leads
So far, Emerson Colonial has gathered over 3,800 leads. The average cost per lead generation campaign is about $300, but varies depending on the production's and venue's overall marketing budget.

You may be wondering if this could translate to your organization. If so, you'll be glad to know that this strategy has worked across genres and audience segments (everything from Baby Shark to An Evening with Chef Samin Nosrat, from Pink Floyd to pre-Broadway runs). Here are a couple tips for how to take this model and make it your own:
Think about the segments you're creating. If you're a museum and have a new modern art exhibition, think about targeting relevant interest groups on Facebook, lookalikes of those who have engaged in your content about modern art in the past, and remarketing to site visitors of other modern art-related pages on your website (just remember to suppress your current email database list so you only target new leads!). By thinking holistically about who would be a qualified lead, you're also building a base for future segmentation.
So you're not premiering a new Broadway musical? We hear you! But Broadway fans aren't the only passionate patrons out there. Identify an opportunity that is unique and relevant to the segment you're targeting and use that to incentivize email sign-ups. Early access to tickets or enrollment in programs/lectures, tours, or events are crowd pleasers, but you can also use exclusive content as a carrot. For example, if you're a ballet and you have behind-the-scenes video of the making of your latest production, offer that to new leads upon sign-up!