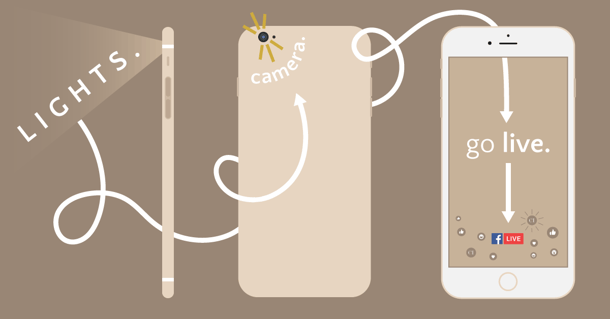 All of a sudden, Facebook Live is everywhere. There is a full-page ad for "the first camera for Facebook Live" in the Nov-Dec issue of New York Magazine. There is a new Facebook alert when a trending event is Live. There were endless speeches live streamed on Facebook during the 2016 Presidential election cycle, not to mention the more lighthearted Ricky-Gervais-in-a-bathtub type of streaming that pops up in your Newsfeed.
We all know the importance and power of video. Google reports that 26% of people reported online video as most influential in impacting their likelihood to go to a show, and performing arts buyers watch 5 million YouTube videos every month.
But what about live streamed videos? What are they? Will it create a chasm between produced and more homegrown video content? Will it be monetized with banner ads or video commercials?
Facebook Live could be huge – and Facebook clearly thinks so based on the extensive promotion of it. Plus it's estimated that video streaming will grow to more than 80% of all consumer Internet traffic by 2020 (according to predictions from Cisco). But before we dive too deep into the hypothetical, let's begin with the basics.
---
What Is Facebook Live?
Facebook Live is a tool available within the Facebook app which allows for in-the-moment live streaming and interaction with followers. Once the timely event is over, the video is saved as a regular post on your Facebook Timeline.
There are very few barriers between deciding to stream something live on Facebook and starting the live stream. All you technically have to do is open Facebook on your phone, click the "Live Video" button, and click "Go Live." So easy!
---
Yes It's Everywhere…But Should Your Organization Use Facebook Live?
It's easy to get caught up in new toys Facebook has to offer. But before you take the Facebook Live plunge, you will need to set clear objectives and identify metrics for success.

These live streams have traditional Facebook video metrics associated with them (minutes viewed and average % to completion), as well as some fun bonus live stream-specific information (like peak live viewers and people reached).
Facebook is heavily favoring live streaming so you will see them weighted more favorably in the algorithm. Here's more food for thought:
People comment 10 times more on Facebook Live videos than on regular videos. While the video is live, there is a level of immediacy and interaction. It can feel like a real conversation or an event that a person is actively a part of.
People spend more than three times longer watching Live videos on Facebook than regular video.
Since Facebook Live is primarily a tool for smartphones, it is a low cost alternative to a professional film crew (though, Facebook has released a work around to use professional equipment if you have the access and expertise).
You can repurpose the content from a live stream for other purposes, like promoted posts or blogs.
---
Lights, Camera, Facebook Live!
Want some arts examples? We've got some. From the more polished live streams to the in-the-moment, behind-the scenes.
The Kennedy Center
American Acoustic: How to Play with Others
This video was live streamed from the Kennedy Center's Millennium Stage, which typically hosts free performances. The video feels professional, with cuts between different camera angles and good quality audio. The perspective also stays in the realm of traditional concert camera work. This video provides access to great programming, no matter the location of the viewer. All they need is the interest and an Internet connection.
---
The Academy of Natural Sciences at Drexel University
Live Armadillo
A training session for one the armadillos in their live show was live streamed at ANS. It has a lot of dynamic movement, zooming in on the armadillo and then back to the trainer who is giving a constant stream of educational information. It feels casual and in the moment, especially because the armadillo trainer and the person holding the camera are reacting to both the armadillo and the Facebook viewers.
---
Artsy
Live from Pace Prints
This video features a host from Artsy and the master etcher at Pace Prints explaining the process behind making a print. This video is dynamic and professional, with many smooth shots across different parts of the workshop. The content is very structured and gives bottom-of-funnel art aficionados an informative and educational behind-the-scenes look at an industry of interest.
---
Having Facebook Live Dreams?
The examples above all have different nuances in how interactive they are with the viewing audience, who in the marketing funnel they might appeal to most, and how they are structured. The things they do have in common? They can be enjoyed in the moment and also edited and repurposed down the line.
So now comes the time to dream. What are you imagining you might do with live streaming? Do you want to create a recurring series that would draw fans to your Facebook page every week? Do you want to use Facebook Live to increase the reach of educational programs like pre or post show talk-backs? What about hosting an intermission talk show? Or streaming the first three songs of a sold out concert, so people who couldn't get tickets get to enjoy the performance (and might remember to buy earlier next time)? Or sharing very spontaneous backstage or behind the scenes access for your bottom of funnel fans?

If you decide to experiment with Facebook Live, checkout our Lights, Camera, Facebook Live checklist to help you prepare and get the most out of the livestream.

Have you experimented with Facebook Live? Tell us about it in the comments section.