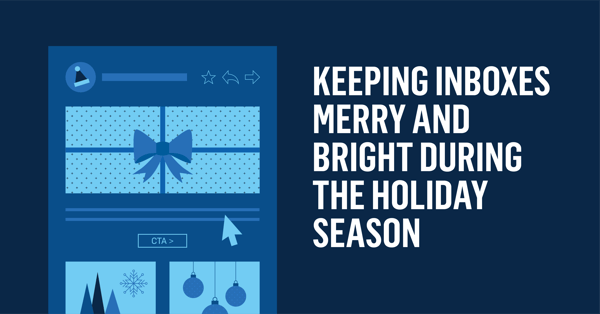 The holiday season is in full swing, and amidst the swirl of wrapping paper and ribbon, holiday baking and travels, your patrons are bravely facing down email inboxes chock-full of promotions. We're here to help make sure your organization's messages stand out like a bright red mailbox above a blanket of snow.
Read on for some content tips and creative inspiration that will keep your patrons merry and bright, and keep you on track to arrive at your holiday parties on time.
---
Simplify the Season
If you have a trove of great holiday photos from past seasons, use them to paint a festive picture around your calendar of holiday events. Your patrons will love the one-stop shopping, and you'll win by getting more mileage out of your past holiday assets. Check out these examples from Minnesota Orchestra and Artis-Naples.

Minnesota Orchestra
Subject Line: Be Merry: It's Your MN Orch Holiday Primer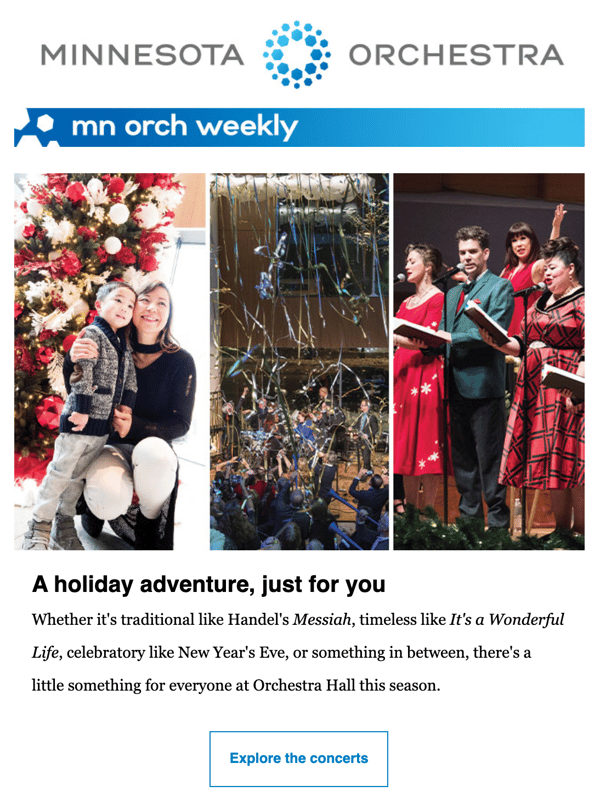 Artis-Naples
Subject Line: These performances bring joy to the world...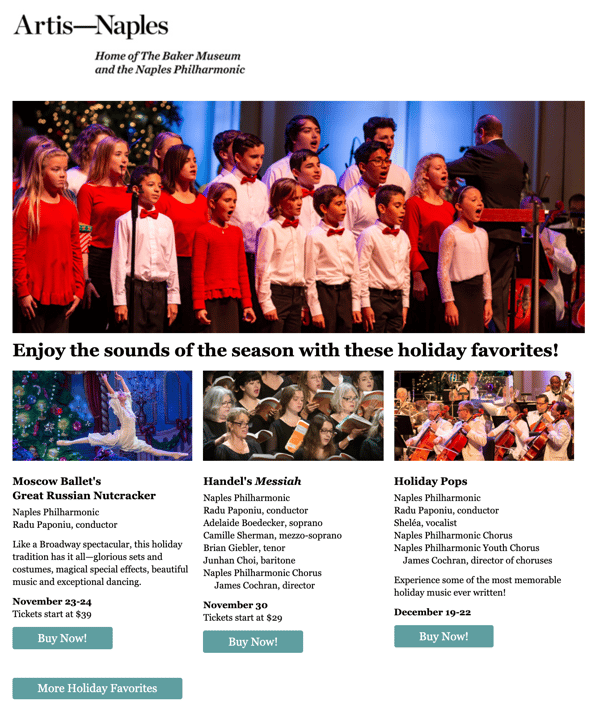 ---
There Are Many Ways to Wrap a Gift
Did you create a great piece of holiday content for your blog? There is no shame in using it more than once in your holiday emails, just like Rifle Paper Co. did. They teased their gift guide in a holiday sales-heavy email. Then, the next day, the Gift Guide got an email all its own. Peep that great subject line!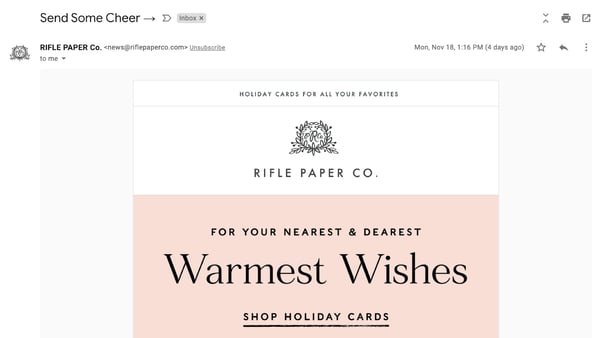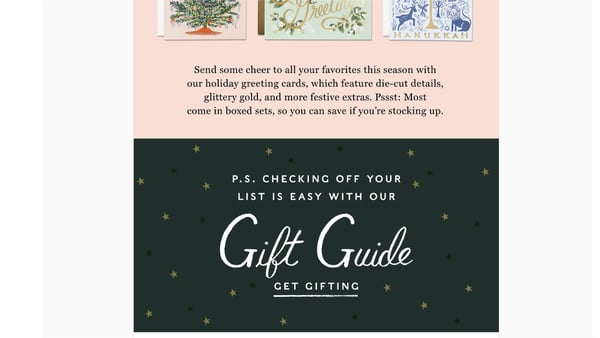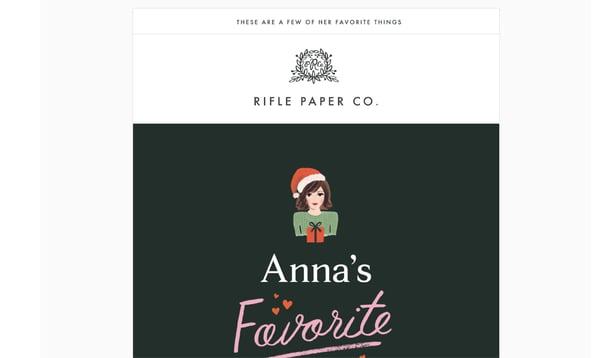 ---
Join in the Joy (or the Frustration...)
Think your organization doesn't have a voice to add to the capital-H Holiday discussion? Don't be silly! Embrace the cold, snow, and ice that are hallmarks of the holiday season in a large part of the country (or revel in the fact that it's warm in your neck of the woods).
This tire store took the cold and icy weather as an opportunity to connect with the local users on their email list. Have a snowstorm on the horizon? What better way for your patrons to avoid cabin fever than planning their first arts outing after the storm.
Tire Discounters
Subject Line: ❄️ First Snow in Cincinnati! Get Tready! ❄️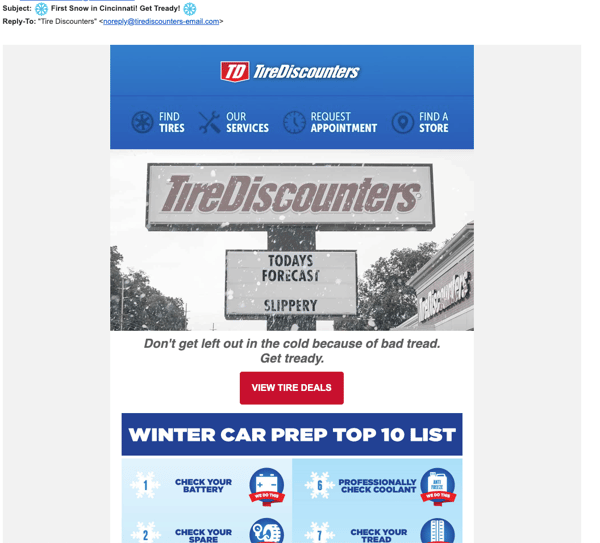 ---
Every Gift Needs a (Name)Tag!
Alvin Ailey
Subject Line: Open for Ailey Joy
This example is an oldie but a goodie from Alvin Ailey American Dance Theater and Moveable Ink, where the personalized visual brings home the message. Even if you can't make a text overlay in an image, you can still use personalization in your subject line or body copy to set an email apart from the rest.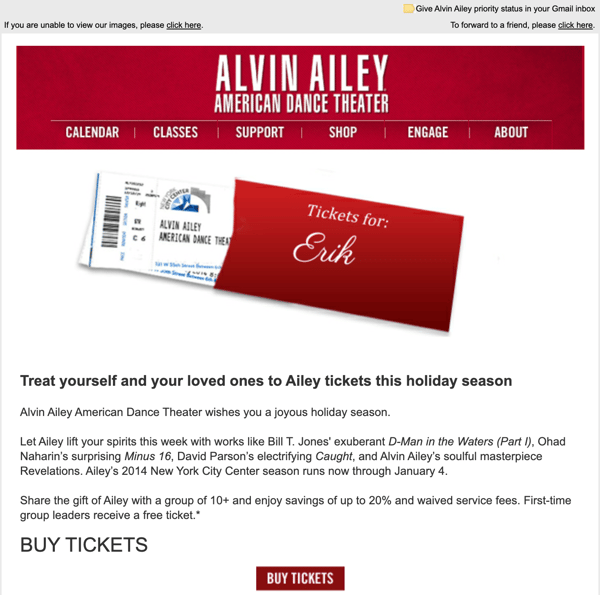 ---
Don't Stray From Your Year-Round Voice
This email from the band Wilco acknowledges the season (with the ornaments) and offers a cheeky nod to Black Friday- all while keeping with the band's vibe that our colleague described as "sad dad music." (@ her, not us!)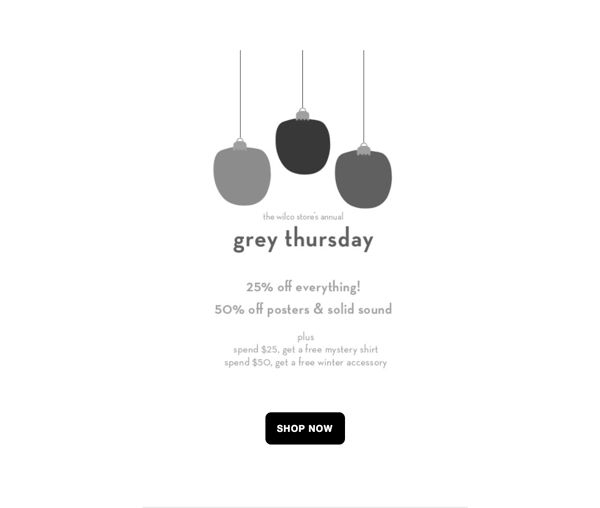 ---
String Some Lights
While Primary.com is lucky to market children's clothes (with their endless array of cute outfits on even cuter kids), the learning here is that they took a photo of a very cute baby and added some light animation to create real joy and add movement to regular photos.
The winter offers the opportunity to add snowfall or boughs of holly to add some cheer to otherwise season-agnostic headshots or venue photos.
Primary.com
Subject Line: A genius holiday party outfit hack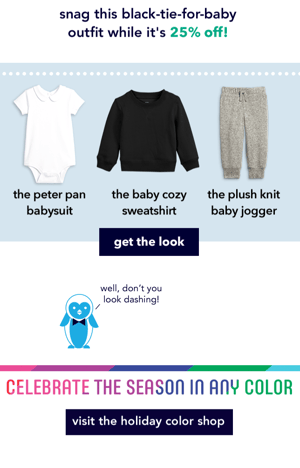 ---
Now it's time to create your own holiday cheer. Here's your list (check it twice, if you need to!) for email success this holiday season:
1. Grab users' attention with relatable, catchy subject lines.
2. When possible, personalize the email experience.
3. Tap assets from past holiday seasons to create an atmosphere (bonus points for cute kids in Santa hats).
4. When the content is great, even a bit of sparkle and lights go a long way to express the season.
5. The same content can be packaged (and re-packaged) many ways.
6. Make holiday event shopping easy for your patrons.
7. Look for relatable experiences to share.
8. As always, stay true to your organization.