Welcome to the world of Instagram advertising! I bet you're thinking, "Man, I just figured out Facebook!"
Listen...I get it. Why don't you shut down your computer and go out for a breather. Then come back when you're relaxed and we'll chat.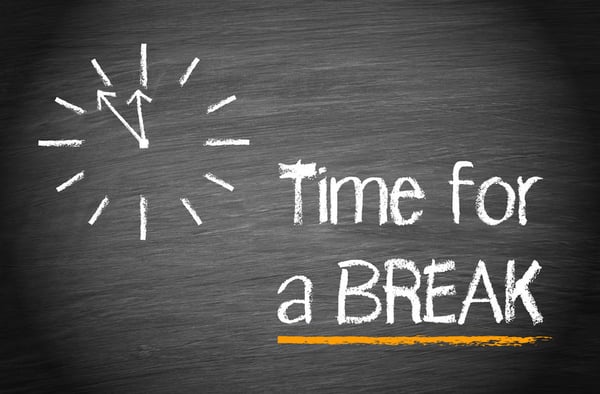 OK, welcome back!
Instagram opened its advertising doors six months ago and today more than 200,000 brands are using the platform to reach their targeted audience among 500 million users. Instagram is the place to capture the attention of a younger audience. 53% of all 18-29 year olds use Instagram and that number will only grow among a generation whose mobile phones never leave their side.
Here's How It Works:
Since Facebook owns Instagram, Instagram advertising is administered and managed through Facebook's Ads Manager and Power Editor. In both platforms, ads are built with many of the same objectives such as Clicks to Website, Website Conversions, Mobile App Installation or Engagement, and Video Views or Page Post Engagement.
Although much of the same targeting is available, you currently cannot target Instagram followers. Alternatively, you can build Facebook Fans audiences who are also on Instagram.
The only other major difference is that an organic Instagram post cannot be used for promotion. Posts are either built exclusively for paid Instagram promotion or you can use some organic Facebook posts to promote on Instagram. This means your organization doesn't actually need an active Instagram account to promote on the platform. Looks like all of that Facebook advertising experience is going to come in handy after all!
So.. should I advertise on Instagram?
Instagram has become the preferred platform for visual inspiration, and as arts marketers, we all know we should be featuring content that is as compelling as the work we put in our galleries and on our stages.
Compelling photos and short videos are the bread and butter of Instagram. You'll have space for a short caption and call-to-action button but never has thumb-stopping imagery been more important!
Examples in Action
In an effort to spread awareness around a season jam-packed with dance engagements, we worked with The Kennedy Center to create a promoted Instagram carousel ad.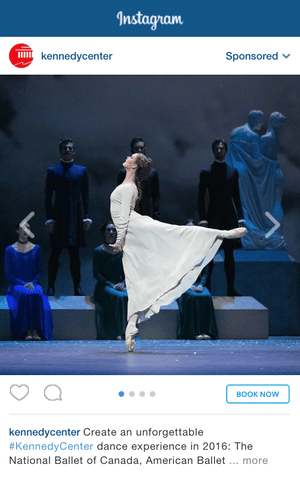 The weeklong campaign reached close to 200,000 people at an average of 1.5 impressions per person. Those users generated 5,900 post likes and drove more than $44,000 in revenue, giving this campaign an ROI of close to 2,000%.
We hear all the time how much easier dance is to sell. So how about an opera example?

The Washington National Opera, in residence at The Kennedy Center, was producing the world premiere of Appomattox, a newly revised version of the opera from Philip Glass and Christopher Hampton. The production featured many historical characters as it took place during the American Civil War and Civil Rights Movement.
We promoted two separate posts for this campaign: one introducing the historical figures paired with the cast members performing those roles. The other post featured a more visually engaging production photo.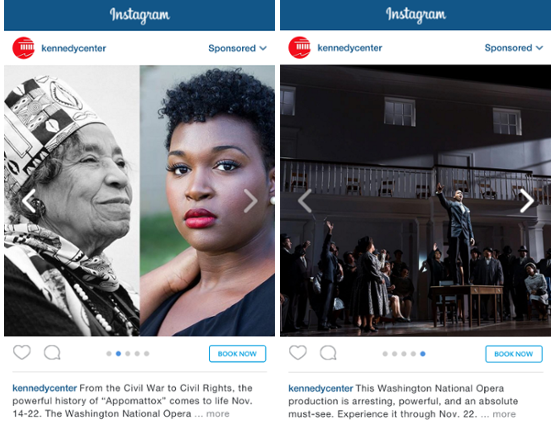 Even though a nearly identical budget was dedicated to each post, and drove a very similar number of impressions, the post featuring production photos drove 66% of all conversions, which indicated that more "informational" or bottom-of-funnel content would be less successful on this platform. It also indicated the power of compelling photos. The campaign generated $2,600 in Appomattox revenue for an ROI of close to 200%.
Key Takeaways:
Create thumb-stoppers.
Make visual inspiration your priority for every Instagram post, promoted or organic.
Mobile First!
Instagram is a purely mobile platform so be sure you're driving traffic to a mobile optimized landing page on your website.
Should I take the Insta-dive now?
Maybe it's not the right time to add Instagram to your diet, and that's OK! Master Facebook first, where there's the opportunity to reach the broadest audience. Then, if you have the right creative and the budget to back it up, dive into Instagram.
What about that algorithm change?
No need to lose sleep over this change. Instagram is transitioning to a "pay-to-play" platform, just like its parent, Facebook. Although we will always remember the chronological feed fondly.
Do you have inspiring Instagram posts? Share them in our Comments section!