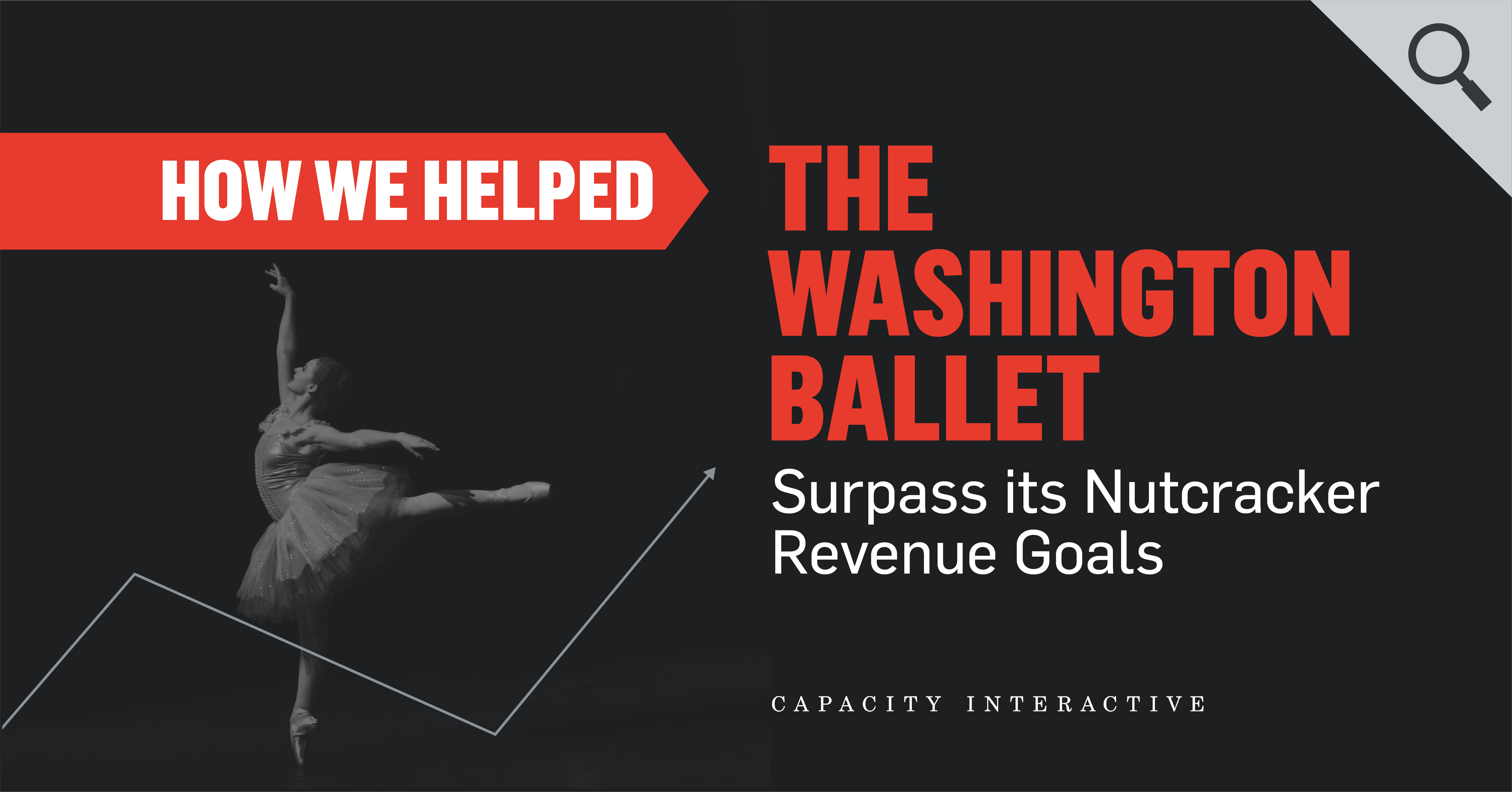 Holiday productions bring in crucial revenue for performing arts organizations, but selling the same show year after year is no easy feat.
We worked with The Washington Ballet (TWB) to refresh their digital strategy and social content for The Nutcracker. With a data-driven approach and a resourceful creative team, we helped the Ballet reach new audiences and surpass its 2022 revenue goal.
---
STATS AT A GLANCE

---
GROWING AUDIENCES WITH DIGITAL ADVERTISING
As arts marketers, we understand the unique challenges that come with advertising holiday productions. Ad prices are particularly high during the holiday season, and it's harder than ever to rise above the influx of ticket brokers and competing cultural events.
TWB's The Nutcracker is no exception. This celebrated production is set in historic 1882 Georgetown with George Washington, King George III, and many other historical figures. Although this is a unique take on a classic production, holiday competition is still at an all-time high. We crafted a top-notch digital strategy to help them cut through the noise—here's how we did it:
Use Google's full toolbox. We took advantage of Google's full suite of ad placements to meet people at every stage of the marketing funnel. Our consultants tested placements across display, search, Discovery, and YouTube to determine which worked best for top-of-funnel and bottom-of-funnel audiences.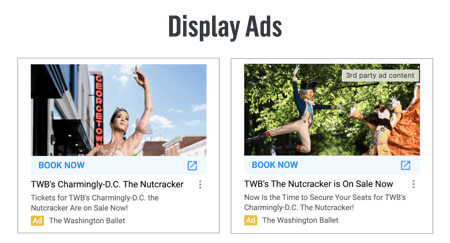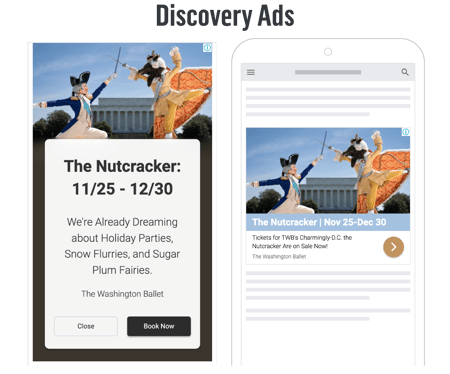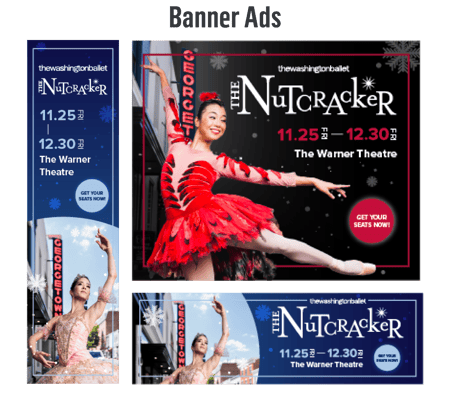 Lean into machine learning. Google's dynamic ad formats help maximize reach while minimizing cost. We used machine learning technology with responsive display ads, responsive search ads, and responsive video ads. These dynamic formats resulted in up to a 44% higher key page view (KPV) rate than their static counterparts.
Maximize spend efficiency. We monitored campaign performance and redistributed budget halfway through the run to optimize for clicks-to-purchase (CTP). With historical data on our side, we optimized our campaigns to help bring down CTP cost per acquisition (CPA).

Advertise with mission in mind. TWB also had key institutional goals of reaching audiences in underrepresented zip codes. We incorporated advanced geotargeting into a campaign for residents of D.C.'s Wards 7 and 8 and offered residents unique incentives to attend The Nutcracker. This strategy expanded TWB's reach among these high-priority audiences.
FINDING FRESH CONTENT ANGLES FOR AN ANNUAL PRODUCTION
Recurring holiday productions provide a unique opportunity to put a fresh spin on social content. It's vital to meet audiences where they are and provide new and refreshed incentives. CI's content team handled creative direction, graphic design, and copywriting for paid Facebook and Instagram content.
Fine-tune messaging. The Washington metropolitan area saw upwards of 10 different Nutcrackers in 2022, so the first step was determining what set TWB's production apart. We developed four key buckets to guide our content strategy:
D.C twist. TWB's homegrown version of The Nutcracker is set in historic 1882 Georgetown. It's a charming take on the classical ballet.
Holiday tradition. The Nutcracker captures the season's magic for tourists and locals alike. It's a can't-miss holiday staple.
Family-friendly. With colorful characters and a heavy helping of stage magic, The Nutcracker is perfect for kids of all ages.
Best of ballet. The Nutcracker offers some of the best dancing in classical ballet and an iconic Tchaikovsky score that balletomanes know by heart.
Creativity with limited assets. We found innovative ways to reframe existing assets to get the most out of what was available at the beginning of the campaign.
In the post below, we amped up a traditional production photo by incorporating TWB's branding and a fun tagline to start a winter tradition with friends and family.
We also took existing production photos a step further by creating an interactive carousel that featured D.C. elements that are unique to this production inside of holiday ornaments.

Free up time for TWB's internal content team. As we spearheaded Nutcracker paid content, it freed up time for TWB's internal team to capture high-quality photos and video for this year's production. We took the raw footage from their efforts and created compelling content with fun angles.
In this post, we took raw footage from TWB's team and created a fun, villain-era angle for The Rat King. It went from a cool slow-motion asset, to a short video with a compelling narrative.


We also took this slow-motion footage featuring a TWB dancer and added branded elements that mimic the Georgetown marquee. The creative copy highlights that the signature Nutcracker of the nation's capital is back and audiences can't miss it.

While we were busy plugging away on paid posts, The Washington Ballet team interviewed key members of their artistic team, including Stage Manager Suzi Kilbourne. Suzi's fun Rat King facts give audiences an inside look into the production, which makes them feel part of TWB's community.

---
RESULTS
With an innovative digital strategy, and engaging social content, we helped TWB exceed their revenue and single ticket goal well before the curtain closed on the final performance. We also helped them achieve another important milestone—introducing new D.C. audiences to The Nutcracker in efficient and thoughtful ways.
---
GET IN TOUCH
Ready to revamp your content and digital strategy? Let's talk about how we can bring your productions center stage.
Social Media Strategy, Google Ads/Search Engine Marketing, Data-Driven Display