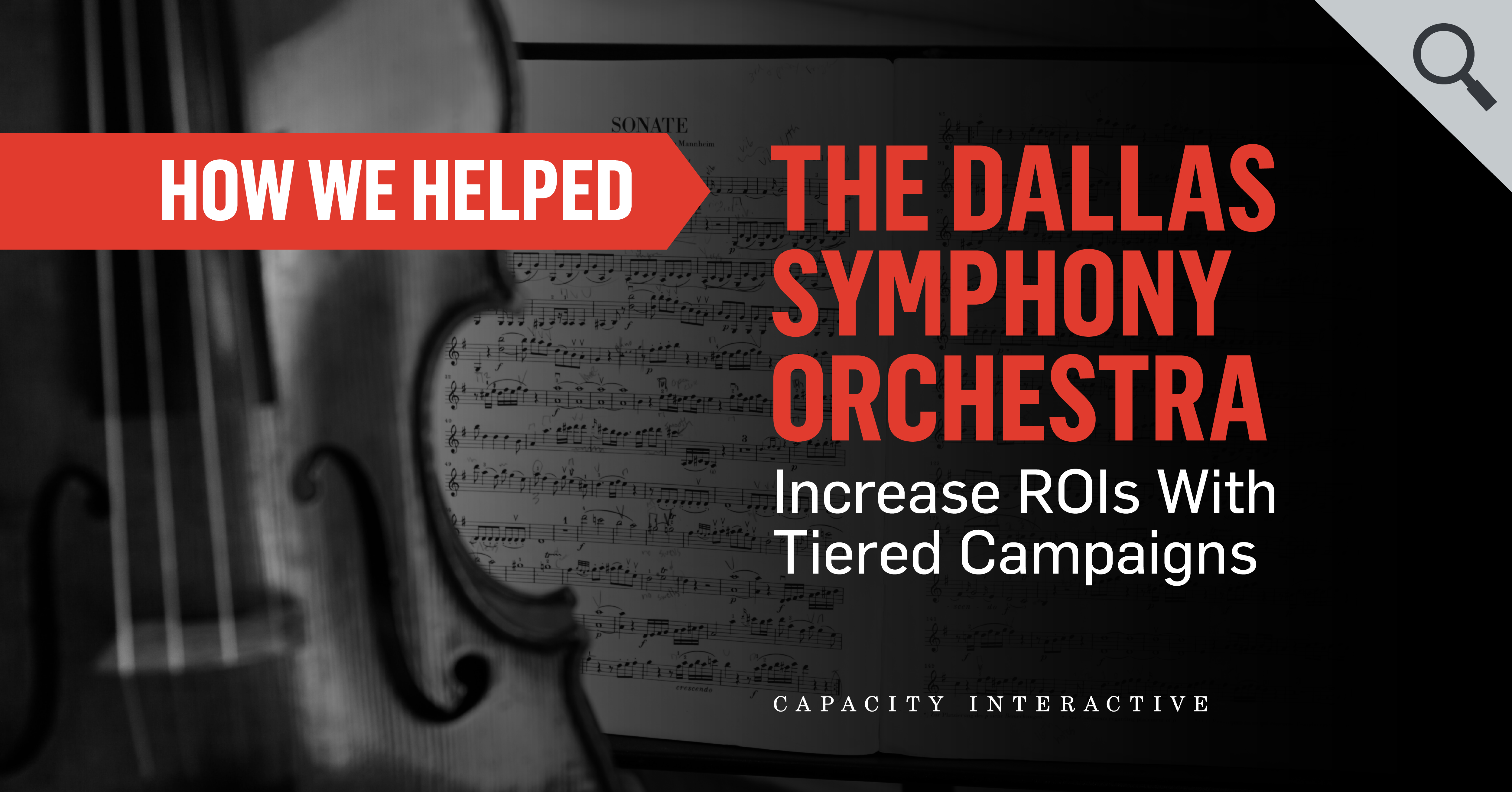 As arts marketers, we know that digital strategies are not one-size-fits-all, especially when it comes to symphony orchestras and their large volume of programming.
The Dallas Symphony Orchestra (DSO) is the largest performing arts organization in the southwest United States. Their team markets upwards of four dozen programs per season, and the orchestra reaches more than 243,000 adults and children annually through performances, educational programs, and community outreach initiatives.
When we launched our partnership with the DSO in 2019, we knew their jam-packed seasons demanded a unique digital solution. We developed a tiered advertising strategy for the DSO's Meta campaigns that minimizes audience redundancies, decreases the likelihood of ad fatigue, and keeps costs low.
---
STATS AT A GLANCE*

*Based on current season's campaign performance
---
A TIERED CAMPAIGN APPROACH
Rather than a full-funnel campaign for each concert, we established three broad tiers to reach people based on where they fall in the marketing funnel. Audiences move between tiers depending on their engagement level with the DSO. The goal is to move brand-new audiences from Tier 3 to Tier 1 over time.
We use a combination of site retargeting, Meta's custom audience tools, and CRM lists provided by the DSO to determine where people should fall within these three tiers. From there, we use geotargeting to narrow audiences to residents of the Dallas-Fort Worth DMA.
Here's a breakdown of how the tiers work in practice: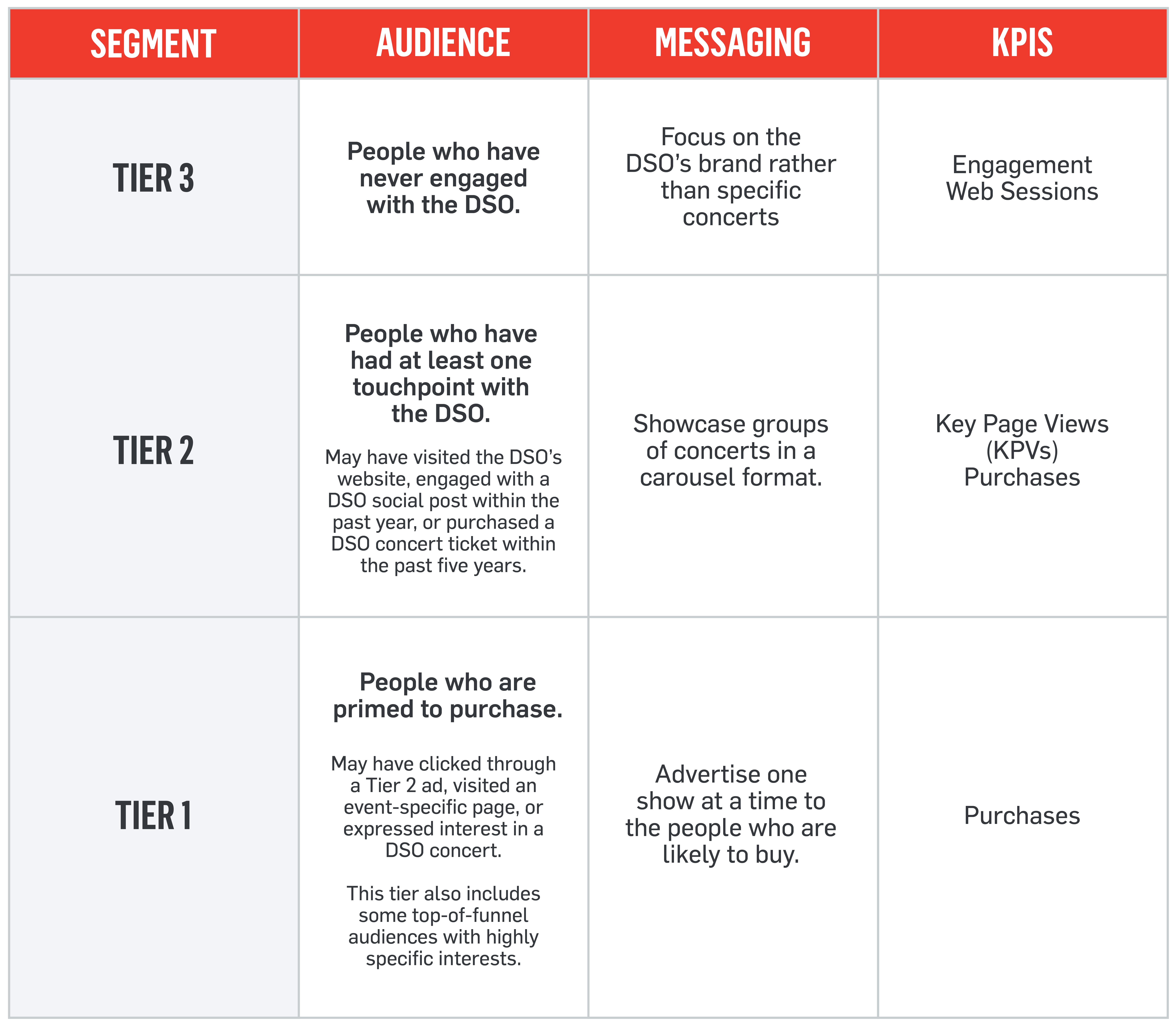 Budgets are determined roughly three months ahead of campaign start dates, which allows more agility. If a show is selling well, we'll forgo a Tier 1 campaign and include it in bundles only. If a show needs more love, its corresponding Tier 1 campaign might increase in budget or duration.
Why It Works: With many concert campaigns running simultaneously, the tiered structure helps reduce audience overlap, which helps lower ad costs. Most importantly, tiered posts meet your audience where they are in the marketing funnel, and are more relevant to people's interests and relationships with the organization.
---
CREATING CONTENT FOR PROLIFIC PROGRAMMING
A tiered strategy requires fresh content that resonates with audiences at each stage of the marketing funnel. Given the number of DSO programs, bringing on a long-term partner who could create ample, engaging social content was essential. Enter: CI's content services team.
CI's content team functions as an extension of the DSO's internal team, handling creative direction, graphic design, and copywriting for paid posts. Our designers create paid content that move audiences through the three tiers to the point of purchase. Here's how they do it:
Tier 3: Find Unique Touchpoints. One of the DSO's greatest strengths is hidden in plain sight: their performance venue. Located in downtown Dallas, the Morton H. Meyerson Symphony Center is renowned for its modern architecture. The building is easily recognizable among Dallas residents—perhaps even more so than the orchestra itself.
We turn still photos of the Meyerson into dynamic posts that position the DSO well within the broader Dallas arts district. To date, the highest-performing Tier 3 post has been a simple photo of the building's exterior with a tagline that puts audiences center stage.

Tier 2: Highlight Multiple Concerts. Once audiences move beyond brand awareness, they're ready to explore concert offerings. We serve "concert bundle" posts that provide a taste of the DSO's varied programming. Each frame of the interactive carousel infuses the DSO's branding, and the post copy highlights how the DSO brings value into audiences' lives. Meta tailors the order of the slides based on best-performing content, which helps capture people's attention in crowded feeds.



Tier 1: Create Bespoke Paid Content Using Limited Assets.
Traveling musicians and artists often provide the same headshot to performance venues across the country, which makes it difficult to create several thumb-stopping posts. Our solution? Create branded posts that utilize unique design elements and engaging storytelling to make one headshot go a long way.



We also pair static images with dynamic elements like music or waveforms to illustrate what the concert experience feels and sounds like. This approach allows the DSO to stretch single images into 3-week campaigns.



By shepherding paid content, we free up the DSO's internal team to produce high-impact organic content like the vertical videos below.

---
THE RESULTS
By pairing an outside-of-the-box digital strategy with impactful social content, we've helped the DSO improve the efficiency of their Meta campaigns while maintaining strong ROIs.
Average impressions for Tier 3: 416K
Average ROI for Tier 2: 540%
Average ROI for Tier 1: 531%
*Based on current season's campaign performance
---
WANT TO LEARN MORE ABOUT TIERED CAMPAIGNS?
We're ready for you! Let's work together to ensure your digital strategy and content hit all the right notes.