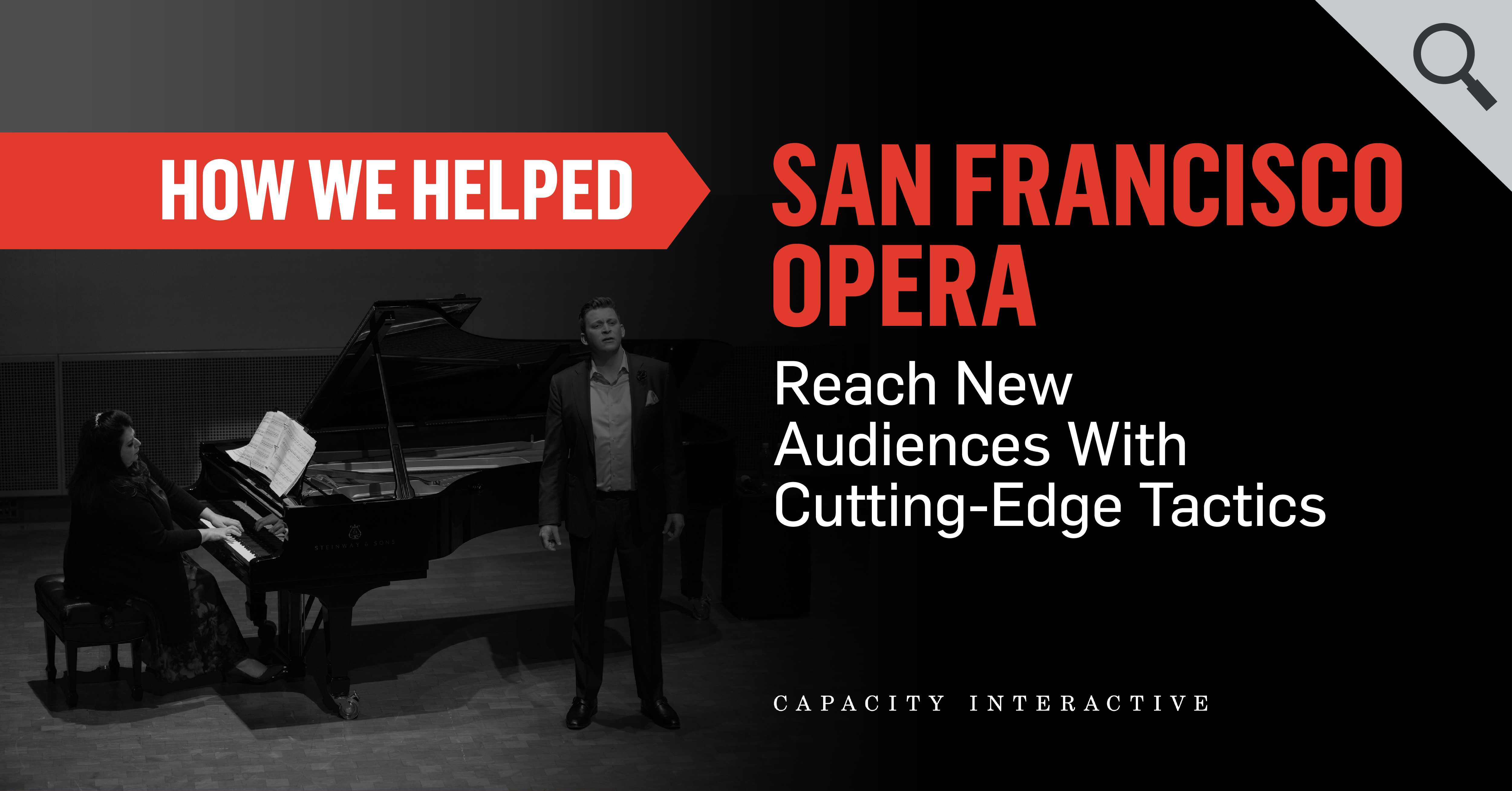 Audience development is a crucial task for arts organizations. When growing your pool of prospective ticket buyers, thinking outside the box and utilizing innovative digital strategies is essential.
Just ask San Francisco Opera (SF Opera), one of the world's leading opera companies and the preeminent home of opera in the Bay Area. For their centennial season, we helped them craft a digital strategy rooted in experimentation and utilized a full suite of digital tools to cultivate the next generation of opera fans.
---
STATS AT A GLANCE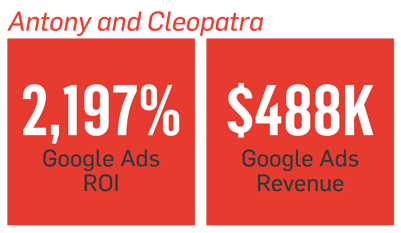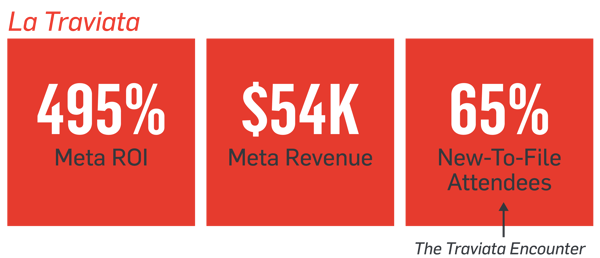 ---
BROADENING REACH WITH NEW AD TYPES
As the Opera's digital partners since 2020, we understood their tried-and-true digital advertising mix and knew where to experiment for the greatest impact. For their season opener, Antony and Cleopatra, we introduced two types of automated Google ads that yielded excellent results.
Responsive Display Ads (RDAs): Google's machine learning model optimized SF Opera's ad formats and content for all available ad slots, which maximized reach while minimizing costs. These RDAs yielded nearly 1.9 million impressions, far surpassing other Google placements in the campaign.
Discovery Ads: These ads served on Google's feeds across the YouTube, Google, and Gmail apps. Discovery ads proved to be a tremendous top-of-funnel touchpoint, yielding the highest number of key page views (KPVs) and the lowest cost per KPV compared to other Google placements in this campaign. They also drove almost the same number of purchases as paid search, and had a slightly lower cost per acquisition.

While paid search remained a top performer for SF Opera, RDAs and Discovery ads yielded such excellent results that we incorporated them into the organization's digital strategy for the rest of the season.
The Power of Brand Awareness: Since our secondary goal was to generate excitement for the entire season, we ran a paid search institutional campaign with an impressive 4,680% ROI. The institutional and show-specific campaigns worked together to drive $488K in revenue over nine weeks.
---
TAKING TARGETING TO THE NEXT LEVEL
If you're familiar with SF Opera, you know their commitment to experimentation extends beyond their marketing strategy and into their programming, as well.
For its 100th anniversary, SF Opera hosted special events highlighting its main stage programming and Bay Area legacy. These special events were excellent hooks for new audiences, allowing them to engage with the art in relaxed and unconventional ways and priming them for future purchases.
One of the first events in this series was a one-night-only immersive experience called "The Traviata Encounter," which coincided with SF Opera's production of La Traviata. Audiences were invited to enjoy the first act of the opera, followed by food, drinks, and dancing in a transformed opera house. We built dedicated posts within the La Traviata campaign that promoted the event and reached audiences by:
Cost-Effective Targeting: We used site retargeting, Meta engagement, and email addresses from SF Opera's CRM system to efficiently reach people already familiar with the company and most likely to buy.
Reach New Audiences: We used Meta's targeting tools to reach top-of-funnel audiences interested in "opera" and "La Traviata," as well as lookalikes for La Traviata audiences. Advanced geotargeting allowed us to narrow down prospects to residents of the Bay Area.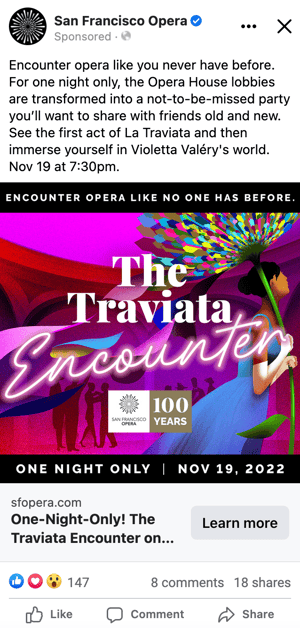 With efficient targeting, we got SF Opera's content in front of the right people and drove ticket sales for the event. Posts for "The Traviata Encounter" drove 64% of all purchases attributed to the La Traviata campaign, accounting for nearly two-thirds of impressions. The event also brought in a younger and more diverse audience than usual, with 65% of attendees new to file.
Bonus Benefit: These initiatives don't just impact ticket sales—they also have a strong effect on fundraising. SF Opera ran a donation campaign through Meta at the end of 2022 and saw a 182% increase in ROI and a 22% increase in revenue compared to a similar campaign just a few months prior.
---
THE RESULTS
SF Opera invested in building audiences across multiple channels—including some new ones!—and the payoff was huge.
Utilizing a full suite of digital tools, they grew awareness of their historic season, welcomed new opera fans, and drove bonus conversions through donations. All that, and the season isn't even over yet.
SF Opera is playing the long game regarding audience development, and we can't wait to see where it takes them in the next 100 years.
---
READY TO BUILD AND EXPAND YOUR AUDIENCE?
Let's work together to share your programming with the right prospects.
Social Media Strategy, Google Ads/Search Engine Marketing, Data-Driven Display