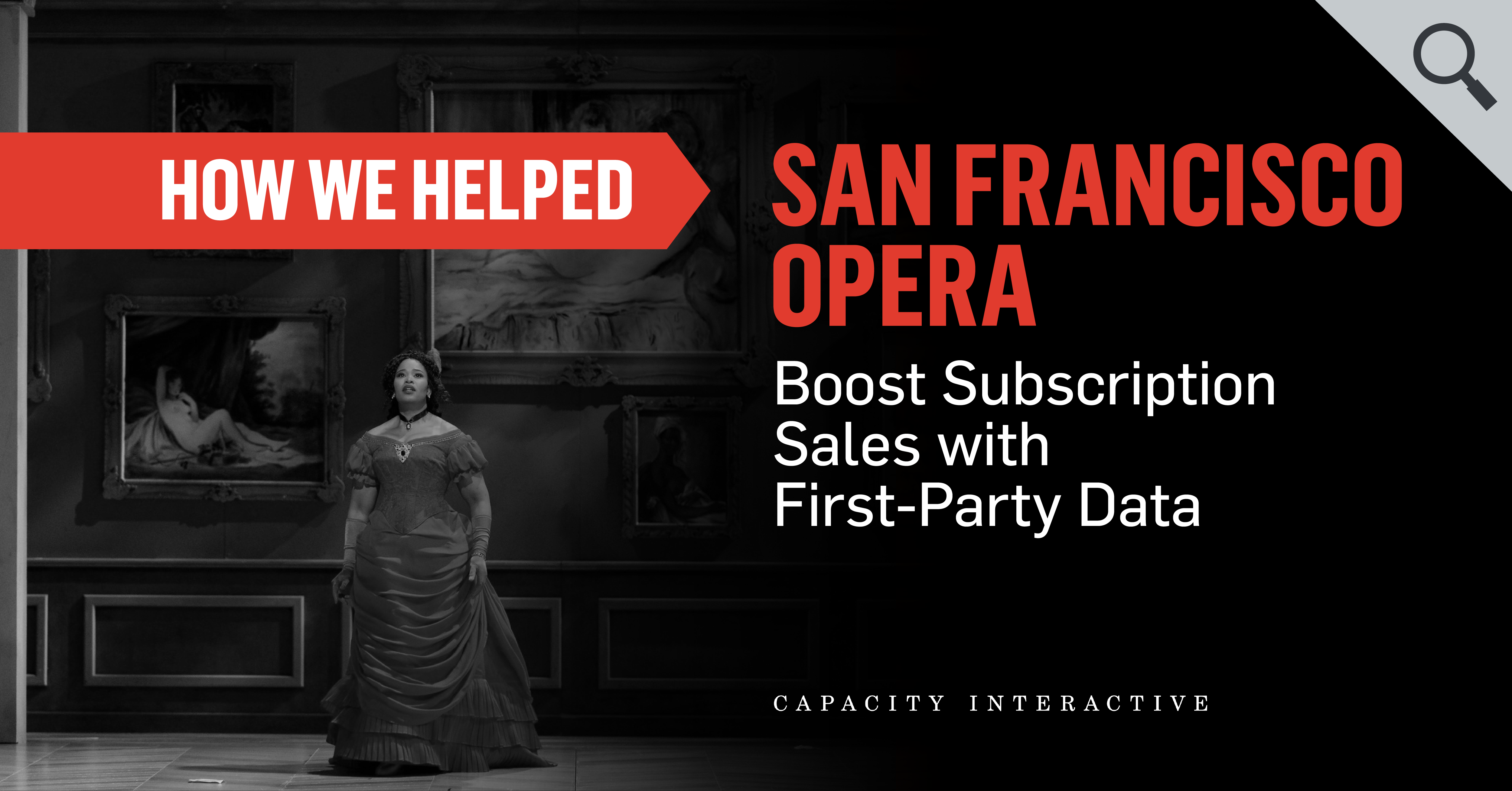 As privacy changes keep rolling in, it's never been more clear that first-party data is the future of digital marketing—but how do you harness that power in a digital marketing campaign?
When San Francisco Opera (SF Opera) was ready to announce its 2023–2024 season, we developed a multi-pronged strategy that used first-party data as its foundation to drive subscription acquisition and renewals.
---
Stats at a Glance

---
STEP ONE: PLAY UP EXCITEMENT TO COLLECT LEADS
As one of the world's preeminent opera companies for over 100 years, SF Opera is committed to telling bold stories and inspiring a new generation of opera-goers. They announced their 2023–2024 season with an array of repertoire-expanding premieres and highly-anticipated works, including Il Trovatore, The (R)evolution of Steve Jobs, and The Magic Flute.
With such an exciting lineup, the Opera had a golden opportunity to launch subscription sales with a bang. As their strategic partner since 2020, we understood the most cost-effective ways to grow their subscriber base and helped them craft a digital strategy rooted in first-party data for maximum and cost-efficient impact.
Before the new season was revealed, we ran a lead generation campaign on Meta to tease the announcement and collect email addresses. We served these lead-generation ads to a few different audiences, including lookalikes of current email list subscribers and Meta users in the Bay Area who indicated opera-related interests. In exchange for their emails, users were promised first dibs at a deal for new subscribers.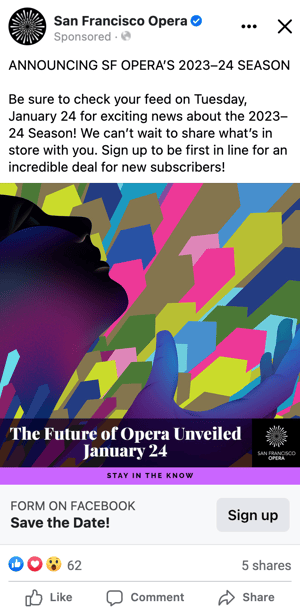 By inviting people to opt-in for season announcement alerts, we amassed a list of highly interested—and thus high-quality—prospects for future subscription campaigns. In just one week, we generated 447 new leads for SF Opera at a low average cost of just $1.45 per lead.
---
STEP TWO: TARGET AUDIENCES EFFICIENTLY AND EFFECTIVELY
After the season announcement, we ran a second campaign to drive subscriptions. In addition to targeting various audiences, like engagers and people with opera-related interests, we also took advantage of first-party data to speak to those within SF Opera's network.
Reengage loyalists. We used CRM lists of past subscribers to boost renewal rates and segmented them by subscription type to serve each group with highly targeted and relevant messaging. Patrons who had previously purchased a Design Your Own package were reminded of the flexibility benefits, while copy for fixed-package subscribers focused on other benefits and the Opera's broader mission.
Design Your Own
Fixed Package
Woo prospective subscribers. We also used CRM data to identify non-subscriber targets interested in deepening their relationships with SF Opera. This segment included single ticket buyers and people who hadn't renewed their subscriptions in over three years. These folks received a steep 3-for-1 offer reserved for new subscribers. Posts used benefits-driven copy that showcased subscriber benefits, cost savings, and an urgency to act now.
Reconnect with new leads. We retargeted the leads we had collected in the pre-announcement campaign with information about SF Opera's offer for new subscribers. This audience received messaging that leaned into the fear of missing out, inviting them to join hundreds of other subscribers and "be a part of the future of opera."
Using first-party data allowed us to target prospective subscribers in cost-effective ways. Rather than simply cast a wide net, we spoke to people who had already engaged with SF Opera and were most likely to buy.
---
The Results
This second prong of the subscription strategy drove a 2,527% return on investment (ROI). The CRM audiences drove a collective 142 purchases and $185K in revenue, while the newly-collected leads saw a 161% ROI.
By employing the data they owned, SF Opera was able to draw from its pre-existing base while also bringing in brand-new subscribers. Even the new leads who weren't quite ready to subscribe have future value; SF Opera now has a list of highly interested potential single-ticket buyers that we can continue to communicate with in future campaigns. The investment in first-party data will continue to pay off for many campaigns to come.
---
READY TO MAKE YOUR DATA WORK FOR YOU?
Let's talk about building a first-party data strategy that drives subscription revenue.