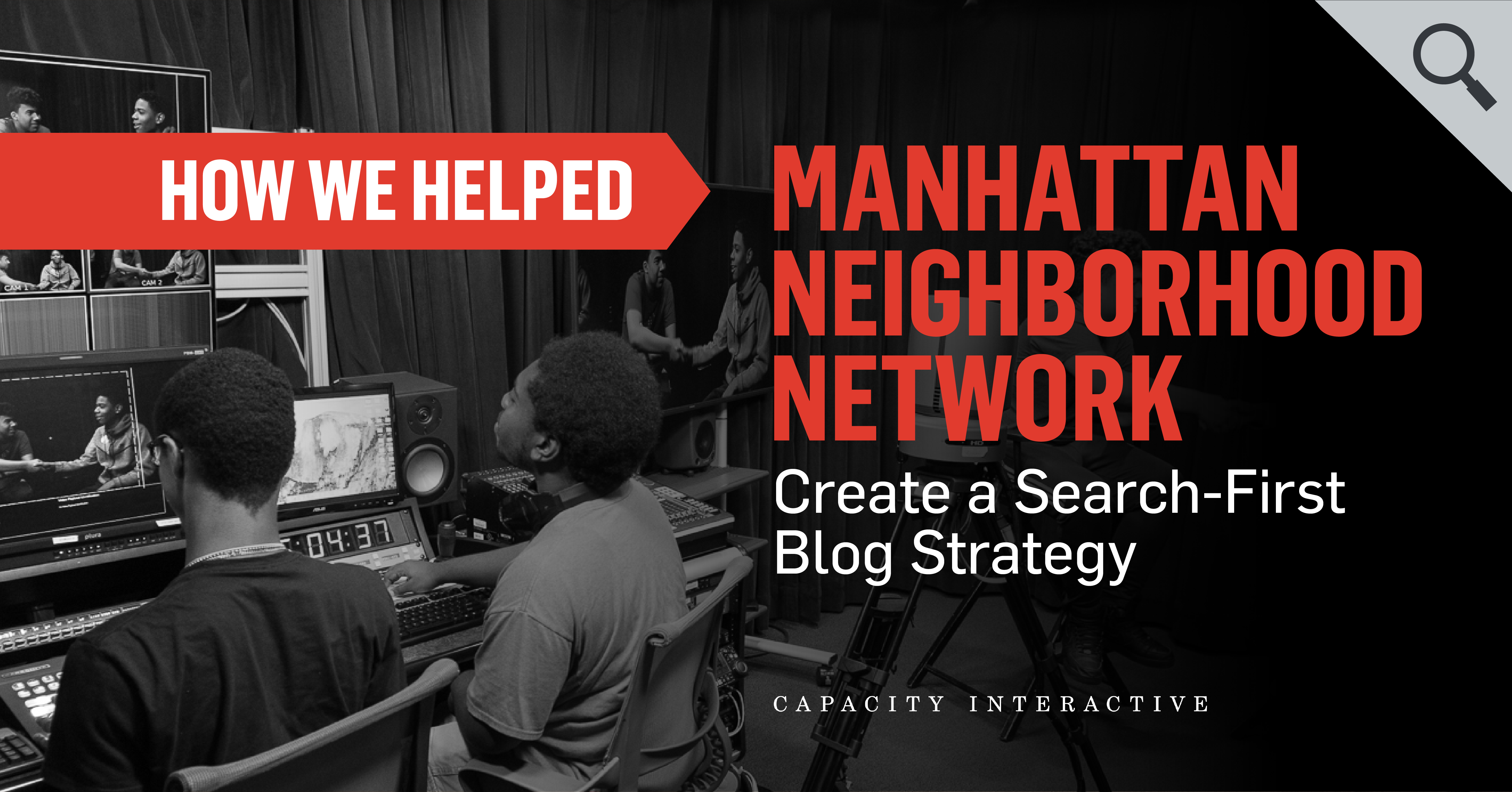 Search engine optimization (SEO) has a reputation for being overly technical, but some of the most impactful optimizations rely on user-centric content creation. Adopting a search-first mindset for your website content can increase the volume and quality of website traffic.

Combining keyword research and AI writing tools, we helped Manhattan Neighborhood Network turn their blog into an upper-funnel dream that directly increased impressions and clicks to their website.
---
Results at a glance

---
Our Partnership with MNN
Established in 1992, Manhattan Neighborhood Network (MNN) is a media learning, production, and distribution hub that promotes creative expression, independent voices, and community engagement. One of the pillars of their organization is its Media Production Education Program, which offers several classes and workshops in areas like video editing, podcast creation, and other technical areas.
In the beginning, our partnership with MNN focused on technical SEO, which meant adding SEO tags across the site and crawling the site for readability. This is crucial work—if the site cannot be understood and indexed by Google's crawlers, anything you add is fighting a losing battle.
Once we had the technical SEO on lock, we saw a critical opportunity for MNN: creating content based on keywords that users are searching for.

Goal: A Search-First Approach to Blog Writing
Our main goal was to increase non-branded, organic search traffic to MNN's site. This traffic needed to be relevant to the education department so the channel could serve as an upper-funnel acquisition tool, rather than just a bottom-of-the-funnel branded channel.
Keyword Research: Finding the Right Subjects to Focus On
A considerable part of the education program at MNN includes teaching complex, specific tasks in media-based computer programs like DaVinci Resolve, After Effects, and Adobe Premiere. These robust programs allow producers to edit and transform image, audio, and video files. However, they have a steep learning curve.
Searches like "davinci resolve shortcut keys" and "difference between frequency and amplitude" are common. By answering these fundamental questions in "how to" articles or lists of resources, tips, and tricks, MNN can provide a resource to new users, while introducing them to the brand and the site. Part of our recommendations going forward for MNN was to focus on these types of articles, which are evergreen, upper funnel content.
AI Tools: Efficient Copywriting
With our keyword research, MNN used an AI writing assistant called Jasper. AI. AI writing tools are still in their early stages, but it's essential for arts marketers to realize the power of using these products. While AI is not in a place where it can be left unmanned to publish articles on its own, it can be a fantastic resource for generating ideas, mocking up early drafts, and more.
---
The Results
Over the last six months, 51% of MNN's overall impressions and 53% of MNN's overall clicks are directly attributed to MNN blog content. In our blog performance analysis, we looked at impressions and clicks from the last three months and compared it to the three months prior, when they implemented our optimizations.
"How-to" Blog Article Performance: Overall, nine of MNN's top 10 performing blog articles are in a "how-to" format, which essentially reference guides that are evergreen and easy-to-follow. The "how-to's" boasted a 137% increase in impressions and a 150% increase in clicks compared to all of the other blog articles.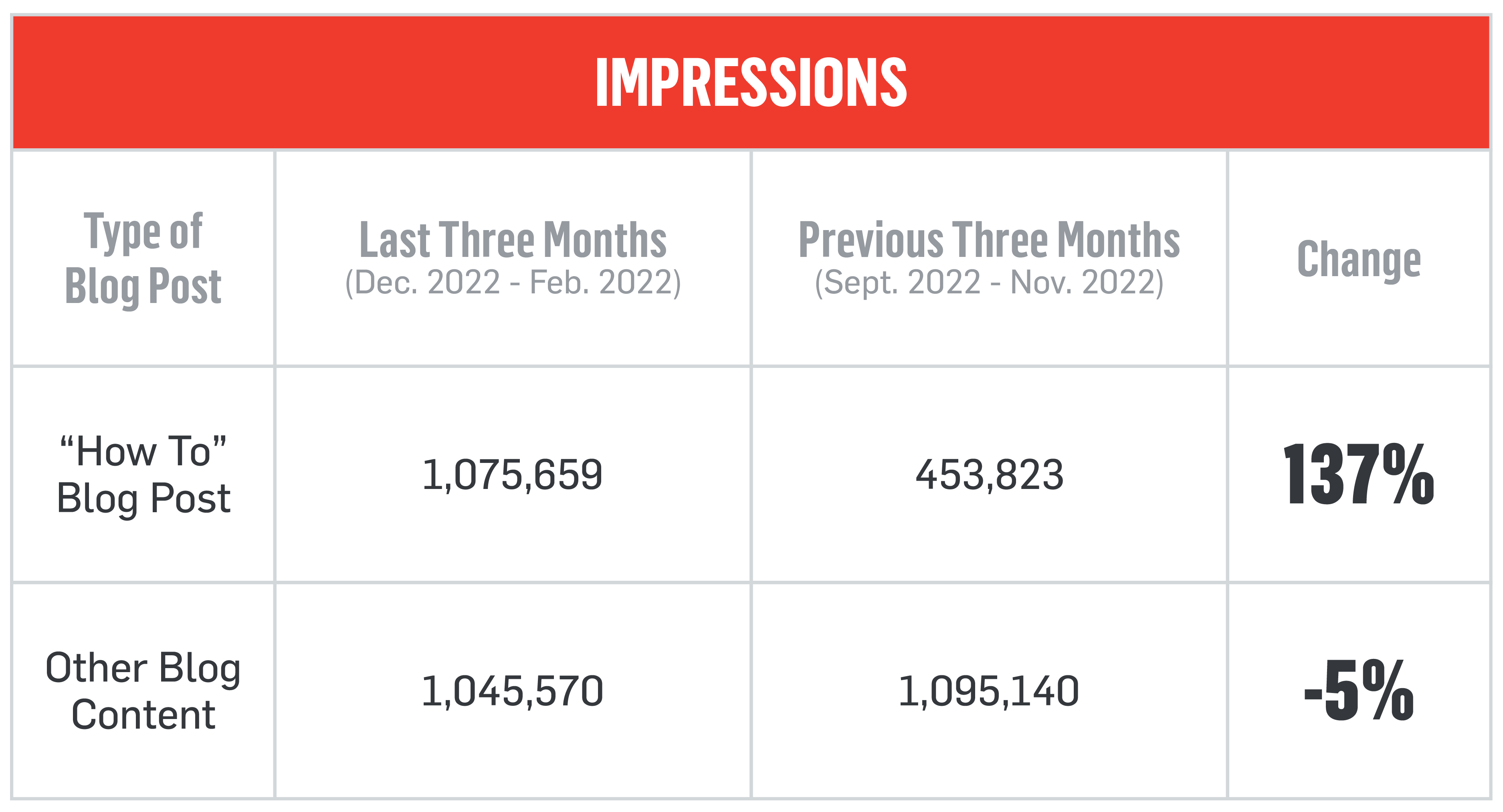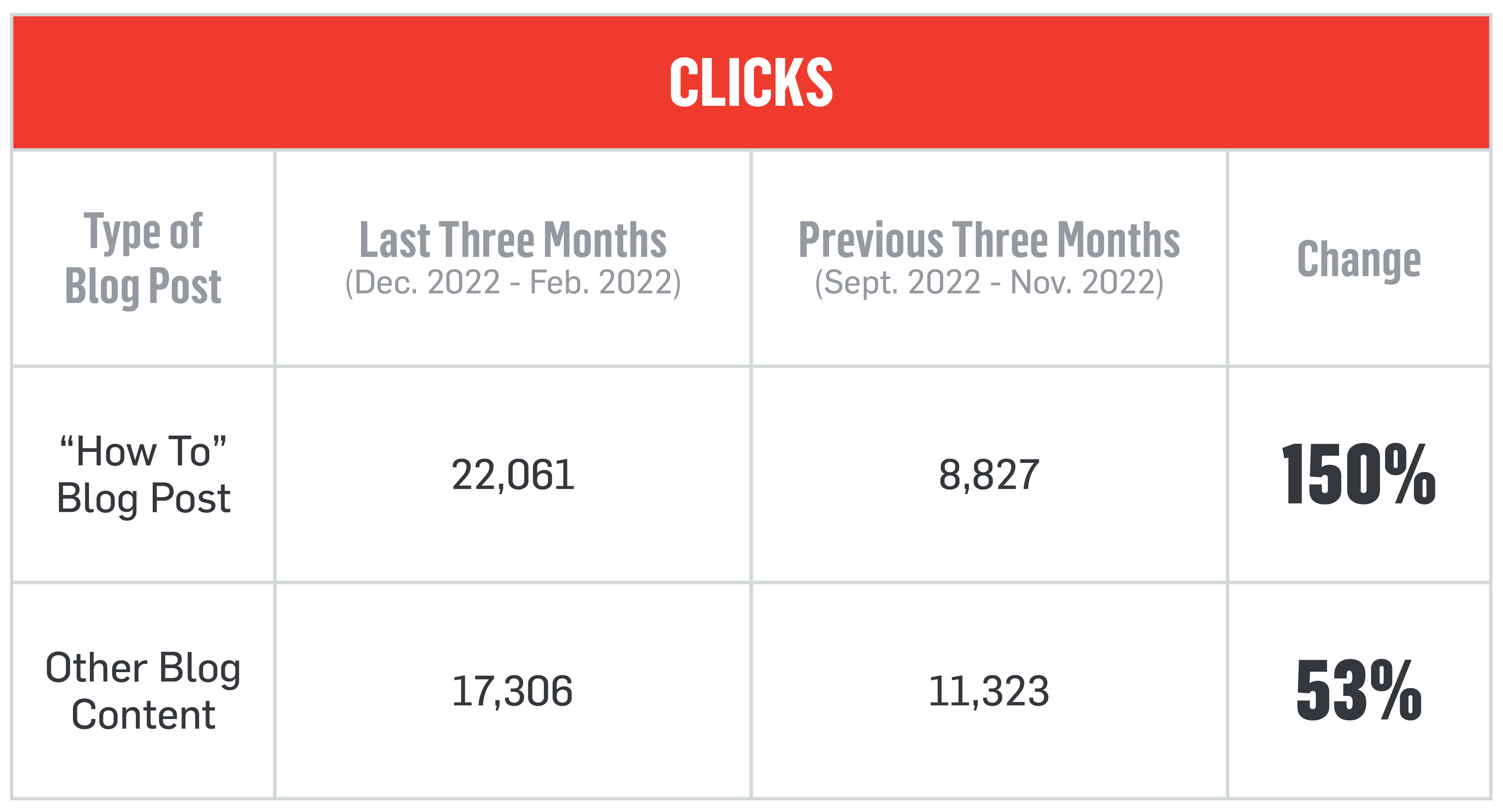 Two of their top ten blog posts directly resulted from our keyword research and recommendations, which illustrates the strength of our "search-first" SEO strategy. One top-performing article, "The Basics of Sound: What are Frequency and Amplitude?", defined these basic media production terms and how they relate to media production.
Why it Works: This is an excellent example of "your ordinary is your audience's extraordinary" – MNN not only provided an answer to this basic query, but they also utilized the bottom of the post to link to other relevant blogs on their site, as well as linked to their "classes" page, funneling users to other relevant MNN pages.
When we work with clients, like MNN, we're able to zero-in on crucial opportunities through data-driven recommendations. With a solid SEO technical setup and a search-first content strategy, we increased MNN's visibility on the SERP and continue to help them reach new audiences.
---
Ready to create a search-first blog post strategy? Get in touch, and our SEO experts can help you create content that increases acquisition audiences.