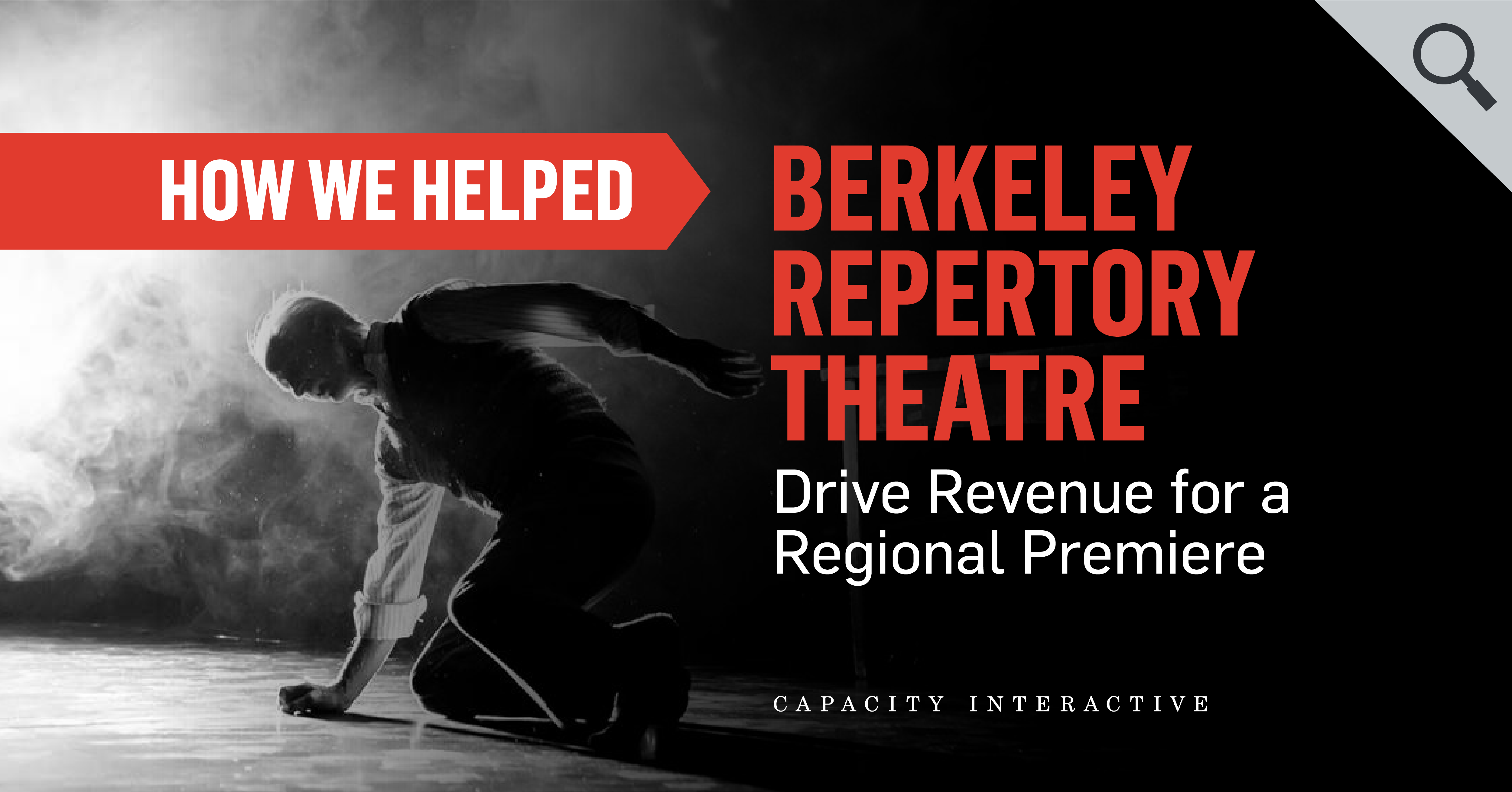 Regional theater premieres can be golden opportunities to build on a show's momentum, setting you up to run a comprehensive Meta campaign that meets revenue goals and also drives awareness of and sales for subscriptions, classes, and additional shows.
Berkeley Repertory Theatre is a Tony Award-winning regional theater that presents ambitious new plays. In December 2022, the critically acclaimed Remember This: The Lesson of Jan Karski came to Berkeley following an off-Broadway run. The theater saw an opportunity to capitalize on the play's New York buzz and drum up excitement for its California premiere.
As Berkeley Rep's digital partners since 2021, we understood how best to optimize their digital strategy to maximize revenue. We created a full-funnel social campaign across geographical market boundaries to drive strong single-ticket sales and bonus conversions—all while keeping costs impressively low.
---
STATS AT A GLANCE

---
CRAFTING AN EXPANSIVE SOCIAL STRATEGY
Remember This took the stage Dec 2–18, so we crafted a five-week campaign from mid-November through the final performance. Our consultants focused on full-funnel prospecting paired with first-party data retargeting.
Utilized The Data Our Client Owned. Berkeley Rep provided CRM lists that allowed us to market Remember This to people already familiar with the theater and most likely to buy.
Made The Campaign Impossible To Ignore. Rather than just stick to feed posts, we took advantage of a wide range of Meta ad placements, including Stories, Reels, and in-article ads within Facebook Instant Articles. Diverse placements helped boost reach and make the theater's ads more memorable for target audiences.
Looked Beyond Berkeley. One of the theater's goals was to broaden its audience and build awareness of the show along the West Coast. Just before opening night, we expanded geotargeting for Interests and Lookalikes to reach new audiences in the Los Angeles area. This adjustment allowed us to serve Remember This ads to over 22,000 L.A.-based users for a low cost per click of $1.78.
Highlighted Positive Reviews. Messaging spotlighted critical acclaim for the piece and actor David Strathairn's performance, as well as audience testimonials that spoke to the power of the story. In addition, visuals incorporated the New York Times Critics' Pick badge and pull quotes from rave reviews.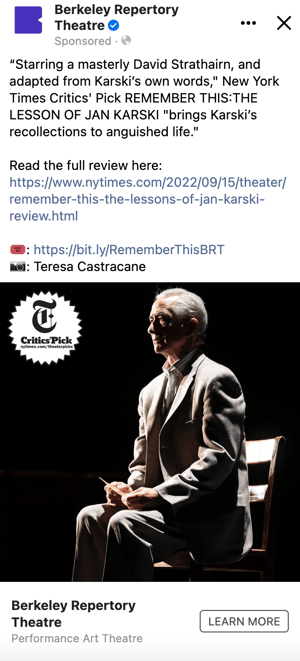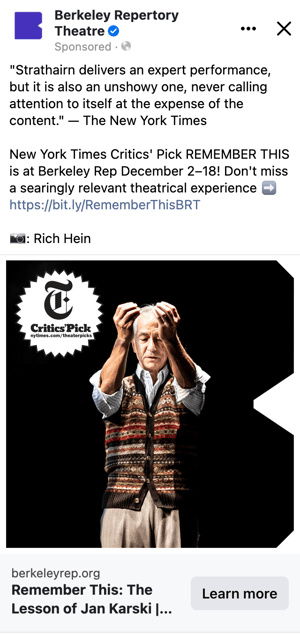 ---
RESULTS THAT GO ABOVE AND BEYOND
By crafting an expansive social strategy across market boundaries, we successfully attracted both single-ticket buyers and long-term attendees. The campaign drove a return on investment (ROI) of 477% and an impressively low cost per acquisition of $27.
What's more, by keeping the theater top of mind with target audiences, the campaign drove awareness and sales for other offerings as well, including subscriptions, classes, and additional shows from the 2022–2023 season. The campaign even generated over $3,000 in donations. Now that's an impressive way to round out the calendar year.
---
TAKE YOUR SOCIAL STRATEGY TO THE NEXT LEVEL
Let's work together to refine your paid social campaigns to drive revenue and reach new audiences.