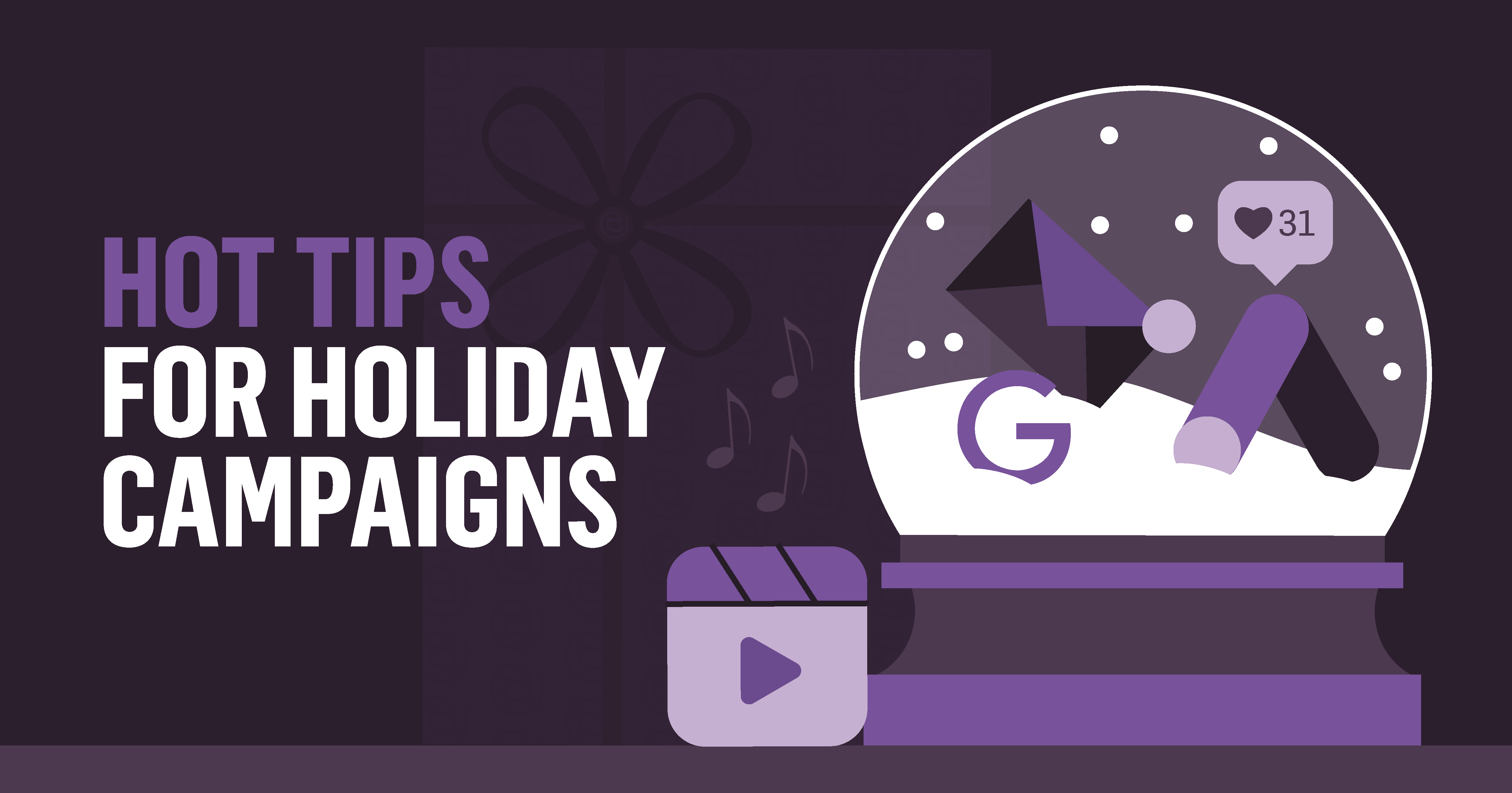 As the weather gets colder and windows get frosty, arts organizations are gearing up for their annual holiday shows. But in the flurry of the season, it's hard to keep up with the competition.
Your organization is competing with streaming services, ticket brokers, and dozens of other holiday events in your city. Plus, people are inundated with shopping ads that clutter the digital landscape. Revenue from holiday shows or end-of-year fundraising campaigns are crucial for many organizations, which means it's time to level up your digital advertising game.
So, how do you cut through the noise, so you don't get iced out this winter? Read on to find out!
---
Tip #1: Make your search strategy sparkle
If you don't know already, Google Grants are still excellent tools for non-profits, but they need to be supplemented with paid search. Paid search allows flexibility with media budgets and provides a solid return on investment (ROI) for revenue-oriented campaigns. A sound paid search strategy also helps you combat ticket resellers and other types of SERP competition.
Next, utilize Google Ad assets (formerly known as extensions) to expand your physical presence on the SERP. Assets give you the most bang for your buck at a time when ad spend is especially high. They allow you to get more information in front of some of your best prospects: people who are already searching for you or what you offer.

If you're already using Google Ad assets, try customizing for the holiday season. Encourage people to shop for gifts at your retail store or invite them to ring in the new year by making a donation. Keep your assets timely to attract the most clicks.
Getting Started
Convey information visually: Use an image asset that provides a glimpse into your venue and helps searchers imagine the experience you're offering. Image assets capture people's attention on an increasingly visual SERP and bring a 10% increase in CTR on average.
Increase relevance: Use callouts to provide additional information about your organization and eliminate confusion on the SERP by identifying yourself as an "Official Website" or "Official Ticket Source." You can also highlight benefits and features such as "Free Parking" or "Student Matinees." The sky's the limit… within 25 characters, of course.
Run holiday sales: Use a promotion asset to attract people looking for seasonal sales on arts and culture events. Promotion assets can be scheduled for a short time or included for the duration of a campaign.
Highlight your full suite of offerings: Use sitelinks to spotlight subscriptions, gift cards, and donation asks alongside your holiday performances. Sitelinks operate like subheaders within your campaign, giving newcomers an overview of your organization and piquing their interest beyond your holiday production.
See It In Action
Boston Ballet uses a performance photo for an image asset, helping searchers envision what they'll see on stage. They use callouts like "Subscriptions Available" and "Tickets On Sale" to provide additional information about their offerings, and include sitelinks that dive deeper into the organization. "Group Tickets" is helpful for people wanting to attend a show with family and friends, while "Meet the Dancers" introduces ballet newbies to the company.
---
Tip #2: Satisfy sweet tooths with fresh content
When you're advertising the same holiday show year after year, it's hard to keep content feeling fresh. Check out these examples for inspiration as you look for creative ways to sell a familiar story and put a spin on productions audiences know and love.
Catch their attention with not-so-static images. Take a page from The Washington Ballet's book and incorporate photos into an engaging carousel. Or, turn a static photo into a dynamic post like the Dallas Symphony Orchestra did with their Nutcracker performances.
Preview the performance. Gather new stage footage and create a performance trailer like Oregon Shakespeare Festival did for It's Christmas, Carol! This short video features all of the best moments from their production and gives audiences a sense of what to expect at the theater.

Keep it casual and relevant. A formal tone won't translate on most social platforms. Focus on casual, fast-paced videos that spotlight aspects of your show in unique and fun ways, like The Washington Ballet's Rat King "villain era" video.
Don't forget about organic vertical video. Most social algorithms have started prioritizing this mobile-first format, so the 9:16 aspect ratio is key to getting your content in front of more eyeballs this winter. Play with trending audio and use behind-the-scenes clips like The Royal Ballet below to engage your followers. And remember: native text and audio will always result in a better user experience, so wait to add those elements until you've uploaded the video to the platform.
Use what you have to fit vertical ad placements. Check out this example from New York City Ballet for inspiration on incorporating vertical video into your social strategy. They cropped horizontal performance footage to fit the 9:16 aspect ratio. This 10-second clip of vertical jumps is short, sweet, and fits perfectly in Stories.
---
Tip #3: Warm hearts with personalized messaging
Consumers receive an overwhelming amount of sales emails during the holidays. How do you rise to the top of their inboxes? Get cozy with your CRM database and use what you know to tailor patrons' experiences.
Audiences respond better to content that is relevant to their unique buyer behavior. Find ways to speak to them as individuals, whether it's including first names in your subject lines or tailoring email body copy to acknowledge someone's past purchases.
Getting Started
Segment, segment, segment. Do you have a list of patrons who saw The Nutcracker last year? Invite them to "come back and relive the magic." Do you keep track of who's purchased student-priced tickets? Boost the educational benefits of seeing a live holiday pops performance. Craft different messages for different audiences and show that you understand their relationship to your organization.
---
Tip #4: Unwrap new Google toys
The algorithms are getting smarter—'tis the season to work with them instead of against them. From search engine marketing to display and YouTube, dynamic ad formats are the future of Google advertising.
This holiday season, embark on your machine-learning journey with responsive display ads (RDAs) to drive ticket sales. RDAs remove the guesswork from campaign planning and automatically determine the best combination of assets for your audience.
Getting Started
Let machine learning do its thing. Upload different headers, descriptions, and visual assets into Google Ads and let their machine learning model optimize advertisements for each slot. It's that easy. RDAs save you time, have the broadest reach of all display ads, and lead to 2x more conversions on average. Now that's some serious holiday magic.
See It In Action
Take a peek at these RDAs for the Guthrie Theater's production of A Christmas Carol. Notice how each placement features a different combination of visuals and text. Google's machine learning model will monitor performance history and optimize the theater's advertisements accordingly, saving their team time and money during the busiest months of the year.
---
Tip #5: Skip the post-holiday slump
By now, you've probably started your holiday campaigns. (And if not, finish up this blog post and get started!) But one question remains—how long should you run these campaigns for?
With last-minute buying behavior becoming more and more common, consider running your campaigns up until the very last minute. According to Meta, 41% of consumers say their shopping continues after the holiday season. And school vacations often leave families itching to get out of the house; last year, searches for "family things to do" increased after Christmas.
Keeping your campaigns live will help you stay top of mind when the rush of Q4 starts to slow down. Since fewer advertisers will be vying for customers' attention, you may also enjoy more affordable and effective ad results.
Getting Started
Keep those campaigns running. If your performances or exhibitions run through the New Year, keep those campaigns active during the post-Christmas window. Although it's tempting to rely on last-minute messaging, focus instead on benefits-driven copy that centers your customers.
See It In Action
The examples below illustrate the impact of benefits-driven copy. Remember to share what's in it for your audience. A trip to the theater is a chance to spend time with loved ones, and a visit to a museum is a mini-vacation for families on winter break.
Benefits-Driven Copy
"Quality time is the sweetest gift of all. Treat your ballet besties to Nutcracker tickets and ring in the new year with a sprinkle of magic."
"Did somebody say snow day? ❄️ Chill out with a trip to the Children's Museum. It's the perfect way to make time for play with your kiddos."
Copy that Doesn't Bring Value into Audiences' Lives
"Time is running out to experience the Monet exhibit. Hurry and get your tickets now through Jan 1."
"Don't miss your chance to see the Holiday Pops before the curtain closes. Tickets start at just $59."
---
Putting It All Together
During the hustle and bustle of the holidays, it's easy for digital efforts to get lost in the shuffle. But don't worry—there's still time to iterate. These five tips will help maximize your ad spend and drive conversions so you can conquer the competition. Say goodbye to Scrooge-level stress and hello to peaceful dreams of sugar plums.
Social Media Strategy, Google Ads/Search Engine Marketing, Email Strategy, AdWords/Search Engine Marketing