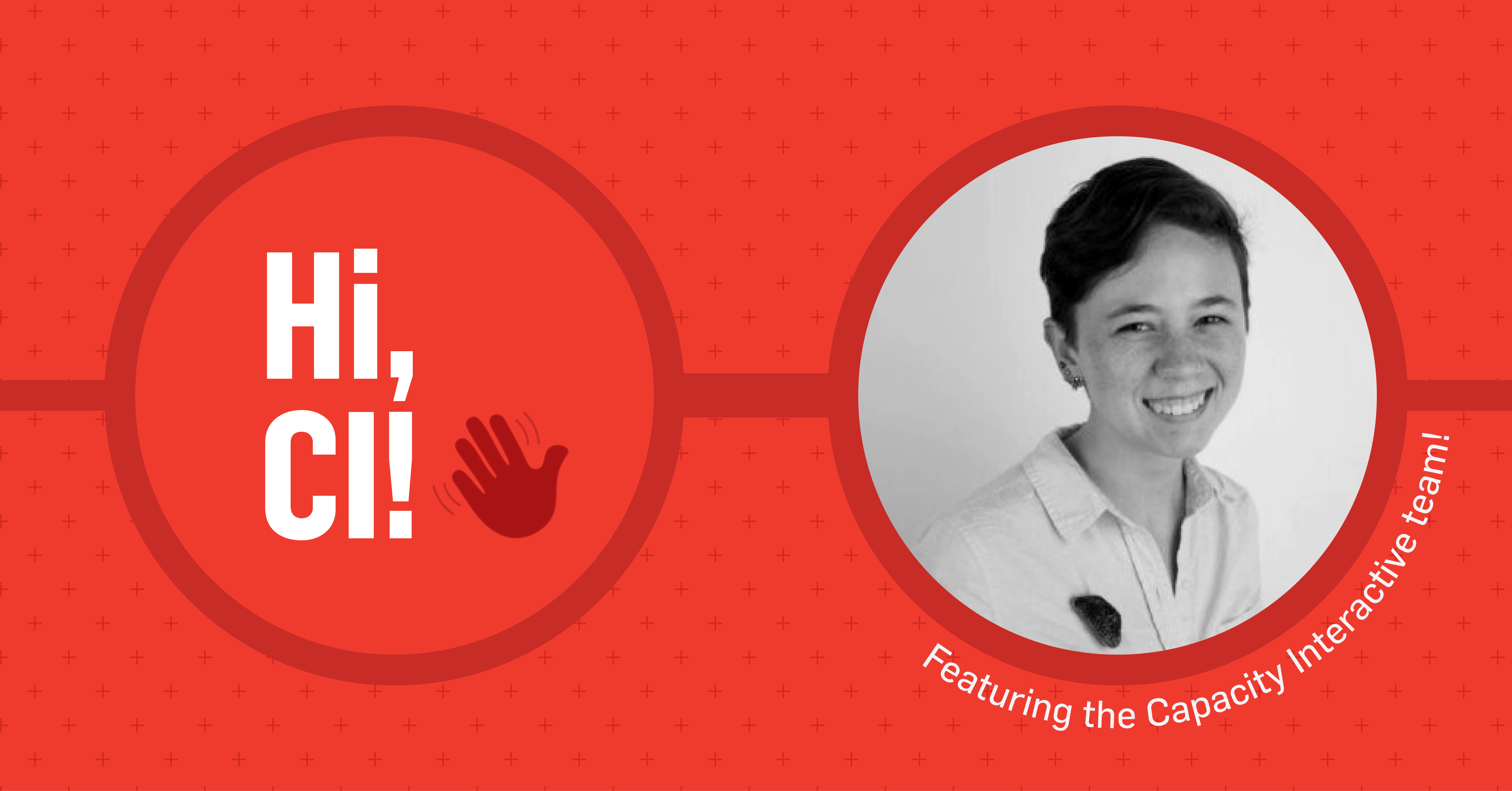 Hi, CI! is a series featuring the best team we know—the Capacity Interactive team! Today, meet Stephanie O'Brien: a CI Digital Marketing Senior Analyst whose creativity seemingly knows no bounds—from crocheting, sewing, metalsmithing and more!
---
How long have you been at CI?
I've been at CI since May 2021.
Where are you from originally?
I grew up in northern New Jersey. I went to college at Savannah College of Art and Design (SCAD) in Georgia and then moved to Brooklyn after graduating. I was surrounded by art in each location, but I always knew I would make my way to New York City.
You have a BFA in Jewelry and Objects from SCAD. What did your path into jewelry making look like?
I started making my own earrings when I was around 10 years old. I would make mismatched earrings from bead kits for myself and all of my friends. I then created a jewelry portfolio for my A.P. Studio Art class in high school, which led me to major in Jewelry and Objects in college. After college, I worked in the jewelry industry for 6 years.
What types of products do you design and create now?
I mainly create jewelry, but I love all types of crafts. I enjoy crocheting, sewing, basket weaving, and quilting, but I am only professionally trained in metalsmithing. For jewelry, my favorite things to make are earrings and brooches (I think because they are my favorite things to wear!).
Here are some of my favorites pieces:
What's your favorite material to work with? Why?
I love working with found materials because it makes the process and the finished piece more interesting! For jewelry, I like using rocks, coins, and things I find at reuse centers or thrift stores. When I am quilting and making bags, I like to use fabric, yarn, and thread from recycling and reuse centers.
You recently exhibited your work at Renegade Craft in NYC. What was that experience like?
Renegade Craft is an organization that hosts craft events throughout the country. I always love being able to sell work face-to-face with customers. It's such a different—and more personal—experience than selling on my website or through a retail store. Plus, coming up with a display set-up is a craft in and of itself!
Which piece of jewelry are you most proud of making? What did creating it mean to you?
I really enjoy making pieces with materials that are significant to me because I love having an emotional connection and abilty to share stories about the pieces. For example, my grandfather gave me huge bags of golf gear that I saved to make into something special for myself. I ended up making 3 brooches from the ball markers that I love! Another example is when I made a quilt from all of the old clothing and bedding that I had saved since I was a child.
Can you describe your art-making process?
When I start creating, I usually sketch out a bunch of ideas in my sketchbook, getting as many things down on paper as I can. These sketches are rough and include ideas about the shape or materials. My drawers are full of materials so next I'll pull things out and group them. I like to keep my materials organized by color, but as you can see in some of my photos, everything gets mixed up and messy once I start creating! The final step is assembly. I usually move over to my jewelry bench to do the actual metalsmithing, which includes hammering, soldering, and sawing. (Sorry to my downstairs neighbor!)
Click through to explore my studio space!
Does your art practice process inform your work as a senior analyst at CI? How?
I am a Type A thinker. I love to make lists and have step-by-step processes even when I am being creative and messy. I think that's why I love the work that I do at CI so much. I enjoy fitting pieces of a puzzle together. I'm not analyzing data while making jewelry or bags, but it has the same cathartic feel of working my way through a process.
What do you love about working with arts organizations?
I love working with arts organizations because I love visiting arts organizations—especially art museums. I also love having the opportunity to work with people who are creative and equally passionate about the arts.
What's something about your job that makes you excited to come to work every day?
I love my colleagues and clients! Everyone is so passionate about the arts and always are down to talk nerdy about data analysis. I also enjoy that each day is different—I learn about new exhibitions and performances that my clients put on, which gets me so excited about the future of the arts.
What's one tip you can give to help arts organizations market smarter?
Think about what your goals are! If you take the time to take a step back and think about what you are trying to achieve, developing strategies, content, and copy is much easier and, most importantly, more effective.
Where can we see more of your work?
You can see more of my work on my website, Instagram, and Tiktok.