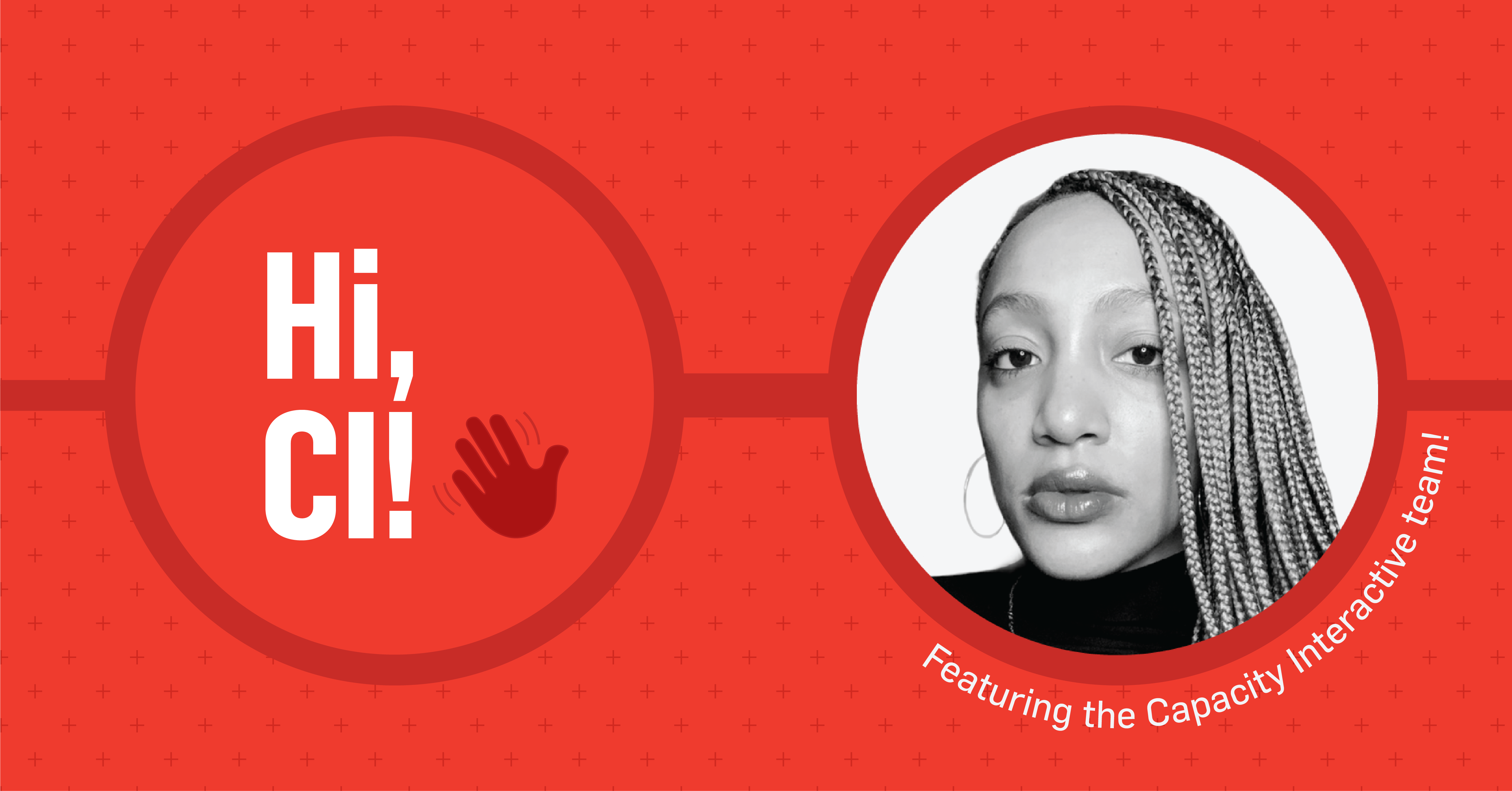 Hi, CI! is a series featuring the best team we know—the Capacity Interactive team! Today, meet Olivia Lowe: a CI Digital Marketing Analyst and dancer, problem-solving physicist, and strategic thinker who empowers arts marketers to be creative.
---
How long have you been at CI?
I've been at CI for a little over a year. Let's go, Cohort 24!
Where are you from originally?
I'm a North Jersey gal. I grew up in the two beautiful towns of Maplewood and Montclair.
You have a degree in both Physics and Dance. What led you to pursue both?
When I was nine years old, I fell in love with dance at Sharron Miller's Academy for the Performing Arts (SMAPA). SMAPA was my second home. I trained there for six to seven days per week in multiple different techniques ranging from modern to ballet, jazz, contemporary, and choreography. On top of this, I performed with SMAPA's pre-professional dance ensemble for six years and studied dance during the summertime at dance intensive programs throughout the Tri-state area. Dance was (and still is) major to me so I declared it as such at Mount Holyoke College.
In high school, physics entered my life like a breath of fresh air. All it took was Mr. Altunkaya's Force, Motion, and Energy class, and I was sold! I was enticed by the way it revealed truths about the physical world and challenged me to think analytically. Eager to learn more, I joined the intimate community of physics majors at Mount Holyoke.
Are there any parallels between dance, physics and digital marketing?
Absolutely. In order to be successful in dance, physics, and digital marketing, one must know how to problem solve.
If you think about it, most of my time as a dance artist has been spent training in the studio behind closed doors. It's easy to forget as an audience member that a whole lot of rehearsing, brainstorming, creativity, and strategic collaboration goes into crafting what you see on stage. Dance is more complex than meets the eye. It challenges me not only with physical obstacles, but also with mental and emotional ones. Therefore, whether I am training, rehearsing, or performing, I'm tapping into my creative problem-solving power. This is what makes dance beautiful.
The problem-solving conversation is more straightforward when it comes to physics. As a physicist, I leverage critical and analytical thinking, diagrams, and calculus to find solutions to problems that help us better understand how the universe works. Thrilling, right?!
Here at CI, we are committed to helping our clients market smarter. From optimizing our campaigns to drive stronger performance, to adjusting the way we track data in response to constant shifts in platform policies and best practices, problem-solving is in our day-to-day and DNA!
What do you love about dance as an art form?
Dance feels like home to me. I appreciate beyond what words can express the discipline, everlasting friendships, strength, and resilience it has given me. I'm grateful that dance taught me what passion feels like. I relish the way that it challenges me to physically exert my body and test its limits. I adore the practice and process of honing my technique in the studio. And above all, I treasure dance performance. Nothing compares to the giddy rush of joy I feel when I'm dancing on stage before an audience! It's pure magic.
What's your favorite style of dance and why?
My favorite style of all time is Horton. It's a modern dance technique that is largely influenced by Native American dances and anatomical studies. I love its angularity and staccato nature. I'm also super satisfied by the way it dares me to follow strict movement patterns at different rhythms.
This technique not only built my great physical strength, but also taught me how to leverage my physical intelligence as a dancer. Horton demands for rather physical movement repetition, which works to tone muscles and improve muscle memory, and it tasks your body with problem-solving in real-time. Think: balancing/distributing weight, dancing in time with the music, finding opposition, etc. When I lean into these elements that I learned as a kid, Horton makes me feel fierce asf!
I will also add that I started my official dance training with Horton so it will always hold a special place in my heart. ❤️

You're an ambassador for Black Dance Change Makers. Tell us about it and why it's an important, creative community.
Black Dance Change Makers unites and uplifts Black-identifying dancers through leadership, education, service, and community building across the country. I cannot express enough how vitally important a community Change Makers was to me when my in-person dance experience was snatched away from me by COVID in 2020. Change Makers curated a virtual space exclusively for and by Black artists to do what they needed to do. For me, this looked like building new friendships, networking, inspiring, being inspired, and, let's face it, coming together to mourn the loss of our pre-pandemic lifestyle. They heard our cry for connection and delivered just what we needed when we needed it the most. That said, I believe that this organization is distinctive and powerful.
When I first joined Change Makers, I was that one girl who showed up to all of the events. This is a testament to how welcoming and loving the community is (and how eager I was to bond with other like-minded artists)! Founder Antuan Byers recognized my excitement about his organization and invited me to get even more involved. Now, as a Black Dance Change Makers ambassador, I attend executive board meetings and help organize and host events. Shoutout Antuan, Allie, Dei, Tamisha, and Alisha for being amazing teammates!
What's your favorite karaoke song to sing?
Gunpowder & Lead by Miranda Lambert. Yes, I am a cowgirl.
You have an incredible attention to detail. How does this super skill translate to your job as an analyst?
My attention to detail compels me to be extremely thorough in accomplishing my tasks as an analyst. This is particularly helpful when it comes to creating final report narratives and outlining specific campaign strategies for my clients.
One of my challenges as a detail-oriented person is that it's easy for me to get lost in the sea of specifics. When I find myself getting carried away, I have a practice for zooming out and looking at the big picture that's inspired by my method for solving physics problems.
What's your favorite WFH hack?
I can work from anywhere at any time! From the couch, to my little WFH office corner, my balcony, and my favorite coffee shop around the block…very little can stop me from switching up my work environment.
What do you love about working with arts organizations?
There is something very special about collaborating with like-minded people. There is something even more special about collaborating with like-minded artists and art enthusiasts. This is what my experience is like working with arts organizations at Capacity Interactive! I love that my clients and I are bonded by our mutual passion for the arts and culture because it means that we share similar values concerning these sectors. Not only does this help strengthen our professional partnership, it makes my job quite fulfilling!
What's something about your job that makes you excited to come to work every day?
As fellow Seven Sister alumna, Anne Morrow Lindbergh, once wrote, "Good communication is as stimulating as black coffee, and just as hard to sleep after." My colleagues here at CI are passionate, intelligent, gracious, and always down for good conversation. They make me excited to come to work each day, and inspire me to stay curious, which is key in our marketing philosophy! You're the best, my CI fam. 😊
What's one tip you can give to help arts organizations market smarter?
I encourage our clients to be strategic about how they size their ads. Different ad placements require different ad dimensions across our five marketing channels (check out our Social Media Ad Dimensions guide for a refresher). For example, an ad sized for the Facebook feed should be resized for Facebook stories because these two placements require different ad dimensions. I will note that while Facebook allows us to push an ad sized for feeds to stories, it's undesirable. The ad will look small and obstructed in the stories placement. Consequently, it will receive limited audience engagement which then results in limited campaign performance. Yuck! Instead, properly resize your ads for each placement to increase conversions and drive sales.
It's important to remember that this also applies to captivating creative! No matter how beautiful your ad may look, if it doesn't fit snugly in the placement, it's putting the campaign at a disadvantage.
The positive impact an attractive, well-sized ad can make on our campaigns is greater than one would imagine. Don't shy away. Embrace its power! ✨