Hi, CI! is our monthly series featuring the best team we know - the Capacity Interactive team! You will learn more about the people who help arts organizations market smarter. This month, we're featuring our Associate Creative Director who is a superb baker, found her passion for graphic design early in life, and recently oversaw the redesign CI's email templates.

---
Meaghan McFarland
Associate Creative Director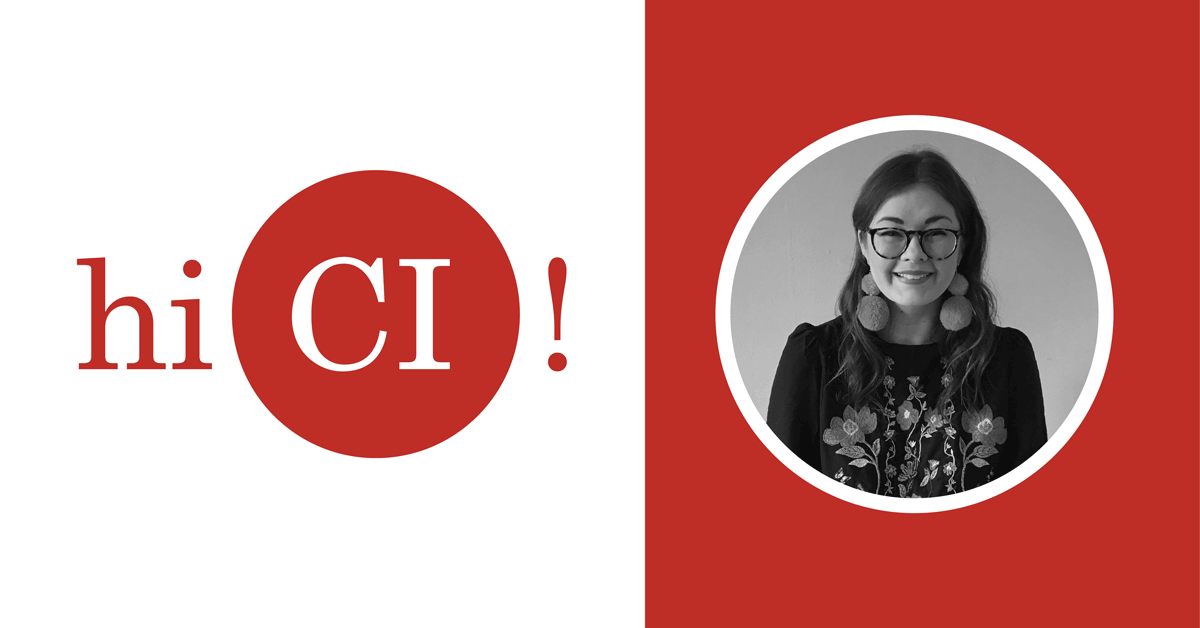 How long have you been at CI?
I started in July 2016, so just over 1.5 years.
Where are you from originally?
The Southern Part of Heaven (aka the beautiful state of North Carolina)
What drew you to work at Capacity Interactive?
The arts have always been a huge part of my life, transforming the way I see and approach the world. I took ballet and pointe classes throughout most of my life, and I also took visual arts classes in school. As I was Googling my way through organizations hiring graphic designers in NYC, I stumbled upon a company (CI) that worked solely with arts and cultural organizations. I didn't even know something like that existed. I wondered how it was possible that I had found a company that was intentional, authentic, focused on personal growth, loved the arts, and had a clear vision for its future. One and half years later, this company feels as genuine as it did to me during my first browse through their website.
How did you decide to specialize in editing and graphic design in college?
I was the Editor-in-Chief of our high school yearbook, and this role introduced me to the world of digital design. I had always been heavily involved in my school's visual art program, immersing myself in paints, pastels, and pencils. As much as I loved having this tactile element of creativity, it always felt like something was missing. When I discovered the world of hex codes, typography, and digital composition through my role on the yearbook staff, I knew immediately that this was something I not only wanted to pursue but needed to pursue in my life. I was one of the few people who graduated college with the exact degree they had declared four years prior. Art and design have never been a question in my life - they've been the answer.
What advice would you give to someone who wants to become a full-time graphic designer?
1. Pick your battles (because you won't always win)
2. You, as a person, are not your creations (as much as it might feel like that)
3. Beauty is nothing without functionality and efficacy (it has to be an equal balance)
You recently spearheaded the redesign of CI's email templates. What was your process and inspiration for these new and improved templates?
Redesigning our email templates was a massive project that required a significant amount of research. I think the easy part of a design project is making something look beautiful, but the more challenging part is to make something functional and effective. This process was about revamping our templates so that we could practice what we preach in the email marketing realm. We wanted these new emails to include more visuals and the new typefaces from our 2017 brand refreshment, as well as highlight the copy in a way that felt more fun and digestible for our subscribers. Our emails, from a visual standpoint, feel holistic with a firm understanding of our brand and visual identity — a cross between being data-driven/analytical and fun/nerdy.
Let's talk display ads - how can arts organizations be creative and effective with such a small piece of design real estate?
Don't include every single piece of information about the show/concert/program/exhibition you are promoting. Display ads are not the primary way someone is going to learn about your organization or your programming. These ads simply need to be a quick, stunning reminder to your audience to buy tickets. While you may want the show title, the date, the call-to-action (CTA), and the logo to be the same size, you have to think about what the most important element is for your audience. Hint: your logo does not need to be the largest element on the display ad. Good hierarchy is essential for effective display ads. If you want to know more about best practices when creating stunning and effective display ads, check out this blog post.
What's one of the biggest opportunities for arts organizations when it comes to their brand and visual identity?
If you don't have brand guidelines or a refined document outlining your visual identity, I would put that at the forefront of your strategic goals. Brand guideline documents are incredibly important to build the foundation of your organization's vision, audience, and visual identity rules. If you don't have guidelines in place, your materials will lack cohesion, consistency, and self-awareness.
If you have brand guidelines, but they're out of date, think about revisiting this conversation internally or engaging a design firm to guide you through a brand refreshment. A brand refreshment is not as extensive as a brand redesign - it will give you the opportunity to refocus and redefine who you are as an organization and how you can develop visual tools to support your current marketing efforts.
If you have just created brand guidelines or went through a brand redesign, it is important that this document doesn't remain static - sitting on your server for years on end until your next brand redesign. If you iteratively update that document on a yearly basis to reflect how your organization has changed and how you've begun to interpret your visual identity, you will have an easier time branding new seasons, programming, and exhibitions each year.
Almost all of your job is being creative on demand. How do you stay inspired and keep your creative instincts fresh?
I immerse myself in the design methods and thoughts of other creative people. Here are a few of my favorite things right now:
The Secret Lives of Color (Book)

Dear Client, This Book Will Teach You How To Get What You Want from Creative People (Book)

Creative Mornings Speakers (Video Archive)

99u Conference Speakers (Video Archive)

Swiss Miss Design Blog (Website) - The Friday Link Packs are always my favorite
We heard you love baking - what are some of your favorite treats to bake?
I love baking pies. Chocolate. Key Lime. Egg Custard. Sweet Potato. You name it; I love it. Anything that requires a ridiculous amount of sugar and butter, I'm pretty much all over it. I have always had really strong, beautiful women in my family who have signature desserts. These women inspire me to bake, find my place at the world's table and find joy in gathering around a table with people that you love and eating things that you love. Grandmother's Sour Cream Coffee Cake. Grandma's Blackberry Cobbler. Aunt Blanche's Coconut Cake. Mom's Chocolate Chess Pie. (Hopefully) Meaghan's Caramel Chess 'Crack' Pie.
What's something about your job that makes you excited to come to work every day?
The design and content world at CI is never boring or static. The versatility of my workload is something that definitely keeps me excited to come to work. Knowing that projects are going to change and unplanned content ideas are going to crop up keeps me on my creative toes. The environment here at CI pushes you to grow and learn in ways that push you outside of your comfort zone. Being regularly exposed to different creative methods and processes ensures that 1) my work never becomes stagnant or uninspired and 2) my comfort level is what used to be uncomfortable.