Hi, CI! is our monthly series featuring the best team we know - the Capacity Interactive team! You will learn more about the people who help arts organizations market smarter. This month, we're featuring one of our Senior Analysts who is a singer, a pianist, a phenomenal writer and social content creator, and a real-life pun master.
---
Jess Isgro
Consultant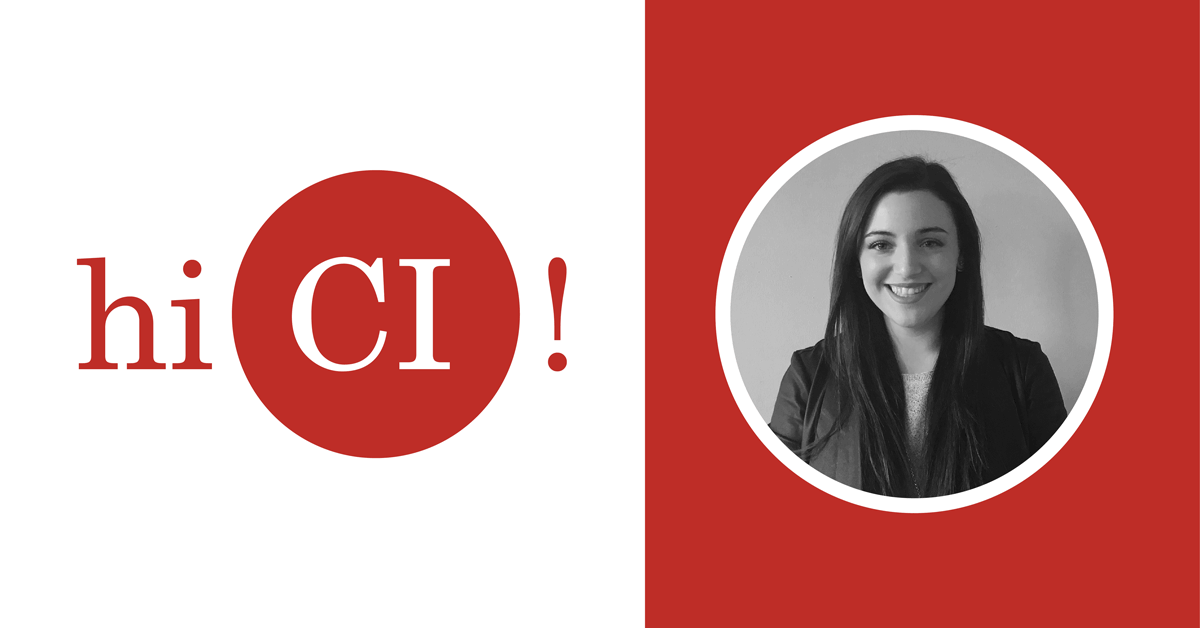 How long have you been at CI?
It's been just under two years now, in various capacities (pun intended). I started out as an intern after my first year of graduate school and came on full-time once I graduated last May.
Where are you from originally?
I grew up in northern New Jersey. From there, I moved to Pennsylvania for undergrad at Bucknell University where I received a Bachelor of Music in Music Education, then into the city to pursue a Master of Arts in Arts Administration at Columbia University. That's how I found out about CI!
Why did you want to work at Capacity Interactive?
Erik gave a presentation about Capacity Interactive and permission marketing during one of my first marketing classes at Columbia. I was captivated both by the company he described and the ideas that they advocated. There was a certain rhythm to permission marketing that I found fascinating. It had a cadence that was logical and intuitive but somehow groundbreaking. It seemed to hold immense potential to benefit the arts and culture, and I wanted to be a part of it!
One of your super skills involves creating thumb-stopping social content. How do you translate your creative process to arts marketers who need some fresh inspiration?
Inspiration's a lot harder to find when you go out and search for it, rather than recognize that you're surrounded by creativity constantly. When creating and consuming content, I try to remain as active as possible. It seems simple, but it can be easy and enticing to fall into passive repetition when it comes to creating content. Maybe you've found a formula or format that works well for your organization; maybe there are certain types of posts that your nearest and dearest respond to above anything else. There's certainly nothing wrong with that, but it also doesn't preclude the importance of surprising your audience and enticing them with something unexpected. I try to imagine the content in my feed. Would I like it? Share it? Would I even stop to read it? If I can't capture my own attention, I probably won't capture anyone else's.
The same can be said for content consumption. We're consuming content ceaselessly, actively, passively, and everywhere in between. Admittedly, of course, I'm not thinking about what I'm seeing 24/7. I've liked plenty of viral memes on Facebook without asking myself, "Jess, what is it about this particular photo of a dog eating a strawberry that's making you press that button?" But when I see a post that's particularly striking, I try to ask myself questions. Why am I so drawn to it? What elements, if any, can translate to the arts?
You told us you found your love of math at CI. Can you tell us how that evolved and why you love it so much now?
When I was a kid, math was perfectly fine, but it certainly wasn't the class that drew me to school every day. It was interesting, but not enthralling. As I learned more and more about music and music theory, I began to appreciate the mathematical qualities that were inherent in music. But the warm and fuzzy feelings I had for math didn't stretch far beyond my understanding of its importance to the arts.
Once I began working at CI, I saw the tangible outcomes of calculations and projections. There was finally a satisfying end result on the other side of a tedious spreadsheet. Digging into the nitty-gritty holds a hefty benefit for clients and their organizations. When I say I found my love of math at CI, I mean that I love the way we can immerse ourselves in data, organize it strategically, and let it talk to us. It's a wonderful compliment to intuition.

You are, what some people would call, a pun master. An expert pun maker, if you will. Can you give us some of your best arts-related puns?
The best arts-related puns, in my personal opinion, need to work on multiple levels. They certainly can't be one note. Sometimes, we share them amongst the entire CI staff. Which is to say, a lot of the vocabulary in the arts contains multiple meanings already. It's like they're asking to be stretched one step further.
I've also become a big fan of the portmanteau, or the blending together of two words. The less realistic, the better, in my opinion. Say you're singing a long recitatif and you steal the show. That'd make you a recitathief. Say you traveled back in time for brunch with some long-gone composers and you decided to have a mimosa with Mozart. You'd obviously call that a Mimozart.

We can see 'Mimozarts' at a classical music-themed restaurant. What would that restaurant be named?
Oh, there are so many options! Carmina Burrata. Appalachian Spring Roll. The Magic Fruit. Suite Bolognese: Eclaire de Lune. The Well- Tempered Caviar.
Not only are you a star pun maker, but you're a singer, a pianist, and you love cooking. How do these creative outlets help you stay sharp in the office?
On the simplest level, I do these things for enjoyment! Enjoying myself in my downtime, as well as at the office, means I show up to work feeling refreshed and ready to market some art!
Beyond that, each of these activities is a way of exercising the same creative muscles as I do at CI. Each activity is guided by an outline, a set of conventions, or rules whether it be sheet music or technical limitations or a recipe, and each is made better by improvisation. Sure, there are times when singing is just singing, but there are other times when reaching a certain passage is as much about enjoyment as it is about strategizing and problem-solving.
You went from being an intern to a full-time CI employee. How did you know you wanted to pursue arts marketing?
I've always been driven by two broad ideas. The first is that I want to be in a place where I can facilitate a connection between people and the arts. The arts have always been an important part of my life, my education, and now my career. Plus, I'm a passionate believer in the overall personal, educational, social, cultural, and societal value that they hold. I always knew I wanted to work to help others have the same experiences I had.
The second idea is that I wanted to find a job that allowed me to be creative, strategic, and technical, all at the same time. As a musician, I always felt that any good performance or rehearsal had all of these elements and even if I wasn't on a stage, I wanted to find a way to maintain those feelings.
After just a few days of interning at CI, I realized that it is a place where accomplishing these goals is not only possible but encouraged. Working as a digital marketing analyst is technical and strategic, but the decisions we make day-to-day are guided not just by data and facts but also by intuition and creativity. It's fun, fulfilling work that isn't just done because it's our job, but because we truly have a passion for helping arts organizations deliver their products and we want to find creative, engaging ways to do just that. Knowing that, at the end of the day, someone is sitting in a hall somewhere listening to a gorgeous piece of music, feeling whatever they choose to feel, and knowing that I had a hand in it, is so fulfilling.
What's something that makes you excited to come to work every day?
The daily routine is anything but routine, and I find that enthralling. Every single day is different, which leaves so much room for learning, trying, planning, failing, trying again, succeeding, creating...you get the picture. No two tasks are identical, however similar they may seem. If they are identical, we're constantly asking ourselves "How could we make this better? How could we accomplish our goal and learn something new at the same time?" It's great to work in a culture that promotes continual learning. This does wonderful things for how it feels to do the work itself, as well as for the results it drives.
What's one tip you can give to help arts organizations market smarter?
Whenever I need a little bit of energy, I remind myself that I'm not just marketing the arts, I'm creating art. It may seem like a bit of a stretch, but follow me here: art is expressive, it's creative, it's engaging. Granted our toolkits aren't necessarily the same as those of the artists on our stages. We work with spreadsheets and assets in the way others work with pointe shoes and reeds. But whether we're creating social content, planning season announcements, ironing out next season's budget or developing campaign strategies, we're taking ideas and turning them into actions and products. We're expressing and creating with the intent to engage our teams and our audiences. My advice would be to lean into that feeling and use it to re-energize your work.