Hi, CI! is our monthly series featuring the best team we know - the Capacity Interactive team! You will learn more about the people who help arts organizations market smarter. This month, we're featuring one of our Digital Marketing Analysts who is a dynamic dancer, a talented choreographer and empowers arts marketers to find important stories within data.
---
Asia Myles-Funches
Digital Marketing Analyst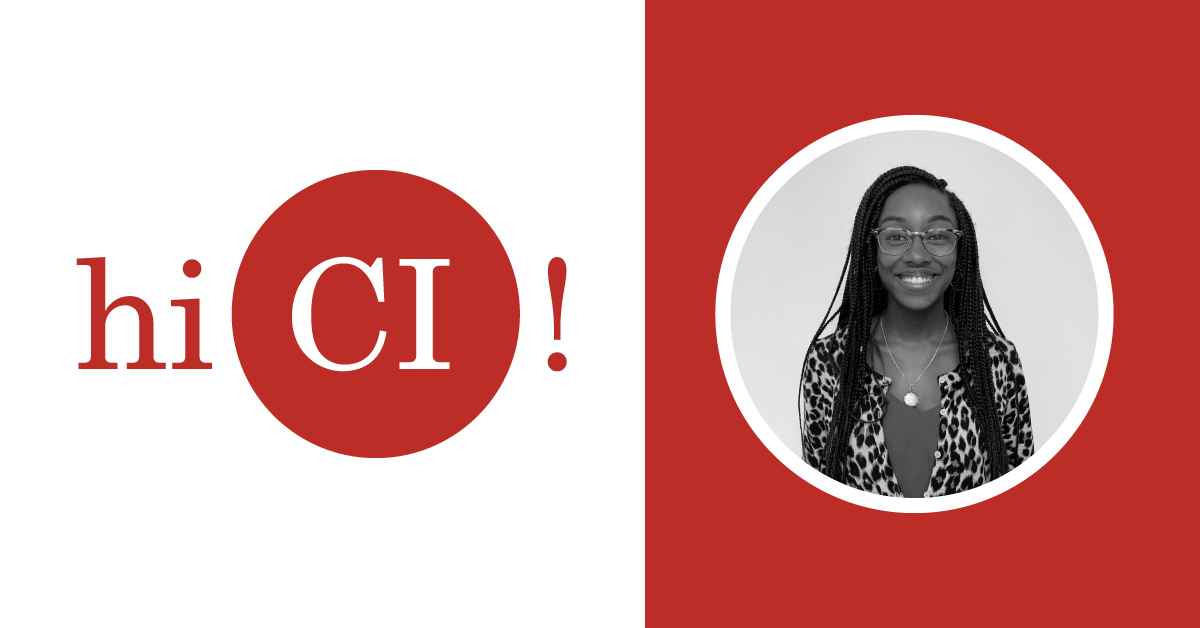 How long have you been at CI?
It seems like I have been at CI for a while, but I actually joined the team nine months ago.
Where are you from originally?
Chicago—arguably the best city in this country! It's the city with the best pizza, hotdogs, and skyline.
What are some of your favorite things to do in Chicago?
Anyone who knows me knows that my happy place is spending time with family and dancing. Both happen at backyard barbeques, so that's my favorite thing to do in the summer. I also enjoy ice cream dates. If you ever find yourself in Chicago, I recommend The Original Rainbow Cone.
Before joining CI, you were an intern at Jacob's Pillow. Tell us about that experience.
The Pillow is a dancer's heaven! As if that's not enough, it's located in the beautiful hilltops of Becket, MA. I soaked in the art Tuesday through Sunday, engaged in very interesting chats with artists and their supporting teams over many meals, and learned a ton about the business of dance. Let's just say it was a packed 10-weeks.
As a marketing/digital media intern, I focused on digital content creation and its strategic implementation through email, their website, and social media. The marketing team spoke so highly of their consulting team at CI, so I was only left with one option: join the team myself. I am so grateful for their evangelism; otherwise, I would not be here.
What do you love about dance as an art form?
Dance has so many different functions in my life, so my love for it is dynamic. As a dancer, I enjoy getting lost in momentum channels. Improvisations are my most effective mindfulness practice. As a choreographer, though, I find dance to be a powerful storytelling form. The ethics of the body and embodied histories we carry intrigues the dance scholar in me, and who doesn't enjoy watching dance? Experiencing the work of other people, specifically modern dance, is enthralling.
Did you dance when you were younger, and do you still dance today?
My first dance class was a tiny tot's class, and I popped in and out of intensives and classes after that. I was the most committed to dance in undergrad, though. I studied release technique, dance history, and rehearsed for dance crews. I'm sad to say that I have not danced in a while, but I'm coming out of retirement soon. For now, my living room improv sessions are holding me over.
We heard one of your favorite parts of your job is reporting on digital campaigns. Tell us about your process for this and why you enjoy it.
Just like dance, I find stories in data. After optimizing and tracking the success of a campaign, we are left with a lot of numbers, and reporting gives it meaning. I usually begin by looking at audience segmentation to understand how groups of people responded to promoted posts, videos, and display ads. I look at various trends in behavior, such as post engagement, purchase conversions, and page visits. From there, I tap into industry knowledge, programming, and other factors to provide context.
What are some tips for successful team collaboration?
Collaboration takes a team effort, and everyone contributes in unique ways. I try to keep a few things in mind when collaborating in teams: allow time for organic relationships to form (when possible), celebrate colleagues' differences, and communicate stressors as well as victories.
What's your favorite coffee drink and least favorite?
I prefer my coffee warm, so I do not order cold drinks often. Dirty chai lattes with almond milk and an extra espresso shot are undoubtedly my favorite! There is something about the spice and sweetness that satisfies me, and the extra espresso shot and almond milk wakes me up!
What's something about your job that makes you excited to come to work every day?
Our culture! Everyone at CI is open to ongoing and radical collaboration. Though we work in small groups, we can ask questions to the whole room of 70+ people. Where else can you do that and get support at any time throughout the day?
What's one tip you can give to help arts organizations market smarter?
The most difficult spaces to navigate are those without active voices. Luckily, data screams! Take time to listen to the data. Whether you are considering reallocating your budget or strategically reaching new audiences, it may be helpful to test a few things out. We want to work smarter, not harder.