Hi, CI! is our monthly series featuring the best team we know - the Capacity Interactive team! You will learn more about the people who help arts organizations market smarter. This month, we're featuring one of our Digital Marketing Analysts, who is a trombonist, coffee lover, and an avid content creator.

---
Andrew Llewellyn
Digital Marketing Analyst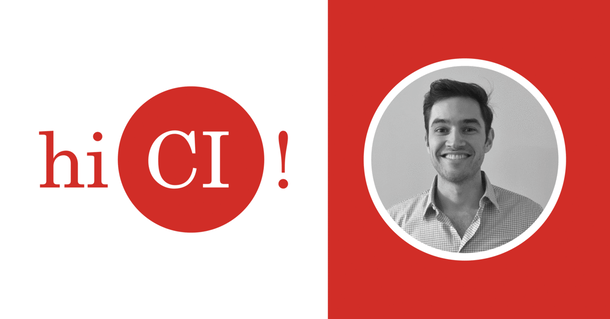 How long have you been at CI?
I've been with CI for just over 1 ½ years.
Where are you originally from?
Sykesville, Maryland (ranked the coolest small town in America 2016 by Budget Travel Magazine).
What were you doing before joining the CI team?
I was the Operations Manager at the Louisville Orchestra.
How is marketing for orchestras different from other art forms?
For years, we have heard that symphony audiences are getting older and make up the core of the house, leading the industry to rely on aggressive measures of acquisition to attract new, younger audiences (millennials *cough* *cough*).
When orchestras do attract younger audiences, they tend to have difficulty retaining, educating, and caring for them. The question then becomes, "How can orchestras attract and develop dedicated patrons who can be old, young, hip, and are excited about their organization?"
From a marketing standpoint, it's no longer acceptable to use dated, institutional language. This assumes that people should simply attend because Beethoven 5 is on the program. Arts marketers should focus on pivoting towards language that is short, powerful, personal, and conversational.
It's a careful balance of creating institutional and programmatic marketing campaigns that encourage positive conversation and enthusiasm. At the end of the day, the mission is to connect and serve the community, so investing the time to listen and create shareable moments will help you connect with current and future patrons.
How can orchestras create better content with the assets they have? What are some thumb-stopping ideas to replace the traditional "headshot of the conductor" photos?
Video is king. If orchestras can invest in more video content (compelling videos showcasing an exciting concert experience and major projects to look forward to), it creates an opportunity to slice and dice the content into shorter, micro-content pieces: 15 second videos, .GIFS, blog posts, infographics, a SoundCloud track, etc. Creating a long-term content strategy will help you reach new audiences and keep your current audiences engaged.
What drew you to work at Capacity Interactive?
My passion for the arts began as a trombonist and musician. However, after realizing there was opportunity to inspire a community through music and art on the administration side, I pursued marketing, development, and production roles. After seeing the opportunity many organizations had to improve digital marketing efforts, I knew I wanted to be with a team that valued a blend of passion for the arts and digital measurement for the benefit of the industry.
What do you love about working with arts organizations?
The art they create and missions they strive to fulfill provide communities with the ability to grow mentally, emotionally, and financially. Art allows us to come together to express ourselves and tell stories. It's inherently human, inclusive, and gives us elevated experiences that nothing else can.
I was fortunate enough to have a strong arts education growing up and it has inspired me to pursue a career supporting organizations that create similar opportunities.
Who do you follow for social content inspiration? Who's doing this really well?
I'm following: Berlin Philharmonic, National Opera of Paris, and Jazz at Lincoln Center (JALC), Classic FM, photographer Jordan Matter, National Geographic, and entrepreneurs like Gary Vaynerchuck. The Berlin Philharmonic has been a leader in the digital game for many years through their Digital Concert Hall, allowing them to reach new audiences by streaming and broadcasting high-quality performances. I'm really enjoying how JALC has teamed up with animators to bring interviews and short stories to life. It's a great example of showcasing exceptional content in a new and innovative way.
What's something about your job that makes you excited to come to work every day? What motivates you?
Every day is different, challenging, and fun! The CI family pushes each other to market smarter, innovate, and learn every day. I'm motivated by our client's successes and having the opportunity to help them become better at what they do, connect with their audiences, and grow together as partners. Outside of work, I'm inspired by the variety of theatrical and musical performances throughout New York City.
Tell us more about your outside project, Percolating Brews.
Coffee became a necessity during college as I relied on it for late night studies and early morning classes, but it became a passion after I studied abroad in Italy and discovered the true complexities in a cup. I started to try out different coffees and brewing methods, and even began home roasting my own coffee from green beans!
After moving to New York, I wanted to explore the city that never sleeps and learn about the coffee culture. So, I started a vlog, Percolating Brews, as a way to experience different cafes around the city. I interview baristas, roasters, and explore new methods of brewing and home roasting beans to fuel my caffeine addiction. I wanted to use this opportunity to create video content with minimal investment, so my videos are shot on my Samsung Galaxy phone and edited with iMovie.
What's one tip you can give to help arts organizations market smarter?
Invest in storytellers and content. We're in the business of telling stories through art and, as arts marketers, we're inherently creative people. Take every opportunity you can to showcase this creativity throughout your marketing campaigns.