Hi, CI! is our monthly series featuring the best team we know - the Capacity Interactive team! You will learn more about the people who help arts organizations market smarter. This month, we're featuring one of our Senior Analysts who is a skincare guru, an avid reader, and helps arts organizations showcase the more personal sides of their brands.
---
Alex Ropes
Senior Analyst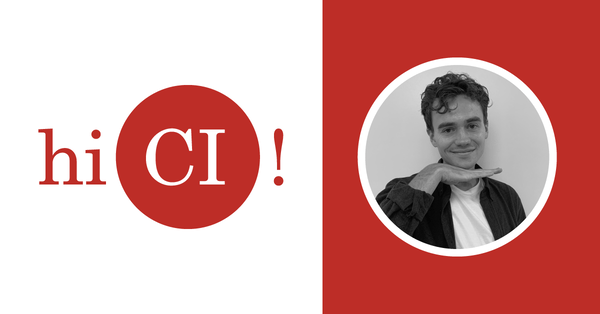 How long have you been at CI?
Just over a year full time. I started as an intern in May of 2018 and joined the staff full time that August.
Where are you from originally?
I'm a midwestern baby. I spent eight years in Iowa and the eight years before that in Wisconsin.
How did you discover CI?
Nick Nolte! He's a Senior Consultant at Capacity Interactive.
I knew I wanted to move into the arts and culture sector, but I also wanted a data-oriented position. Just as I was at the end of my rope, I heard about Nick through my alma mater's alumni network. I called him for an informational interview, and the rest is history.
We heard you're really into skincare. What are some of your go-to products?
Skincare is a long game! Right now, I love Drunk Elephant's Umbra Sheer Physical Defense, which is a cruelty-free, mineral SPF. I also use Caudalie's glycolic peel every Sunday to slough off the city smog and reveal a ~new me~.
What are the two books you've read in the last month that you'd recommend? Do you have a favorite genre?
I just read Cormac McCarthy's Blood Meridian and Jia Tolentino's Trick Mirror back-to-back, which was an emotional doozy. The former is nihilistic, and the latter is almost fatalistic at times, neither of which particularly breeds faith in the direction our country is going. But each of these authors is so wise, and their prose is so elegant, that I find their writing to be inexplicably hopeful at the same time.
I love authors that mix memoirs with theory, like Maggie Nelson or Leslie Jamison. Their personal experiences serve as a great entry point to the big, abstract ideas that they're grappling with.
What are some tips you can give to arts organizations to convey the more personal sides of their brands on Instagram Stories?
Have fun with Instagram Stories. People view Stories because they want to see off-the-cuff snapshots of their friends' lives, and a glossy video can be incongruous with this. Show behind-the-scenes footage, add some rainbow text, throw on a few stickers. Content like this helps you to blend into the channel and feel like a more cohesive part of the users' community.
You are one of two staffers at CI who work behind the scenes on our data visualization tool. Why did you want to get involved in this on a deeper level?
My background is in psychological research, so I was very involved in data analysis and visualization before coming to CI. Nowadays, we have more data than we could ever know what to do with, which means that data analysis is as much of an art as a science. I love data visualization because it blends these two components. Effective data analysis helps you to figure out which questions to ask, how to ask them, and how to spin the answer into a story. Numbers don't mean anything in a vacuum, and data visualization helps us to weave them into a larger narrative.
What's something about your job that makes you excited to come to work every day?
I always feel challenged at CI. My colleagues are all curious and brilliant, and their work always inspires me to iterate upon my own strategy. This wouldn't be possible without my phenomenal supervisor (Jane Whitty) who somehow ensures that I'm always challenged but never overwhelmed.
What's one tip you can give to help arts organizations market smarter?
Create content that you want to see! It's important to maintain your organization's voice, but this doesn't mean that you can't have fun with it. Throwing a 'Book Now' call-to-action to the end of a post doesn't sell tickets; engaging content does. Shine a spotlight on your artists, celebrate your patrons, and interact with your community. If you create content that builds relationships, ticket sales will follow.