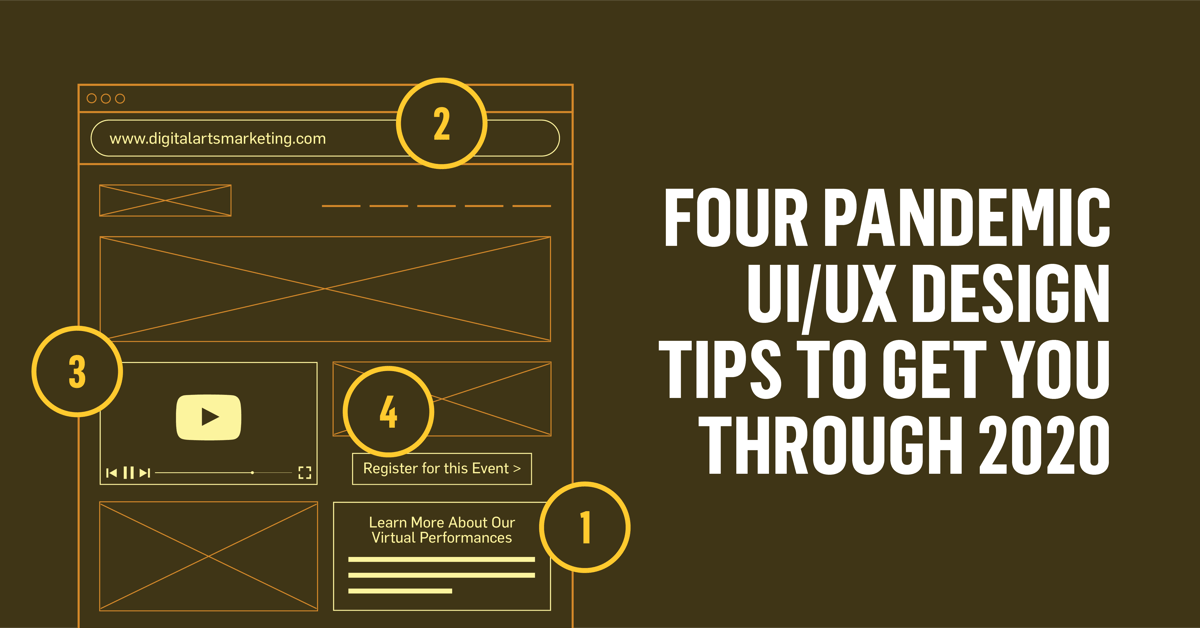 As we all struggle to get through what has been a year of multiple crises that have upended our lives, our families, our friends, and our organizations, we can take solace in knowing that we are not alone in all of this. It has been a challenging 2020 so far, and we still have many challenges ahead, but if we lean on each other and share our successes, we should be able to heal and become stronger collectively. We know that each of you is struggling in different ways, and while some of you can reconnect with your visitors, others don't know what their schedule or future for in-person events looks like.
After the initial shock of the partial or complete lockdown — depending on where you live — at the beginning of the pandemic, it became clear to me that digital leaders were uniquely positioned to empower organizations to improve their websites' digital platforms. Your website has become not only an important medium to connect with your audiences but, in many cases, one of the only ways to reach them.
It's important to consider what changes you can make to your website to get you through this time of upheaval and connect better with your audience and patrons than you had before. To help guide you through how to use your website as effectively as possible with the tools that you currently have in place, I want to offer four tips to improve your websites' user experience in the face of the current crisis.
---
Words Matter
The text that you use on your website is a very important part of a user's experience. From the tone, layout, or frequency of updates you communicate, all of this defines how your users will perceive you. Flexibility is important, and being able to make adjustments quickly and easily for these fast-changing times is key. You must review and adapt all of the content on your site to make sure it communicates where you are currently as an organization and not where you were in February. This doesn't mean that you have to yell — Crisis! Pandemic! — at the top of your lungs, but consider how you talk to your audience and continue to be as consistent as possible.
Working with Carolina Performing Arts on a reboot of their site over the past few months, we were mindful that elements such as buttons and navigation were completely flexible. We wanted them to be able to adjust navigation to support what they were doing now — and in the future — not what they were doing previously. We made sure that they could change things easily, from buttons to "buy tickets" to more relevant calls to action like "sign up for this event" or "register your interest." If your website is built on WordPress, for example, Gutenberg blocks give so much flexibility that you can adjust your pages easily for whatever you need.
---
Double down on accessibility and best practices
While Google and many members of the Capacity Interactive community have been going on for years about the importance of web standards, implementing them now couldn't be more essential. With internet-connected devices playing an even more crucial role in everyone's lives, a website's loading time, accessibility, search engine optimization, and best practices couldn't be more important.
With everybody turned to the web, you have to make sure everything works as seamlessly as possible. Your website needs to load quickly — in under 3 seconds — otherwise, you risk losing your audience. By considering load time, you will also offer a similar experience to all your users, even those who may have slow connections because of geography or financial limitations. As accessibility becomes even more important, your site has to become even more inclusive. By ensuring that all texts are high contrast and of a legible size, you can also be sure that visually impaired users are supported.
Search engines are the first way that most people will find your organization, so you need to optimize your keywords to be as relevantly listed as possible. Finally, following modern development techniques with a high-quality design and development team is key to a website's success.
The reality is that good website designers have been preparing for this moment their entire careers by making the web as usable and accessible as possible and continually evolving their expertise and knowledge base.
---
Digital is different than IRL
Trying to replicate what you may have done in person in the past will be very hard to do online. Unless you have a vast collection of high production value videos of your performances, it's going to be very hard to offer an experience that replicates watching TV, let alone being in an actual venue. If you are one of the lucky ones who does have this content available, you should pivot into a digital broadcaster that can generate some decent revenues. Still, it's going to be tough for many others to discover what to do differently with your website.
Exploring what they could do with the content they had, The Children's Theatre of Cincinnati recently launched their schools' shows virtually as a series of "pick-your-path" interactive videos. They also offered virtual talkbacks for schools after they had watched a show so they could have a Zoom meeting with the cast. The response has been positive, and their audiences have been intrigued by the new digital offerings and seem to be excited about the opportunities to continue to experience theatre and storytelling during this unusual time.
Carolina Performing Arts chose to add in a "CPA at Home" section, which they have been running since the beginning of the pandemic. They have been on top of updating content regularly, ranging from personal interests like recipes through to virtual performances. The lesson here is that content publishing has to be ongoing, so the users know that there will always be something new to look at if they come back regularly.
---
Think International
As a performing professional, it's natural to think about audiences from a geographical perspective. Since in most cases — unless you are a traveling company — historically, you have been concerned about people coming to visit you locally, at your theatre, auditorium, or performance space. You've assumed that much of your audience would be local residents or tourists visiting your limited capacity venue. Now that you are reaching out and offering content, stories, and performances online, your audience is now international, and your digital capacity is infinite.
Use this opportunity to narrow your focus only on the audience that is the most passionate about what you do. You need to consider investing in your minimum viable audience, the smallest market possible that will sustain your organization financially, and be your most passionate advocates. Any attempt to acquire new audiences can be an expensive proposition so if you are an opera, for example, invest only in those that may be interested in your specific take on an aria.
While how to generate revenues online is very different from selling tickets, there are still opportunities to be had. Be creative and think of models that may have seemed strange months ago. A more resilient you Although it may not feel like it right now, there will be a day when the current pandemic will end.
---
Let's also hope that we, as a society, have the will and the means to tackle some of the other social, economic, and environmental challenges we will face. It's also important to note that if you hope that we somehow get back to the ways things were in 2019 and hit a hard reset on 2020, that's not realistic. You and your organization needs to look to a future that incorporates all the lessons learned in 2020.
This future is about your organization becoming more resilient and able to succeed in the face of new and unforeseen challenges. Everything you've done to strengthen your online experiences, offer new content, and develop digital relationships is now a part of what makes your organization stronger. In the future, you will be a hybrid of online and offline outreach, collaboration, storytelling, and connections. You can and must create experiences that are unique to each medium and reinforce everything that makes you unique and special.
---
Warren Wilansky is the president and founder of PLANK, a digital studio based in Montreal that specializes in designing responsive websites and mobile applications. PLANK is a proud sponsor of Boot Camp 2020.