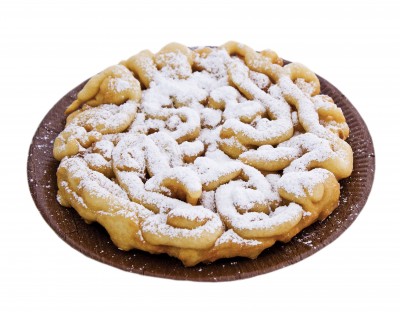 No doubt you've heard of a marketing funnel, a model whereby prospects enter the funnel's top (awareness) and through smart marketing are sent further down the funnel, closer and closer to becoming customers.
Typically, it takes multiple touch points along the funnel for a prospect to become a customer. Smart marketers know they need touch points all along the funnel in order to turn prospects into customers. But with limited budgets, marketers must prioritize where along the funnel to focus budgets and efforts.
All top-of-the-funnel efforts should be about driving down-funnel activity. So eventually most of your efforts are at the middle of the funnel and below.
Marketing at the top of the funnel is less efficient and more expensive. It allows you to reach a larger universe, most of whom will not be interested in what you are selling. However if you have a large marketing budget you have the luxury of more of this type of marketing. Examples include buying banner ads to on a newspaper's web site or purchasing an email blast from a magazine.
Marketing at the middle and bottom of the funnel is about turning people who already care about you into customers. This includes email and social media marketing. This tends to drive much higher ROIs but requires a pool of interested prospects.
If you do allocate resources to the top of the funnel, it should incorporate a major element of driving down-funnel activity. For example, any banner ad placed on a publisher's site (i.e. NYTimes.com) should drive users to a website that has a primary or secondary purpose of collecting a lead. This lead can be in the form of an email address, social follow, or even a tracking pixel so you can later serve the prospect a remarketing ad. If you don't do this, you are going to need to pay the newspaper publisher the next time you wish to reach this prospect…and the next time…. And so on, continuing this vicious cycle of dumping your budget at the top of the funnel.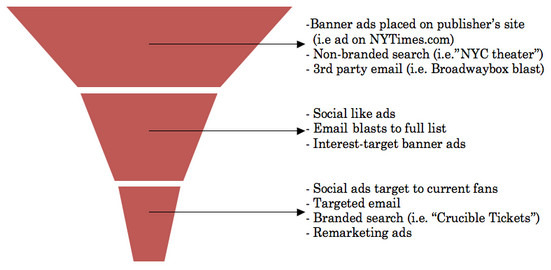 In an ideal world, if you focused all your past top of the funnel efforts on lead gen, you would be able to fill your theaters with just a few emails, social posts and remarketing ads. After all, you have a giant list of prospects who care about you.
This is not to say you should not be engaging in new audience development efforts, which mostly occur at the top of the funnel. But I'd argue it is much easier to capture an email address or a social follow than to sell a ticket. So all your audience development efforts should include lead collection as a primary goal.
Need help collecting leads on your website? Check out Leadacity.