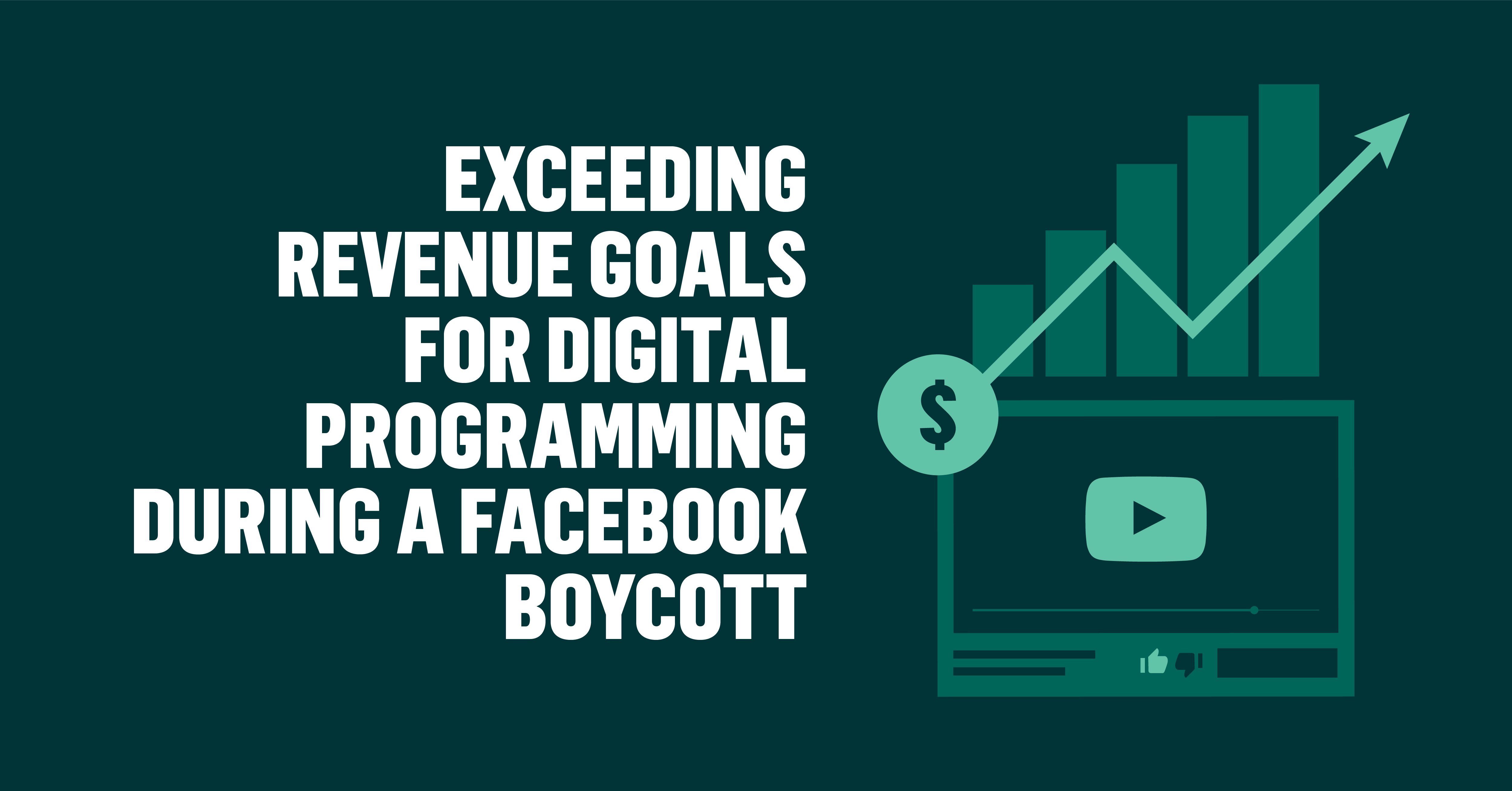 Oregon Shakespeare Festival (OSF) was one week into their 2020 season when COVID-19 shut down in-person production. But as luck would have it, video recordings shot for posterity would turn into a monetized digital content opportunity. We worked with them to explore YouTube pre-roll campaigns to promote this new, video-based endeavor.
---
Creating Monetized Digital Content
Like most arts organizations, the pandemic left OSF without a live-performance revenue stream for 2020. As the team searched for ways to solve this challenge, they remembered something critical. Before the in-person season was shut down, the OSF team recorded final rehearsals and early performances—which gave them an incredible opportunity to turn them into monetized digital content.
With this in mind, their team quickly began the process of negotiating with the artists and various rights-holders to launch paid 48-hour rentals on Uscreen. OSF had already created a robust online content catalog on Uscreen, called O!, where they had been streaming free video content for months, including short classes and behind-the-scenes blurbs. The foundation was in place to experiment with paid rentals.
"Shows on O!" launched with two excellent productions: The Copper Children is a new American Revolutions commissioned play based on the true history of "orphan trains" that transported immigrant children in the early 20th century. A Midsummer Night's Dream is a fun, family-friendly, musical romp through Shakespeare's classic. Both would have been mainstays in the live 2020 season.

---
The Shift to YouTube
We worked with OSF to draft a strategic marketing plan for Shows on O! involving heavy use of paid content on Facebook and Instagram—platforms that had historically produced strong returns for OSF. However, the rental period for the digital performances fell right in the middle of July 2020— and at the end of June, OSF made the decision to participate in the Stop Hate for Profit campaign and July boycott of Facebook advertising.
So, we made a shift to YouTube campaigns. It felt like the absolute next-best bet for OSF, especially given the video-based content of both the ads and the series.
We started out by targeting a number of audiences that were already in OSF's universe (bottom-of-funnel) to re-engage them. These audiences included website visitors from the past month, people who had visited the landing pages for Midsummer and The Copper Children performances, and people who had watched OSF YouTube videos in the last year. We also targeted a broad audience outside of OSF's universe (acquisition) using Google's pre-defined in-market audience segments.
Consistent with other types of campaigns, we quickly started seeing strong video view rates from the acquisition segment, and strong intent-based behavior like clicks, website visits, and digital rental purchases from the bottom-of-funnel segments. Midway through the two-week YouTube campaign, we were seeing a positive return on investment, which was particularly notable given the low $15 cost of a rental and the fact that only one rental per household was required (as opposed to live events, where the majority of buyers are purchasing two or more tickets).
At the midpoint of the campaign, we added two new acquisition segments, which were manually built custom affinity audiences related to the subject matter of each play. The audience for The Copper Children was built from interest-based keywords and URLs around DACA, ACLU, civil rights, etc. (relevant to the plot of the play), and the Midsummer audience was built from more behavioral URLs, including comparable prominent Shakespeare festivals' online performance platforms. Incorporating these audiences allowed us to significantly ramp up our spend towards potential new audiences in the second half of the campaign, and we saw the volume of digital rental purchases attributed to bottom-of-funnel segments spike during that time.
We also saw an interesting contrast in the performance of the two show-specific custom affinity acquisition segments: The Copper Children affinity audience had by far the lowest video view rate of the acquisition segments —about half that of the Midsummer affinity audience. We assume that this is due to the fact that the Copper Children audience had to do with topical issues that were related to the plot of the play, as opposed to reaching people who were explicitly interested in seeing a play.
The Midsummer audience, on the other hand, was built from a more behavioral angle, focusing on users who were interested in online Shakespeare performances. This is also consistent with the fact that, out of the bottom-of-funnel audiences, the segment targeting past OSF YouTube video viewers had by far the highest video view rate of any audience in the campaign.
---
Exceeding Revenue Goals
The YouTube campaigns for O! digital performances influenced close to 400 rentals, for a positive final ROI despite acquisition targeting making up about 43% of the overall media spend. More broadly, OSF tracked over 11,000 hours of streaming for Shows on O! to 15,000 people across more than 50 countries. They exceeded their revenue goal for the project and were able to pay all of the artists involved and still have revenue left over, to help keep the virtual doors open despite a canceled season.
---
Ready to explore YouTube campaigns?
Here's some advice and takeaways based on this campaign:
YouTube can be a strong direct-response digital advertising option for the performing arts, particularly where online video programming is the focus. After all, the folks seeing your ads are already on YouTube, engaging with online video content!
Audiences based specifically on video behavior (like the video viewer retargeting audience or the Midsummer custom affinity acquisition audience) will likely drive stronger engagement results than audiences based on interests or even website behavior.
Having a website retargeting component to your YouTube campaign is still important, as it will serve as the follow up/reminder to those who engage with your ad -- and for that reason, will likely have the most directly attributed purchases.