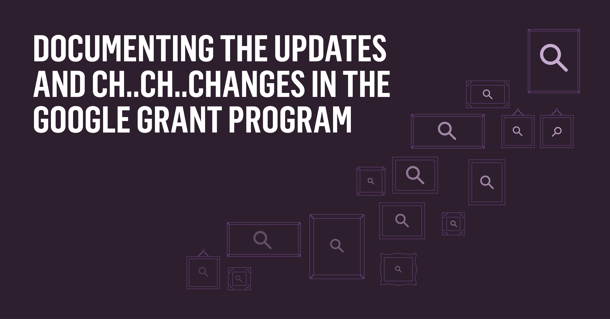 If your organization has a Google Grant account, you may have noticed that 2017 was a year of significant change for the program. Particularly towards the end of the year, it felt like every few weeks Google was releasing a major update to its AdWords policies. As a result, it became much more challenging to spend through your allotted budget. In 2018 there are already several key changes underway. It's a lot to wrap your head around but don't worry. We've got you covered.
Heads up: this post gets a little technical, but AdWords is a highly technical platform. So please bear with us.
Before we dive into the major changes in 2017, here's a little background on key factors that determine how your ads show up on Google's Search Engine Results Page.
As you may know, every time someone searches on Google there is an instantaneous auction on Google's "back end" to determine which ads show up and the position of the ads. Google's algorithm looks at two major factors to determine the "winners" of each auction:
1. How much an advertiser is willing to bid per click
2. Keyword Quality Score
Within a grant account, the cost per click bid is capped at $2 per click by Google, unless you are leveraging the automated bidding strategy called Maximize Conversions, which is detailed below. This means that your ads are often up against competitors who can easily out bid you. Quality score is essentially a measure of relevancy. There are over 100 factors that go into quality score, but ultimately, you can think of quality score as how closely linked are your ads, to your keywords, to your landing page.
So, what changed?
While Google makes updates to their algorithm as well as to their policies on an ongoing basis, there are several key changes that impact Google Grant accounts significantly.
---
Major Change 1
Emphasis on Landing Page Experience, Relevance, and Expected Clickthrough Rate (CTR)
Google has now put greater emphasis on the landing page experience, relevance, and expected CTR to determine which ads show up in search results. In other words, if your landing page isn't relevant (i.e. doesn't contain the terms the user was searching) or the experience is suboptimal (e.g. if someone is searching on a mobile device and your site isn't mobile-friendly or is very slow to load), this is now having a larger impact on how often your ads rank and what position they fall in when they do rank than compared to this time last year.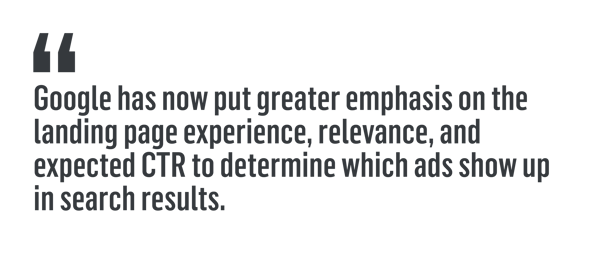 This change has made it even more difficult for grant accounts to rank for upper funnel terms (non-branded, evergreen terms such as "dance shows in Boston"). In general, these generate the bulk of the clicks to your website from your grant account as there are many more searches for evergreen or non-branded terms ("ballet shows") than branded ("Boston Ballet") terms.
Typically, we see most searchers click on 2-3 search ads before converting, often researching using upper funnel terms, then later coming back through more bottom of funnel terms (e.g "Boston Ballet Nutcracker tickets") and converting. The upper funnel terms serve as an important stepping stone to get searchers in the door to research your programming. When your ads show up in fewer upper funnel searches as a result of these changes, there are fewer clicks, and thus less spend.
How can I measure success in light of these changes?
As has always been the case, the aim is to drive qualified traffic to your site, rather than simply to spend through the $10,000/month. Given these recent shifts, it has become even more crucial to measure success based on key performance indicators that measure relevancy, such as growth in conversions, total revenue, and CTR, rather than looking at total spend as a KPI. Driving relevant traffic to your site will increase the quality of prospects in your pixel pools that can be retargeted via Facebook, Instagram, Google Display, YouTube, etc.
What additional steps should I take?
In addition to re-framing how success is measured given the new circumstances, evaluating landing page experience especially as it pertains to mobile is crucial.
If you feel these changes are having an observable impact on your ticket sales there are three moves you may wish to consider:
1. Improving your mobile speed. Slow mobile load time is actively being penalized by Google, and hindering how often your ads will show up. In addition, Google is moving towards a mobile-first index for organic search this year, so mobile speed and usability will be key factors in ranking organically moving forward as well.

2. Supplementing your grant account with paid AdWords media to run discrete campaigns in a paid account; thus, allowing you to bid more aggressively to win more auctions, as well as leverage tactics unavailable within grant accounts. You may choose to do this only during critical periods for your sales goals or throughout your full season.
3. Conducting an SEO audit to identify opportunities to improve your site's SEO and therefore drive more qualified traffic to your site through organic search.
Changing the focus away from spend towards CTR, conversions, and revenue, will ultimately help give you a more nuanced, accurate view of the quality of traffic coming to your site from your grant account.
---
Major Change 2
"Maximize Conversions" Bidding
Google announced that it is now possible for grant accounts to leverage the "Maximize Conversions" automated bidding strategy.
Google isn't lifting the $2 cost per click bid cap across the board, but if a grant account uses an automated bidding campaign strategy called "Maximize Conversions", it is now possible to bid more than $2 per click in specific instances that Google determines could drive more conversions.
What is automated bidding and what does this change mean for grant accounts?
Automated bidding gives Google the reins to set bids for each auction in real time to achieve a goal. "Maximize Conversions" automated bidding allows Google to adjust bids to maximize the number of conversions that you receive from a given campaign. This means Google can increase bids for high converting terms, and decrease bids for keywords that aren't driving direct conversions.
When tested and implemented properly, this change has the potential to help grow overall conversion volume.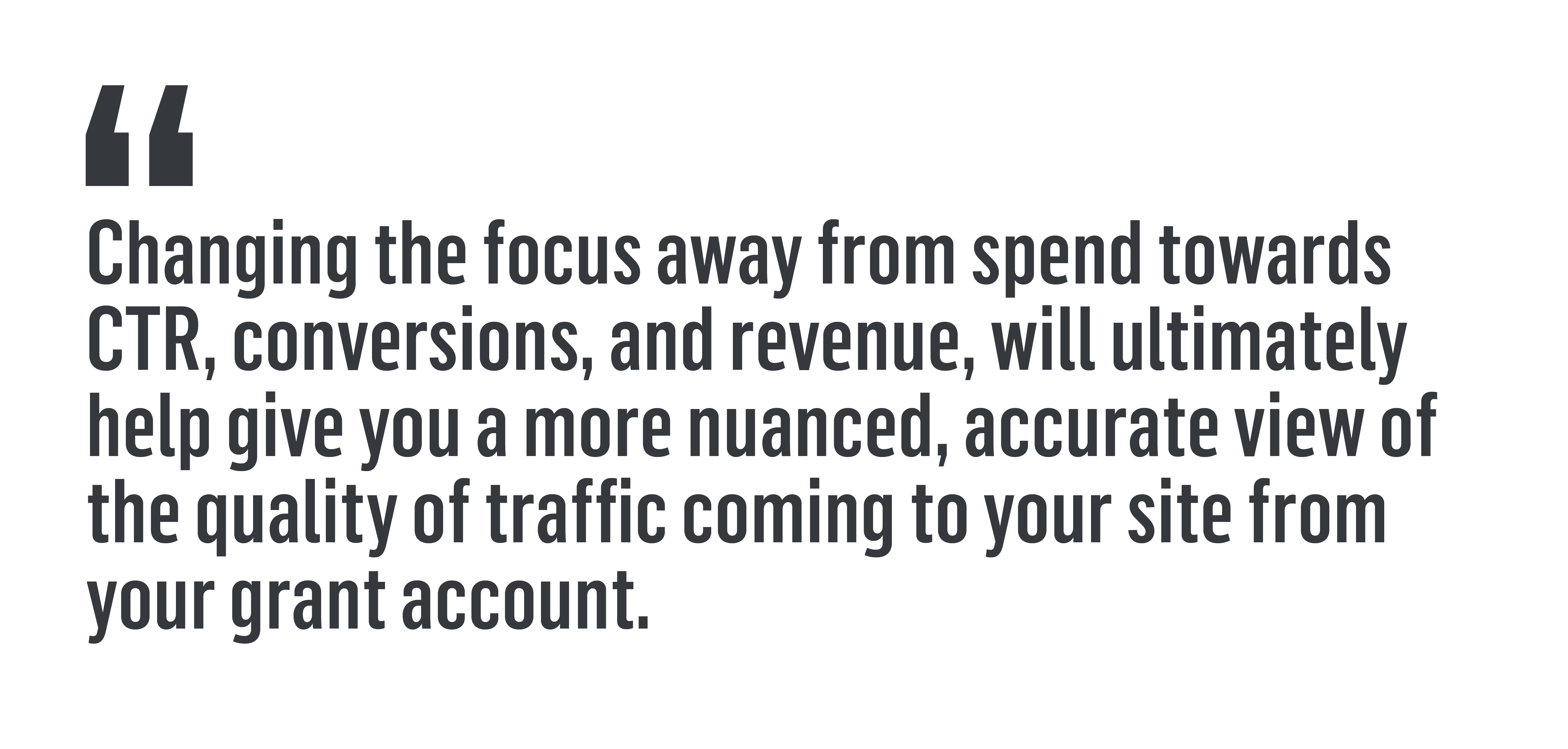 There are two key takeaways for "Maximize Conversions" auto bidding:
1. "Maximize Conversions" auto bidding gives Google full control over bids and it will de-value keywords that aren't driving last-click conversions when using a last-click attribution model, even though they may be playing a crucial role earlier in the consumer journey and getting qualified prospects in the door. In other words, if all campaigns in an account were set to "Maximize Conversions" the overall conversion volume in the account could drop, given that research keywords would be devalued, which ultimately would lead to lower overall conversion volume across the account.
To this end, we recommend testing this new tactic on campaigns that drive a significant number of last-click conversions if you are using a last-click attribution model, rather than applying this tactic across the board to all campaigns.
Alternatively, it is possible to move past the last-click model, to more accurately value different stages in the consumer journey. For example, through attribution analysis, we can see which keywords are more likely to act as a step near the beginning of the consumer journey and assist conversions, as well as determine which keywords are more likely to act as a last step on the journey and close the conversion.
2. "Maximize Conversions" does not distinguish between conversion actions. For example, if you are tracking key page views and purchases in an account, the auto bidding strategy will treat these two conversion actions as equal if both are being counted in the conversions column in AdWords.
Of course, what conversion actions are being tracked is idiosyncratic to each organization's account, and depends on a variety of different factors. However, in accounts that are tracking micro-conversions such as key page views, the fact that automated bidding does not distinguish between different conversion actions that are included in the conversions column in AdWords is an important consideration and can impact how you test this new tactic. If you are counting multiple conversion actions, you can delineate which conversion actions are counted within the conversions column in AdWords so that the auto bidding strategy only takes into account the conversion actions most valuable to your organization.
---
Major Change 3
New Policy Update for Ticket Resellers
Additionally, Google recently announced a new Ticket Reseller Policy, which is fantastic news for non-profit arts organizations.
Sites that resell tickets need to get certified as resellers to continue to advertise through Google. The certification process for resellers requires resellers to update their landing pages to clearly state they are a reseller. Furthermore, beginning in March 2018, resellers must disclose the face value of the tickets so that consumers can clearly discern the mark up.
Grant accounts will likely feel the impact of this change in the late spring of 2018, when ticket broker competitors will likely face lower conversion rates from this policy.
Primary ticket providers do not need to take any action.
---
Major Change 4
Additional Policy Updates
Google has made several policy updates for Google grants to ensure strong relevancy of keywords and ads.
1. Google grant accounts must have an average monthly account-wide CTR of 5% or above moving forward. If your CTR dips below 5% two months in a row, your account is at risk for being suspended by Google.
2. Keywords within your account must have a quality score of 3 or higher.
3. Google grant accounts can no longer bid on competitor terms, on extremely generic terms, or single word non-branded terms, with a few limited exceptions.
4. Geo-targeting must be relevant to your organization.
5. Each campaign must have at least two active ad groups.
6. Each ad group must have at least two active ads.
7. Your account must have at least two sitelink extensions.
All of the above ensure high quality grant accounts, further illustrating the need to shift away from using spend as a KPI, and instead look towards CTR, conversions, and revenue to measure success.
---
Phew. That was a lot. Ultimately, Google's recent announcements represent exciting new changes that impact grant accounts. While Google is continually updating its algorithm and policies, we aim to keep you up to date on key changes from Google that will impact performance within your account.
Too much for you to handle? Let our search team help.
Google Ads/Search Engine Marketing, Search Engine Optimization